 News
Belinda Carlisle / Runaway Horses 30th anniversary vinyl box
4LP+CD box set • New tracks • Signed sets sold out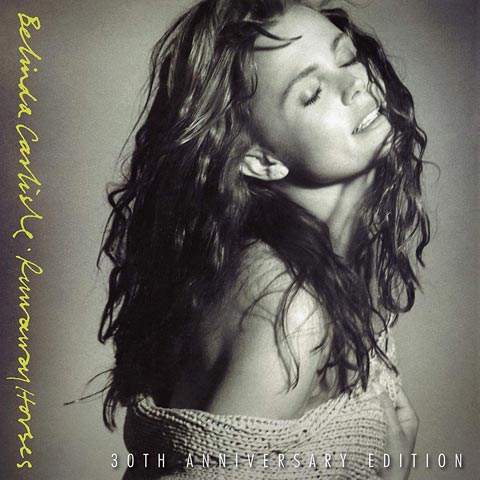 Belinda Carlisle's 1989 album Runaway Horses is to be reissued as a 30th anniversary vinyl box set in August.

Carlisle's third album was her second for Virgin Records and built on the success of 1987's Heaven On Earth. It delivered six  singles, with only 'Vision of You' failing to break into the UK top 40 (just – it peaked at #41). After the initial success of the first single 'Leave A Light On' (which features George Harrison on guitar) it actually took until the sixth single – '(We Want) The Same Thing' – for Belinda to breach the UK top ten again (sack the A&R man!).




This new vinyl box features all white vinyl: the album on the first record, an LP of seven-inch versions and then two further LPs of remixes, dub mixes and acappellas. The anniversary box also includes a CD of the album and three brand new recordings.

The four records and CD come in a 12-inch lift-off lid box set. The signed editions are sold out, but the standard version is available. Additionally, Belinda Gold, a new 3CD or 2LP collection, is also available to pre-order. Read more about the latter, here.

Runaway Horses 30th anniversary edition is released on 6 September 2019.


Compare prices and pre-order
Belinda Carlisle
Runaway Horses - 4LP+CD deluxe set
Compare prices and pre-order
Belinda Carlisle
Gold - 2LP coloured vinyl
Compare prices and pre-order
Belinda Carlisle
Gold 3CD set
LP 1
RUNAWAY HORSES
Side A
1. Leave A Light On
2. Runaway Horses
3. Vision Of You
4. Summer Rain
5. La Luna
Side B
1. (We Want) The Same Thing
2. Deep DeepOcean
3. Valentine
4. Whatever It Takes
5. Shades Of Michaelangelo
LP 2
THE SINGLE VERSIONS
Side A
1. Leave A Light On [7"]
2. La Luna [7"]
3. Runaway Horses [Single Edit]
4. Vision Of You [7" Edit]
Side B
1. (We Want) The Same Thing [Summer Remix]
2. Valentine [Remix Edit]
3. Summer Rain [Single Remix]
4. Vision Of You [91 Remix]

LP 3

THE REMIXES
Side A
1.(We Want) The Same Thing [Extended Summer Remix]
2. Leave A Light On [Extended Version]
3. La Luna [Extended Dance Mix]
Side B
1.(We Want) The Same Thing [All The Right Moves Mix]
2. Leave A Light On [KamikazeeMix]
3. Summer Rain [Justin Strauss Remix]
LP 4
DUB AND ACAPPELLA MIXES
Side A
1. La Luna [12" Dub]
2. Summer Rain [Dub Mix]
3. La Luna [Acappella]
Side B
NEW 2019 RECORDINGS
1. If You Could Read My Mind
2. I Need You To Turn To
3. Both Sides Now
CD
RUNAWAY HORSES
1. Leave A Light On
2. Runaway Horses
3. Vision Of You
4. Summer Rain
5. La Luna
6. (We Want) The Same Thing
7. Deep DeepOcean
8. Valentine
9. Whatever It Takes
10. Shades Of Michaelangelo
Bonus New 2019 Recordings: 
11. If You Could Read My Mind
12. I Need You To Turn To
13. Both Sides Now