 News
Black Sabbath / Sabotage super deluxe edition box sets
Remastered album, full 1975 live show & more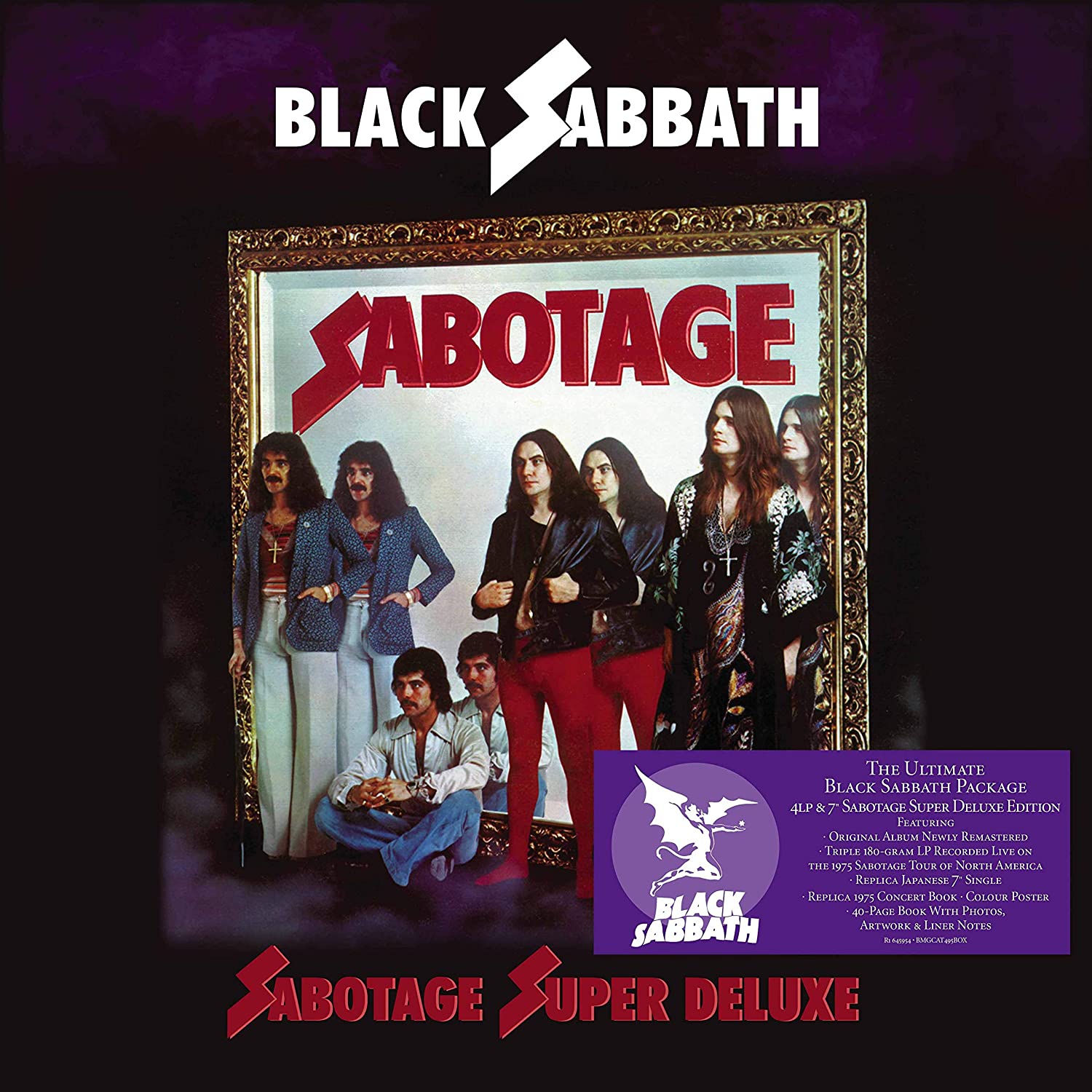 The 1975 Black Sabbath album, Sabotage, will be reissued as vinyl and CD super deluxe edition box sets, in June. The band's sixth studio album was recorded amidst legal wranglings with their former manager – which is how the title came about.
The both box sets feature a newly remastered version of the album paired with a complete live show recorded during the 1975 tour. 13 of the 16 live tracks included are previously unreleased.
The four-CD box set features the studio album and live concert across three CDs with a fourth disc effectively a CD single. It features the single edit for 'Am I Going Insane (Radio)' and 'Hole In The Sky'.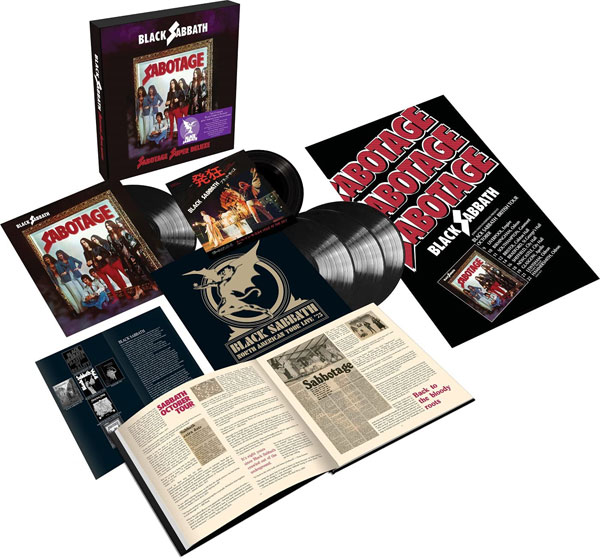 The vinyl box set features the same content across four vinyl records and those two extra tracks feature on a bonus seven-inch single, with artwork replicating the rare Japanese version of the single.
All this music is accompanied by sleeve notes in a 60-page book (CD version – the vinyl is a 40-pager) that tell the story of the album through quotes from band members and the music media along with rare photos and press clippings from the era.
Also included in both packages is a 1975 Madison Square Garden replica concert book and Sabotage 1975 tour poster.
Sabotage is released on 11 June 2021, via BMG.
Compare prices and pre-order
Black Sabbath
Sabotage 4LP super deluxe edition
Compare prices and pre-order
Black Sabbath
Sabotage 4CD super deluxe edition
Tracklisting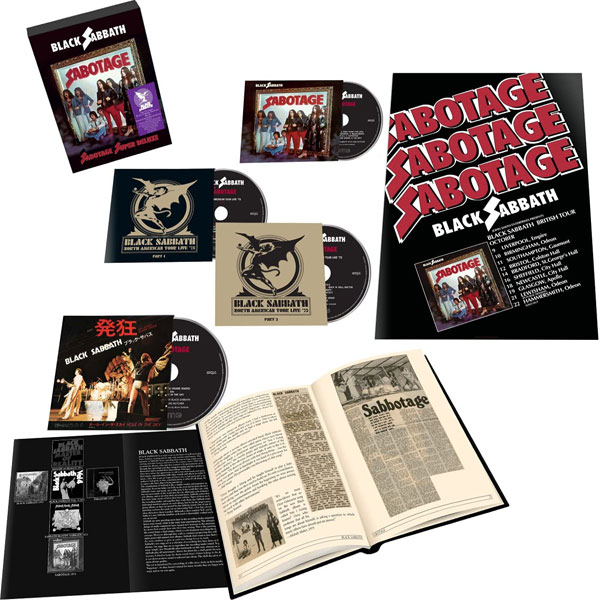 Sabotage Black Sabbath
/
4CD super deluxe
"Hole In The Sky"
"Don't Start (Too Late)"
"Symptom Of The Universe"
"Megalomania"
"Thrill Of It All"
"Supertzar"
"Am I Going Insane (Radio)"
"The Writ"

"Supertzar"/"Killing Yourself To Live" *
"Hole In The Sky"
"Snowblind" *
"Symptom Of The Universe"
"War Pigs" *
"Megalomania"
"Sabbra Cadabra" *
Jam 1 including guitar solo *
Jam 2 including drum solo *
"Supernaut" *
"Iron Man" *

Guitar Solo including excerpts of "Orchid" and "Rock 'n' Roll Doctor" *
"Black Sabbath" *
"Spiral Architect" *
"Embryo"/"Children Of The Grave" *
"Paranoid" *

"Am I Going Insane (Radio)" – Single Edit
"Hole In The Sky"
Tracklisting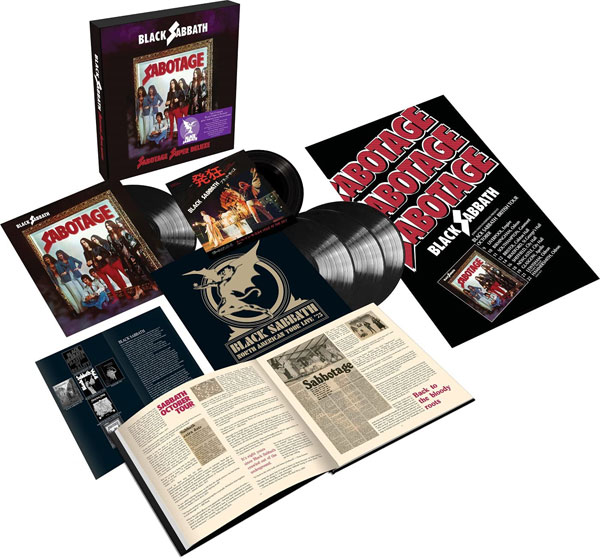 Sabotage Black Sabbath
/
4LP vinyl super deluxe
Side 1

"Hole In The Sky"
"Don't Start (Too Late)"
"Symptom Of The Universe"
"Megalomania"

Side 2

"Thrill Of It All"
"Supertzar"
"Am I Going Insane (Radio)"
"The Writ"

Side 1

"Supertzar"/"Killing Yourself To Live" *
"Hole In The Sky"
"Snowblind" *

Side 2

"Symptom Of The Universe"
"War Pigs" *

Side 1

"Megalomania" *
"Sabbra Cadabra" *

LP 2

Jam 1 including guitar solo *
Jam 2 including drum solo *
"Supernaut"

Side 1

"Iron Man" *
Guitar Solo including excerpts of "Orchid" and "Rock 'n' Roll Doctor" *
"Black Sabbath" *

Side 2

"Spiral Architect" *
"Embryo"/"Children Of The Grave" *
"Paranoid" *

Side A

"Am I Going Insane (Radio)" – Single Edit

Side B

"Hole In The Sky"