 News
Bob Marley / Songs of Freedom
First time on vinyl outside Jamaica • 6LP and 3CD sets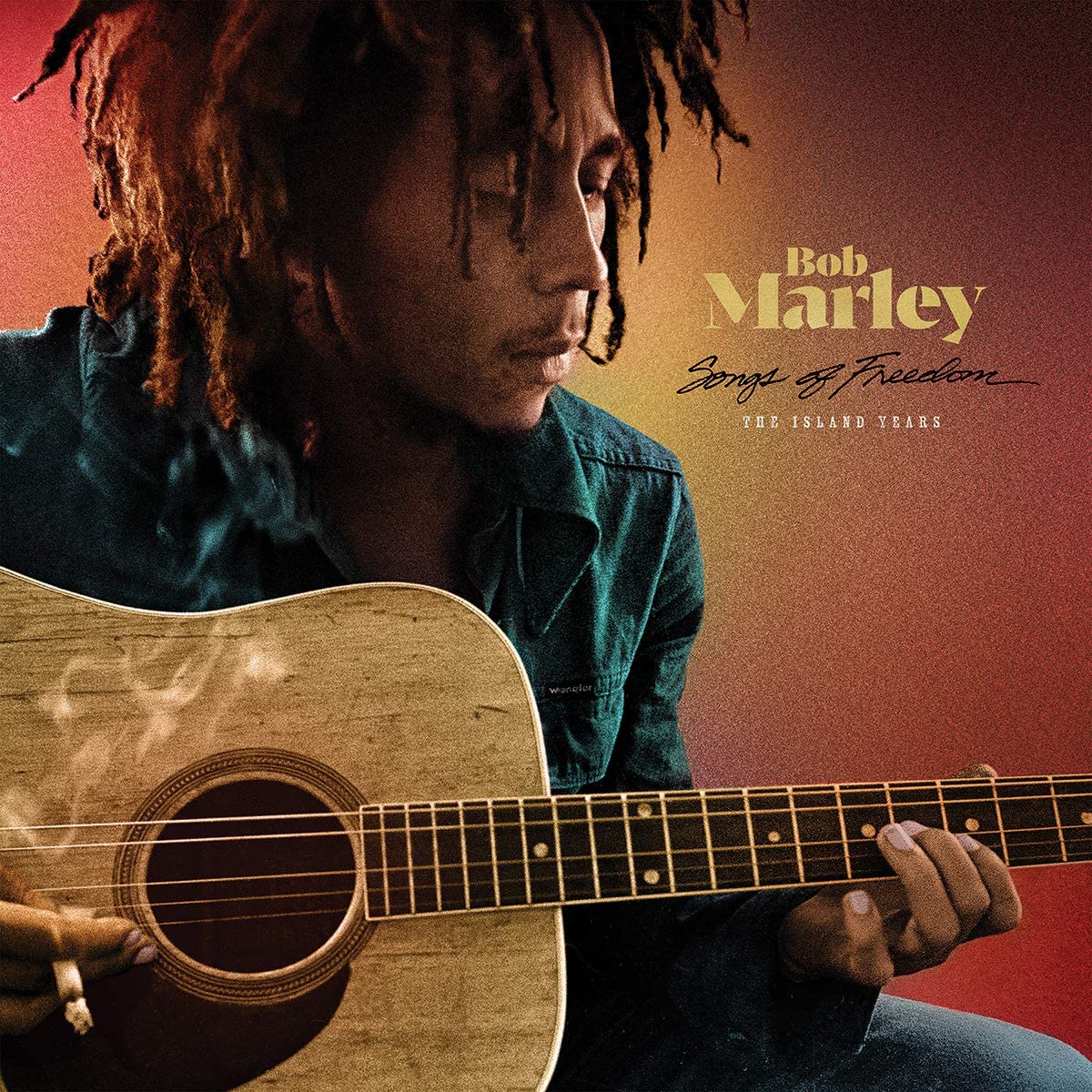 A revised version of the 1992 Bob Marley box set, Songs of Freedom: The Island Years, is being reissued at the end of this month.

This box still features a mix of classic tracks, remixes, B-sides, Jamaican singles and alternates but for 'revised', read 'reduced', since what was originally an 8LP vinyl set and a 4CD package is now a 6LP vinyl box and a 3CD set. 78 tracks from the originals are distilled down to just 47 for this new edition (the CD and vinyl boxes share the same track listing).
That said, the vinyl box was previously only ever available in Jamaica, so this is the first full worldwide release on that format. The records come with 'custom labels' and the box includes a 20-page booklet.
The CD edition is no longer the old style 'long box' and it includes a 96-page booklet.
Songs of Freedom: The Island Years is reissued on 5 February 2021 (was 29 January), via UMC/Island.
Compare prices and pre-order
Bob Marley
Songs of Freedom - 6LP vinyl box
Compare prices and pre-order
Bob Marley
Songs of Freedom - 3CD box
Songs of Freedom 6LP vinyl box set
LP1
Side A
1 High Tide Or Low Tide
2 Slave Driver
3 No More Trouble
4 Concrete Jungle
5 Get Up, Stand Up
Side B
1 Rastaman Chant
2 Burnin' And Lootin'
3 Iron Lion Zion
4 Lively Up Yourself
LP2
Side A
1 Natty Dread
2 I Shot The Sheriff (Live At The Lyceum, London/1975)
3 No Woman No Cry (Live At The Roxy, 1976)
Side B
1 Who The Cap Fit
2 Jah Live
3 Crazy Baldhead
4War
LP3
Side A
1 Johnny Was
2 Rat Race
3 Jamming (12″ Mix)
4 Waiting In Vain (Advert Mix)
Side B
1 Exodus (12″ Mix)
2 Natural Mystic
3 Three Little Birds (Alternate Mix)
4 Running Away
LP4
Side A
1 Keep On Moving (London Version)
2 Easy Skanking
3 Is This Love (Horns Mix)
4 Smile Jamaica
Side B
1 Time Will Tell
2 Africa Unite
3 Survival
4 One Drop
5 One Dub
LP5
Side A
1 Zimbabwe
2 So Much Trouble In The World
3 Ride Natty Ride (12″ Mix)
Side B
1 Babylon System
2 Coming In From The Cold (12″ Mix)
3 Real Situation
4 Bad Card
LP6
Side A
1 Could You Be Loved (12″ Mix)
2 Forever Loving Jah
3 Rastaman Live Up
4 Give Thanks and Praises
Side B
1 One Love/People Get Ready (12″ Mix)
2 Why Should I
3 Redemption Song (Live At The Stanley Theatre, Pittsburgh, 1980)
Songs of Freedom 3CD box set
CD 1
1. High Tide Or Low Tide
2. Slave Driver
3. No More Trouble
4. Concrete Jungle
5. Get Up, Stand Up
6. Rastaman Chant
7. Burnin' And Lootin'
8. Iron Lion Zion
9. Lively Up Yourself
10. Natty Dread
11. I Shot The Sheriff (Live At The Lyceum, London/1975)
12. No Woman No Cry (Live At The Roxy, 1976)
13. Who The Cap Fit
14. Jah Live
15. Crazy Baldhead
16. War
17. Johnny Was
18. Rat Race
CD 2
1. Jammin (12″ Mix)
2. Waiting In Vain (Advert Mix)
3. Exodus (12″ Mix)
4. Natural Mystic
5. Three Little Birds (Alternate Mix)
6. Running Away
7. Keep On Moving (London Version)
8. Easy Skanking
9. Is This Love (Horns Mix)
10. Smile Jamaica
11. Time Will Tell
12. Africa Unite
13. Survival
14. One Drop
15. One Dub
CD 3
1. Zimbabwe
2. So Much Trouble In The World
3. Ride Natty Ride (12″ Mix)
4. Babylon System
5. Coming In From The Cold (12″ Mix)
6. Real Situation
7.Bad Card
8.Could You Be Loved (12″ Mix)
9.Forever Loving Jah
10.Rastaman Live Up
11.Give Thanks and Praise
12.One Love/People Get Ready (12″ Mix)
13.Why Should I
14.Redemption Song (Live At The Stanley Theatre, Pittsburgh, 1980)