 News
Bob Marley & The Wailers / Kaya 40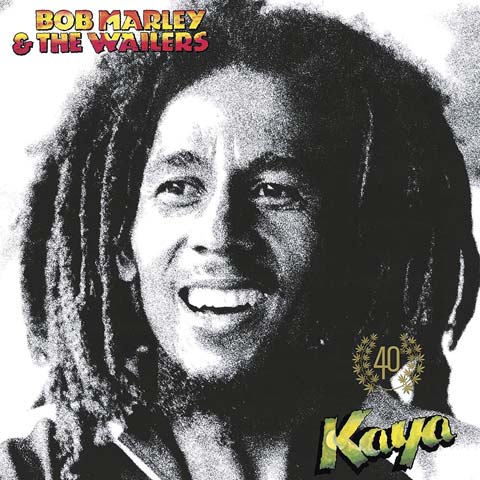 2-disc set offers original album + new 'authentic' mixes by Stephen Marley
Bob Marley & The Wailers' 1978 album Kaya is being reissued as 'Kaya 40' a double-disc deluxe edition in August.

Kaya contains the Marley classics Is This Love, Easy Skanking and Sun
Is Shining and this special 40th anniversary edition will feature (on the bonus disc) Stephen "Ragga" Marley's new 'Kaya 40' mixes of the tracks
Stephen's goal, in mixing and creating the Kaya 40 version of the album, was to "create a balance that drew heavily from the original versions" and try and keep things as authentic sounding as possible. He used Bob's vocals from demos from original Kaya sessions that were recorded at different tempos, and synched them with alternate takes and layered it over different instrumental arrangements. If that all sounds a bit 'Frankenstein' then judge it for yourself, by previewing the Kaya 40 mix of Is This Love?, below.
Curiously, according to the label, due to 'technical issues' Easy Skanking on the second disc will be the original 1978 mix not a Stephen Marley reworking.
This new Kaya 40 edition of the album is available as a two-CD set and a double vinyl edition and will be issued on 24 August 2018.
Compare prices and pre-order
Bob Marley & The Wailers
kaya 40 - 2Cd deluxe
Compare prices and pre-order
Bob Marley & The Wailers
kaya 40 - 2LP vinyl
Disc 1 – Bob Marley & The Wailers, Kaya (Original 1978 Version)
1. Easy Skanking
2. Kaya
3. Is This Love
4. Sun Is Shining
5. Satisfy My Soul
6. She's Gone
7. Misty Morning
8. Crisis
9. Running Away
10. Time Will Tell
Disc 2 – Bob Marley & The Wailers, Kaya 40 (Stephen Marley's reimagining)
1. Easy Skanking*
2. Kaya
3. Is This Love
4. Sun Is Shining
5. Satisfy My Soul
6. She's Gone
7. Misty Morning
8. Crisis
9. Running Away
10. Time Will Tell
*Easy Skanking is the original 1978 mix