 News
British Mod Sounds Volume 2: The Freakbeat & Psych Years
Eddie Piller on what Mods did next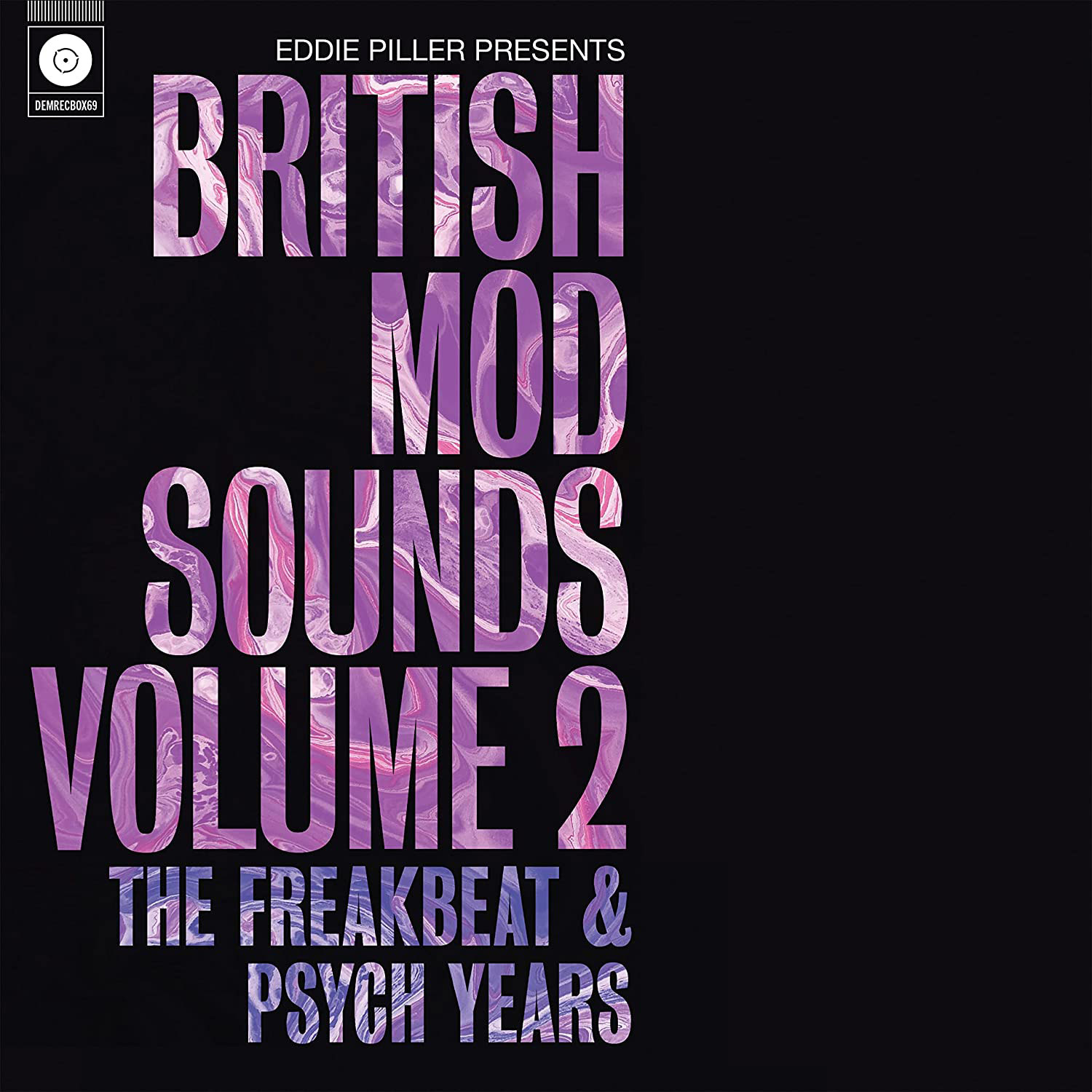 Follow-up compilation features 95 tracks on 4CDs, 91 tracks on 6LPs and a 31-track 2LP set. Limited signed editions available.
Acid Jazz Records and Modcast founder Eddie Piller has curated a second volume of his rather good British Mod Sounds of The 1960s compilation. Volume 2 is dubbed The Freakbeat & Psych Years although it could be called 'What Mods did next' as it traces the scene from early 1965 to the end of the 1960s. It is available on three physical formats.
This compilation tracks the development of the original Mod mainstays (the Small Faces, The Who, The Action, The Kinks), with a selection of future superstars (David Bowie, Marc Bolan, Fleetwood Mac, Jimmy Page of Led Zeppelin and Steve Howe of Yes are all represented here), alongside a few artists so obscure, that they never even got to release a record in the '60s (but Eddie has tracked down the tapes nonetheless!).
British Mod Sounds of The 1960s Vol 2: The Freakbeat & Psych Years is available as 95-track 4CD set (Amazon UK has an exclusive signed edition limited to 750 copies), a 6LP package with signed print (91 tracks & pressed on purple-coloured vinyl) and a 2LP overview (31 tracks).
It includes a new sleeve notes by Richard Norris and is released on 17 February 2023 via Demon Music.
Compare prices and pre-order
Various Artists
British Mod Sounds of The 1960s Vol 2 - 4CD signed edition
Compare prices and pre-order
Various Artists
British Mod Sounds of The 1960s Vol 2 - 6LP coloured vinyl signed
Compare prices and pre-order
Various Artists
British Mod Sounds of The 1960s Vol 2 - 2LP vinyl
Compare prices and pre-order
Various Artists
British Mod Sounds of The 1960s Vol 2 - 4CD standard edition
Tracklisting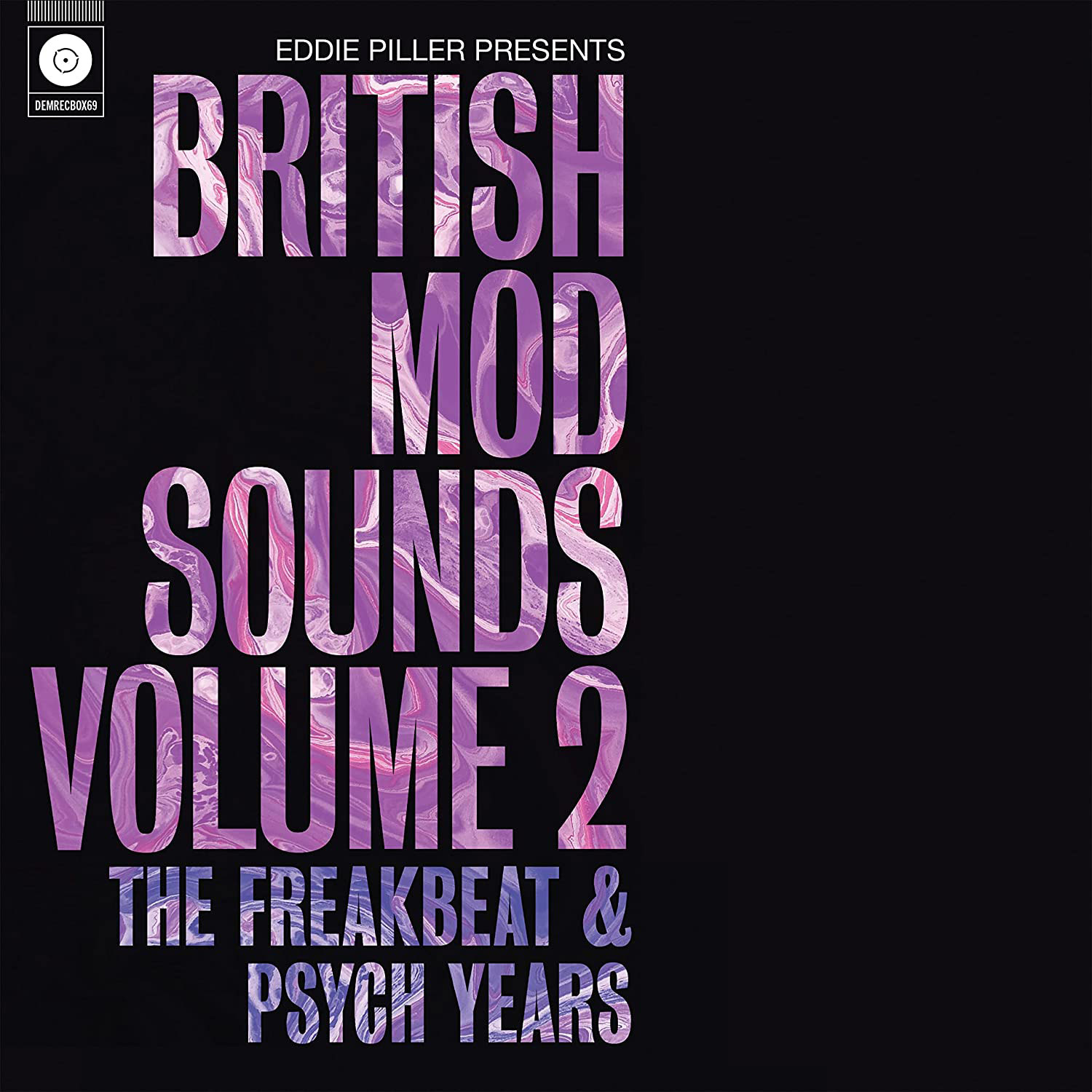 British Mod Sounds Vol 2: The Freakbeat & Psych Years Various Artists
/
CD 1

The Fairies – Get Yourself Home
The Birds – No Good Without You Baby
The Poets – Call Again
The Sorrows – You've Got What I Want
The Eyes – When The Night Falls
The New Breed – Unto Us
The Riot Squad – I Take It We're Through
Jan Panter – Scratch My Back
Wimple Winch – Save My Soul
Loose Ends – Taxman
The Ivy League – My World Fell Down
Yardbirds – Happenings Ten Years Time Ago
Fleur De Lys – Mud In Your Eye
The Truth – Hey Gyp (Dig The Slowness)
Scots Of St James – Tic Toc
The Flies – I'm Not Your Stepping Stone
The Move – Disturbance
The Craig – I Must Be Mad
The Drag Set – Day And Night
Apostolic Intervention – Tell Me (Have You Ever Seen Me)
David Bowie – The Gospel According To Tony Day
Tomorrow – My White Bicycle
John's Children – Midsummer Night's Scene
Caleb – Baby Your Phrasing Is Bad
The Attack – Created By Clive
The Gods – Come On Down To My Boat Baby
Alex Harvey – The Sunday Song
Keith West – Excerpt From a Teenage Opera

CD 2

Our Plastic Dream – Encapsulated Marigold
The Action – In My Dream
Dantalian's Chariot – Madman Running Through The Fields
Kaleidoscope – Flight From Ashiya
Sands – Listen To The Sky
Scott Walker – Montagu Terrace (In Blue)
The 23rd Turnoff – Michael Angelo
The Fairytale – Listen To Mary Cry
Felius Andromeda – Meditations
Ice – Anniversary Of Love
Rupert's People – Dream On My Mind
The Accent – Red Sky At Night
The Creation – Life Is Just Beginning
The Who – I Can See For Miles
Fleetwood Mac – Rambling Pony
The Cymbaline – Matrimonial Fears
Tintern Abbey – Vacuum Cleaner
Traffic – Coloured Rain
Andy Ellison – It's Been A Long Time
The Micky Finn – Garden Of My Mind
Warm Sounds – Nite Is A Comin'
Mike Stuart Span – Children Of Tomorrow
Nirvana – Rainbow Chaser
Mark Wirtz – (He's Our Dear Old) Weatherman

CD 3

Spencer Davis Group – Moonshine
The End – Shades Of Orange
The Fire – Father's Name Is Dad
Turquoise – Tales Of Flossie Fillett
Billy Nicholls – London Social Degree
Aquarian Age – 10,000 Words In A Cardboard Box
Status Quo – Pictures of Matchstick Men
The Idle Race – The Morning Sunshine
The Montanas – A Step In The Right Direction
July – Dandelion Seeds
Family – See Through Windows
Icarus – The Devil Rides Out
Plastic Penny – Your Way To Tell Me Go
The Elastic Band – 8 1/2 Hours Of Paradise
Vamp – Floatin'
Paul West & Compass – Hey You
Sam Gopal – Escalator
Sound Barrier – Groovin' Slow
Apple – Buffalo Billycan
Timebox – Gone Is The Sad Man
Locomotive – Mr Armageddon
Ossie Layne Show – Rock My Plimsoul
The Californians – The Cooks Of Cake And Kindness

CD 4

The Koobas – Barricades
The Troggs – Evil Woman
Graham Bond – Love Is The Law
The Misunderstood – Children Of The Sun
Small Faces – Me, You and Us Too
The Fruit Machine – I'm Alone Today
Brian Auger Feat. Julie Driscoll – Flesh Failures (Let The Sunshine In)
Terry Reid – Superlungs My Supergirl
Jason Crest – Black Mass
The Open Mind – Magic Potion
Quiet Melon – Diamond Joe
Humble Pie – Wrist Job
Mighty Baby – Same Way From The Sun
Colosseum – Elegy
Blonde On Blonde – Castles In The Sky
Peter Wyngarde – Neville Thumbcatch
The Kinks – This Time Tomorrow
Satisfaction – My Fixation (Edit)
Nucleus – Song For The Bearded Lady
Graham Dee – Car Chase

LP 1

Side A

The Fairies – Get Yourself Home
The Birds – No Good Without You Baby
The Poets – Call Again
The Sorrows – You've Got What I Want
The Eyes – When The Night Falls
The New Breed – Unto Us
The Riot Squad – I Take It We're Through
Jan Panter – Scratch My Back
Wimple Winch – Save My Soul

Side B

Loose Ends – Taxman
The Ivy League – My World Fell Down
Yardbirds – Happening Ten Years Time Ago
Fleur De Lys – Mud In Your Eye
The Truth – Hey Gyp (Dig The Slowness)
Scots Of St James – Tic Toc
The Flies – I'm Not Your Steppin' Stone
The Move – Disturbance
The Craig – I Must Be Mad

LP 2

Side C

The Drag Set – Day And Night
Apostolic Intervention – Tell Me (Have You Ever Seen Her)
David Bowie – The Gospel According To Tony Day
Tomorrow – My White Bicycle
John's Children – Midsummer Night's Scene
Caleb – Baby Your Phrasing Is Bad
The Attack – Created By Clive
The Gods – Come On Down To My Boat Baby
Alex Harvey – The Sunday Song

Side D

Keith West's Tomorrow – Excerpt From a Teenage Opera
Our Plastic Dream – Encapsulated Marigold
The Action – In My Dream
Dantalian's Chariot – Madman Running Through The Fields
Kaleidoscope – Flight From Ashiya
Sands – Listen To The Sky
The 23rd Turnoff – Michael Angelo

LP 3

Side E

The Fairytale – Listen To Mary Cry
Felius Andromeda – Meditations
Ice – Anniversary Of Love
Rupert's People – Dream In My Mind
The Accent – Red Sky At Night
The Creation – Life Is Just Beginning
The Who – I Can See For Miles

Side F

Fleetwood Mac – Rambling Pony
The Cymbaline – Matrimonial Fears
Tintern Abbey – Vacuum Cleaner
Traffic – Coloured Rain
Andy Ellison – It's Been A Long Time
The Micky Finn – Garden Of My Mind
Warm Sounds – Nite Is A Comin'
Mark Wirtz – (He's Our Dear Old) Weatherman

LP 4

Side G

Mike Stuart Span – Children Of Tomorrow
Nirvana – Rainbow Chaser
Spencer Davis Group – Moonshine
The End – Shades Of Orange
The Fire – Father's Name Is Dad
Turquoise – Tales Of Flossie Fillett
Billy Nicholls – London Social Degree
Aquarian Age – 10,000 Words In A Cardboard Box

Side H

The Montanas – A Step In The Right Direction
Status Quo – Pictures of Matchstick Men
The Idle Race – The Morning Sunshine
July – Dandelion Seeds
Family – See Through Windows
Icarus – The Devil Rides Out
Plastic Penny – Your Way To Tell Me Go
Paul West & Compass – Hey You

LP 5

Side I

The Elastic Band – 8 1/2 Hours Of Paradise
Vamp – Floatin'
Sam Gopal – Escalator
Sound Barrier – Groovin' Slow
The Apple – Buffalo Billycan
Timebox – Gone Is The Sad Man
The Troggs – Evil Woman
The Californians – The Cooks Of Cake And Kindness

Side J

Ossie Layne Show – Rock My Plimsoul
The Koobas – Barricades
Locomotive – Mr Armageddon
Graham Bond – Love Is The Law
The Misunderstood – Children Of The Sun
Small Faces – Me, You and Us Too
Terry Reid – Superlungs My Supergirl

LP 6

Side K

The Fruit Machine – I'm Alone Today
Julie Driscoll, Brian Auger & The Trinity – Let The Sunshine In
Jason Crest – Black Mass
The Open Mind – Magic Potion
Quiet Melon – Diamond Joe
Humble Pie – Wrist Job

Side L

Mighty Baby – Same Way From The Sun
Colosseum – Elegy
The Kinks – This Time Tomorrow
Satisfaction – My Fixation (Edit)
Nucleus – Song For The Bearded Lady

LP 1

Side A

The Birds – No Good Without You Baby
The Poets – Call Again
Wimple Winch – Save My Soul
Yardbirds – Happenings Ten Years Time Ago
The Flies – I'm Not Your Stepping Stone
David Bowie – The Gospel According To Tony Day
Tomorrow – My White Bicycle
John's Children – Midsummer Night's Scene
The Gods – Come On Down To My Boat Baby

Side B

The Action – In My Dream
Kaleidoscope – Flight From Ashiya
Dantalian's Chariot – Madman Running Through The Fields
The Who – I Can See For Miles
The Accent – Red Sky At Night
Tintern Abbey – Vacuum Cleaner
Fleetwood Mac – Rambling Pony

LP 2

Side C

Nirvana – Rainbow Chaser
Spencer Davis Group – Moonshine
The Fire – Father's Name Is Dad
Billy Nicholls – London Social Degree
Aquarian Age – 10,000 Words In A Cardboard Box
The Elastic Band – 8 1/2 Hours Of Paradise
Vamp – Floatin'
Timebox – Gone Is The Sad Man

Side D

The Koobas – Barricades
Graham Bond – Love Is The Law
Small Faces – Me, You and Us Too
Brain Auger Feat. Julie Driscoll – (Flesh Failures) Let The Sunshine In
Terry Reid – Superlungs My Supergirl
Colosseum – Elegy
The Kinks – This Time Tomorrow