 News
Eddie Piller presents British Mod Sounds of the 1960s
New 100-track comp on CD and vinyl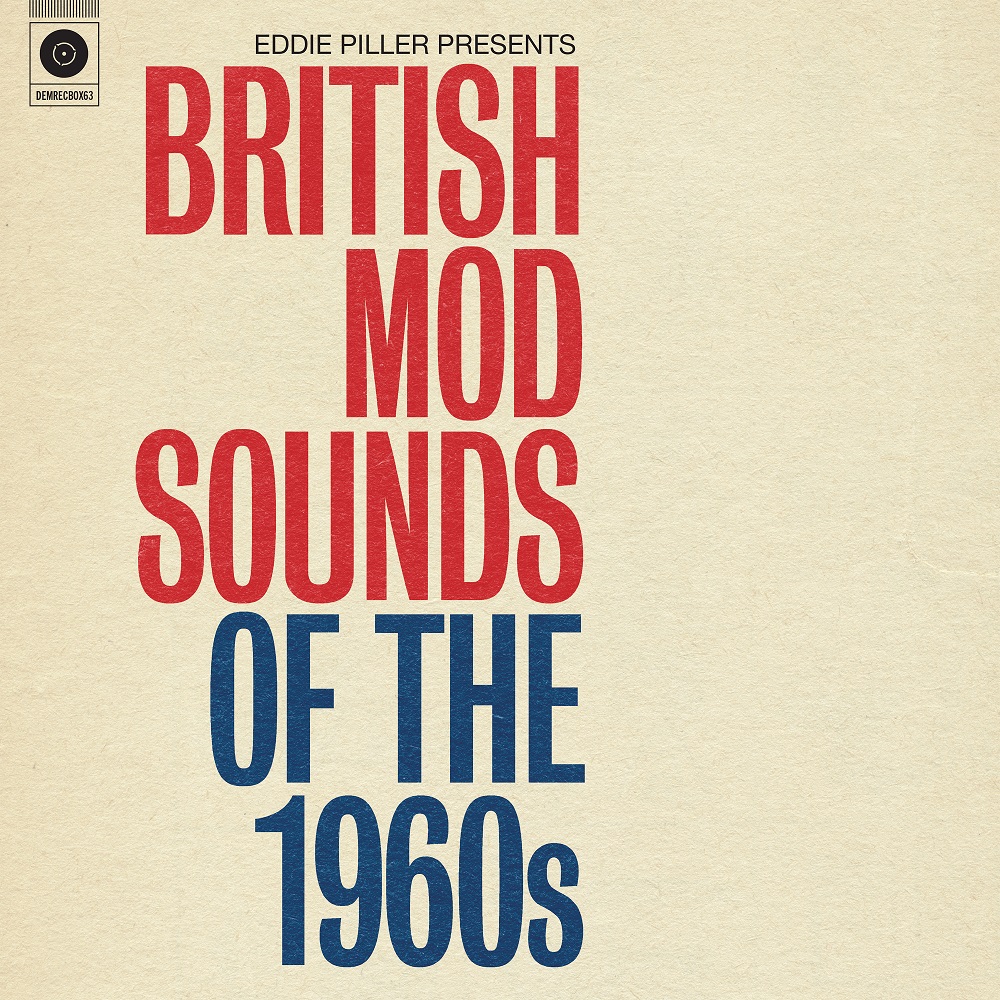 Acid Jazz founder and Mod enthusiast Eddie Piller has curated a new 100-track compilation called British Mod Sounds of The 1960s which captures the essence of '60s Modernism, across six LPs or four CDs
Piller has a family connection to Mod royalty The Small Faces (Eddie's mum ran the Small Faces' fan club) and in 1979 he co-founded Mod Revival fanzine Extraordinary Sensations. Since then he's become a well-known figure within the music industry, setting up and continuing to own the Acid Jazz record label, signing artists such as Jamiroquai and The Brand New Heavies, collaborating on compilations with Martin Freeman and broadcasting via his own Totally Wired Radio station.
This new collection mixes the Mod mainstays (the Small Faces, The Who in embryonic form as The High Numbers, The Action, The Fleur De Lys), with a generous selection of future superstars (David Bowie, Rod Stewart, Elton John, Marc Bolan, Jeff Beck and Graham Gouldman of 10cc are all represented here), and a few artists so obscure, so rare, that they never got to release a record in the '60s, but Eddie has managed to track down the tapes nonetheless!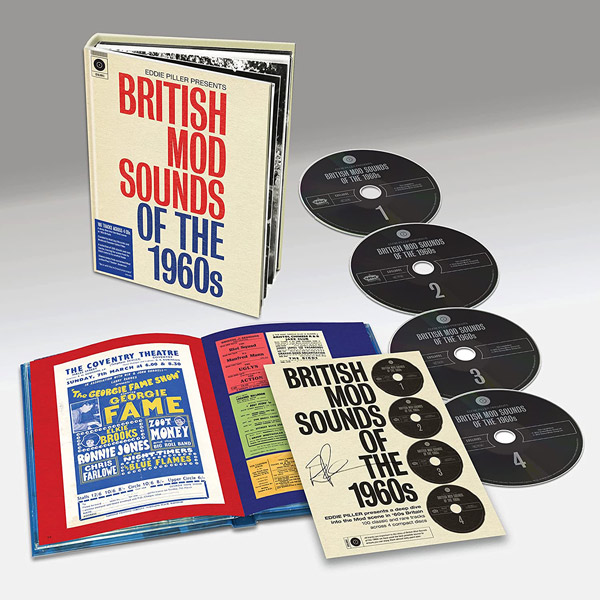 The same 100 tracks are on the 4CD set and the 6LP edition and both CD and vinyl versions are available as limited edition SIGNED (by Eddie) editions on Amazon in the UK. Signed 6LP black vinyl is also available for a limited time via Rough Trade in the UK, who also have unsigned 6LP clear vinyl edition.
In addition, there's a 34-track 'highlights' version which is available as a 2LP set on black vinyl or red and blue coloured vinyl via indie stores, like Rough Trade in the UK.
All formats include sleeve notes by Paul 'Smiler' Anderson, author of the best-selling and highly regarded books 'Mods: The New Religion' and 'Mod Art'.
Eddie Piller presents British Mod Sounds of the 1960s will be released on 18 February 2022.
Compare prices and pre-order
Various Artists
British Mod Sounds of the 1960s - 4CD signed amazon exclusive
Compare prices and pre-order
Various Artists
British Mod Sounds of the 1960s - 6LP vinyl amazon signed version
Compare prices and pre-order
Various Artists
British Mod Sounds of the 1960s - 2LP black vinyl
Compare prices and pre-order
Various Artists
British Mod Sounds of the 1960s - 4CD standard edition
Tracklisting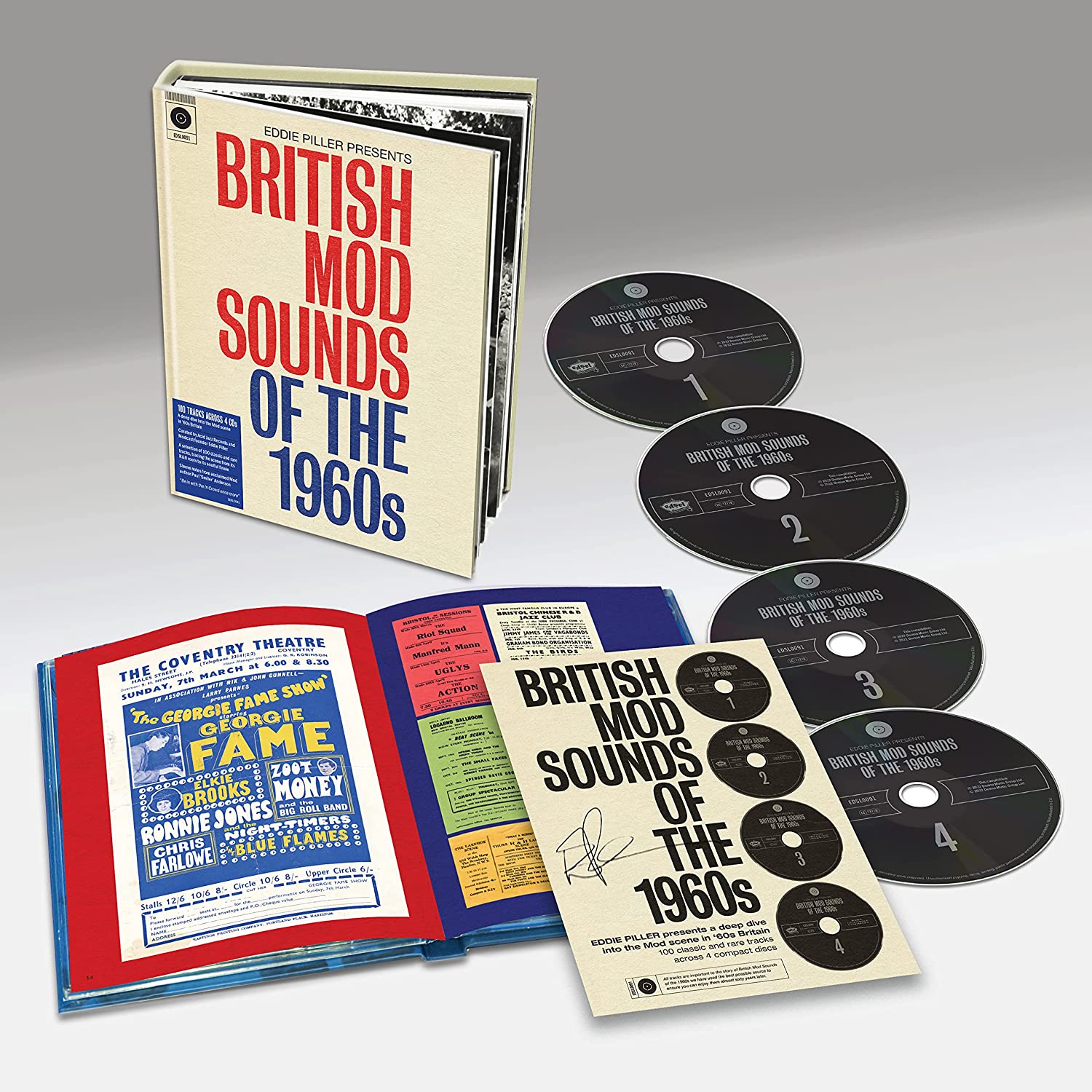 Eddie Piller presents British Mod Sounds of the 1960s Various Artists
/
4CD edition
CD 1 (or sides A, B & C in the 6LP vinyl set)

The High Numbers – 'I'm The Face'
The Bo Street Runners – 'Bo Street Runner'
Cyril Davies & His R&B Allstars – 'Country Line Special'
Tom Jones – 'Chills And Fever'
John Mayall & The Blues Breakers – 'Crawling Up A Hill'
The Koobas – 'You Better Make Up Your Mind'
John's Children – 'Desdemona'
Shyster – 'Tick Tock'
Billie Davis – 'Wasn't It You'
The Hollies – 'Bus Stop'
All Night Workers –  'Tell Daddy'
Kenny Lynch –  'What Am I To You'
The Frays –  'My Babe'
The Shots –   'Keep A Hold Of What You Got'
Mike Stevens & The Shevelles – 'The Go-Go Train'
P. Arnold –  '(If You Think You're) Groovy'
Dusty Springfield –  'Little By Little'
The Poets – 'Wooden Spoon'
The Muleskinners –  'Backdoor Man'
Jimmy Winston & His Reflections –  'Sorry She's Mine'
Rod Stewart – 'Good Morning Little Schoolgirl'
The Yardbirds –  'Over Under Sideways Down'
Bluesology –   'Come Back Baby'
James Royal  –   'A Little Bit Of Rain'
The Rocking Vicars –  'It's Alright'

CD 2 (or sides D, E and F for the 6LP set)

The Fleur De Lys – 'Circles'
David Bowie – 'Can't Help Thinking About Me'
Georgie Fame & The Blue Flames – 'Sweet Thing'
Small Faces – 'Don't Burst My Bubble'
Tony And Tandy – 'Two Can Make It Together'
Jimmy James & The Vagabonds – 'Ain't No Big Thing'
Episode Six – 'Put Yourself In My Place'
Geno Washington & The Ram Jam Band – 'Michael (The Lover)'
Dog Soul – 'Big Bird'
The Organisers – 'The Organiser' (feat. Harold Smart)
Rod Stewart & P.P. Arnold – 'Come Home Baby'
Wynder K. Frog – 'Henry's Panter'
The Alan Bown Set – 'Emergency 999'
The Soul Agents – 'Seventh Son'
Timebox – 'Soul Sauce'
Harold McNair – 'The Hipster'
The Spencer Davis Group – 'High Time Baby'
The Zombies –  'Gotta Get A Hold Of Myself'
Manfred Mann – 'Don't Ask Me What I Say'
The Top Six – 'I'm A Man'
Love Affair – 'Everlasting Love'
Madeline Bell – 'Picture Me Gone'
Cliff Bennett & The Rebel Rousers – 'Good Times'
The Beazers – 'Blue Beat'
The Penny Blacks – 'I'm Coming Home To You'

CD 3 – (or sides G,H & I in the 6LP set)

The Syndicats – 'Crawdaddy Simone'
The Attack – 'Magic In The Air'
The Kinks – 'She's Got Everything'
The Clique – 'Ooh Poo Pah Doo'
The Truth – 'Who's Wrong'
The Artwoods – 'I Take What I Want'
The Creation – 'Makin' Time'
The Sorrows – 'Take A Heart'
The meddyEvils – 'Ma's Place'
The Birds – 'How Can It Be'
The Eyes – 'I'm Rowed Out'
The Sneekers – 'Bald Headed Woman'
The Untamed – 'My Baby Has Gone'
The Quik – 'Bert's Apple Crumble'
The Move – 'You're The One I Need'
The Mark Four – 'I'm Leaving'
The Gods – 'Garage Man'
Waygood Ellis – 'I Like What I'm Trying To Do'
The Nocturnes – 'Hay, That's What Horses Eat'
The Mojos – 'Everything's Alright'
The Wards Of Court – 'How You Can Say One Thing'
Platform Six – 'Money Will Not Mean A Thing'
The Silence – 'Down Down'
Apostolic Intervention – 'Madame Garcia'
The Deejays – 'Black Eyed Woman'

CD 4 (or sides J, K & L in the 6LP set)

The Action – 'Never Ever'
The Carnaby – 'Jump And Dance'
The Riot Squad – 'Anytime'
The Spectres – '(We Ain't Got) Nothin' Yet'
The Mike Cotton Sound – 'Soul Serenade'
Sharon Tandy – 'Hold On'
Quiet Melon – 'Engine 4444'
Ossie Layne Show – 'Midnight Hour'
Dave And The Diamonds – 'Think About Love'
Fearns Brass Foundry – 'Don't Change It'
Simon Dupree & The Big Sound – 'Reservations'
The Habits – 'Elbow Baby'
Maxine – 'A Love I Believe In'
The Blue Rondos – 'Baby I Go For You'
The Mindbenders – 'The Morning After'
The Shapes Of Things – 'Striving'
Wainwright's Gentlemen – 'And That's Just Like Me'
The Richard Kent Style – 'I'm Out'
Sean Buckley & The Breadcrumbs – 'No Matter How You Slice It'
The Afex – 'She's Got The Time'
Syd's Crowd – 'Times Are Good Babe'
Tony Colton – 'Further On Down The Track'
The Troop – 'You'll Call My Name'
Razor – 'It's A Hard Way But It's My Way'
Dave Anthony's Moods – 'New Directions'
Tracklisting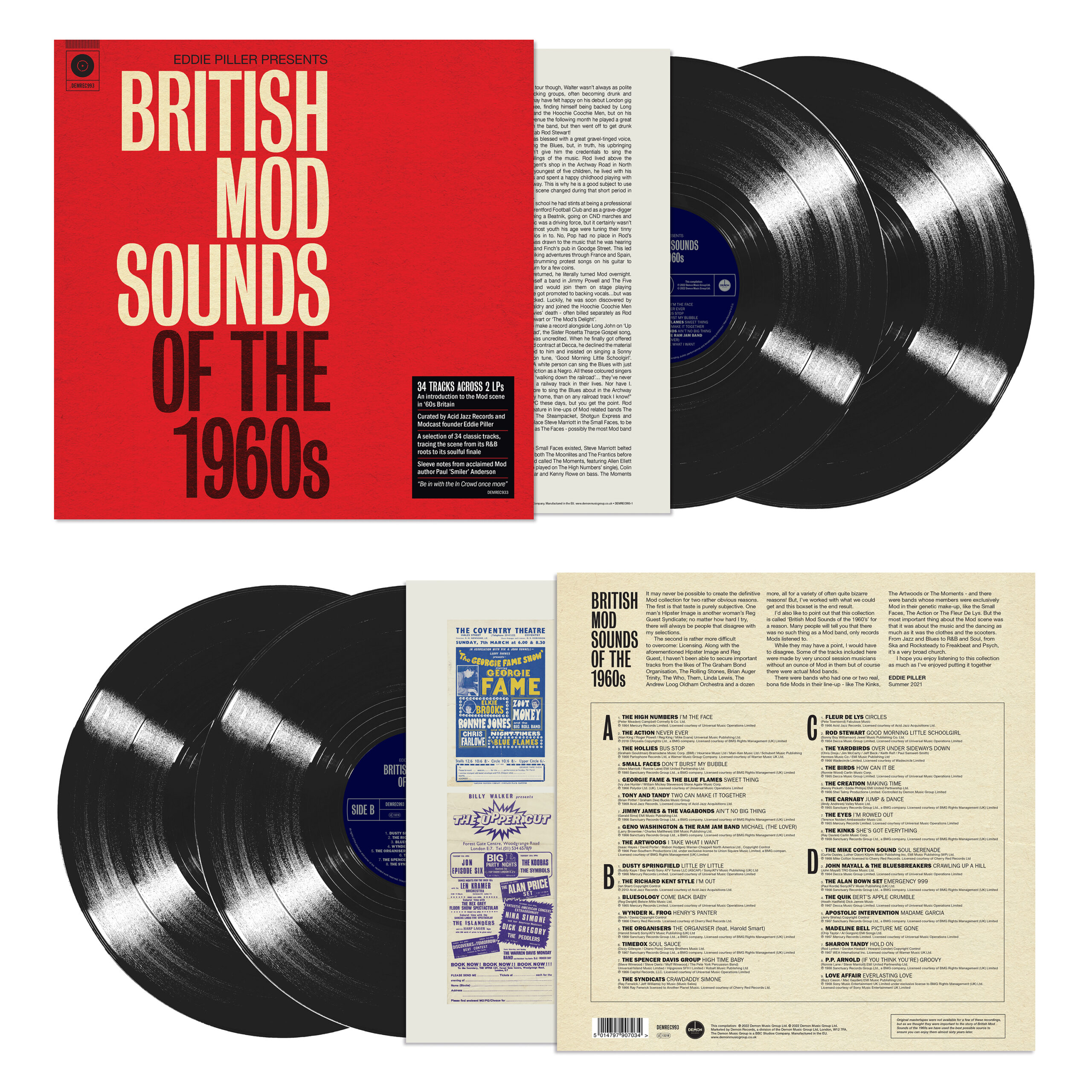 British Mod Sounds of the 1960s Various Artists
/
2LP vinyl
LP 1

Side A. 

The High Numbers – 'I'm The Face' 

The Action – 'Never Ever' 

The Hollies – 'Bust Stop' 

Small Faces –  'Don't Burst My Bubble' 

Georgie Fame & The Blue Flames – 'Sweet Thing' 

 

Tony And Tandy – 'Two Can Make It Together' 

Jimmy James & The Vagabonds – 'Ain't No Big Thing' 

Geno Washington & The Ram Jam Band – 'Michael (The Lover)' 

The Artwoods – 'I Take What I Want' 

Side B. 

Dusty Springfield – 'Little By Little' 

The Richard Kent Style  – 'I'm Out'

 

Bluesology – 'Come Back Baby' 

Wynder K. Frog – 'Henry's Panter' 

The Organisers – 'The Organiser' (feat. Harold Smart) 

Timebox – 'Soul Sauce' 

The Spencer Davis Group –  'High Time Baby' 

The Syndicats – 'Crawdaddy Simone' 

 

LP 2

Side A

The Fleur De Lys – 'Circles'
Rod Stewart – 'Good Morning Little Schoolgirl'
The Yardbirds – 'Over Under Sideways Down'
The Birds – 'How Can It Be '
The Creation – 'Makin' Time'
The Carnaby – 'Jump And Dance'
The Eyes – 'I'm Rowed Out'
The Kinks – 'She's Got Everything'

Side B

The Mike Cotton Sound – 'Soul Serenade'
Mayall & The Blues Breakers – 'Crawling Up A Hill'
The Alan Bown Set – 'Emergency 999'
The Quik – 'Bert's Apple Crumble
Apostolic Intervention – 'Madame Garcia'
Madeline Bell – 'Picture Me Gone'
Sharon Tandy – 'Hold On'
P. Arnold – '(If You Think You're) Groovy'
Love Affair – 'Everlasting Love'