 News
Camel / Air Born: The MCA & Decca Years 1973-1984
27CD  +5 x blu-ray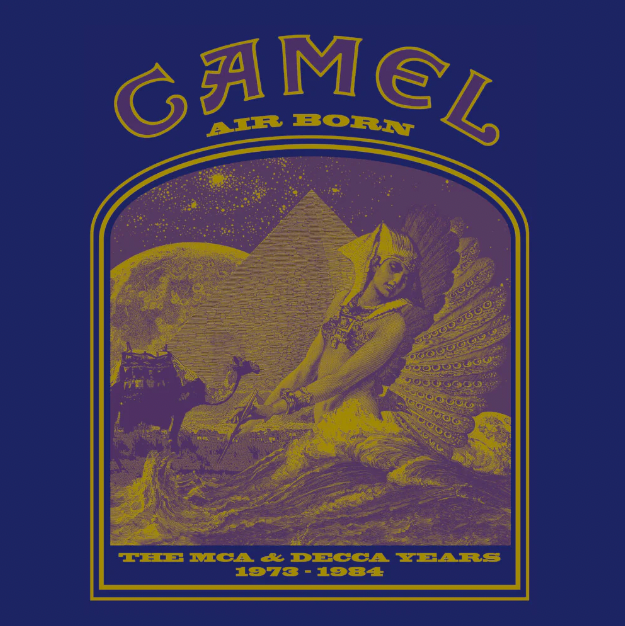 Air Born: The MCA & Decca Years 1973-1984 is a new box set featuring the music of English prog-rock band Camel.
The box features 27 CDs & five blu-rays and includes newly remastered versions of every Camel album and single issued between 1973 and 1984, but also includes new stereo and 5.1 Surround Sound versions of five albums, as well as new mixes of three concerts; The Marquee Club, London 1974, Hammersmith Odeon 1976 and Hammersmith Odeon 1977.
The package also features previously unreleased outtakes from album recording sessions and BBC Radio 'In Concert' appearances from 1974, 1975, 1977 and 1981.
The five blu-rays comprise three discs which offer 5.1, new stereo and original stereo of the following albums: Camel, Mirage, Music Inspired by The Snow Goose, Moonmadness and Nude. The fourth blu-ray disc contains 21 videos (largely live performance, Old Grey Whistle Test etc.) while the final blu-ray delivers the 1984 concert film 'Pressure Points The box set includes an illustrated book with essay and a poster.
As well as this massive box set the following remastered albums will be issued on vinyl: Camel, Moonmadness, Music Inspired by The Snow Goose and Nude.
Air Born: The MCA & Decca Years 1973-1984 will be released on 24 November 2023, via UMR/Decca. Good price via Germany, although it's worth noting that they won't deliver to the UK.
Compare prices and pre-order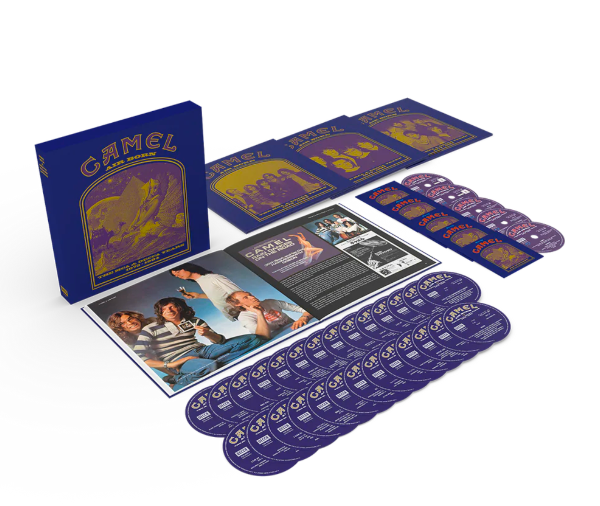 Camel
Air Born - The MCA and Decca Years box set
Compare prices and pre-order
Camel
Camel remastered - vinyl LP
Compare prices and pre-order
Camel
Moonmadness remastered - vinyl LP
Compare prices and pre-order
Camel
Nude remastered - vinyl LP
Tracklisting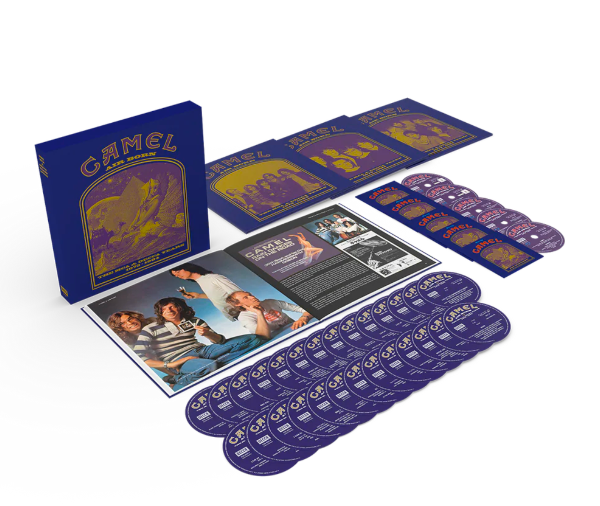 Air Born The MCA & Decca Years 1973 – 1984 Camel
/
CD 1: Camel – Remastered (Released as MCA Records MUPS 473 in 1973)

Slow Yourself Down
Mystic Queen
Six Ate
Seperation
Never Let Go
Curiosity
Arubaluba
Sarah (previously unreleased) – Bonus track
Never Let Go (single version) – Bonus track
Homage to the God of Light (live) (from "Greasy Truckers – Live at Dingwalls Dance Hall") – Bonus track

CD 2: Mirage – Remastered (Released as Deram SML 1107 in 1974)

Freefall
Supertwister
Nimrodel / The Procession / The White Rider
Earthrise
Lady Fantasy
Earthrise (Bonus tracks: Demo session – Decca Studios 15th July 1973 (Previously unreleased))
The Traveller (Bonus tracks: Demo session – Decca Studios 15th July 1973 (Previously unreleased))
Supertwister (Bonus tracks: Demo session – Decca Studios 15th July 1973 (Previously unreleased))
The White Rider (Bonus tracks: Demo session – Decca Studios 15th July 1973 (Previously unreleased))
Lady Fantasy (Bonus tracks: Demo session – Decca Studios 15th July 1973 (Previously unreleased))

CD 3: Mirage Sessions

Lady Fantasy (Basing Street studios original mix)
Autumn (previously unreleased)
Nimrodel / The Procession / The White Rider (BBC Radio One "In Concert" – 6th June 1974) – Bonus track
Ligging at Louis' (BBC Radio One "In Concert" – 6th June 1974) – Bonus track
Lady Fantasy (BBC Radio One "In Concert" – 6th June 1974) – Bonus track
Arubaluba (BBC Radio One "In Concert" – 6th June 1974) – Bonus track

CD 4: Live at The Marquee Club – 30th June 1974 (Newly mixed in full by Stephen W. Tayler)

Introduction
Earthrise
Nimrodel
Six Ate
Supertwister
Mystic Queen
Arubaluba

CD 5: Live at The Marquee Club – 30th June 1974 (Newly mixed in full by Stephen W. Tayler)

Rhayader Goes to Town
The Snow Goose / Freefall
Lady Fantasy
Homage to the God of Light

CD 6: Music Inspired by the Snow Goose(Remastered (Released as Decca SKL-R 5207 in May 1975)

The Great Marsh
Rhayder
Rhayder Goes to Town
Sanctuary
Fritha
The Snow Goose
Friendship
Migration
Rhayder Alone
Flight of the Snow Goose
Preparation
Dunkirk
Epitaph
Fritha Alone
La Princesse Perdue
The Great Marsh
Flight of the Snow Goose (single version) – Bonus track
Rhayder (single version) – Bonus track

CD 7: Snowgoose Sessions (Recorded and mixed at Decca Studios, Broadhurst Gardens 7th June 1974)

Riverman
Rhayder Goes to Town (BBC Radio One "In Concert" – 22nd April 1975)
Sanctuary (BBC Radio One "In Concert" – 22nd April 1975)
The Snow Goose (BBC Radio One "In Concert" – 22nd April 1975)
Migration (BBC Radio One "In Concert" – 22nd April 1975)
Rhayder Alone (BBC Radio One "In Concert" – 22nd April 1975)
Flight of the Snow Goose (BBC Radio One "In Concert" – 22nd April 1975)
Preparation (BBC Radio One "In Concert" – 22nd April 1975)
Dunkirk (BBC Radio One "In Concert" – 22nd April 1975)
Epitaph (BBC Radio One "In Concert" – 22nd April 1975)
La Princesse Perdue (BBC Radio One "In Concert" – 22nd April 1975)
The Great Marsh (BBC Radio One "In Concert" – 22nd April 1975)
Selections from "The Snow Goose" (BBC TV Old Grey Whistle Test – 21st June 1975) a. The Snow Goose / b. Friendship / c. Rhayader Goes to Town

CD 8: Live at The Royal Albert Hall – 17th October 1975 (Remastered & mixed with the London Symphony Orchestra conducted by David Bedford)

Introduction by Peter Bardens
The Great Marsh
Rhayder
Rhayder Goes to Town
Sanctuary
Fritha
The Snow Goose
Friendship
Migration
Rhayder Alone
Flight of the Snow Goose
Preparation
Dunkirk
Epitaph
Fritha Alone
La Princesse Perdue
The Great Marsh
Encore: Lady Fantasy (previously unreleased)

CD 9: Moonmadness – Remastered (Released as Decca TXS-R 115 in 1976)

Aristillus
Song Within a Song
Chord Change
Spirit of the Water
Another Night
Air Born
Lunar Sea
Sprit of the Water (demo) – Bonus track
Chord Change (demo) (previously unreleased) – Bonus track
Lunar Sea (demo) (previously unreleased) – Bonus track
Another Night (single version) – Bonus track

CD 10: Live at Hammersmith Odeon – 14th April 1976 (Newly mixed in full by Stephen W. Tayler)

Aristillus
Song Within a Song
The Great Marsh
Rhayader
Rhayader Goes to Town
Air Born
Chord Change
The White Rider

CD 11: Live at Hammersmith Odeon – 14th April 1976 (Newly mixed in full by Stephen W. Tayler)

Lunar Sea
Preparation
Dunkirk
Another Night
Lady Fantasy

CD 12: Rain Dances (Released as Decca TXS-R 124 in 1977)

First Light
Metrognome
Tell Me
Highways of the Sun
Unevensong
One of These Days I'll Get An Early Night
Elke
Skylines
Rain Dances
Highways of the Sun (single version) – Bonus track
First Light (live at the Colston Hall, Bristol 2nd October 1977) – Bonus track
Metrognome (live at the Colston Hall, Bristol 2nd October 1977) – Bonus track
Unevensong (live at the Colston Hall, Bristol 2nd October 1977) – Bonus track
Skylines (live at Leeds University 3rd October 1977) – Bonus track
Lunar Sea (live at the Colston Hall, Bristol 2nd October 1977) – Bonus track
Raindances (live at the Colston Hall, Bristol 2nd October 1977) – Bonus track

CD 13: Rain Dances Live

Never Let Go (live at the Colston Hall, Bristol 2nd October 1977)
First Light (BBC In Concert – Golders Green Hippodrome – 29th September 1977)
Metrognome (BBC In Concert – Golders Green Hippodrome – 29th September 1977)
Unevensong (BBC In Concert – Golders Green Hippodrome – 29th September 1977)
Rhayader / Rhayader Goes to Town (BBC In Concert – Golders Green Hippodrome – 29th September 1977)
Skylines (BBC In Concert – Golders Green Hippodrome – 29th September 1977)
Highways of the Sun (BBC In Concert – Golders Green Hippodrome – 29th September 1977)
Lunar Sea (BBC In Concert – Golders Green Hippodrome – 29th September 1977)
Rain Dances (BBC In Concert – Golders Green Hippodrome – 29th September 1977)
Never Let Go (BBC In Concert – Golders Green Hippodrome – 29th September 1977)
One of These Days I'll Get an Early Night (BBC In Concert – Golders Green Hippodrome – 29th September 1977)

CD 14:  Live at Hammersmith Odeon – 30th September / 1st October 1977 (Newly mixed in full by Stephen W. Tayler)

First Light
Metrognome
Unevensong
Rhayader
Rhayader Goes to Town
Preparation
Dunkirk
Sanctuary
The Snow Goose

CD 15: Live at Hammersmith Odeon – 30th September / 1st October 1977 (Newly mixed in full by Stephen W. Tayler)

Tell Me
Song Within a Song
Skylines
Highway to the Sun
Lunar Sea
Rain Dances
One of These Days I'll Get an Early Night

CD 16: Breathless (Released as Decca TXS-R 132 in 1978)

Breathless
Echoes
Wing and a Prayer
Down on the Farm
Starlight Ride
Summer Lightning
You Make Me Smile
The Sleeper
Rainbow's End
Rainbow's End (single version) – Bonus track

CD 17: I Can See Your Houses From Here (Released as Decca TXS-R 137 in 1979)

Wait
Your Love is Stranger Than Mine
Eye of the Storm
Who We Are
Survival
Hymn to Her
Neon Magic
Remote Romance
Ice
Remote Romance (single version) – Bonus track

CD 18: Nude (Released as Decca SKL 5323 in 1981)

City Life
Nude
Drafted
Docks
Beached
Landscapes
Changing Places
Pomp and Circumstance
Please Come Home
Reflections
Captured
The Homecoming
Lies
The Birthday Cake (The Last Farewell)
Nude's Return (The Last Farewell)
Captured (first version) (previously unreleased) – Bonus track

CD 19: BBC Radio One In Concert – Hammersmith Odeon 27th February 1981 (First broadcast 2nd May 1981)

Never Let Go
Song Within a Song
Lunar Sea
Summer Lightning
Ice
City Life
Drafted
Docks
Beached
Landscapes
Changing Places
Reflections
Captured
The Birthday Cake (The Last Farewell)
Nude's Return (The Last Farewell)

CD 20: The Single Factor (Released as Decca SKL 5328 in 1982)

No Easy Answer
You Are the One
Heroes
Selva
Lullabye
Sasquatch
Manic
Camelogue
Today's Goodbye
A Heart's Desire
End Piece
You Are the One (promotional 12-inch single version) – Bonus track

CD 21: Stationary Traveller (Released as Decca SKL 5334 in 1984)

Pressure Points
Refugee
Vopos
Cloak and Dagger Man
Stationary Traveller
West Berlin
Fingertips
Missing
After Words
Long Goodbyes
In the Arms of Waltzing Fraulines – Bonus track
Pressure Points (12-inch single extended version) – Bonus track

CD 22: Pressure Points Live at Hammersmith Odeon 11 May 1984

Pressure Points
Drafted
Captured
Lies
Refugee
Vopos
Stationary Traveller
West Berlin
Fingertips

CD 23: Pressure Points Live at Hammersmith Odeon 11 May 1984

Sasquatch
Wait
Cloak and Dagger Man
Long Goodbyes
Rhayader
Rhayader Goes to Town
Lady Fantasy

CD 24: Camel and Mirage (New Stereo Mix by Stephen W Tayler)

Camel

Slow Yourself Down
Mystic Queen
Six Ate
Seperation
Never Let Go
Curiosity
Arubaluba

Mirage

Freefall
Supertwister
Nimrodel / The Procession / The White Rider
Earthrise
Lady Fantasy

CD 25: Music inspired by The Snow Goose (New Stereo Mix by Stephen W Tayler)

The Great Marsh
Rhayder
Rhayder Goes to Town
Sanctuary
Fritha
The Snow Goose
Friendship
Migration
Rhayder Alone
Flight of the Snow Goose
Preparation
Dunkirk
Epitaph
Fritha Alone
La Princesse Perdue
The Great Marsh

CD 26: Moonmadness (New Stereo Mix by Stephen W Tayler)

Aristillus
Song Within a Song
Chord Change
Spirit of the Water
Another Night
Air Born
Lunar Sea

CD 27: Nude (New Stereo Mix by Stephen W Tayler)

City Life
Nude
Drafted
Docks
Beached
Landscapes
Changing Places
Pomp and Circumstance
Please Come Home
Reflections
Captured
The Homecoming
Lies
The Birthday Cake (The Last Farewell)
Nude's Return (The Last Farewell)

Disc 28: Blu-ray

'Camel' & 'Mirage' High Resolution 5.1 Surround Sound & Stereo Mixes by Stephen W Tayler / High resolution original stereo mix

Camel

Slow Yourself Down
Mystic Queen
Six Ate
Seperation
Never Let Go
Curiosity
Arubaluba

Mirage

Freefall
Supertwister
Nimrodel / The Procession / The White Rider
Earthrise
Lady Fantasy
Autumn – Bonus track

Disc 29: Blu-ray

'Music inspired by The Snow Goose' & 'Moonmadness' High Resolution 5.1 Surround Sound & Stereo Mixes by Stephen W Tayler / High resolution original stereo mix

Music Inspired by The Snow Goose

The Great Marsh
Rhayder
Rhayder Goes to Town
Sanctuary
Fritha
The Snow Goose
Friendship
Migration
Rhayder Alone
Flight of the Snow Goose
Preparation
Dunkirk
Epitaph
Fritha Alone
La Princesse Perdue
The Great Marsh
Riverman – Bonus track

Moonmadness

Aristillus
Song Within a Song
Chord Change
Spirit of the Water
Another Night
Air Born
Lunar Sea

Disc 30: Blu-ray

'Nude' High Resolution 5.1 Surround Sound & Stereo Mixes by Stephen W Tayler / High resolution original stereo mix

City Life
Nude
Drafted
Docks
Beached
Landscapes
Changing Places
Pomp and Circumstance
Please Come Home
Reflections
Captured
The Homecoming
Lies
The Birthday Cake (The Last Farewell)
Nude's Return (The Last Farewell)

Disc 31: Blu-ray: The Video Vaults

Never Let Go
Arubaluba
Selections from "The Snow Goose" a. The Snow Goose / b. Friendship / c. Rhayader Goes to Town (Guildford Civic Hall 1973 – MCA Promo film shown on "The Old Grey Whistle Test")
The White Rider (BBC TV – The Old Grey Whistle Test – 21st June 1975)
Lunar Sea (BBC TV – The Old Grey Whistle Test – 21st June 1975)
Preparation (BBC TV – The Old Grey Whistle Test – 21st June 1975)
Dunkirk (BBC TV – The Old Grey Whistle Test – 21st June 1975)
Another Night (BBC TV – The Old Grey Whistle Test – 21st June 1975)
Lady Fantasy (BBC TV – The Old Grey Whistle Test – 21st June 1975)
First Light (Live at Hammersmith Odeon – 14th April 1976)
Metrognome (Live at Hammersmith Odeon – 14th April 1976)
Unevensong (Live at Hammersmith Odeon – 14th April 1976)
Rhayader / Rhayader Goes to Town (Live at Hammersmith Odeon – 14th April 1976)
Skylines (Live at Hammersmith Odeon – 14th April 1976)
Highways of the Sun (Live at Hammersmith Odeon – 14th April 1976)
Lunar Sea (Live at Hammersmith Odeon – 14th April 1976)
Rain Dances (Live at Hammersmith Odeon – 14th April 1976)
Never Let Go (Live at Hammersmith Odeon – 14th April 1976)
One of These Days I'll Get an Early Night (Live at Hammersmith Odeon – 14th April 1976)
City Life (BBC TV – "Sight & Sound in Concert – 29th September 1977")
Lies (BBC TV – "Sight & Sound in Concert – 29th September 1977")

Disc 32: Blu-ray: Pressure Points (1984 concert film)

In the Arms of Waltzing Fraulines
Pressure Points
Refugee
Vopos
Stationary Traveller
West Berlin
Fingertips
Sasquatch
Wait
Cloak and Dagger Man
Long Goodbyes
Rhayader
Rhayader Goes to Town
Lady Fantasy
In the Arms of Waltzing Fraulines