 News
Jethro Tull / The Broadsword and the Beast
40th anniversary deluxe reissue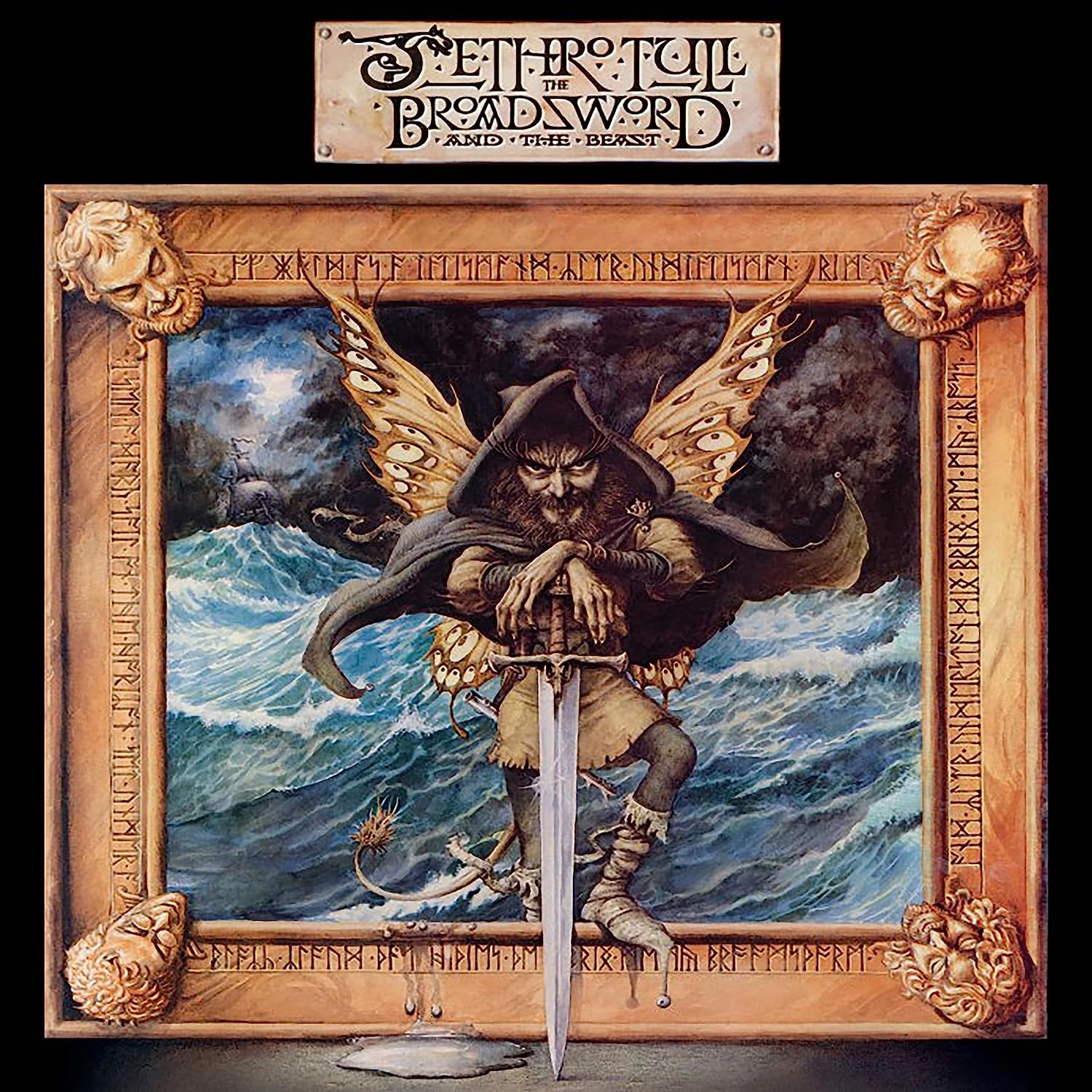 Jethro Tull's 1982 album The Broadsword and the Beast will be reissued in September as hefty vinyl and CD box sets.
The massive 5CD+3DVD 'Monster Edition' includes a new Steven Wilson stereo mix of the album, plus a host of associated recordings, also newly mixed by Wilson (CDs 1 & 2). The third disc offers demos, master mixes, rough mixes and more, while CDs 4 & 5 deliver a live set from Germany performed in 1982.
The three DVDs included with this Monster Edition offer audio only content, with the first devoted to 5.1 and hi-res stereo mixes of the album associated recordings. The second DVD delivers even more associated recordings in the same audio formats, while DVD 3 is the Live in Germany 1982 concert in hi-res stereo and 4.1 surround sound.
This 5CD+3DVD format includes a 164-page book with interviews with band members, a track-by-track annotation by Ian Anderson, an interview with sleeve illustrator Iain McCaig, an extensive interview with studio and live sound engineer Leigh Mantle, a recreation of the 1982 tour programme and touring schedule, and rare photos and memorabilia. Phew!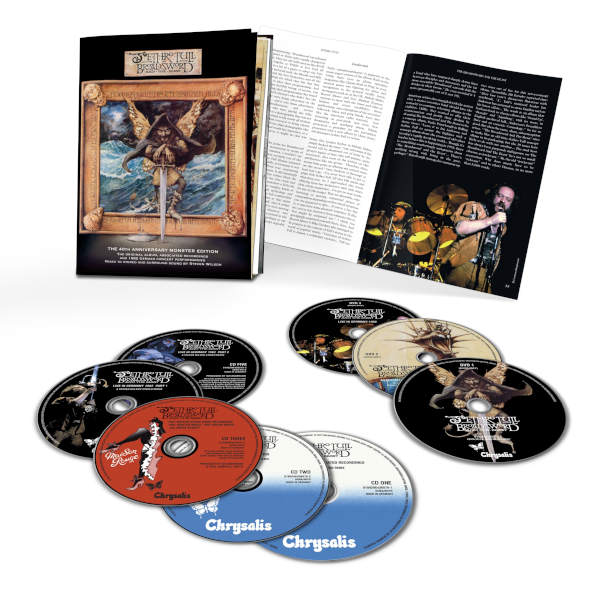 The 4LP vinyl edition of this 40th anniversary celebration of the album covers much of the same ground but obviously doesn't feature the hi-res and surround audio and omits the live concert.
LP 1 is the Steven Wilson mix of the album, LPs 2 & 3 feature associated recordings (also mixed by Steven Wilson) and the fourth record offers demos. This deluxe set is presented as two singles and one double LP and includes a 28-page large format booklet
The Broadsword and the Beast 40th anniversary editions will be released on 1 September 2023 via Parlophone.

Compare prices and pre-order
Jethro Tull
The Monster 5CD+3DVD edition
Compare prices and pre-order
Jethro Tull
The Broadsword and the Beast - 4LP vinyl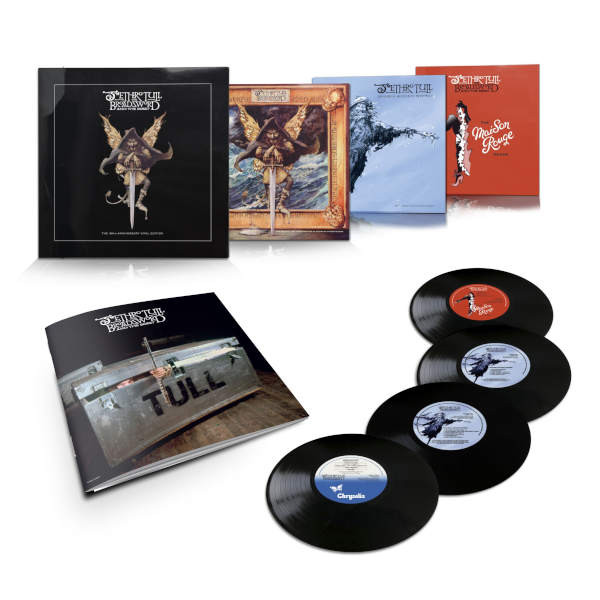 Tracklisting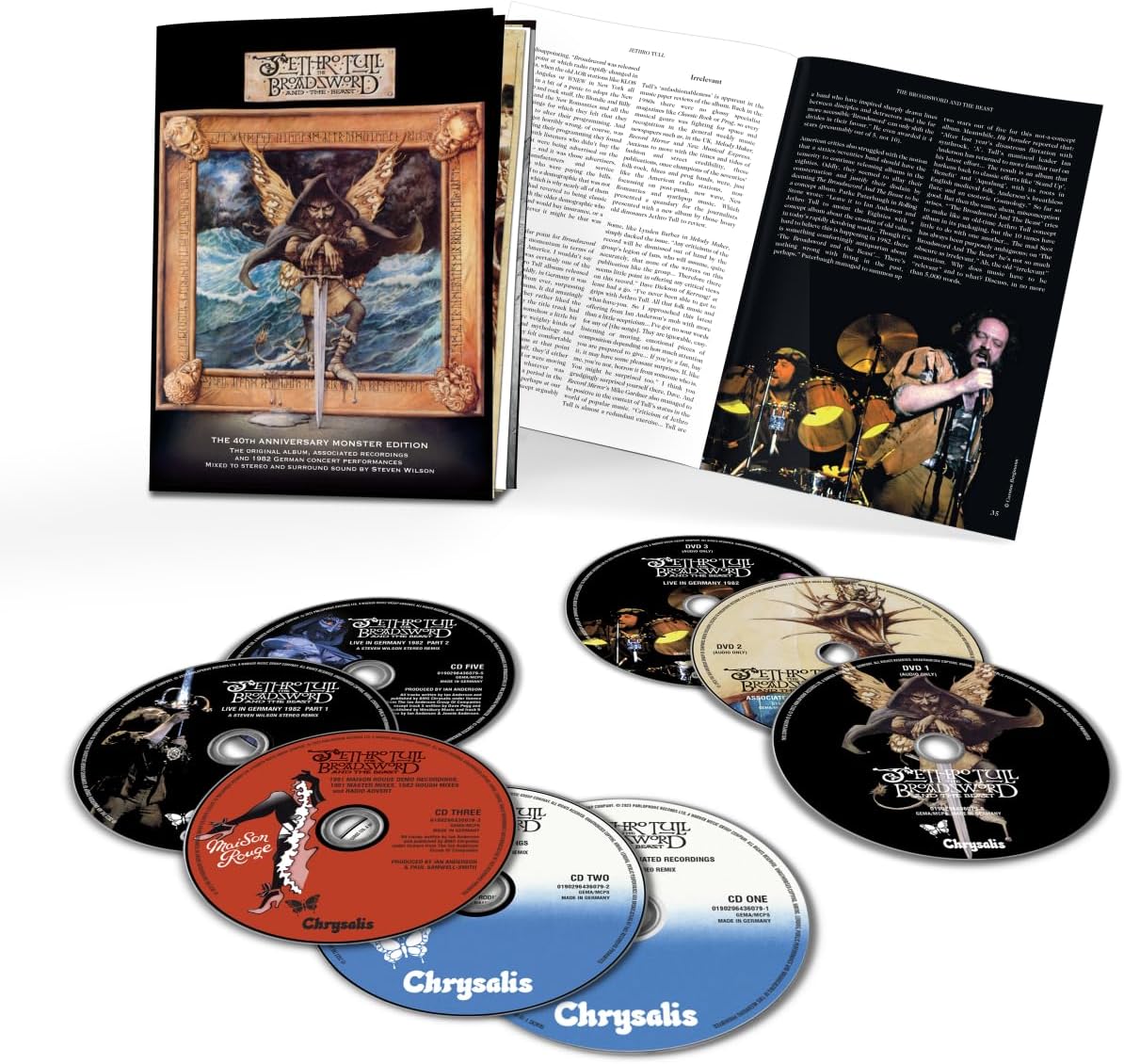 The Broadsword and the Beast Jethro Tull
/
5CD+3DVD 'Monster' edition
CD 1: 'THE BROADSWORD AND THE BEAST' A Steven Wilson stereo remix

THE BROADSWORD AND THE BEAST' A Steven Wilson stereo remix

Beastie
Clasp
Fallen On Hard Times
Flying Colours
Slow Marching Band
Broadsword
Pussy Willow
Watching Me, Watching You
Seal Driver
Cheerio

ASSOCIATED RECORDINGS A Steven Wilson stereo remix. Recorded on 24 track at Maison Rouge Studios, December 1981 – January 1982 (unless otherwise noted)

Fallen On Hard Times (1st master, Dec '81 sessions)
Beastie (2nd master, Dec '81 sessions)
Fallen On Hard Times [2nd master, Dec '81 sessions)
Seal Driver (1st master, Dec '81 sessions)
Cheerio (ensemble vocal version)
Jack-A-Lynn (acoustic version)
Beastie Shouts!

CD 2: Associated Recordings

ASSOCIATED RECORDINGS (Early 1981 Sessions) A Steven Wilson stereo remix. Recorded on 24 track at Maison Rouge Studios, March 1981 – July 1981

Roland's Entry [Instrumental]
Lights Out
The Curse (version 1)
The Curse (version 2)
Too Many Too
Calafel [Instrumental]
I'm Your Gun
No Step
Down At The End Of Your Road
Mayhem Maybe [with 1988 overdubs]
Commons Brawl [with 1993 overdubs]
Return To Calafel [Instrumental]
Jack Frost And The Hooded Crow
The Swirling Pit [Instrumental]
Inverness Sleeper

FURTHER ASSOCIATED RECORDINGS A Steven Wilson stereo remix. Recorded on 24 track at Maison Rouge Studios, December 1981 – January 1982

Crew Nights (combined version) [with some 1993 overdubs]
Rhythm In Gold
Overhang [with 1988 overdubs]
Jack-A-Lynn (band version)
Motoreyes
Drive On The Young Side Of Life [with 1993 overdubs]

CD 3: Demo Recordings, Master MIxes & Rough Mixes

Demos Recordings.

Recorded directly to stereo in Maison Rouge Studio 1 on 15th December 1981

Flying Colours
Me, Dinosaur
Crew Nights
Rhythm In Gold
Honest Girl
DJ Dream
Seal Driver
Jack-A-Lynn
Fallen On Hard Times
Drive On The Young Side Of Life

ORIGINAL 1981 MASTER MIXES

Early master mixes prepared in July 1981. The master mix of 'Watching Me, Watching You' used on the album was also prepared during these mixing sessions.

Beastie
Too Many Too
I'm Your Gun
Down At The End Of Your Road
Jack Frost And The Hooded Crow

EARLY 1982 ROUGH MIXES

Rough mixes of work-in-progress album tracks prepared in January 1982

Slow Marching Band
Pussy Willow
Fallen On Hard Times

ORIGINAL 1982 RADIO ADVERT

UK local radio advert promoting the band's headlining appearance at the Theakston Music Festival, Nostell Priory, West Yorkshire, England on Saturday 28th August 1982

Theakston Music Festival Advert

CD 4: LIVE IN GERMANY 1982

Clasp
Hunting Girl
Fallen On Hard Times
Pussy Willow
Broadsword
Jack-In-The-Green
One Brown Mouse
Seal Driver
Heavy Horses
Weathercock/Fire At Midnight
Keyboard Instrumental
Sweet Dream

CD 5

Flying Colours
Songs From The Wood
Watching Me, Watching You
Band Introductions
The Swirling Pit
Pibroch/Black Satin Dancer
Beastie
Too Old To Rock 'n' Roll: Too Young To Die!
Aqualung
Minstrel In The Gallery
Locomotive Breath/Black Sunday
Cheerio

DVD 1: Audio only

The Broadsword And The Beast album remixed to 96/24 LPCM stereo and DTS and Dolby Digital 5.1 surround sound + flat transfer of the 1982 original mix and other associated tracks in 96/24 LPCM stereo

DVD 2: Audio only

Associated Recordings remixed to 96/24 LPCM stereo and DTS and Dolby Digital 5.1 surround sound

DVD 3: Audio only

Live in Germany (as per DISCS 4 & 5) remixed to 96/24 LPCM stereo and DTS and Dolby Digital 4.1 surround sound
Tracklisting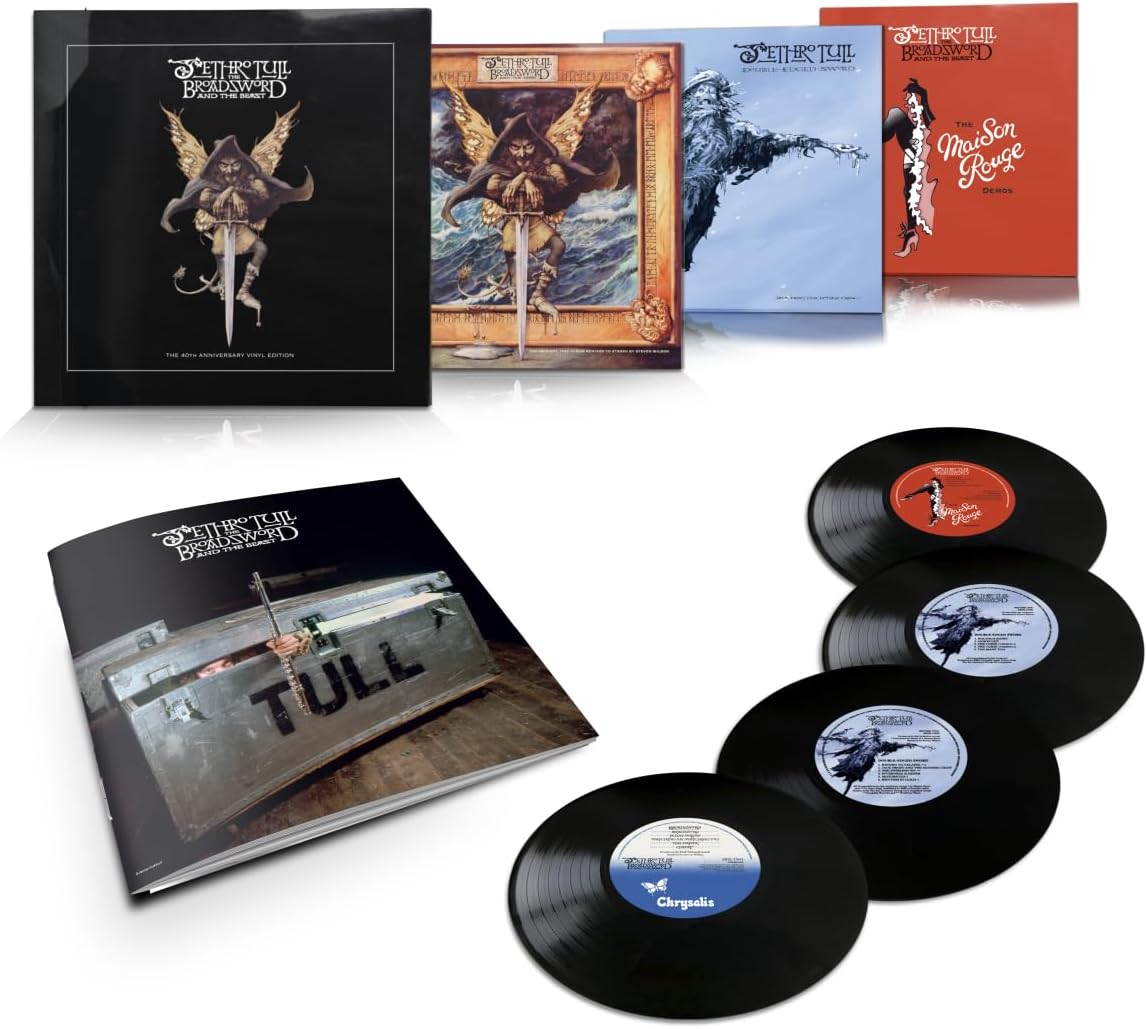 The Broadsword and the Beast Jethro Tull
/
4LP vinyl
LP 1: The Broadsword And The Beast (Steven Wilson remix)

Side 1

Beastie
Clasp
Fallen On Hard Times
Flying Colours
Slow Marching Band

Side 2

Broadsword
Pussy Willow
Watching Me, Watching You
Seal Driver
Cheerio

LP 2: Double-Edged Sword (Steven Wilson mixes of additional Broadsword recordings March 1981 to January 1982)

Side 1

Rolands Entry (2.00)
Lights Out (5.18
The Curse (Version 1) (3.40)
The Curse (Version 2) (3.34)
Too Many Too (3.44)

Side 2

Calafel (3.01)
I'm Your Gun (4.24)
No Step (3.40)
Down At The End Of Your Road (3.32)
Mayhem, Maybe (3.06)
Commons Brawl (3.23)

LP 3: Double-Edged Sword (Steven Wilson mixes of additional Broadsword recordings March 1981 to January 1982)

Side 3

Return To Calafel (0.41)
Jack Frost And The Hooded Crow (3.23)
The Swirling Pit (3.53)
Inverness Sleeper (3.17)
Motoreyes (3.40)
Rhythm In Gold (3.05)

Side 4

Overhang (4.27)
Jack-A-Lynn (Band Version) (4.41)
Crew Nights (4.26)
Drive On The Young Side Of Life (4.03)
Jack-A-Lynn (acoustic version) (4.12)

LP 4: The Broadsword And The Beast – The Maison Rouge Demos

Side 1

Flying Colours (5.00)
Me, Dinosaur (5.16)
Crew Nights (4.48)
Drive On The Young Side Of Life (4.35)
Seal Driver (5.08)

Side 2

DJ Dream (4.53)
Rhythm In Gold (3.25)
Honest Girl (6.29)
Jack-A-Lynn (5.40)
Fallen On Hard Times (4.14)