 News
Carpenters / Collected 2LP vinyl
2LP red vinyl • Limited to 3,000 copies • Gatefold • Numbered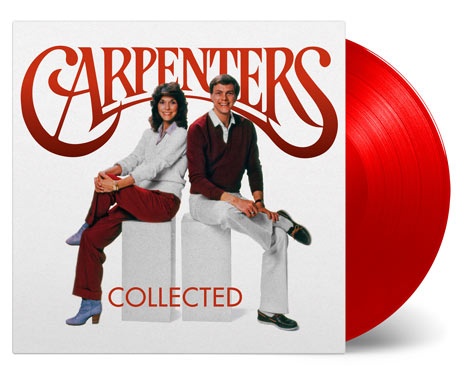 Music On Vinyl continue with their popular 'Collected' series with a 2LP compilation of Carpenters hits, album tracks and rarities pressed on limited edition red vinyl.

The 'soft-pop' duo had enormous success in the 1970s with songs like 'Close to You', 'Ticket to Ride', 'We've Only Just Begun', 'Superstar', 'Rainy Days And Mondays' and many more.

This 25-track double vinyl set includes such hits and keeps with tradition by including some quirkier selections for side four. In this instance, it's Karen Carpenter's 'Still Crazy After All These Years' and Richard's poignant 'Karen's Theme' (a song he dedicated to Karen after her tragic death in 1983).

This 2LP set pressed on red vinyl is limited to 3,000 units and comes as an individually numbered gatefold package with four-page booklet and a high quality outer PVC sleeve.

Carpenters Collected will be released on 28 June 2019. You can order from the SDE shop via this link or using the button below.
<![CDATA[
/**/
]]>
SIDE A
Ticket To Ride

(They Long To Be) Close To You

We've Only Just Begun

For All We Know

Rainy Days And Mondays

Superstar

SIDE B
Hurting Each Other

It's Going To Take Some Time

Goodbye To Love

Top Of The World

I Won't Last A Day Without You

Sing

This Masquerade

SIDE C
Yesterday Once More

Jambalaya (On The Bayou)

Please Mr. Postman

Desperado

Only Yesterday

Solitaire

SIDE D
I Need To Be In Love

Calling Occupants Of Interplanetary Craft (The Recognized Anthem Of World Contact)

Sweet Sweet Smile

Touch Me When We're Dancing

Karen Carpenter – Still Crazy After All These Years

Richard Carpenter – Karen's Theme