 News
Cat Stevens / Collected 2LP vinyl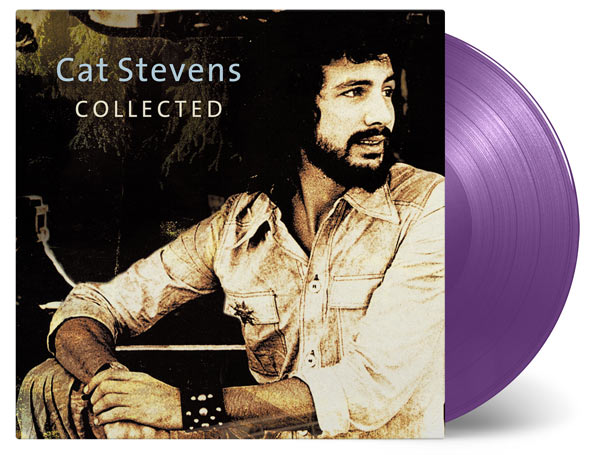 2LP purple vinyl limited to 2000 units
Music On Vinyl continue their Collected series next month with a 2LP selection of music from Cat Stevens pressed on limited edition 2LP purple vinyl.

The double vinyl set offers a decent overview of Stevens' career starting with a trio of early singles from the 1960s ('Matthew & Son', 'I Love My Dog' and 'I'm Gonna Get Me A Gun') – and the classic 'The First Cut Is The Deepest' (from the New Masters album) – before moving on to choice cuts from his classic early seventies era such as 'Peace Train', 'Where Do The Children Play?', 'Wild World', 'Morning Has Broken', 'Moonshadow' and 'Lady D'Arbanville'. Side four also includes to 'Midday (Avoid City After Dark)', credited to the singer's latter-day Yusuf Islam identity.
These gatefold Collected sets are part of a long running series and are always really well presented and come in high quality thick PVC sleeves. This purple vinyl edition is limited to 2,000 units and will likely be replaced with a black vinyl once this is out of print.
Cat Stevens Collected is released on 21 February 2020 via Music On Vinyl. Order your copy via the SDE shop using this link or the button below.
SIDE A
Matthew & Son
I Love My Dog
I'm Gonna Get Me A Gun
The First Cut Is The Deepest
A Bad Night
Peace Train
Where Do The Children Play?
SIDE B
Hard Headed Woman
Wild World
Lady D'Arbanville
Father And Son
Katmandu
I Want To Live In A Wigwam
Tuesday's Dead
SIDE C
Morning Has Broken
Moonshadow
Sitting
Can't Keep It In
The Hurt
Oh Very Young
SIDE D
Banapple Gas
Two Fine People
Another Saturday Night
(Remember The Days Of The) Old Schoolyard
Child For A Day
Yusuf – Midday (Avoid City After Dark)