 News
Cat Stevens / Tea for the Tillerman and Mona Bone Jakon super deluxe editions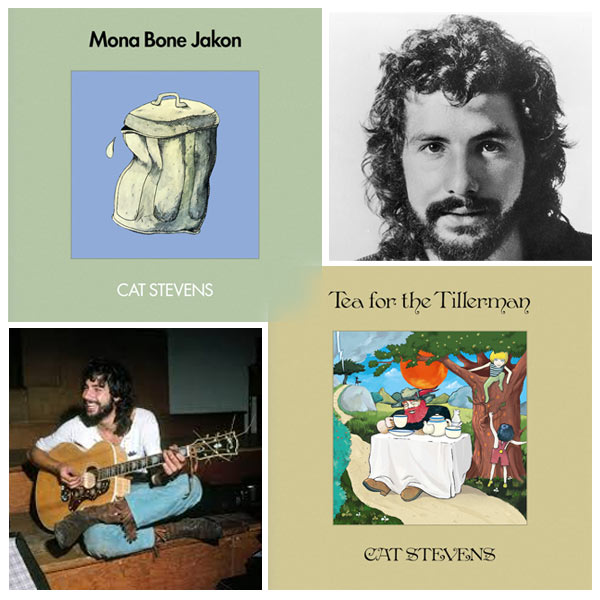 Enormous 50th anniversary box sets for each album
Cat Stevens' Mona Bone Jakon and Tea for the Tillerman albums will both be reissued as extensive super deluxe edition box sets in December.

Both records were issued in 1970, as Cat Stevens started the second phase of his career. He was  shedding his pop star image from his days signed to Deram, and songs like 'Mathew and Son', and turning into a more serious folk-rock performer.
Newly signed to Island Records, Stevens' Mona Bone Jakon album (released in April 1970) wasn't a really a hit at all, but it did deliver a top ten UK single in 'Lady D'Arbanville' and its standing grew when Tea for the Tillerman was a major success – driven by the single 'Wild World' – when released only seven months later, in November of that same year.

'Mona Bone Jakon' 7-disc super deluxe edition (click image to enlarge)
So both albums are 50 years old and therefore, slightly unusually, we are getting two big box sets at the same time. Mona Bone Jakon offers 24 previously unreleased tracks – including an entire CD of unheard studio demos – and Tea for the Tillerman will feature a further 21 unreleased tracks alongside a host of other rarities.
Both box sets feature newly remastered versions of each album (overseen by original producer, Paul Samwell-Smith) and new 2020 mixes by David Hefti. The latter is on CD and vinyl within the box sets. The Tea for the Tillerman box set also throws in the recently released Tea For the Tillerman 2 so you actually get three versions of the record in that box.

Tea For The Tillerman super deluxe edition box set (click the image to enlarge)
Both super deluxe editions include demos CD, and unlike Tea for the Tillerman, Mona Bone Jakon has never been given expanded reissue treatment before, so these are all previously unreleased.
Each set also has very generous live CDs full of live performances either on stage at concerts or festivals, or for TV appearances.
A blu-ray in both sets provides a hi-res stereo of the new mix of each album, plus various videos of live and/or TV appearances and both box sets come with vinyl versions of the new 2020 mixes and 12-inch EPs with further content.
Both box sets include selections of memorabilia. For Mona Bone Jakon that means  an Island Records press kit, two Island press photos, a replica 1970 Plumpton Jazz and Blues flyer, a Cat Stevens tour sticker and 'dustbin' greetings card and pop art print in a card envelope. Tea for the Tillerman offers a 'Pick Up A Good Book' bookmark, a Yusuf / Cat Stevens designed 'Miles From Nowhere' print, a reproduction handwritten lyric sheet for 'Miles From Nowhere', a fold-out 'Live From The Troubadour 1970' poster, and a Tea For The Tillerman sticker
Both albums are also being issued as 2CD deluxe sets (with 'highlights' bonus CDs with demos and live material) and on vinyl LP and single CD editions. Note that the 2020 remix is exclusive to each box set on both CD and vinyl. The individual releases offer only the remastered versions.
All four versions of each album, including the two big box sets, will be released on 4 December 2020 via UMC/Island.
Mona Bone Jakon super deluxe edition box set
CD1 Original Album (2020 Remaster)
Lady D'Arbanville
Maybe You're Right
Pop Star
I Think I See The Light
Trouble
Mona Bone Jakon
I Wish, I Wish
Katmandu
Time
Fill My Eyes
Lilywhite
CD2  Original Album (2020 Mix)
Lady D'Arbanville
Maybe You're Right
Pop Star
I Think I See The Light
Trouble
Mona Bone Jakon
I Wish, I Wish
Katmandu
Time
Fill My Eyes
Lilywhite
CD3  Demos
Maybe You're Right (Studio Demo)
I Think I See The Light (Studio Demo)
Trouble (Studio Demo)
Mona Bone Jakon (Home Demo)
I Wish I Wish (Studio Demo)
Katmandu (Studio Demo)
Time (Studio Demo)
Fill My Eyes (Studio Demo)
I Want Some Sun (Studio Demo)
CD4 Live
Interview (Live At The BBC (16/06/70)
Lady D'Arbanville (Live At The BBC (16/06/70)
Maybe You're Right (Cat Stevens In Concert, 27/11/1971)
Trouble (Live At The BBC (16/06/70)
Katmandu (Live At The BBC (16/06/70)
Changes IV (Live at Plumpton Jazz & Blues Festival, 08/08/70)
Time / Fill My Eyes )Live at Plumpton Jazz & Blues Festival, 08/08/70)
Where Do The Children Play (Live at Plumpton Jazz & Blues Festival, 08/08/70)
Lady D'Arbanville (Live at Plumpton Jazz & Blues Festival, 08/08/70)
Maybe You're Right (Live at Plumpton Jazz & Blues Festival, 08/08/70)
Father & Son (Live at Plumpton Jazz & Blues Festival, 08/08/70)
Lady D'Arbanville (BEATCLUB (GERMANY) 25.08.70)
Lady D'Arbanville (TV CONCERT (FRANCE) 01.11.1970)
Maybe You're Right (TV CONCERT (FRANCE) 01.11.1970)
Katmandu (TV CONCERT (FRANCE) 01.11.1970)
Interview (TV CONCERT (FRANCE) 01.11.1970)
Lady D'Arbanville (DEUX SUR LA 2 (FRANCE), 12.10.70)
Maybe You're Right (POP DEUX (FRANCE) 27.02.1971)
Blu-Ray: Music Video & Live Videos + High Res Audio of Original Album (2020 Mix)
Lady D'Arbanville (Official Video)
Lady D'Arbanville (BEATCLUB (GERMANY) 25.08.70)
Lady D'Arbanville (TV CONCERT (FRANCE) 01.11.1970)
Maybe You're Right (TV CONCERT (FRANCE) 01.11.1970)
Katmandu (TV CONCERT (FRANCE) 01.11.1970)
Interview (TV CONCERT (FRANCE) 01.11.1970)
Lady D'Arbanville (DEUX SUR LA 2 (FRANCE), 12.10.70)
Maybe You're Right (POP DEUX (FRANCE) 27.02.1971)
Maybe You're Right (Cat Stevens In Concert, 27/11/1971)
Vinyl LP  Original Album (2020 Mix)
Lady D'Arbanville
Maybe You're Right
Pop Star
I Think I See The Light
Trouble
Mona Bone Jakon
I Wish, I Wish
Katmandu
Time
Fill My Eyes
Lilywhite
12" Etched Vinyl Live At Plumpton Jazz & Blues Festival (08/08/70)
Changes IV
Time / Fill My Eyes
Where Do The Children Play
Lady D'Arbanville
Maybe You're Right
Father & Son
Tea For The Tillerman super deluxe edition box set
CD1 Original Album (2020 Remaster)
Where Do The Children Play?
Hard Headed Woman
Wild World
Sad Lisa
Miles From Nowhere
But I might Die Tonight
Longer Boats
Into White
On The Road To Find Out
Father and Son
Tea For The Tillerman
CD2  Original Album (2020 Mix)
Where Do The Children Play?
Hard Headed Woman
Wild World
Sad Lisa
Miles From Nowhere
But I might Die Tonight
Longer Boats
Into White
On The Road To Find Out
Father and Son
Tea For The Tillerman
CD3 Tea For The Tillerman²
Where Do The Children Play?
Hard Headed Woman
Wild World
Sad Lisa
Miles From Nowhere
But I might Die Tonight
Longer Boats
Into White
On The Road To Find Out
Father and Son
Tea For The Tillerman
CD4 Demos / Outtakes / Alternate Versions
Wild World (Demo)
Miles From Nowhere (Studio Demo)
But I Might Die Tonight (Deep End Movie Version)
Can This Be Love?
Honey Man (duet with Elton John)
It's So Good
If You Want To Sing Out, Sing Out (Demo)
Don't Be Shy (Demo)
I've Got A Thing About Seeing My Grandson Grow Old
Love Lives In The Sky
The Joke
If You Want To Sing Out, Sing Out
Don't Be Shy
CD5 Live
Where Do The Children Play? (Live at the Troubadour)
Hard Headed Woman (Live at the Troubadour)
Wild World (Live at the Troubadour)
Longer Boats (Live at the Troubadour)
Into White (Live at the Troubadour)
On The Road To Find Out (Live at the Troubadour)
Father And Son (Live at the Troubadour)
Where Do The Children Play (Live At KCET Studios, Los Angeles, USA (08/06/71)
Wild World (Live At KCET Studios, Los Angeles, USA (08/06/71)
Hard Headed Woman (Live At KCET Studios, Los Angeles, USA (08/06/71)
Miles From Nowhere (Live At KCET Studios, Los Angeles, USA (08/06/71)
Longer Boats (Live At KCET Studios, Los Angeles, USA (08/06/71)
On The Road To Find Out (Live At KCET Studios, Los Angeles, USA (08/06/71)
Father And Son (Live At KCET Studios, Los Angeles, USA (08/06/71)
Wild World (Cat Stevens In Concert, 27/11/1971)
Into White (Cat Stevens In Concert, 27/11/1971)
Tea For The Tillerman (Cat Stevens In Concert, 27/11/1971)
Wild World (Beat Club, 25.08.70)
Hard Headed Woman (Beat Club, 25.08.70)
Wild World (Gala du Midem, France 24.01.71)
Wild World (Deux Sur La 2, France, 12.10.70)
Moonshadow (Live At Fillmore East (1970)
Father And Son (Live At Fillmore East (1970)
Changes IV (Live At Fillmore East (1970)
Peace Train (Live At Fillmore East (1970)
Blu-ray disc Music Video & Live Videos + High Res Audio of Original Album (2020 Mix)
Father And Son – Official Video
Where Do The Children Play (Live At KCET Studios, Los Angeles, USA (08/06/71)
Wild World (Live At KCET Studios, Los Angeles, USA (08/06/71)
Hard Headed Woman (Live At KCET Studios, Los Angeles, USA (08/06/71)
Miles From Nowhere (Live At KCET Studios, Los Angeles, USA (08/06/71)
Longer Boats (Live At KCET Studios, Los Angeles, USA (08/06/71)
On The Road To Findout (Live At KCET Studios, Los Angeles, USA (08/06/71)
Father And Son (Live At KCET Studios, Los Angeles, USA (08/06/71)
Wild World (Cat Stevens In Concert, 27/11/1971)
Into White (Cat Stevens In Concert, 27/11/1971)
Father And Son (Cat Stevens In Concert, 27/11/1971)
Wild World (Beat Club, 25.08.70)
Hard Headed Woman (Beat Club, 25.08.70)
Wild World (Gala du Midem, France 24.01.71)
Wild World (Deux Sur La 2, France, 12.10.70)
Wild World (TV Concert, France, 01.11.1970)
Vinyl LP Original Album (2020 Mix)
Where Do The Children Play?
Hard Headed Woman
Wild World
Sad Lisa
Miles From Nowhere
But I might Die Tonight
Longer Boats
Into White
On The Road To Find Out
Father and Son
Tea For The Tillerman
12-inch vinyl Live At The Troubadour, 1970
Where Do The Children Play?
Hard Headed Woman
Wild World
Longer Boats
Into White
On The Road To Find Out
Father and Son
Mona Bone Jakon 2CD Deluxe
CD1 Original Album Remastered
Lady D'Arbanville
Maybe You're Right
Pop Star
I Think I See The Light
Trouble
Mona Bone Jakon
I Wish, I Wish
Katmandu
Time
Fill My Eyes
Lilywhite
CD2 Demos / Live
Maybe You're Right (Studio Demo)
I Think I See The Light (Studio Demo)
Trouble (Studio Demo)
I Wish I Wish (Studio Demo
I Want Some Sun (Studio Demo)
Interview (Live At The BBC (16/06/70)
Lady D'Arbanville (Live At The BBC (16/06/70)
Katmandu (Live At The BBC (16/06/70)
Time / Fill My Eyes (Live at Plumpton Jazz & Blues Festival, 08/08/70)
Maybe You're Right (Live at Plumpton Jazz & Blues Festival, 08/08/70)
Tea for the Tillerman 2CD Deluxe
CD1 Original Album Remastered
Where Do The Children Play?
Hard Headed Woman
Wild World
Sad Lisa
Miles From Nowhere
But I might Die Tonight
Longer Boats
Into White
On The Road To Find Out
Father and Son
Tea For The Tillerman
CD2 Demos & Live
Wild World (Demo)
Miles From Nowhere (Studio Demo)
But I Might Die Tonight (Deep End Movie Verison)
Can This Be Love?
Honey Man (duet with Elton John)
If You Want To Sing Out, Sing Out (Demo)
Don't Be Shy (Demo)
Wild World (Live at the Troubadour)
Longer Boats (Live at the Troubadour)
Into White (Live at the Troubadour)
Where Do The Children Play (Live At KCET Studios, Los Angeles, USA (08/06/71))
Hard Headed Woman (Live At KCET Studios, Los Angeles, USA (08/06/71))
Father and Son (BBC Radio, 08/11/1970)
Tea For The Tillerman (BBC Radio, 08/11/1970)