 News
Cat Stevens / Teaser and the Firecat 50th anniversary reissue
Massive super deluxe packed with audio and video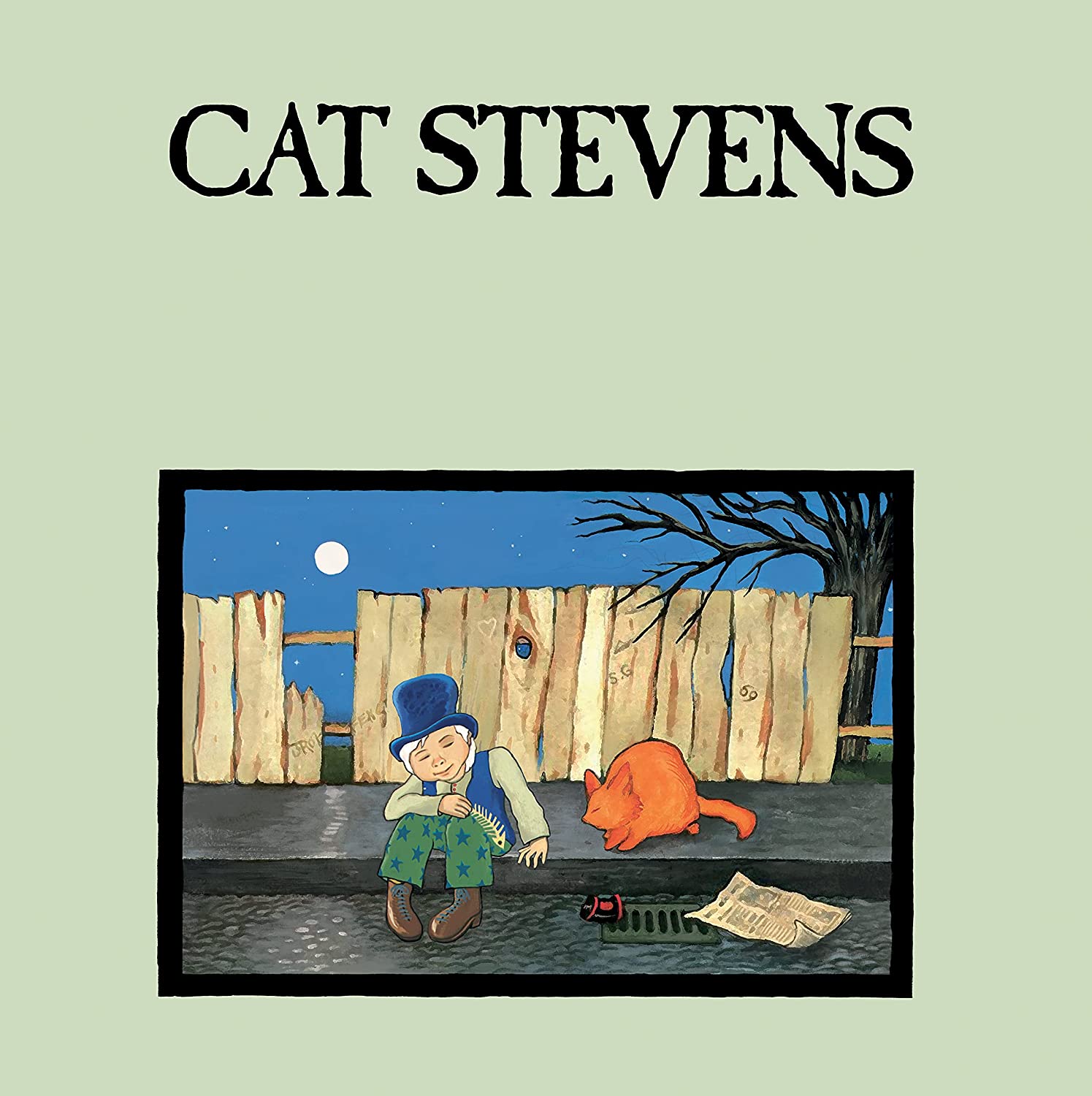 Cat Stevens' 1971 album Teaser and the Firecat will be reissued in November across five physical formats, including TWO super deluxe editions.
The classic album includes songs such as 'Moonshadow', 'Peace Train', 'Morning Has Broken' and 'The Wind'. It has been remastered at Abbey Road Studios, overseen by original album producer, Paul Samwell-Smith and as with previous reissues, an extensive super deluxe edition is the premium offering.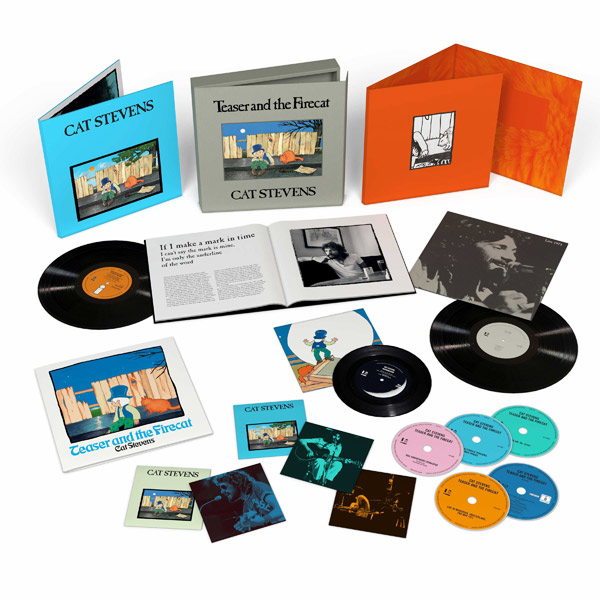 The super deluxe features four CDs, a blu-ray, two LPs and a seven-inch vinyl record and two books. It will include: 41 previously unreleased audio tracks and 21 live video performances on disc for the first time.
In terms of packaging, the new box is consistent with Mona Bone Jakon and Tea for the Tillerman super deluxe editions and includes a 44-page, 12-inch softcover replica of the original 'Teaser and the Firecat' book (hand written and illustrated by Yusuf in 1972) and a 108 page hardcover 12-inch essay book.
For the first time there will be an additional format, which is a 'slimmed down' version of the super deluxe. This contains the 4CDs and Blu-ray, but no vinyl. It also includes the 108-page book in a softcover format with all this content housed in a rigid slipcase. See the image, below.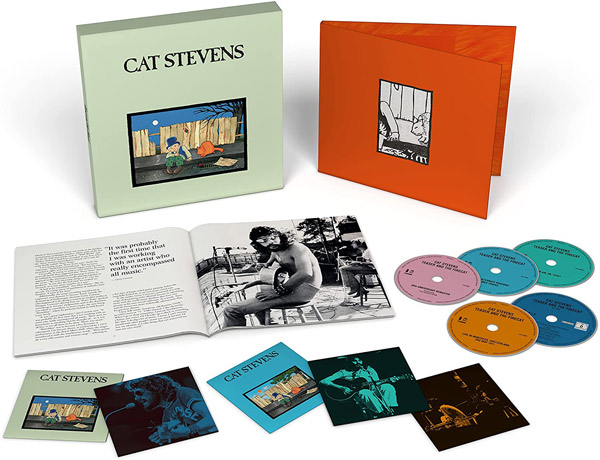 Additionally there is a two-CD edition, a standard vinyl LP and a single CD option. Interestingly, there is no stereo remix of the album this time, but the scale of the offering on the super deluxe edition(s) is quite stunning.
CD 2 ('Demos, Alternate Versions, Bonus Tracks') offers 17 tracks and the third disc ('Live On Air, UK, 1971') offers 20 tracks from various radio and TV appearances in Britain over a 12-month period. The fourth disc is Live in Montreux from 2 May 1971.
While the blu-ray doesn't have a surround mix (he's clearly not interested!) there is the hi-res stereo but more importantly an enormous amount of video material; 23 separate performances including two promo videos (including a a restored version of the 1977 animated video for 'Moonshadow').
The super deluxe set includes a vinyl record made up of alternate versions of the songs on Teaser and the Firecat and another LP (Live 1971) that included five live performances at Montreux in 1971 and six BBC recordings. Finally, the big box features a remastered seven-inch single of 'Moonshadow', backed with a previously unreleased Spike Milligan narration of the track from the 1977 'Teaser and the Firecat' animated video.
The 'slimmed down' super deluxe has exactly the same content on the optical discs (CDs, blu-ray) but as stated above includes no vinyl and has a softcover (not hardcover book). The two-CD deluxe has a bonus CD with 13 of the demos and alternate versions (the super deluxe CD has 17).
These 50th anniversary editions of Teaser and the Firecat will be released on 19 November 2021 (was 12 November) via UMC / Island.
Compare prices and pre-order
Yusuf / Cat Stevens
Teaser and the Firecat - 4CD+blu-ray+2LP+seven-inch super deluxe
Compare prices and pre-order
Yusuf / Cat Stevens
Teaser and the Firecat 4CD+blu-ray slimmed down super deluxe
Compare prices and pre-order
Yusuf / Cat Stevens
Teaser and the Firecat - 2CD deluxe
Compare prices and pre-order
Yusuf / Cat Stevens
Teaser and the Firecat - vinyl LP
Compare prices and pre-order
Yusuf / Cat Stevens
Teaser and the Firecat - single CD remaster
Tracklisting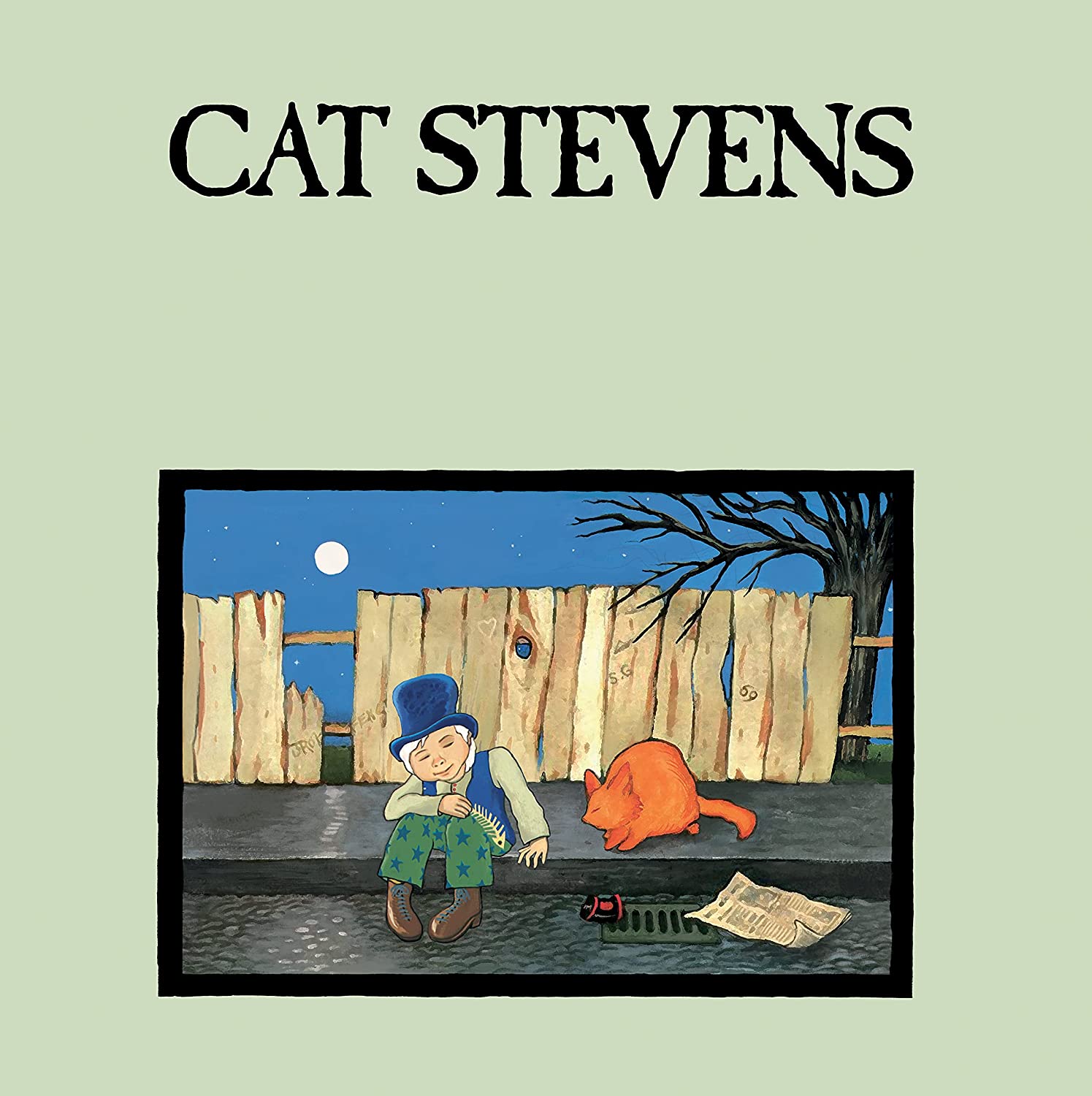 Teaser and the Firecat Cat Stevens
/
Super Deluxe Edition
CD 1: Teaser and the Firecat (50th Anniversary Remaster)

The Wind
Rubylove
If I Laugh
Changes IV
How Can I Tell You
Tuesday's Dead
Morning Has Broken
Bitterblue
Moonshadow
Peace Train

CD 2: Demos, Alternate Versions, Bonus Tracks

The Wind (Dubville Sessions 2020)
Rubylove (Studio Demo)
If I Laugh (Studio Demo)
Changes IV (Alternate Mix, 1971)
How Can I Tell You (Studio Demo)
Tuesday's Dead (Studio Demo)
Morning Has Broken (Basing Street Rehearsal)
Bitterblue (Basing Street Rehearsal)
Moonshadow (Olympic Studio Demo, 1970)
Peace Train (Extended String Mix, 1971)
The Day They Make Me Tsar (Studio Demo)
I Want To Live In A Wigwam
Fisherman Song (Studio Demo)
Changes IV (Studio Demo)
Tuesday's Dead (Alternate Mix, 1971)
Morning Has Broken (Studio Demo)
Bitterblue² (Reimagined 2021)

CD 3: Live on Air, UK 1971

Moonshadow (BBC Radio Session, 8th November 1970)
Tuesday's Dead (BBC Radio Session, 23rd March 1971)
How Can I Tell You (BBC Radio Session, 23rd March 1971)
Peace Train (BBC Radio Session, 23rd March 1971)
Moonshadow (BBC Radio Session, 23rd March 1971)
Bitterblue (BBC Radio Session, 23rd March 1971)
Moonshadow (Out Front: Cat Stevens And Friends, Yorkshire Television, 7th September 1971)
Where Do The Children Play? (Out Front: Cat Stevens And Friends, Yorkshire Television, 7th September 1971)
Longer Boats (Out Front: Cat Stevens And Friends, Yorkshire Television, 7th September 1971)
Tuesday's Dead (Out Front: Cat Stevens And Friends, Yorkshire Television, 7th September 1971)
Sad Lisa (Out Front: Cat Stevens And Friends, Yorkshire Television, 7th September 1971)
Hard Headed Woman (Out Front: Cat Stevens And Friends, Yorkshire Television, 7th September 1971)
Father and Son (Out Front: Cat Stevens And Friends, Yorkshire Television, 7th September 1971)
If I Laugh (The Old Grey Whistle Test, BBC TV, 5th October 1971)
Changes IV (The Old Grey Whistle Test, BBC TV, 5th October 1971)
Moonshadow (Cat Stevens In Concert, BBC TV, 27th November 1971)
Tuesday's Dead (Cat Stevens In Concert, BBC TV, 27th November 1971)
How Can I Tell You (Cat Stevens In Concert, BBC TV, 27th November 1971)
Bitterblue (Cat Stevens In Concert, BBC TV, 27th November 1971)
Changes IV (Cat Stevens In Concert, BBC TV, 27th November 1971)

CD 4: Live In Montreux, 2nd May 1971

Intro (Live In Montreux, 2nd May 1971)
Hard Headed Woman (Live In Montreux, 2nd May 1971)
On The Road To Find Out (Live In Montreux, 2nd May 1971)
Wild World (Live In Montreux, 2nd May 1971)
Longer Boats (Live In Montreux, 2nd May 1971)
Maybe You're Right (Live In Montreux, 2nd May 1971)
Sad Lisa (Live In Montreux, 2nd May 1971)
Miles From Nowhere (Live In Montreux, 2nd May 1971)
Katmandu (Live In Montreux, 2nd May 1971)
Lady D'Arbanville (Live In Montreux, 2nd May 1971)
Father And Son (Live In Montreux, 2nd May 1971)
Where Do The Children Play? (Live In Montreux, 2nd May 1971)
Peace Train (Live In Montreux, 2nd May 1971)

Blu-ray

HD 24bit/48kHz audio of Teaser and the Firecat (50th anniversary remaster)

The Wind
Rubylove
If I Laugh
Changes IV
How Can I Tell You
Tuesday's Dead
Morning Has Broken
Bitterblue
Moonshadow
Peace Train

Videos

The Wind
Moonshadow

Cat Stevens Live In Montreux, Switzerland (2nd May 1971)

Longer Boats
Sad Lisa
Wild World
Katmandu
Lady D'Arbanville
Where Do The Children Play?
Peace Train

Out Front: Cat Stevens And Friends (Yorkshire TV) (7th September 1971)

Moonshadow
Where Do The Children Play?
Longer Boats
Tuesday's Dead
Sad Lisa
Hard Headed Woman
Father And Son

The Old Grey Whistle Test (BBC TV) (5th October 1971)

If I Laugh
Changes IV

Cat Stevens In Concert (BBC TV) (27th November 1971)

Moon Shadow
Tuesday's Dead
How Can I Tell You
Bitterblue
Changes IV

Vinyl LP 1: LP1: Teaser and the Firecat (alternative Versions)

Side 1

The Wind (Dubville Sessions 2020)
Rubylove (Studio Demo)
If I Laugh (Studio Demo)
Changes IV (Studio Demo)
How Can I Tell You (Studio Demo)

Side 2

Tuesday's Dead (Studio Demo)
Morning Has Broken (Basing Street Rehearsal)
Bitterblue (Basing Street Rehearsal)
Moonshadow (Olympic Studio Demo, 1970)
Peace Train (Extended String Mix, 1971)

LP 2: Live 1971

Side 1: Live In Montreux, 2nd May 1971

Hard Headed Woman
Wild World
Lady D'Arbanville
Father And Son
Peace Train

Side 2: Live At The BBC, 1971

Moonshadow (BBC Radio Session, 23rd March 1971)
If I Laugh (The Old Grey Whistle Test, 5th October 1971)
Tuesday's Dead (Cat Stevens In Concert, 27th November 1971)
How Can I Tell You (Cat Stevens In Concert, 27th November 1971)
Bitterblue (Cat Stevens In Concert, 27th November 1971)
Changes IV (Cat Stevens In Concert, 27th November 1971)

Seven-inch single

Moonshadow
Spike Milligan narration
Tracklisting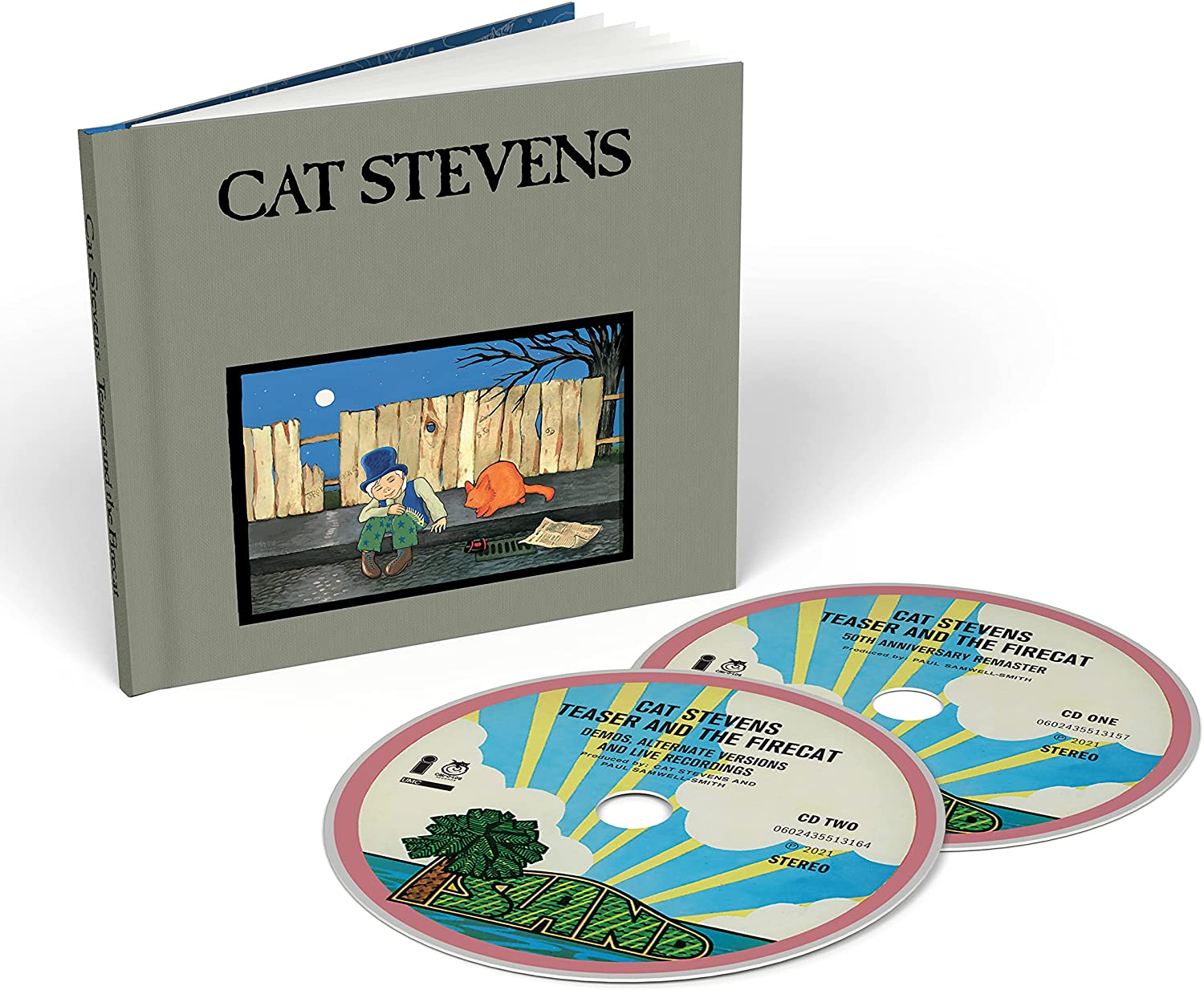 Teaser and the Firecat Cat Stevens
/
2CD deluxe
CD1: Teaser and the Firecat (50th Anniversary Remaster)

The Wind
Rubylove
If I Laugh
Changes IV
How Can I Tell You
Tuesday's Dead
Morning Has Broken
Bitterblue
Moonshadow
Peace Train

CD 2: Demos, Alternate Versions, Bonus Tracks

The Wind (Dubville Sessions 2020)
Rubylove (Studio demo)
If I Laugh (The Old Grey Whistle Test, BBC TV, 5th October 1971)
Changes IV (Studio demo)
How Can I Tell You (Studio demo)
Tuesday's Dead (BBC Radio Session, 23rd March 1971)
Morning Has Broken (Basing Street Rehearsal, 1975)
Bitterblue² (Reimagined 2021)
Moonshadow (Olympic studio demo, 1970)
Peace Train (Extended String Mix, 1971)
The Day They Make Me Tsar (Studio Demo)
Fisherman Song (Studio Demo)
I Want To Live In A Wigwam (Morning Has Broken B – side)
Tracklisting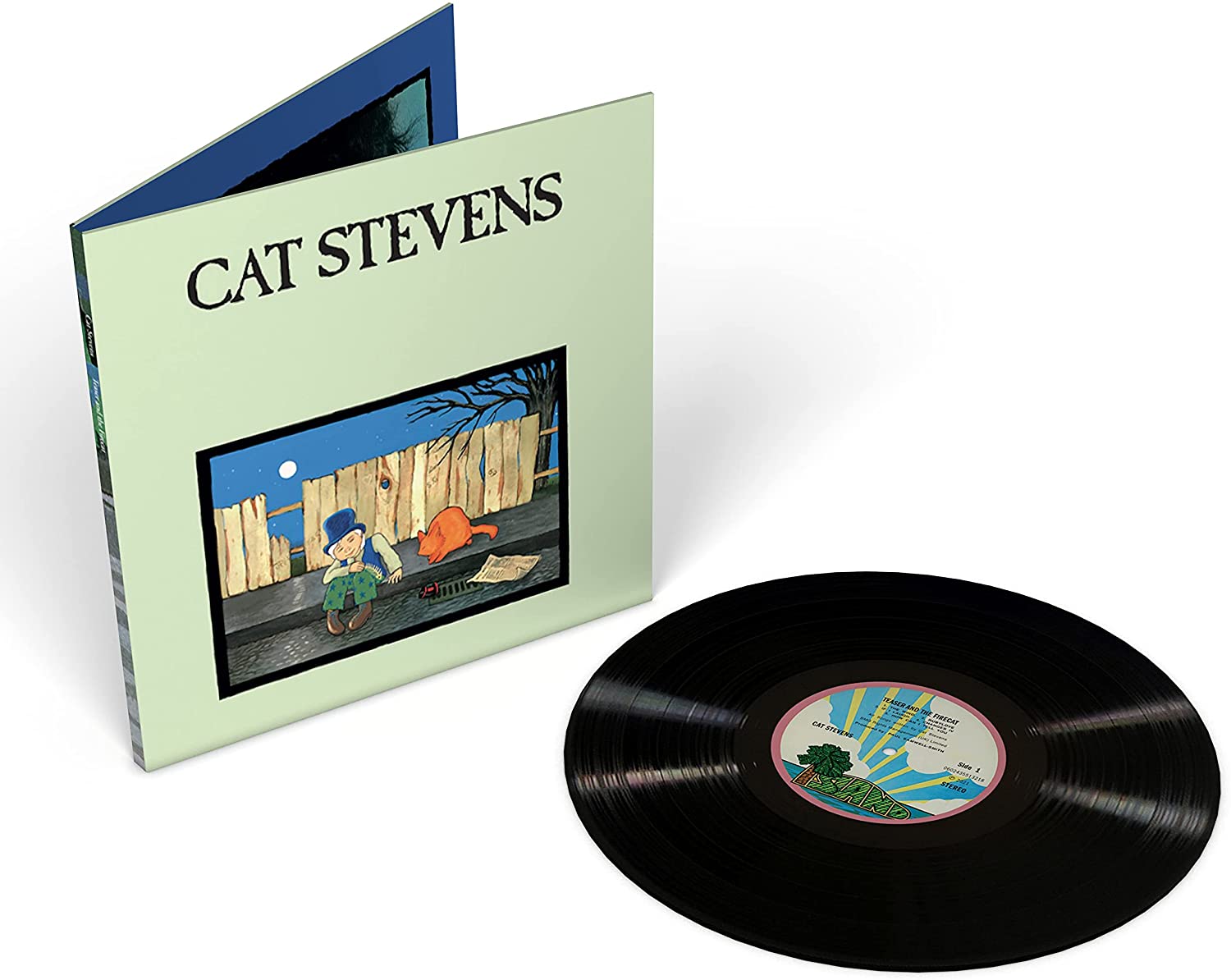 Teaser and the Firecat Cat Stevens
/
vinyl LP
Side 1

The Wind
Rubylove
If I Laugh
Changes IV
How Can I Tell You

Side 2

Tuesday's Dead
Morning Has Broken
Bitterblue
Moonshadow
Peace Train