 News
David Bowie / Clareville Grove Demos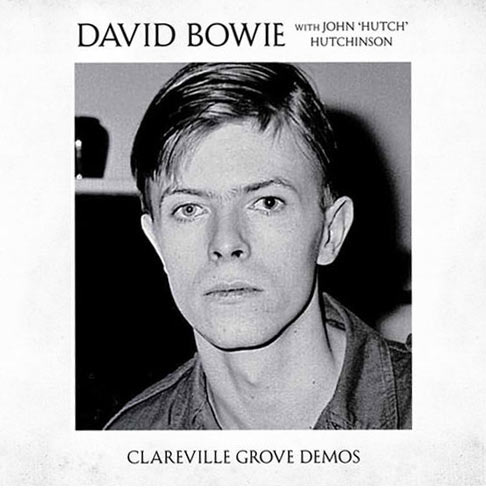 The David Bowie Clareville Grove Demos seven-inch vinyl box set, which contains home demos recorded in 1969, is now up for pre-order.

These demos were recorded in 1969 in David's flat in Clareville Grove, London and the recordings feature David performing as a duo with John 'Hutch' Hutchinson.
Songs include a demo of 'Space Oddity' (which was previously on the 2CD deluxe of the Space Oddity/David Bowie album), 'Lover to the Dawn' (an early version of the same album's 'Cygnet Committee') and a demo of 'An Occasional Dream'.
Worth jumping on a decent UK pre-order price of £26, which is a more palatable than the £40 Spying Through A Keyhole set, although of course the Clareville Grove set contains only three seven-inch records, not four. Still, £14 cheaper!
Clareville Grove Demos will be issued on 17 May 2019.
Compare prices and pre-order
David Bowie
Clareville Grove Demos [VINYL]
You might also like…
Compare prices and pre-order
David Bowie
Spying Through a Keyhole [VINYL]
Single 1
Side A
Space Oddity
Now featuring the final lyrics, this version of the demo first appeared on the long deleted Space Oddity 40th Anniversary 2 CD release, and is now making its debut on vinyl. It predates the 2nd February Morgan Studios recording that featured in the Love You Till Tuesday television film.
Side B
Lover To The Dawn
This song aimed at a former lover would eventually morph into Cygnet Committee recorded for the David Bowie (aka Space Oddity) album later in the year.
Single 2
Side A
Ching-a-Ling
Previously recorded in October 1968 by the trio Turquoise featuring David, Hermione and Tony Hill (who became Feathers when Hutch replaced Hill). David and Hutch continued to perform the song as a duo following Hermione's departure.
Side B
An Occasional Dream
Slightly different lyrically to the later album version, this version of the demo also first appeared on the deleted Space Oddity 40th Anniversary release.
Single 3
Side A
Let Me Sleep Beside You
A studio version was first recorded in September 1967 but remained unreleased until The World Of David Bowie album in 1970. The song was later recorded in session for the BBC in October 1969 and was a song David clearly believed in, recording it once more for the unreleased Toy album 30 years later. That version finally saw the light of day on the Nothing Has Changed 3 CD set in 2014.
Side B
Life Is A Circus
A cover of an obscure song written by Roger Bunn recorded by vocal/instrumental quartet Djinn. Vocals are shared Simon and Garfunkel style by David and Hutch.