 News
The Velvet Underground / The Complete Matrix Tapes / 8LP vinyl box set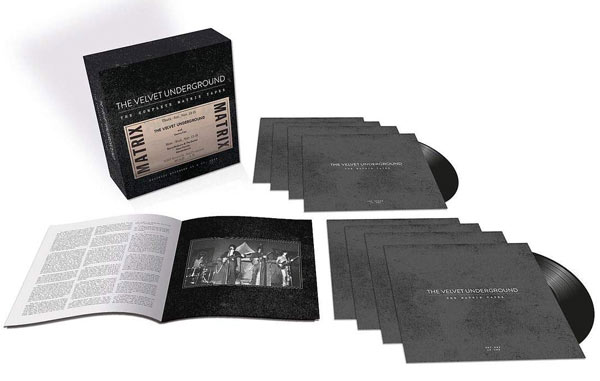 The Velvet Underground's 1969 live set The Complete Matrix Tapes is coming to vinyl this month.

The Complete Matrix Tapes is a limited edition, 8LP box set that features recordings that have been mixed down directly from the original in-house multi-track tapes and marks the first time all the available tapes will be released on vinyl.
Content-wise, this is identical to the 4CD set from 2015, although pedants might note that at 43 tracks, this set has one more 'track' than the CD package due to the 37-minute version of Sister Ray needing to be split into two parts, on LP 6!
The Velvet Underground toured extensively in 1969, but choose to do a residency in San Francisco in November and early December over 18 nights over four separate engagements, the first at the Family Dog, the rest at the fabled North Beach club the Matrix. Over the course of their residency, which began November 11th, the club's four-track recorder was rolling through much of it capturing the highlights of two nights (26, 27 November).
Literally containing live versions of all the 'hits', it shows the band – then containing Doug Yule, who'd recently replaced John Cale, on guitars and keyboards – in full flight, performing tracks from each of their albums. The vinyl box will come with a 16-page booklet.
The Complete Matrix Tapes is released 12 July 2019. As you will see below, you really need to shop around for this set. Amazon Germany's listing has disappeared (!) so Amazon France is probably your best bet, although their listing suggests you may have to wait a few weeks for it.
Compare prices and pre-order
The Velvet Underground
The Complete Matrix Tapes - 8LP vinyl box set
You might also like (via the SDE shop)
LP ONE
Side 1
I'm Waiting For The Man (Version 1)
What Goes On (Version 1)
Side 2
Some Kinda Love (Version 1)
Heroin (Version 1)
LP TWO
Side 1
The Black Angel's Death Song
Venus In Furs (Version 1)
There She Goes Again (Version 1)
We're Gonna Have A Real Good Time Together (Version 1)
Over You (Version 1)
Side 2
Sweet Jane (Version 1)
Pale Blue Eyes
After Hours (Version 1)
LP THREE
Side 1
I'm Waiting For The Man (Version 2)
Venus In Furs (Version 2)
Some Kinda Love (Version 2)
Over You (Version 2)
Side 2
I Can't Stand It (Version 1)
There She Goes Again (Version 2)
After Hours (Version 2)
LP FOUR
Side 1
We're Gonna Have A Real Good Time Together (Version 2)
Sweet Bonnie Brown (It's Just Too Much)
Heroin (Version 2)
Side 2
White Light/White Heat (Version 1)
I'm Set Free
LP FIVE
Side 1
We're Gonna Have A Real Good Time Together (Version 3)
Some Kinda Love (Version 3)
There She Goes Again (Version 3)
Side 2
Heroin (Version 3)
Ocean
LP SIX
Side 1
Sister Ray Part 1
Side 2
Sister Ray Part 2
LP SEVEN
Side 1
I'm Waiting For The Man (Version 3)
What Goes On (Version 2)
Some Kinda Love (Version 4)
Side 2
We're Gonna Have A Real Good Time Together (Version 4)
Beginning To See The Light
Lisa Says
New Age
LP EIGHT
Side 1
Rock & Roll
I Can't Stand It Anymore (Version 2)
Side 2
Heroin (Version 4)
White Light/White Heat (Version 2)
Sweet Jane (Version 2)