 News
David Bowie / Space Oddity 50th anniversary box set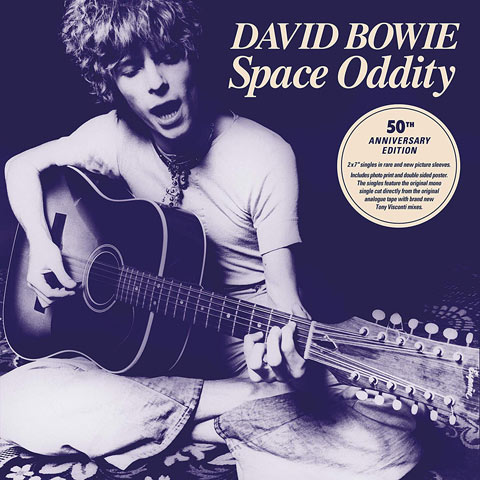 2 x 7″ vinyl box • New remixes by Tony Visconti 
Parlophone continue to drip-feed fans David Bowie rarities from 1969 and this 'Space Oddity' celebration is the fourth box set to be announced in little over four months. At the time of writing only one – the Spying Through A Keyhole set – has actually come out.

While this new set – which consists of two seven-inch singles, a poster and a print – isn't as offensively expensive as the Mercury Demos package (I'm still processing the price tag on that one) eyebrows will undoubtedly be raised when you consider the label have still managed to create a £36 box set from, effectively, two songs.
The first single offers up the original mono single edit of 'Space Oddity' while the second is a single edit of a new Tony Visconti 2019 mix. B-sides are 'Wild-Eyed Boy From Freecloud' (original mono single version) and the same song again remixed by Tony Visconti (again a 'single edit').
Ephemera includes a double-sided poster featuring an original 'Space Oddity' print advertisement and a Ray Stevenson shot of David taken on stage at the Save Rave '69 concert at the London Palladium on 30th November 1969, the backdrop featuring a NASA astronaut. The set also includes an information card and a print featuring an alternative shot by Jojanneke Claassen from the 'Space Oddity' promo single cover session.
The cover of the original mono single is the rare UK promotional picture sleeve which, along with the label, features the original Philips trademark. This has apparently been specifically cleared for this 50th anniversary release.
There's no confirmation of this, but one suspects that Visconti may have remixed the entire Space Oddity album and that it will delivered in some package or other, later on this year.
After delivering some truly excellent products in the last few years (including the four mega boxes) these recent demo sets feel self-indulgent and way overpriced; interesting historical content stretched wafer thin for maximum gain. Consider this: there are 29 recordings (or just 18 separate songs) on the three demos box sets and this 'Space Oddity' double pack. To pre-order all four today would cost you in the region of £182.
This 'Space Oddity' 50th Anniversary box set is released by Parlophone 12 July 2019.
Compare prices and pre-order
David Bowie
Space Oddity - 50th anniversary box set
SPACE ODDITY  (2 x 7" SINGLE BOX SET)
Single 1
Side A: SPACE ODDITY (Original Mono Single Edit)
Side B :WILD EYED BOY FROM FREECLOUD (Original Mono Single Version)
Single 2
Side A: SPACE ODDITY (2019 Mix – Single Edit) 2019 mix by Tony Visconti, March 2019.
Side B: WILD EYED BOY FROM FREECLOUD (2019 Mix – Single Version) 2019 mix by Tony Visconti, March 2019.