 News
David Bowie / Conversation Piece box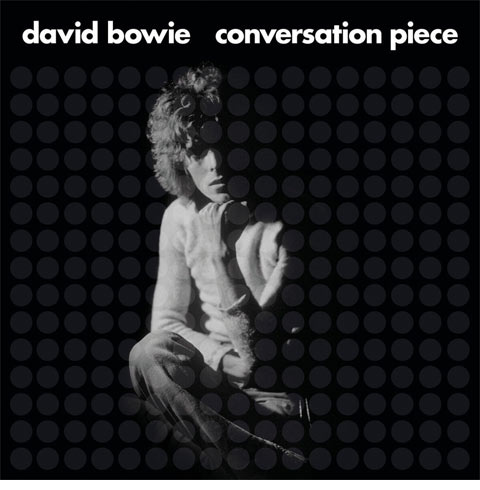 5CD box set covering 1968-69 era • Demos & radio sessions • New mix of Space Oddity album (available separately) • Previously unreleased tracks
This year, Parlophone will not move into the 1990s and issue a fifth 'eras' box set in their continuing David Bowie reissue programme, but will instead release a five-CD box set called Conversation Piece that focuses on Bowie's early development throughout 1968 and 1969. This set will feature home demos, BBC radio sessions, a new 2019 mix of the Space Oddity album and more…

The first thing to say is that everything on this year's vinyl box sets – that's Spying Through A Keyhole, Clareville Grove Demos and The 'Mercury' Demos – is featured on Conversation Piece. Parlophone did say at the time that these tracks would end up on CD.
Additionally, there's 12 previously unreleased tracks/demos from the period, as well as the new mix of the Space Oddity, by the album's original producer, Tony Visconti. This new mix features the song 'Conversation Piece' restored to the track listing in its initially intended position, before it was originally dropped due to time constraints of vinyl (the song wasn't wasted, it ended up as the B-side to Space Oddity follow-up The Prettiest Star).
Visconti has this to say about his new 2019 mix of the Space Oddity album:
"It was so much fun to find hidden gems of musicianship with more time to mix the second time around, a guitar twiddle here, a trombone blast there, Marc Bolan's voice in a group choir and more detail in general that we overlooked all those years ago when the label gave us a week at the most to mix this album. And in the details you will find 22 year old David Bowie, who would soon take the world by storm."
This five-CD box also includes the 1969 mix of Space Oddity, although, interestingly, the label have opted for the 2009 remaster as opposed to the 2015 'Five Years' version because that version was mastered to be as close to the 1969 vinyl as possible, whereas with the 2015 version that wasn't the goal.
The discs are packaged within a 120 page hardcover book which features exclusive images of memorabilia from the personal collection of David's former manager, the late Ken Pitt, as well as photos from David's archive and others by Ray Stevenson, Vernon Dewhurst, David Bebbington, Ken Pitt, Alec Byrne, Tony Visconti and Jojanneke Claasen.

The Conversation Piece 5CD box set. Click image to enlarge.
Sleeve notes are by Mark Adams, Tris Penna and Kevin Cann and there are contributions from George Underwood, Tony Visconti, Vernon Dewhurst, Dana Gillespie and John 'Hutch' Hutchinson.
The 2019 mix of the Space Oddity album will be made available separately on CD and vinyl and both come in a special die-cut sleeve. Sadly, Parlophone is persisting with the 'random' vinyl concept (used for the CHANGESONEBOWIE and CHANGESTWOBOWIE reissues), since this new vinyl edition of Space Oddity will be pressed on silver, gold and black vinyl and there's no way of knowing before you order, which one you are getting. How cool is that? (answer: not very).

The standalone Space Oddity 2019 mix comes in a die-cut sleeve (CD also)
The coloured vinyl features hand-numbered labels with silver numbered 1 to 1969 and gold 1970 to 2019. The black vinyl isn't numbered. Such a blatant attempt to get fans to buy the same record more than once leaves a rather sour taste in the mouth. It also means Parlophone are creating unnecessary work for retailers (I am one!), who no doubt will have to process refunds as fans receive the colours they don't want. They really need to ditch this concept.
The Conversation Piece five-CD box set will be issued on 15 November 2019. There is no vinyl version, for fairly obvious reasons. SDE understands that it's not the end for the 'eras' box sets and fans can expect Tin Machine and the 1990s albums to be treated similarly to the 1970s and 1980s, at some point.
Compare prices and pre-order
David Bowie
Conversation Piece - 5CD box set
Compare prices and pre-order
David Bowie
Space Oddity album 2019 mix - vinyl LP
Compare prices and pre-order
David Bowie
Space Oddity album 2019 mix - CD edition
Conversation Piece 5CD box set
Titles marked * are unreleased and the two Decca tracks presented here are released in superior quality to that released on the Deluxe Edition of David's self-titled debut album on Deram. There is also a rare appearance for the full length mono version of Feathers' 'Ching-a-Ling'.
CD 1 – Home Demos
April's Tooth Of Gold (2.29) *
The Reverend Raymond Brown (Attends the Garden Fête on Thatchwick Green) (2.15) *
When I'm Five (3.18) *
Mother Grey (3.00)
In The Heat Of The Morning (2.59)
Goodbye 3d (Threepenny) Joe (3.19)
Love All Around (2.49)
London Bye, Ta-Ta (3.31)
Angel Angel Grubby Face (version 1) (2.31)
Angel Angel Grubby Face (version 2) (2.37)
Animal Farm (2.21) *
Space Oddity (solo demo fragment) (2.39)
Space Oddity (version 1) with John 'Hutch' Hutchinson (4.02)
Space Oddity (version 2) with John 'Hutch' Hutchinson (5.00) *
Space Oddity (version 3) with John 'Hutch' Hutchinson (5.10)
Lover To The Dawn with John 'Hutch' Hutchinson (3.50)
Ching-a-Ling with John 'Hutch' Hutchinson (2.58)
An Occasional Dream with John 'Hutch' Hutchinson (2.49)
Let Me Sleep Beside You with John 'Hutch' Hutchinson (2.54)
Life Is A Circus with John 'Hutch' Hutchinson (4.50)
Conversation Piece (3.47) *
Jerusalem (4.19) *
Hole In The Ground with George Underwood (3.29) *
CD2 – The 'Mercury' Demos with John 'Hutch' Hutchinson
Space Oddity (5.28)
Janine (3.53)
An Occasional Dream (3.18)
Conversation Piece (3.31)
Ching-a-Ling (3.35)
I'm Not Quite (aka Letter To Hermione) (4.00)
Lover To The Dawn (5.01)
Love Song (4.08)
When I'm Five (3.13)
Life Is A Circus (5.33)
CD3 – Conversation Pieces (Mono)
In The Heat Of The Morning (Decca mono version) (2.51)
London Bye, Ta-Ta (Decca alternative version) (2.36)
BBC Top Gear radio session with the Tony Visconti Orchestra, recorded 13th May, 1968
– In The Heat Of The Morning (3.01)
– London Bye, Ta-Ta (2.39)
– Karma Man (3.07)
– When I'm Five (3.14)
– Silly Boy Blue (4.32)
Ching-a-Ling (2.51)
Space Oddity (Morgan Studios version – alternative take) (4.22)* with John 'Hutch' Hutchinson
Space Oddity (U.K. single edit) (4.42)
Wild Eyed Boy From Freecloud (single B-side – mono mix) (4.54)
Janine (mono mix) (3.23)
Conversation Piece (3.06)
BBC Dave Lee Travis Show radio session, recorded 20th October, 1969
– Let Me Sleep Beside You (3.20)
– Unwashed And Somewhat Slightly Dazed (4.03)
– Janine (3.03)
CD 4 – 1969 stereo mixes
The original David Bowie (aka Space Oddity) album (2009 remaster)
Space Oddity (5.14)
Unwashed and Somewhat Slightly Dazed (inc. Don't Sit Down) (6.51)
Letter To Hermione (2.32)
Cygnet Committee (9.31)
Janine (3.21)
An Occasional Dream (2.54)
Wild Eyed Boy From Freecloud (4.46)
God Knows I'm Good (3.17)
Memory Of A Free Festival (7.09)
The Extras
Wild Eyed Boy From Freecloud (single B-side stereo mix) (4.56)
Letter To Hermione (early mix) (2.32) *
Janine (early mix) (3.23) *
An Occasional Dream (early mix) (2.54) *
Ragazzo Solo, Ragazza Sola (full length version) (5.14)
CD 5 – 2019 mixes (all previously unreleased)
The Space Oddity album
Space Oddity (5.20)
Unwashed and Somewhat Slightly Dazed (6.18)
Letter To Hermione (2.32)
Cygnet Committee (9.28)
Janine (3.21)
An Occasional Dream (2.57)
Wild Eyed Boy From Freecloud (4.50)
Conversation Piece (3.11)
God Knows I'm Good (3.16)
Memory Of A Free Festival (7.14)
The Extras
Wild Eyed Boy From Freecloud (single version) (4.59)
Ragazzo Solo, Ragazza Sola (5.20)
Spaced Oddity 2019 mix vinyl LP
Side 1
1. Space Oddity (2019 Mix)
2. Unwashed and Somewhat Slightly Dazed (2019 Mix)
3. Letter To Hermione (2019 Mix)
4. Cygnet Committee (2019 Mix)
Side 2
1. Janine (2019 Mix)
2. An Occasional Dream (2019 Mix)
3. Wild Eyed Boy From Freecloud (2019 Mix)
4. Conversation Piece (2019 Mix)
5. God Knows I'm Good (2019 Mix)
6. Memory of a Free Festival (2019 Mix)
Space Oddity 2019 mix CD edition
1. Space Oddity (2019 Mix)
2. Unwashed and Somewhat Slightly Dazed (2019 Mix)
3. Letter To Hermione (2019 Mix)
4. Cygnet Committee (2019 Mix)
5. Janine (2019 Mix)
6. An Occasional Dream (2019 Mix)
7. Wild Eyed Boy From Freecloud (2019 Mix)
8. Conversation Piece (2019 Mix)
9. God Knows I'm Good (2019 Mix)
10. Memory of a Free Festival (2019 Mix)