 News
David Bowie 'Mercury Demos' price-drop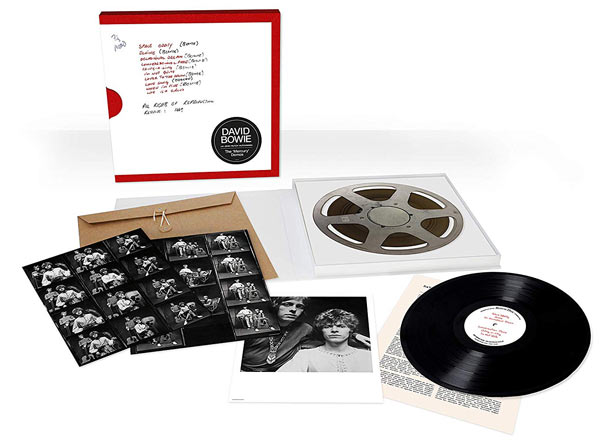 The David Bowie 'Mercury Demos' release, which caused outrage thanks to an almost laughable retail price tag has dropped in price on Amazon in the UK by almost 25%.

This set – which features ten early Bowie recordings from 1969 pressed on one single vinyl record – is now £66, down from £86. Far from a great 'deal' I think you'll agree, but at least UK pricing is now a bit closer to the USA price.
The vinyl record comes in a lift-off lid box whose contents also include a print, two photo contact sheets and sleeve notes by Mark Adams.
Talking of this 'Mercury Demos set', Jeff Rougvie, who worked with David on the Rykodisc reissues back in the early 1990s, recently, gave his views on this year's splurge of Bowie vinyl box sets. Well worth a read.
The Mercury Demos is due to be released on 28 June 2019.
Compare prices and pre-order
David Bowie
The Mercury Demos - boxed vinyl LP
Side One
"Space Oddity"
"Janine"
"An Occasional Dream"
"Conversation Piece"
"Ching-a-Ling"
"I'm Not Quite (aka Letter To Hermione)"
Side Two
"Lover To The Dawn"
"Love Song"
"When I'm Five"
"Life Is A Circus"
Musicians
David Bowie – vocals, guitar and Stylophone
John 'Hutch' Hutchinson – vocals and guitar
The LP is mono and plays at 33 1/3 r.p.m.