 News
Lulu / Decade 1967-1976 / 5CD deluxe
5CD box set • SIGNED edition back in stock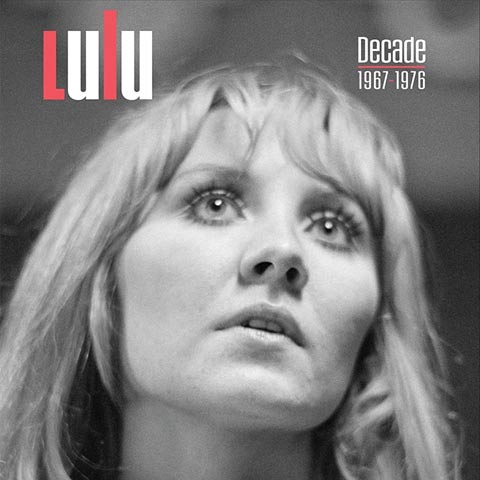 Decade 1967-1976 is a new Lulu box set that showcases ten years of music produced by some stellar talent including Mickie Most, Arif Mardin, Jerry Wexler, Giorgio Moroder and David Bowie, to name a few!

This five CD set is packed with an amazing amount of audio. I count seven albums from 1967's Love Loves To Love Lulu (aka Lulu Sings To Sir With Love) to 1976's Heaven and Earth and Stars (the latter features both 'The Man With The Golden Gun' and 'The Man Who Sold The World').These long-players were issued on Columbia, Atco and Chelsea Records at the time.

The first CD here offers Love Loves To Love Lulu and ten bonus single A-sides and B-sides, while appended to Lulu's Album (CD 2) is a 10-track selection called 'The Eurovision Songs', which includes all the foreign language variants of 'Boom Bang-A-Bang'!



The third CD features two albums, New Routes and Melody Fair (which feature Atlantic Records production team: Tom Dowd, Arif Mardin and Jerry Wexler) while the fourth disc rounds up Atco rarities with tracks from an unreleased album, more A-sides and B-sides, alternate versions and German singles.

This deluxe set comes in the form of a five-disc 'media book' and has an illustrated booklet with archive photos etc.  


Vinyl fans have to make do with a 'Best of 1967-1975' but the good news is this is pressed on RED vinyl and is only £13 right now. Result!

Decade 1967-1976 is released on 16 November 2018. The RED vinyl 'best of' is slated for 2 November.


Compare prices and pre-order
Lulu
Decade 1967-1976 - 5CD deluxe set + Signed print
Compare prices and pre-order
Compare prices and pre-order
Lulu
Best Of 1967-1975 - RED vinyl LP


 

DISC 1

LOVE LOVES TO LOVE LULU
1. To Sir With Love
2. Morning Dew
3. You And I
4. Rattler
5. Day Tripper
6. Love Loves To Love Love
7. To Love Somebody
8. The Boat That I Row
9. Let's Pretend
10. Take Me In Your Arms And Love Me
11. Best Of Both Worlds

SINGLES As and Bs
12. Dreary Days And Nights
13. You And I [mono single version]
14. Me, The Peaceful Heart
15. Lookout
16. Boy
17. Sad Memories
18. I'm A Tiger
19. Without Him
20. This Time (Bistro) [from the film "Hot Millions"]
21. I Keep Forgettin'

DISC 2

LULU'S ALBUM
1. Show Me
2. The Mighty Quinn
3. My Ain Folk
4. Where Did You Come From
5. Gimme Some Lovin'
6. I Started A Joke
7. Why Did I Choose You?
8. The Boy Next Door
9. A House Is Not A Home
10. Cry Like A Baby

THE EUROVISION SONGS
The 1969 UK Eurovision Song shortlist:
11. Are You Ready For Love
12. March!
13. Come September
14. I Can't Go On Living Without You
15. Boom Bang-A-Bang
16. Bet Yer
The European Versions:
17. Boom Bang-A-Bang [French version]
18. Boom Bang-A-Bang [Italian version]
19. Boom Bang-A-Bang [German version]
20. Boom Bang-A-Bang [Spanish version]

DISC 3

NEW ROUTES
1. Marley Purt Drive
2. In The Morning
3. People In Love
4. After All (I Live My Life)
5. Feelin' Alright
6. Dirty Old Man
7. Oh Me Oh My (I'm A Fool For You Baby)
8. Is That You Love
9. Mr. Bojangles
10. Where's Eddie
11. Sweep Around Your Own Back Door

MELODY FAIR
12. Good Day Sunshine
13. After The Feeling Is Gone
14. I Don't Care Anymore
15. (Don't Go) Please Stay
16. Melody Fair
17. Take Good Care Of Yourself
18. Vine Street
19. Move To My Rhythm
20. To The Other Woman (I'm The Other Woman)
21. Hum A Song (From Your Heart)
22. Sweet Memories
23. Saved

DISC 4
ATCO RECORDINGS
THE UNRELEASED THIRD ALBUM
1. Bury Me Down By The River
2. Got To Believe In Love
3. Jokers Wild
4. Come Down In Time
5. Back Home
6. Things Are Getting Better
7. Love Song
8. Goodbye My Love, Goodbye

SINGLES As and Bs
9. Everybody's Got To Clap
10. It Takes A Real Man (To Bring Out The Woman In Me)
11. You Ain't Wrong You Just Ain't Right
12. Even If I Could Change

BONUS TRACKS
13. Hum A Song (From Your Heart) [Session Version]
14. I Don't Care Anymore [Early Mix]
15. Got To Believe In Love [Early Version]
16. Povera Me (Oh Me Oh My) [Italian version]

THE GERMAN SINGLES
17. Warum Tust Du Mir Weh? (Why Do You Hurt Me?)
18. Traurig, Aber Wahr (Sad But True)
19. Ich Brauche Deine Liebe (I Need Your Love)
20. Wach' Ich Oder Traum' Ich (Wake Me Or Dream Me)

DISC 5
LULU
1. Make Believe World
2. Groovin'
3. Easy Evil
4. I Wish
5. A Boy Like You
6. Hold On To What You've Got
7. Could It Be Forever?
8. Funny How Time Slips Away
9. Do Right Woman, Do Right Man
10. Help Me Help You

HEAVEN AND EARTH AND THE STARS
11. Heaven And Earth And The Stars
12. Boy Meets Girl
13. Mama's Little Corner Of The World
14. The Man With The Golden Gun [Main Title]
15. Baby I Don't Care
16. Take Your Mama For A Ride [Pt. 1]
17. Honey You Can't Take It Back
18. The Man Who Sold The World
19. Watch That Man
20. Old Fashioned Girl
21. Take Your Mama For A Ride [Pt. 2]




Lulu – Best Of (vinyl)

1. To Sir With Love
2. The Boat That I Row
3. Let's Pretend
4. Love Loves to Love Love
5. Me, the Peaceful Heart
6. Boy
7. I'm a Tiger
8. Boom Bang-a-bang
9. Oh Me Oh My (I'm a Fool for You Baby)
10. Everybody's Got to Clap
11. The Man With the Golden Gun
12. The Man Who Sold the World
13. Watch That Man
14. Take Your Mama for a Ride