 News
David Bowie / Spying Through A Keyhole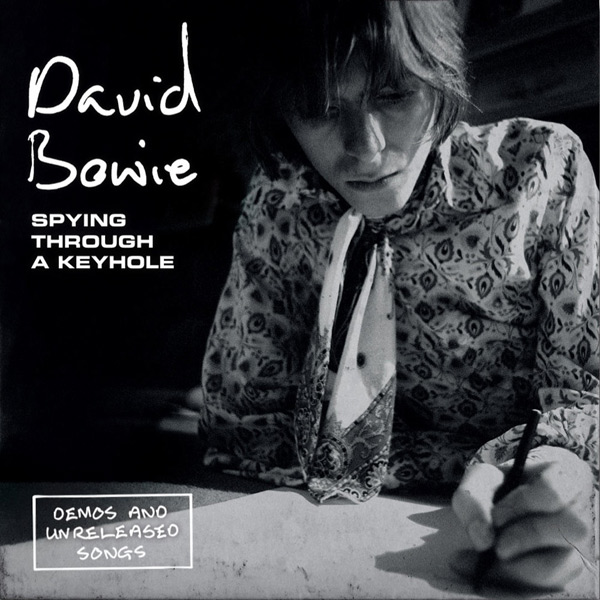 4 x 7″ singles • Unreleased demos
The previously announced David Bowie Spying Through A Keyhole seven-inch vinyl box set now has a release date and is available to pre-order.

The set is released to mark 50 years since the 'Space Oddity' single and features nine previously unreleased recordings from the era during which that song was conceived. Most of the recordings are solo vocal and acoustic home demo performances and the cover image is a photograph by Ray Stevenson and was taken in Tony Visconti's flat in the summer of 1968.
Each single label is designed to reflect the way David sent many of his demos to publishers and record companies, featuring his own handwritten song titles on EMIDISC acetate labels. The singles are all mono and play at 45 RPM.
Spying Through A Keyhole is released on 5 April 2019.
Compare prices and pre-order
David Bowie
Spying Through a Keyhole [VINYL]
Single 1
Side 1
Mother Grey (demo)
Side 2
In The Heat Of The Morning (demo)
Single 2
Side 1
Goodbye 3d (Threepenny) Joe (demo)
Side 2
Love All Around (demo)
Single 3
Side 1
London Bye, Ta-Ta (demo)
Side 2
Angel Angel Grubby Face (demo version 1)
Single 4
Side 1
1.Angel Angel Grubby Face (demo version 2)
2. Space Oddity (demo excerpt)
Side 2
Space Oddity (demo) with John 'Hutch' Hutchinson