 News
King Crimson / 1969-72 vinyl box
6LP vinyl box • First four albums • 2LPs of rarities • 200g vinyl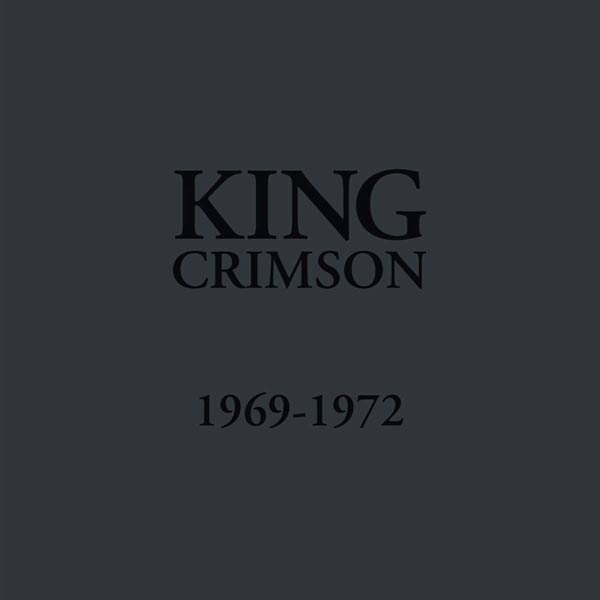 King Crimson 1969-1972 is a limited edition box set that presents the band's celebrated quartet of studio albums from that period – In The Court Of The Crimson King, In The Wake Of Poseidon, Lizard, and Islands – along with a 2LP set of rarities.

The vinyl albums in the box feature the 40th anniversary mixes as mixed and produced by Steven Wilson and Robert Fripp in 2009 and 2010. These are presented in their original sleeves.




The 2LP set of rarities is called 'The Alternative Guide to King Crimson'. Many of the tracks on this set are mixed and produced by Steven Wilson and all are new to vinyl, with the exception of the single, 'Catfood'. This rarities set is presented in the gatefold artwork originally used for the 1975 compilation The Young Person's Guide to King Crimson and includes a full-sized replica of the original King Crimson timeline booklet which accompanied that compilation.

It should be noted that all albums in this box are cut from Steven Wilson's original mixes and do not feature the Simon Heyworth mastering that features on the original CD and DVD-A packages. These are pressed on 200g heavyweight vinyl.

King Crimson 1969-1972 is released on 7 December 2018.


Compare prices and pre-order
King Crimson
1969 - 1972 (6LP box set 200 gm VINYL) [VINYL]
In The Court Of The Crimson King
Side One
1. 21st Century Schizoid Man (Including "Mirrors")
2. I Talk To The Wind
3. Epitaph (Including "March For No Reason" And "Tomorrow And Tomorrow")
Side Two
1. Moonchild (Including "The Dream And "The Illusion")
2. The Court Of The Crimson King (Including "The Return Of The Fire Witch" And "The Dance Of The Puppets")
---
In The Wake Of Poseidon

Side One

1. Peace – A Beginning (0:49)
2. Pictures Of A City (including 42nd At Treadmill) (8:03)
3. Cadence And Cascade (4:27)
4. In The Wake Of Poseidon (incl. Libra's Theme) (7:56)

Side Two

1. Peace – A Theme (1:15)
2. Cat Food (4:54)
3. The Devil's Triangle (11:39)
– a. Merday Morn
– b. Hand Of Sceiron
– c. Garden Of Worm

4. Peace – An End (1:53)

---
Lizard

Side One

1) Cirkus (including Entry of the Chameleons)
2) Indoor Games
3) Happy Family
4) Lady of the Dancing Water

Side Two

1) Lizard:
a) Prince Rupert Awakes
b) Bolero – The Peacock's Tale
c) The Battle of Glass Tears (including Dawn Song)
d) Last Skirmish
e) Prince Rupert's Lament
f) Big Top
---
Islands

Side One

1. Formentera Lady
2. Sailor's Tale
3. The Letters

Side Two

1. Ladies Of The Road
2. Prelude: Song Of The Gulls
3. Islands

---
The Alternative Guide to King Crimson

Side One

1 21st Century Schizoid Man (instrumental, trio version)
2 I Talk to the Wind (studio run through)
3 Epitaph (alt. instrumental version)

Side Two

1 Moonchild (take 1)
2 The Court of the Crimson King (take 3, instrumental)
3 I Talk to the Wind (duo version)
4 Cadence and Cascade (guide vocal, Greg Lake)*
5 Peace – An End (alt. mix)*

All tracks Mixed and Produced by Steven Wilson except

* Produced by Robert Fripp and Peter Sinfield

Side Three

1 Cat Food (single version)
2 Groon (2010 mix)
3 Indoor Games (alt. take)
4 Lady of the Dancing Water (alt. take)*
5 Prince Rupert Awakes (piano, Keith Tippett)
6 Prince Rupert's Lament (alt take)

1 Produced by Robert Fripp and Peter Sinfield.
2, 4 Mixed and Produced by Steven Wilson 3 Produced by David Singleton and Alex R Mundy 6 Produced by Jakko Jakszyk

Side Four

1 A Peacemaking Stint Unrolls
2 Sailor's Tale (alt guitar takes)
3 Ladies of the Road (remix)
4 Prelude: Song of the Gulls (string section, take 2)
5 Islands (run through with oboe prominent)

1 Mixed and Produced by Steven Wilson 2 Mixed by Alex R Mundy
3 Produced and Mixed by David Singleton and Alex R Mundy
4, 5 Produced by Robert Fripp and Peter Sinfield

All tracks/versions previously unreleased on vinyl except Side 3, Track 1