 News
David Bowie / The Mercury Demos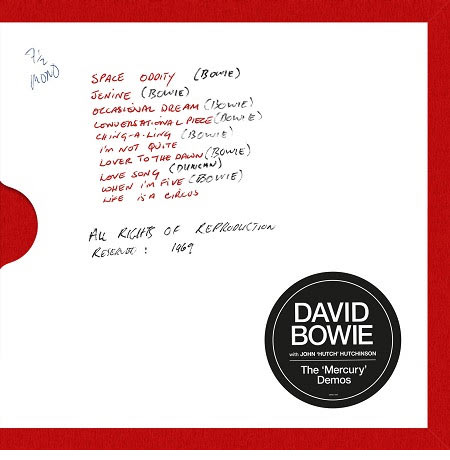 More '69 demos. Single LP not a 7″ box • Sordid price details, following
Parlophone will issue some more David Bowie unreleased demos at the end of June. The Mercury Demos features ten demo recordings from spring 1969, nine of which are previously unreleased.

Bowie is accompanied by John "Hutch" Hutchinson on guitar and vocals and this features the demo of 'Space Oddity' that was originally included on the 1990 Sound + Vision box set. It turns out that that was edited (hmm) and here without the edits and is "presented here in its true context for the first time."
The other nine recordings include Bowie originals such as 'Janine,' 'An Occasional Dream' and 'Conversation Piece' and the Roger Bunn composition 'Life Is A Circus' (an earlier version of which is also on the not-yet-released Clareville Grove Demos set) and the Lesley Duncan composition 'Love Song,' (later recorded by Elton John for his Tumbleweed Connection album).
The Mercury Demos runs for 41 minutes and this isn't a seven-inch box set but a single black vinyl LP packaged in a replica of the original tape box. It includes a print, two photo contact sheets, and sleeve notes by Mark Adams. The labels of the LP feature the same EMIDISC acetate styling the other two box sets with the song titles in Bowie's own handwriting. All this sounds great, but take a look at the frankly extortionate retail price. Time will tell how many people want to pay £80 for one vinyl record with ten demos on it!
The Mercury Demos is released on 28 June 2019.
Compare prices and pre-order
David Bowie
The 'Mercury' Demos (with John 'Hutch' Hutchinson) [VINYL]
Side One
"Space Oddity"
"Janine"
"An Occasional Dream"
"Conversation Piece"
"Ching-a-Ling"
"I'm Not Quite (aka Letter To Hermione)"
Side Two
"Lover To The Dawn"
"Love Song"
"When I'm Five"
"Life Is A Circus"
Musicians
David Bowie – vocals, guitar and Stylophone
John 'Hutch' Hutchinson – vocals and guitar
The LP is mono and plays at 33 1/3 r.p.m.