 News
Deacon Blue / You Can Have It All: The Complete Albums Collection
14CD box set plus new 'best of'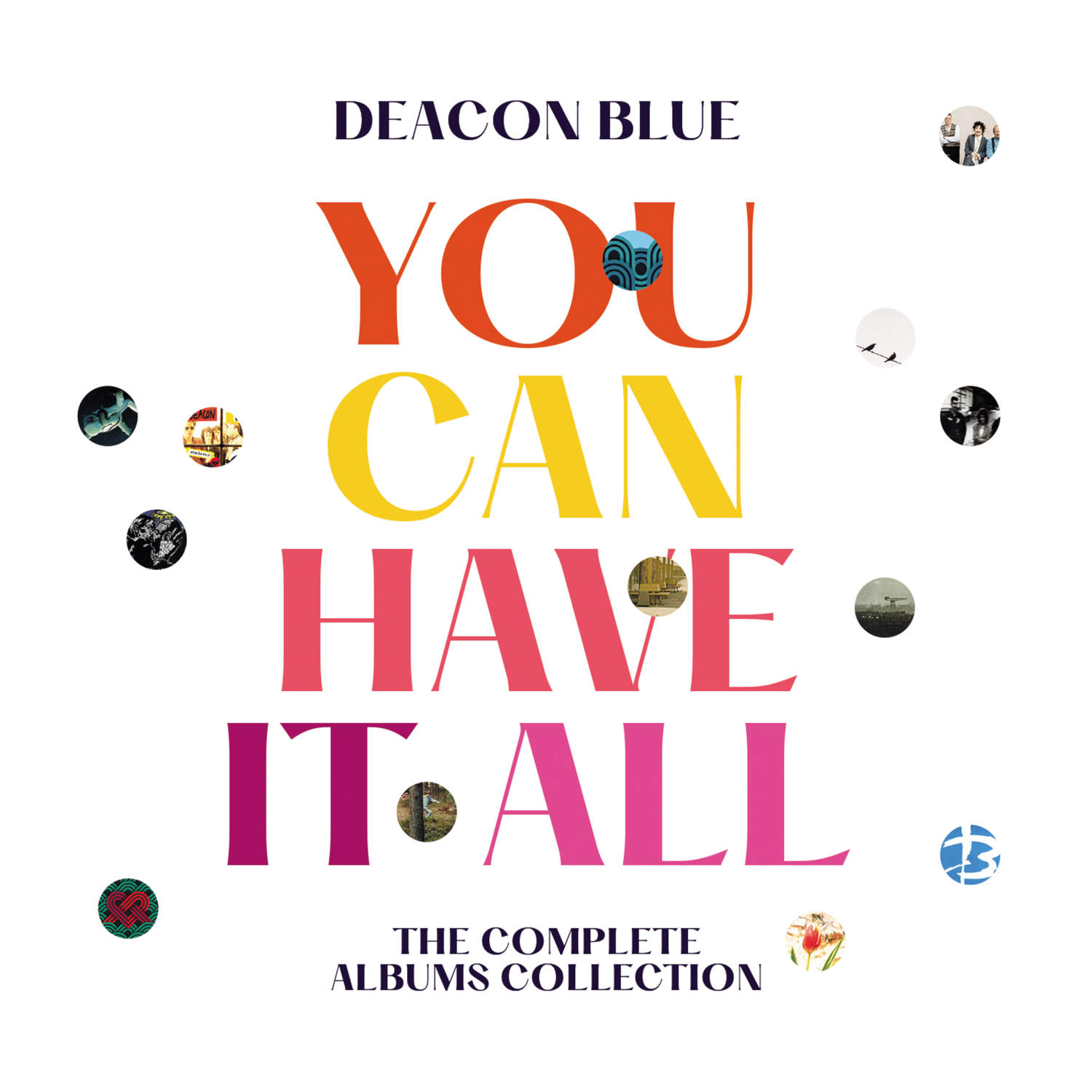 Deacon Blue are to release You Can Have It All – The Complete Albums Collection, a new career-spanning 14CD box set along with a new 'best of' called All The Old 45s – The Very Best of Deacon Blue.
The albums box set features all ten of the band's studio albums, two B-sides/rarities compilations (1988's Riches and 1990's Ooh Las Vegas) and Peace Will Come, a brand new album of 'deconstructed and rearranged' acoustic versions of songs, inspired by the 'campfire sets' performed on the last tour.
All The Old 45s – The Very Best of Deacon Blue is available as a 2CD or 2LP vinyl package. The former offers 41 tracks whereas the latter delivers 24 songs via four sides of vinyl.
The 'best of' sees the songs newly remastered although for the albums box the audio is not remastered.
Both titles will be released on 1 September 2023 via Cooking Vinyl. The Deacon Blue shop is offering signed A4 prints with the 14CD box set or other bundles (limited to 500).
Deacon Blue Shop highlights
Compare prices and pre-order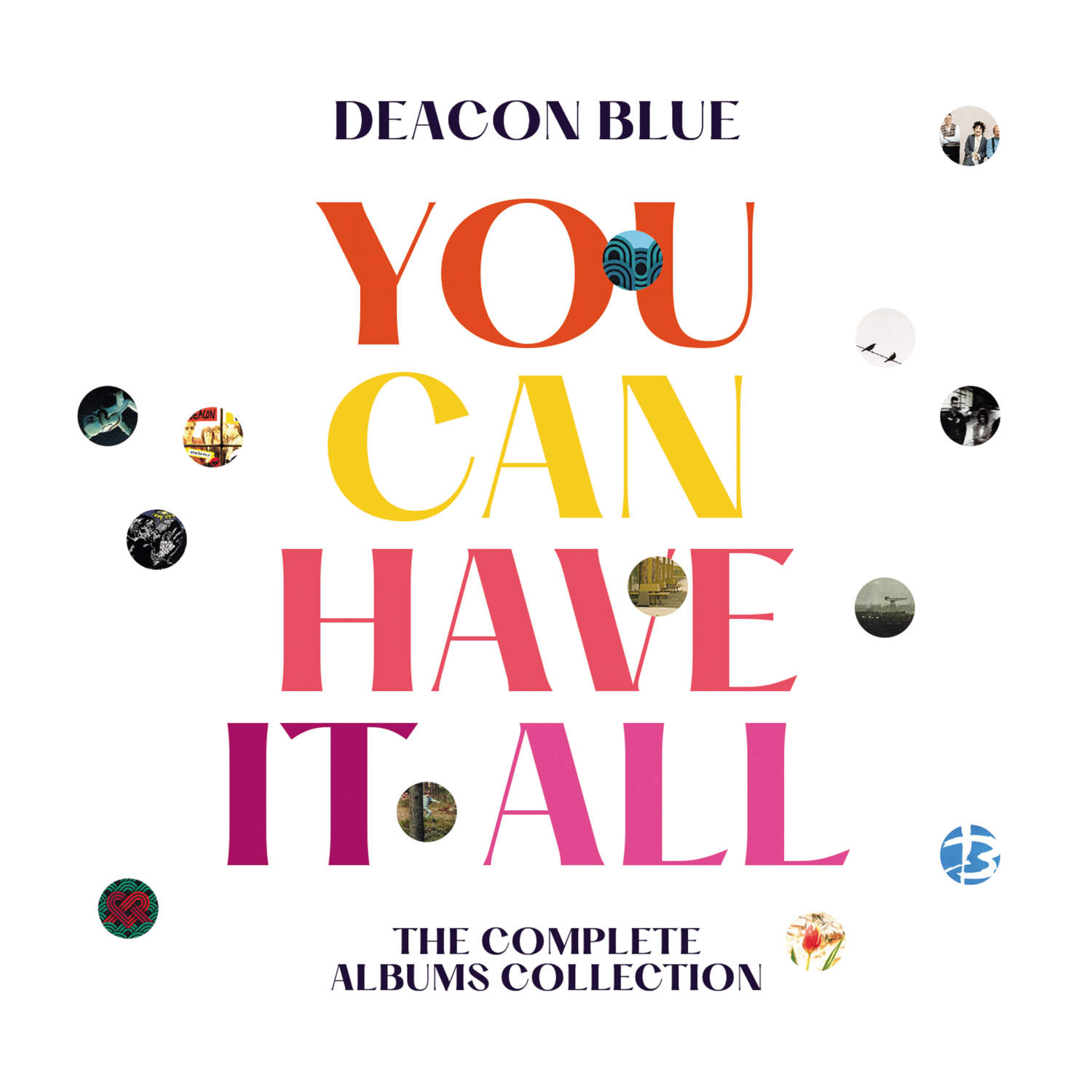 Deacon Blue
You Can Have It All - 14CD box set
Compare prices and pre-order
DEACON BLUE
All The Old 45s - Best Of - 2LP vinyl
Compare prices and pre-order
Deacon Blue
All The Old 45s - Best Of - 2CD edition
Tracklisting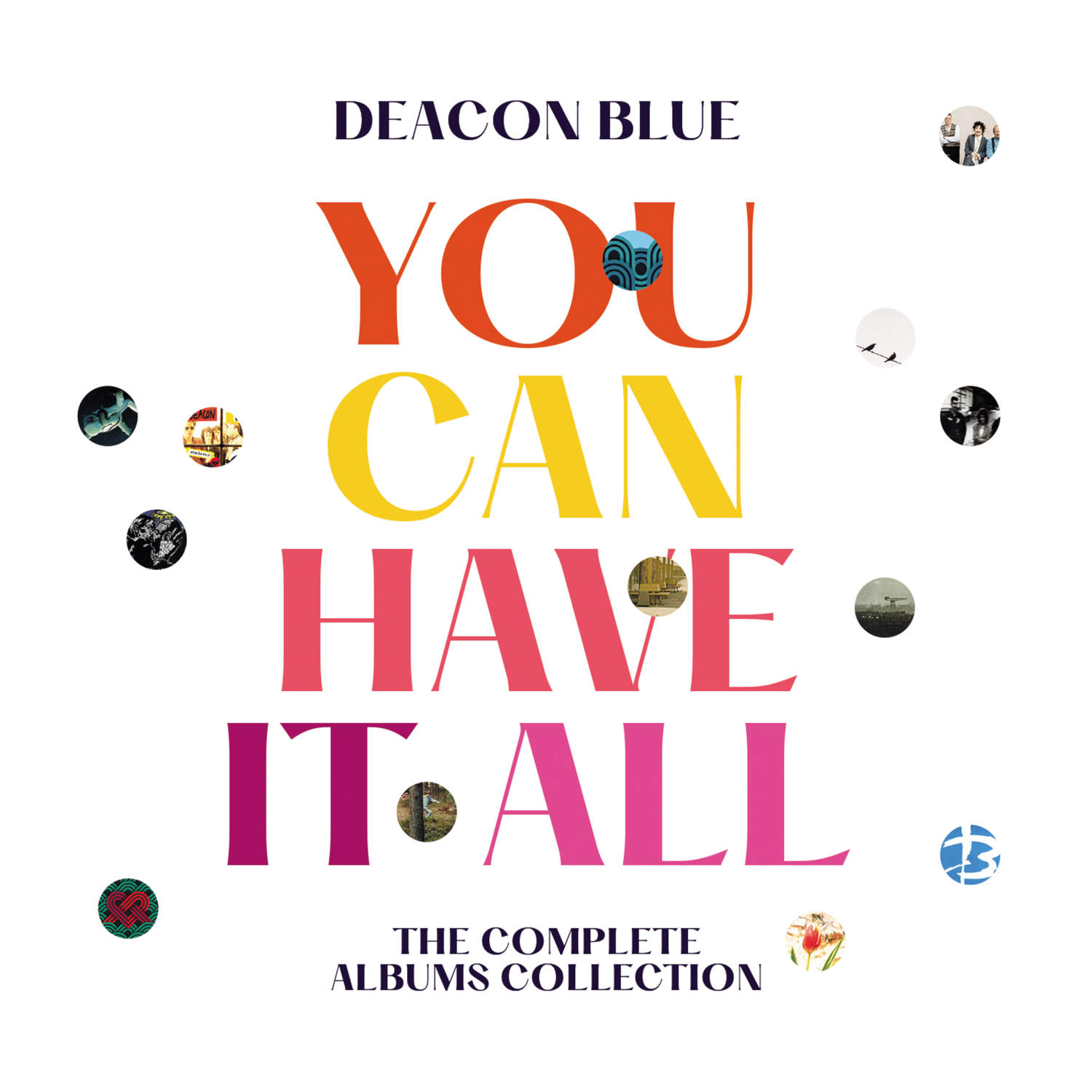 You Can Have it All: The Complete Albums Collection Deacon Blue
/
CD 1: Raintown

Born In A Storm
Raintown
Ragman
He Looks Like Spencer Tracy Now
Loaded
When Will You (Make My Telephone Ring)?
Chocolate Girl
Dignity
The Very Thing
Love's Great Fears
Town To Be Blamed

CD 2: Riches

Which Side Are You On?
Kings Of The Western World
Angeliou
Just Like Boys
Raintown (Piano Version)
Riches
Church
Shifting Sand
Suffering
Ribbons And Bows
Dignity (Bob Clearmountain Mix)

CD 3: When The World Knows Your Name

Queen Of The New Year
Wages Day
Real Gone Kid
Love And Regret
Circus Lights
This Changing Light
Sad Loved Girl
Fergus Sings The Blues
The World Is Lit By Lightning
Silhouette
One Hundred Things
Your Constant Heart
Orphans

CD4: Ooh Las Vegas: B-sides, Film Tracks & Sessions:

Disneyworld
Ronnie Spector
My America
S.H.A.R.O.N.
Undeveloped Heart
Souvenirs
Born Again
Down In The Flood
Back Here In Beanoland
Love You Say
Let Your Hearts Be Troubled

CD 5: Ooh Las Vegas: B-sides, Film Tracks & Sessions:

Gentle Teardrops
Little Lincoln
That Country (Beneath Your Skin)
Is It Cold Beneath The Hill?
Circus Lights (Acoustic Version)
Trampolene
Las Vegas
Killing The Blues
Long Window To Love
Christine
Take Me To The Place
Don't Let The Teardrops Start
I'll Never Fall in Love Again
The Look Of Love
Are You There (With Another Girl)?
Message To Michael

CD 6: Fellow Hoodlums

James Joyce Soles
Fellow Hoodlums
Your Swaying Arms
Cover From The Sky
The Day That Jackie Jumped The Jail
The Wildness
A Brighter Star Than You Will Shine
Twist And Shout
Closing Time
Goodnight Jamsie
I Will See You Tomorrow
One Day I'll Go Walking

CD 7: Whatever You Say, Say Nothing

Your Town
Only Tender Love
Peace & Jobs & Freedom
Hang Your Head
Bethlehem's Gate
Last Night I Dreamed of Henry Thomas
Will We Be Lovers
Fall So Freely Down
Cut Lip
All Over The World

CD 8: Homesick

Rae
Out There
This Train Will Take You Anywhere
Everytime You Sleep
Now That You're Here
Silverlake
A Is For Astronaut
Beautifully Still
Homesick
Even Higher Ground
I Am Born

CD 9: The Hipsters

Here I am In London Town
The Hipsters
Stars
Turn
The Rest
The Outsiders
That's What We Can Do
She'll Understand
Laura (From Memory)
It'll End In Tears
Is There No Way Back To You?

CD 10: A New House

Bethlehem Begins
For John Muir
A New House
An Ocean
The Living
I Wish I Was A Girl Like You
Win
Wild
March
Our New Land
I Remember Every Single Kiss

CD 11: Believers

The Believers
This Is A Love Song
I Will And I Won't
Meteors
Gone
What I Left Out
A Boy
Birds
You Can't Know Everything
Delivery Man
Come Awake
B Boy

CD 12: City Of Love

City Of Love
Hit Me Where It Hurts
Weight Of The World
Take Me
In Our Room
Intervals
Keeping My Faith Alive
Walk In The Woods
Come On In
Wonderful
On Love

CD 13: Riding On The Tide Of Love

Riding on the Tide of Love
She Loved the Snow
Nothing's Changed
Look Up
Time
Send a Note Out
Not Gonna Be That Girl
It's Still Early

CD 14: Peace Will Come

She'll Understand
Queen Of The New Year
Chocolate Girl
Cover From The Sky
Dancing In The Dark
All Over The World
When Will You (Make My Telephone Ring)
In Our Room
Every Time You Sleep
Delivery Man
Forever Young
Peace Will Come
Tracklisting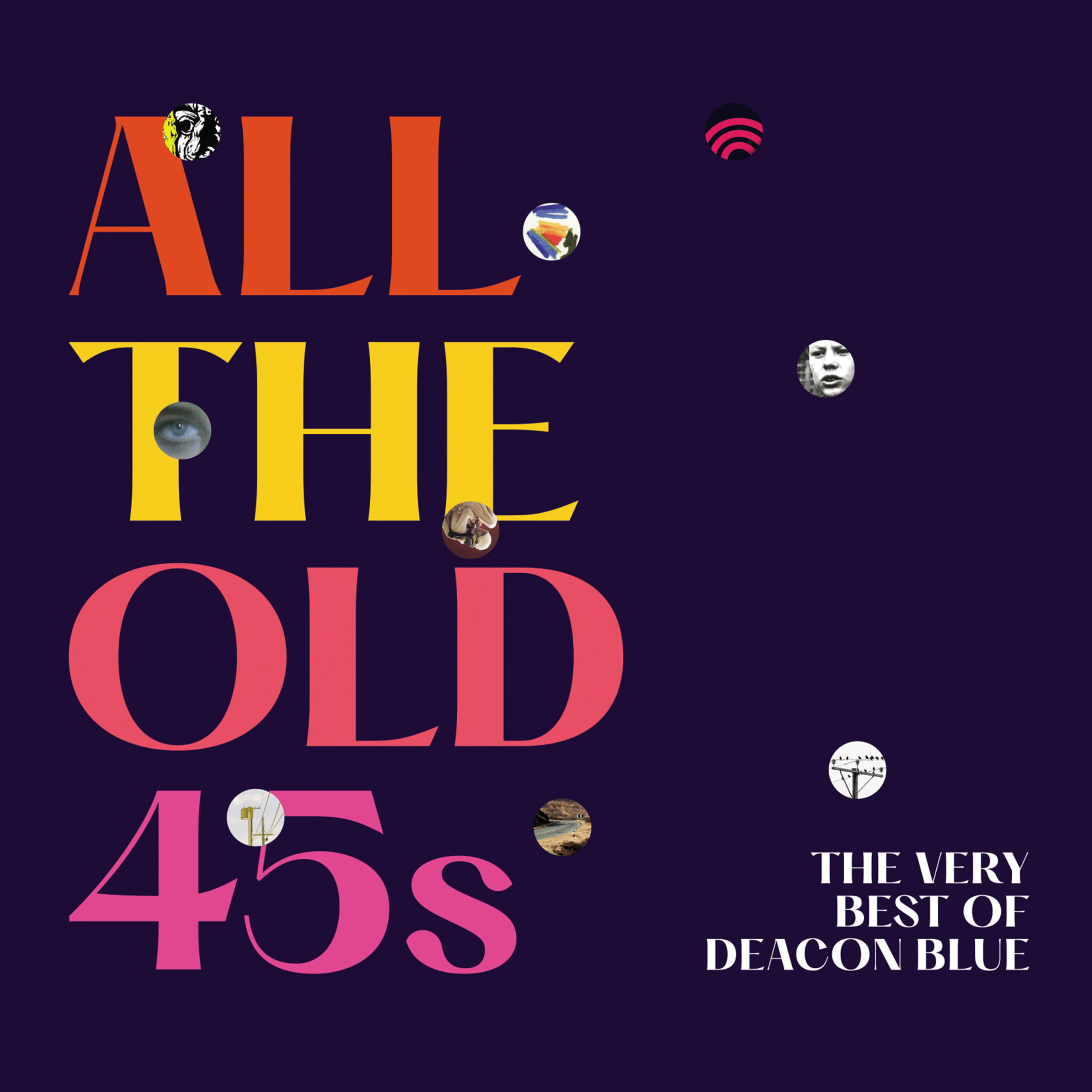 The Old 45s – The Very Best Of Deacon Blue Deacon Blue
/
CD 1

Dignity
Loaded
When Will You (Make My Telephone Ring)
Chocolate Girl
Real Gone Kid
Wages Day
Fergus Sings The Blues
Love And Regret
Queen Of The New Year
I'll Never Fall In Love Again
Your Swaying Arms
Twist And Shout
Closing Time
Cover From The Sky
Your Town
Will We Be Lovers
Only Tender Love
Hang Your Head
I Was Right and You Were Wrong
Bound To Love

CD 2

Homesick
Every Time You Sleep
Bigger Than Dynamite
The One About Loneliness
The Hipsters
The Outsiders
That's What We Can Do
Turn (Remix)
You'll Know It's Christmas
A New House
I Wish I Was A Girl Like You
Bethlehem Begins
Win
The Believers
This Is A Love Song
Gone
I Will And I Won't
City Of Love
Hit Me Where It Hurts
Wonderful
Riding On The Tide Of Love

LP 1

Side 1

Dignity
When Will You (Make My Telephone Ring)
Chocolate Girl
Real Gone Kid
Wages Day
Fergus Sings The Blues

Side 2

Queen Of The New Year
Love And Regret
I'll Never Fall In Love Again
Your Swaying Arms
Twist And Shout
Closing Time

LP 2

Side 3

Cover From The Sky
Your Town
Will We Be Lovers
Only Tender Love
Hang Your Head
I Was Right and You Were Wrong

Side 4

Everytime You Sleep
Bigger Than Dynamite
The Hipsters
A New House
The Believers
City Of Love