 News
Dire Straits / Brothers in Arms half-speed mastered 2LP vinyl
Plus: half-speed vinyl of Mark Knopfler's 'Local Hero' soundtrack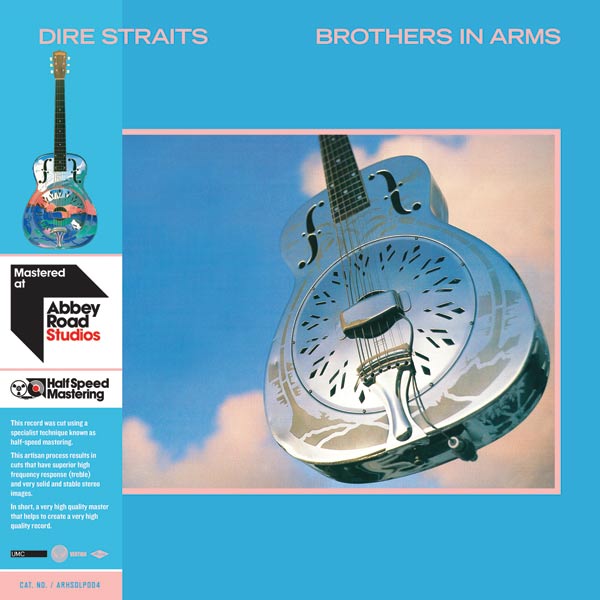 Dire Straits' 1985 album Brothers in Arms will be reissued as a 2LP half-speed mastered vinyl edition in March.

The band's fifth album features the hits 'Money For Nothing', 'Walk Of Life', 'So Far Away', 'Brothers In Arms' and 'Your Latest Trick'. Ironically enough, it is forever associated with Phillips' promotional drive for the new compact disc format and the title track was the world's first CD single.


Brothers in Arms is the eighth biggest selling album of all time in the UK having sold over four million copies. This new edition is a double vinyl pressing, and like the edition in the box set it will feature the CD length audio, although of course this pressing is a half-speed and comes packaged with the OBI-strip and the all non-important 'certificate of authenticity'. This is a 45RPM pressing.
Mark Knopfler's first film soundtrack for Bill Forsyth's film Local Hero, is also reissued as a half-speed mastered version (33RPM, this time). This was originally released in 1983. Both albums have been remastered by Miles Showell at Abbey Road Studios.
Both albums are released on 19 March 2021.

Compare prices and pre-order
Dire Straits
Brothers in Arms - 2LP half-speed vinyl
Compare prices and pre-order
Mark Knopfler
Local Hero - half-speed mastered vinyl
Brothers in Arms
2LP half-speed mastered vinyl
Side 1
So Far Away
Money For Nothing
Side 2
Walk Of Life
Your Latest Trick
Side 3
Why Worry
Ride Across The River
Side 4
The Man's Too Strong
One World
Brothers In Arms
Local Hero half-speed mastered vinyl LP
Side 1
The Rocks And The Water
Wild Theme
Freeway Flyer
Boomtown (Variation Louis' Favourite)
The Way It Always Starts
The Rocks And The Thunder
The Ceilidh And The Northern Lights
Side 2
The Mist Covered Mountains
The Ceilidh: Louis' Favourite / Billy's Tune
Whistle Theme
Smooching
Stargazer
The Rocks And The Thunder
Going Home: Theme Of The Local Hero