 News
Donna Summer / Another Place and Time 30th anniversary deluxe edition
3CD deluxe • unreleased mixes • anniversary megamixes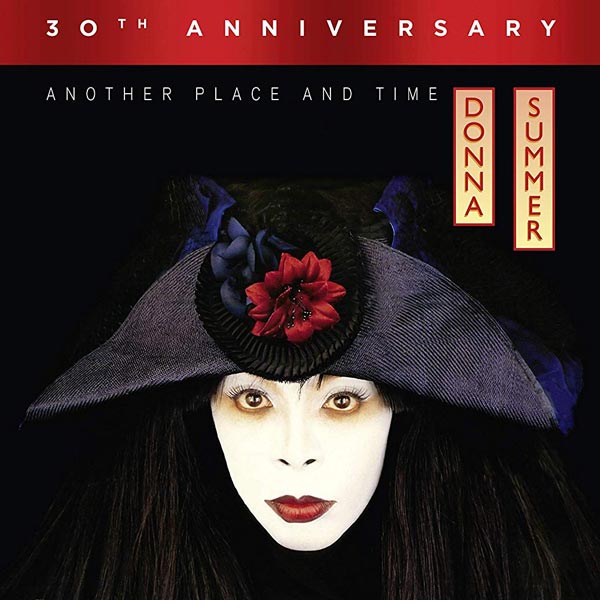 Donna Summer's 1989 album Another Place and Time is to be reissued for its 30th anniversary as a 3CD deluxe edition.

The Stock Aitken Waterman produced album was a commercial success and featured two big hit singles in I Don't Wanna Get Hurt and This Time I Know It's For Real.




This triple-disc deluxe is similar, but not identical, to the out-of-print three-CD deluxe that was issued back in 2014. It's missing the instrumentals and various remixes here and there but adds two new 30th mega-mixes (actually one 'minimix' and one 'megamix') and also features six unreleased mixes, including a couple of unheard mixes of 'Love's About To Change My Heart'

This new set is presented in a DVD-sized 'media book' 24-page package, which contains original album credits and lyrics. A new 6,400 word essay by Christian John Wikane features new interviews with Pete Waterman, Matt Aitken, Bruce Sudano, Phil Harding and video director Dieter Trattmann.


A 2LP red/silver vinyl edition will also be released (no links yet). This will features a selection of bonus remixes on the second LP, two new-to-vinyl plus one of the megamixes.

This 30th anniversary edition of Another Place, Another Time is released on 29 March 2019, via the Driven By The Music imprint.

You can order the red/silver vinyl from the SDE shop if you wish, via this link or the button below.
<![CDATA[
/**/
]]>
Working on getting Amazon Australia on the widget, for now
here's the link
Compare prices and pre-order
Donna Summer
Another Time and Place - 30th anniversary edition
Working on getting Amazon Australia on the widget, for now
here's the link
Compare prices and pre-order
Donna Summer
Another Place And Time - 30th Anniversary Edition [VINYL]
CD 1
1. I Don't Wanna Get Hurt
2. When Love Takes Over Yo
3. This Time I Know It's For Real
4. The Only One
5. In Another Place And Time
6. Sentimental
7. Whatever Your Heart Desires
8. Breakaway
9. If It Makes You Feel Good
10. Love's About To Change My Heart
CD 2
1. This Time I Know It's For Real [7″ Single Mix]
2. Breakaway [Power Radio Mix]
3. I Don't Wanna Get Hurt [7″ Remix]
4. Love's About To Change My Heart [PWL 7″ Mix]
5. When Love Takes Over You [Mixmaster Dave Ford 7″]
6. Breakaway [Remix – Edit]
7. I Don't Wanna Get Hurt [12″ Version]
8. Love's About To Change My Heart [Extended Remix]
9. When Love Takes Over You [Mixmaster Dave Ford Extended Remix]
10. Breakaway [Remix – Full Version]
11. Love's About To Change My Heart [Loveland's Full-On 12″ Vocal]
12. Whatever Your Heart Desires [New Extended Club Mix]
13. The 30th Anniversary Minimix
CD 3
1. Love's About To Change My Heart [Loveland's Full-On 7″ Radio Edit]
2. If It Makes You Feel Good [Unreleased Dave Ford Album Master]
3. Sentimental [Unreleased Album Long Master]
4. Love's About To Change My Heart [Unreleased 7″ Long Remix]
5. This Time I Know It's For Real [Extended Remix]
6. Breakaway [Extended Power Mix]
7. I Don't Wanna Get Hurt [Pete Hammond Original 12″ Mix]
8. Love's About To Change My Heart [Clivillés & Cole 12″ Mix]
9. When Love Takes Over You [Pete Hammond Original 12″ Mix]
10. If It Makes You Feel Good [New Extended Feelgood Mix]
11. Love's About To Change My Heart [Unreleased 12″ Remix]
12. The 30th Anniversary Megamix
LP 1
1. I Don't Wanna Get Hurt
2. When Love Takes Over Yo
3. This Time I Know It's For Real
4. The Only One
5. In Another Place And Time
6. Sentimental
7. Whatever Your Heart Desires
8. Breakaway
9. If It Makes You Feel Good
10. Love's About To Change My Heart
LP 2
1. Breakaway [extended power mix]
2. Love's About To Change My Heart [Loveland's Full-On 12″ Vocal]
3. When Love Takes Over You [Pete Hammond Original 12″ Mix]
4. This Time I Know It's For Real [7″ Single Mix]
5. When Love Takes Over You [Mixmaster Dave Ford 7″]
6. Breakaway [Power Radio Mix]
7. Love's About To Change My Heart [PWL 7″ Mix]
8. I Don't Wanna Get Hurt [Pete Hammond Original 12″ Mix]
9. The 30th Anniversary Minimix