 News
Elton John with Ray Cooper / Live from Moscow, 1979 / 2LP vinyl & 2CD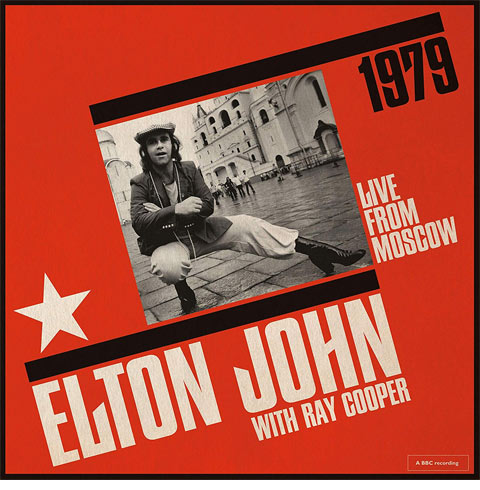 Following the RSD clear vinyl pressing early this year, Universal Music will make Elton John's Live From Moscow concert recording more widely available, with a new black vinyl edition coming in February, along with the CD debut of the performance.

The show in Moscow was with percussionist Ray Cooper, and was performed on 28 May 1979. It was originally broadcast on BBC radio in the UK.
This release is taken from the original broadcast masters, which have been remastered by Bob Ludwig at Gateway Mastering.
Speaking on the concert, Elton explains: "I can honestly say it has been one of the best experiences of my life. It was one of the most memorable and happy tours I have been on. The last show was probably one of the best concerts I've ever given in my life.  Working with Ray, with just the two of us on stage, was both exhilarating and challenging."
Live From Moscow will be released on 24 January 2020.
Compare prices and pre-order
Elton John, Ray Cooper
Live from Moscow - 2LP black vinyl
Compare prices and pre-order
Elton John, Ray Cooper
Live from Moscow - 2CD edition
Live From Moscow 2LP vinyl
LP 1
Side 1
1. Daniel
2. Skyline Pigeon
3. Take Me to the Pilot
4. Rocket Man (I Think It's Going to Be a Long, Long Time)
Side 2
1. Don't Let the Sun Go Down On Me
2. Goodbye Yellow Brick Road
3. Candle in the Wind
4. I Heard It Through the Grapevine
LP 2

Side 1
1. Funeral for a Friend
2. Tonight
3. Better Off Dead
4. Bennie and the Jets
Side 2
1. Sorry Seems to Be the Hardest Word
2. Crazy Water
3. Saturday Night's Alright (For Fighting)/Pinball Wizard
4. Crocodile Rock/Get Back/Back in the U.S.S.R.
Live From Moscow 2CD edition
CD 1
Daniel
Skyline Pigeon
Take Me To The Pilot
Rocket Man (I Think It's Going To Be A Long, Long Time)
Don't Let The Sun Go Down On Me
Goodbye Yellow Brick Road
Candle In The Wind
I Heard It Through The Grapevine
CD 2
Funeral For A Friend
Tonight
Better Off Dead
Bennie And The Jets
Sorry Seems To Be The Hardest Word
Crazy Water
Saturday Night's Alright (For Fighting) / Pinball Wizard
Crocodile Rock / Get Back / Back In The U.S.S.R