 News
Gary Crowley's Lost 80s Vol 2
80s compilation for the discerning fan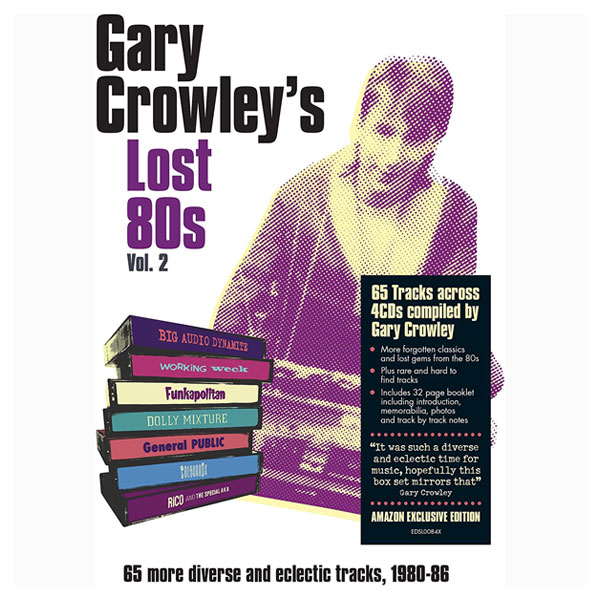 The 2019 various artists collection, Gary Crowley's Lost 80s, is followed up in June with a second volume that, as before, features tracks from the 1980s (1980 to 1986, specifically) that stray just a little bit off the beaten track.
A four-CD 'media book' edition offers 65 tracks and is themed by disc. The song selection includes tracks by lesser known artists as well as lesser known tracks by more familiar artists! There's a few 12-inch versions peppered across the selections, too.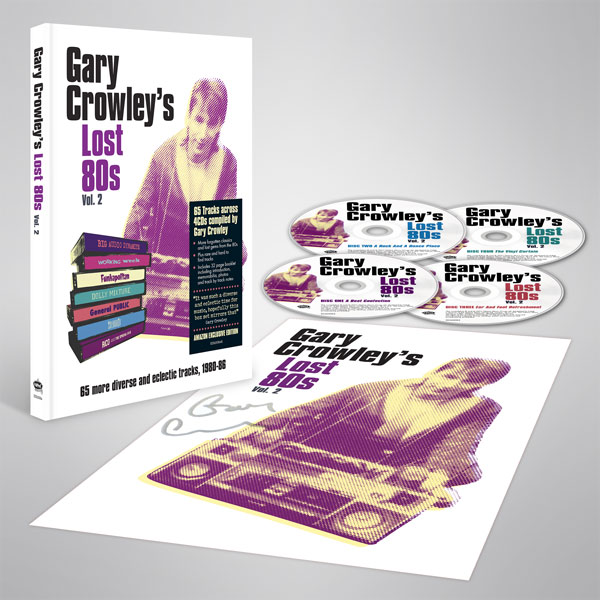 The 32-page book includes an introduction and track-by-track notes by Gary Crowley, plus memories of the era from Mick Talbot, Corinne Drewery, Dr Robert, Glenn Gregory, and more.
A 2LP clear vinyl edition cuts the selection down to 21 tracks but does maintain the themes from its CD cousin (each CD becomes one side of vinyl).
A 500-only limited edition of the 4CD version of Lost 80s Vol 2 comes with a print signed by Gary Crowley. This is exclusive to Amazon UK, and, with the current restrictions in place, is available to UK residents only. A standard 4CD is more widely available.
Gary Crowley's Lost 80s Vol 2 will be released on 23 July 2021 (was 25 June), via Edsel/Demon Records.
Compare prices and pre-order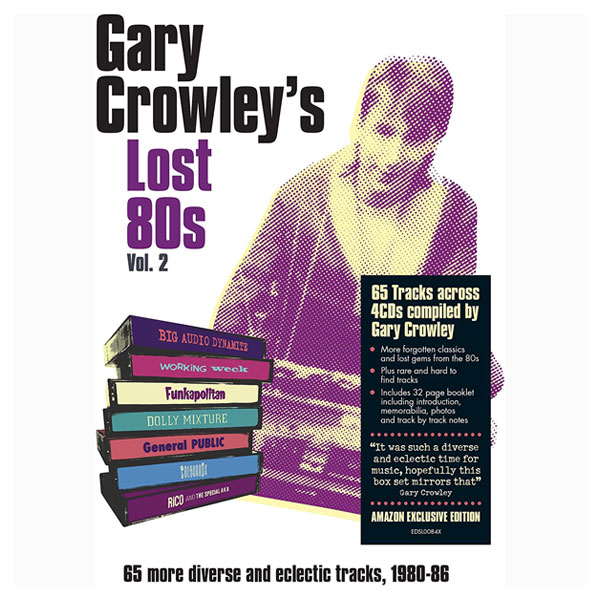 Various Artists
Gary Crowley Lost 80s 2 - 4CD set Signed exclusive
Compare prices and pre-order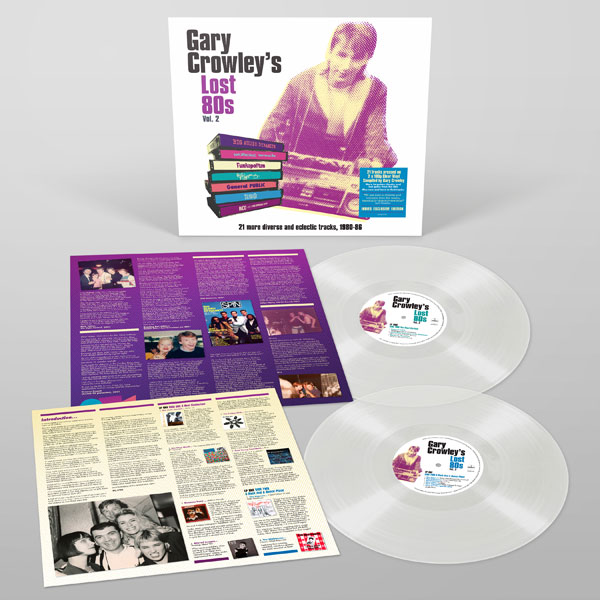 Various Artists
Gary Crowley Lost 80s 2 - 2LP clear vinyl
Compare prices and pre-order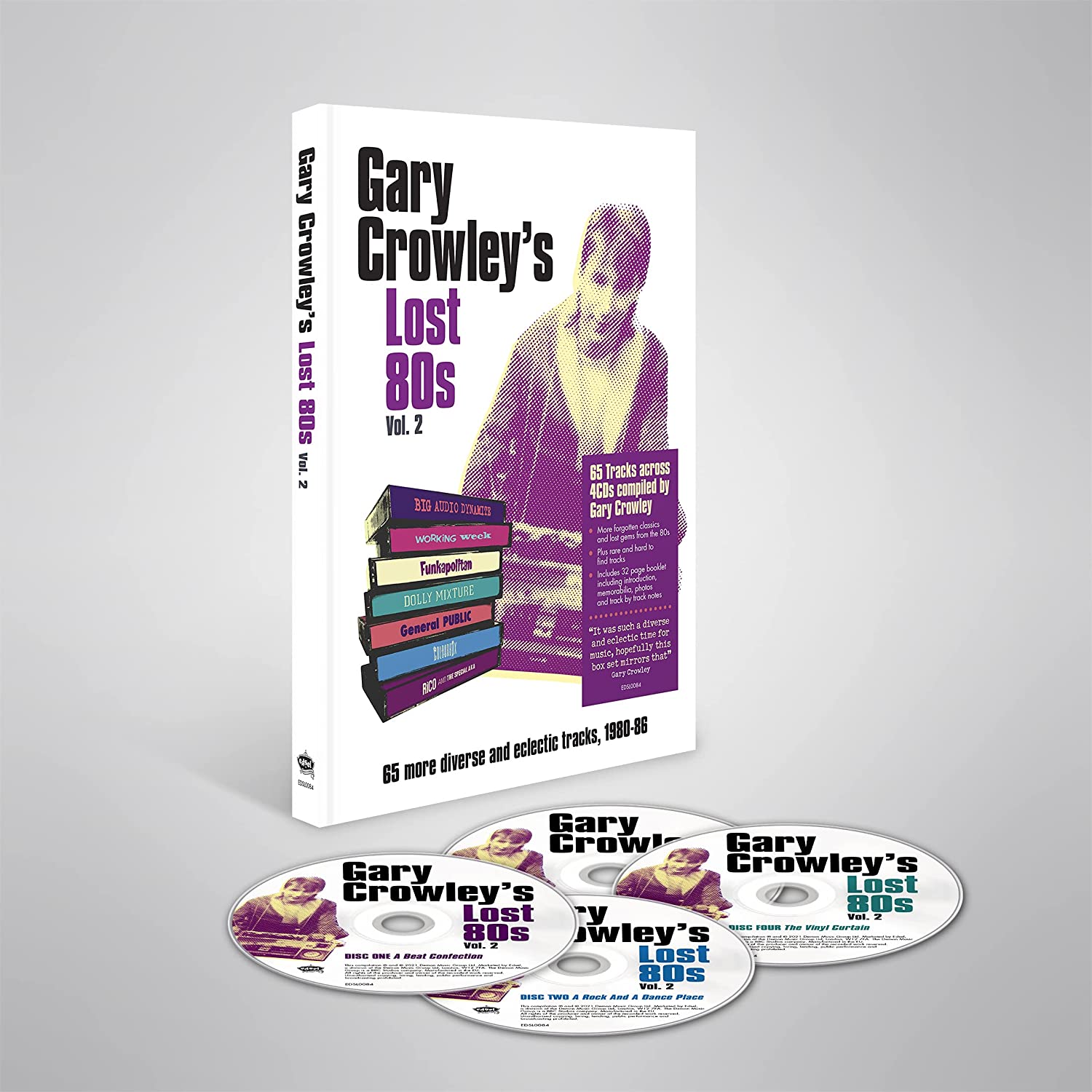 Various Artists
Gary Crowley Lost 80s 2 - 4CD standard edition
Tracklisting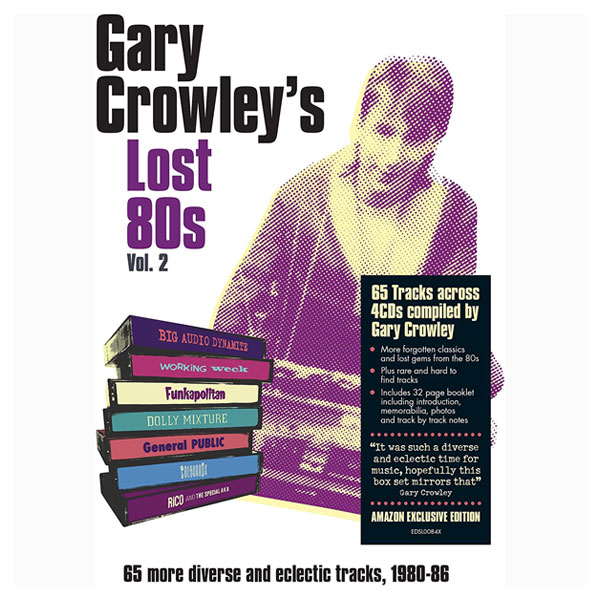 Gary Crowley's Lost 80s 2 Various Artists
/
4CD set
The Style Council – Mick's Up
Working Week – Venceremos (7″ version)
Weekend – Summerdays
Marine Girls – On My Mind
Dolly Mixture – Everything And More
Tracie – (I Love You) When You Sleep
Altered Images – Thinking About You
Madness – Keep Moving
Swing Out Sister – Blue Mood
The Blow Monkeys – Forbidden Fruit
Screen 3 – Come Into My Jungle
The Monochrome Set – Jacob's Ladder
The Friday Club – Window Shopping
Elvis Costello – From A Whisper To A Scream
The Undertones – Save Me
Fine Young Cannibals – Blue
Pressure Point – Mellow Moods
Dee C Lee – The Paris Match
Nick Heyward – Café Canada

The Higsons – I Don't Want To Live With Monkeys
The Waitresses – I Know What Boys Like
The Polecats – Make A Circuit With Me
APB – Shoot You Down
Bananarama – No Feelings
Ellen Foley – Torchlight
Theatre Of Hate – The Hop
Heaven 17 – Play To Win
Leisure Process – Love Cascade [12″ version]
Barry Reynolds – I Scare Myself
Shake Shake – Shake Shake
Nick Heyward – When It Started To Begin
In Embrace – Your Heaven Scent
Stephen Tin Tin Duffy – Icing On The Cake
This Island Earth – Take Me To The Fire
The Kane Gang – Respect Yourself
Klaxon 5 – Hothouse
The Untouchables – Free Yourself
Rico & The Special AKA – Jungle Music

Kid Creole And The Coconuts – Latin Music
Linx – Throw Away The Key
Funkapolitan – As Time Goes By
BEF Featuring Billy Mackenzie – The Secret Life Of Arabia
Blancmange – Feel Me [12″ version]
The B-52s – Legal Tender
Wide Boy Awake – Slang Teacher
The Children Of 7 – Solidarity
Blue Rondo A La Turk – Coco
Steve Walsh – Letters Of Love
Animal Nightlife – Native Boy ('83 Dennis Bovell remix)
World Famous Supreme Team – Hey DJ [7″ version]
Paul Blake And The Blood Fire Posse – Rub-A-Dub Soldier
The Staple Singers – Life During Wartime
Sade – Why Can't We Live Together

The Human League – Hard Times
Medium Medium – Hungry So Angry
Spoonie Gee And The Sequence – Monster Jam
The Thompson Twins – In The Name Of Love [12″ Dance Extension]
General Saint And Clint Eastwood – Another One Bites The Dust [12″ version]
Kurtis Blow – The Breaks
The Valentine Brothers – Money's Too Tight To Mention [12″ version]
Treacherous Three – Yes We Can-Can
General Public – Tenderness [Special Dance Mix]
Win – You've Got The Power [US Dance Mix]
Colourbox – Baby I Love You So [12″ version]
Big Audio Dynamite – Medicine Show [12″ remix]
Tracklisting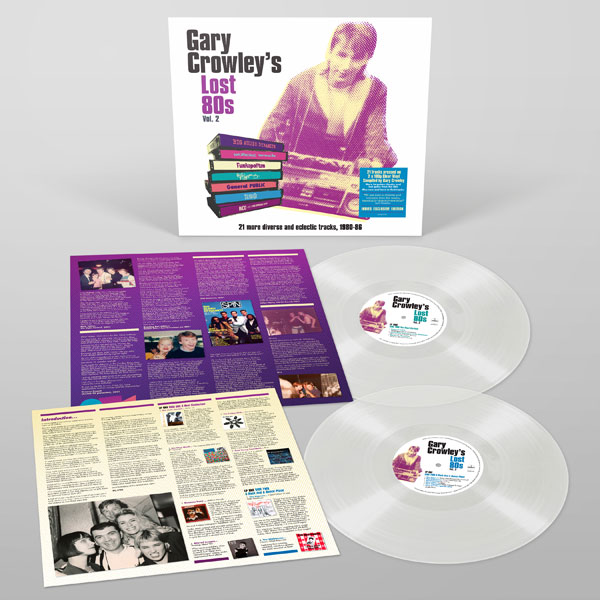 Gary Crowley's Lost 80s Vol 2 Various Artists
/
2LP clear vinyl
Side 1 – A Beat Confection

The Style Council – Mick's Up
Working Week – Venceremos (We Will Win) [7" version]
Pressure Point – Mellow Moods
Altered Images – Thinking About You
The Friday Club – Window Shopping
Fine Young Cannibals – Blue

Side 2 – A Rock and a Dance Place

The Higsons – I Don't Want To Live With Monkeys
The Waitresses – I Know What Boys Like
Bananarama – No Feelings
Ellen Foley – Torchlight
Nick Heyward – When It Started To Begin
Rico and The Special AKA – Jungle Music

Side 1 – Ear and Foot Refreshment

Kid Creole and The Coconuts – Latin Music
Funkapolitan – As The Time Goes By
B.E.F. featuring Billy MacKenzie – The Secret Life Of Arabia
The B-52's – Legal Tender
Wide Boy Awake – Slang Teacher
World's Famous Supreme Team – Hey! DJ [7" version]

Side 2 – The Vinyl Curtain

General Public – Tenderness [Special Dance Mix]
Colourbox featuring Lorita Grahame– Baby I Love You So [12" Version]
Big Audio Dynamite – Medicine Show [12" Remix]