 News
Howard Jones / at the BBC
5CD set of mostly previously unreleased material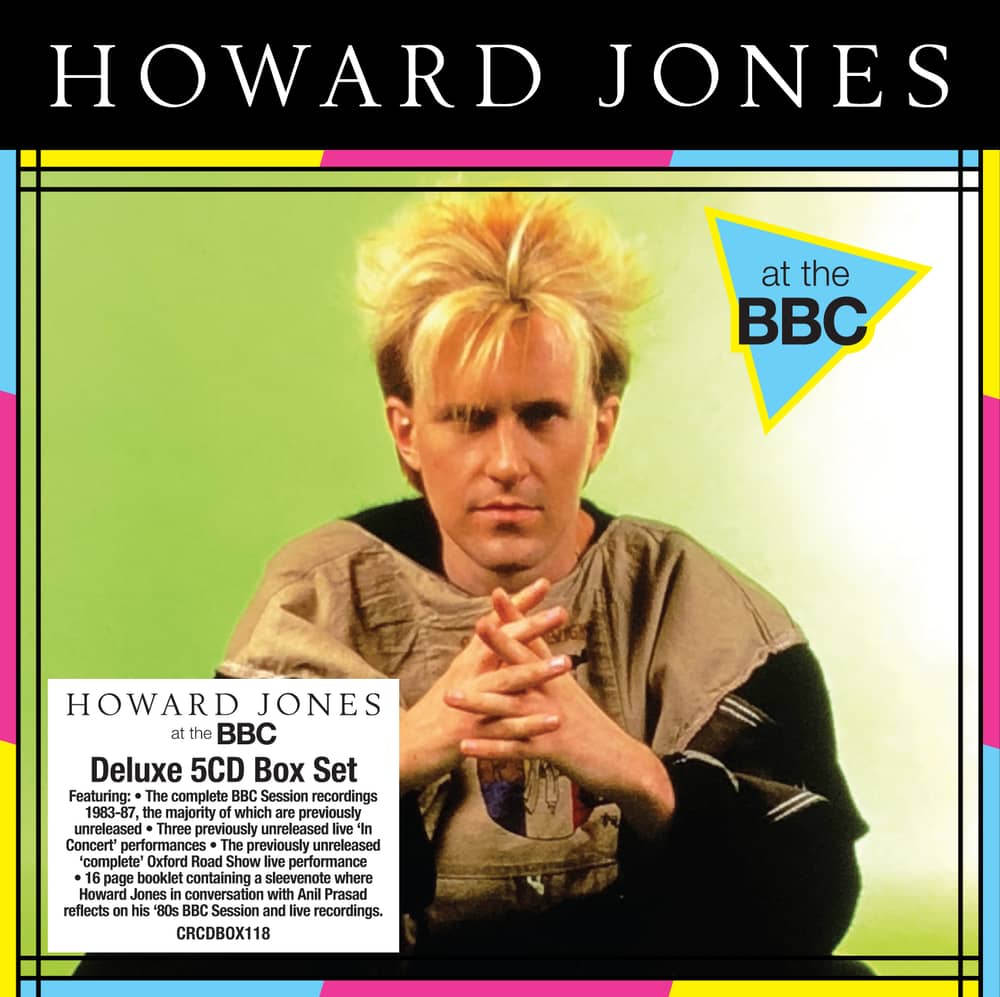 Howard Jones at the BBC is a new five-CD box set that features a wealth of BBC Sessions and live concert broadcasts that focuses on the classic, early part of Jones' career.
In the period between 1983-87, the BBC broadcast four different sessions by Howard; two of these for the Kid Jensen Show and two for the Janice Long Show. Howard Jones at the BBC contains all 19 of these session tracks including the complete 'White Tape' demo recordings that Howard gave to the BBC to broadcast as his second session in May of 1983 (which includes the rarity 'What Can I Say?')
The set also includes three In Concert live performances and the Oxford Road Show performance that was simulcast on BBC Radio 1 and BBC2 on 15th March 1985.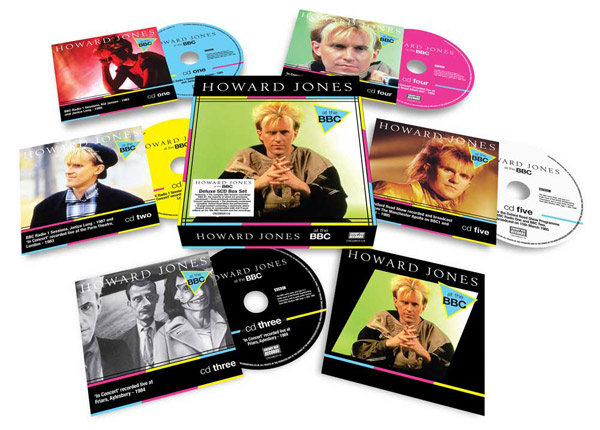 All the live performance tracks (bar eight from the Oxford Road Show on CD5) are previously unreleased and in fact three songs from the Oxford Road Show are unheard, since they were vnot broadcast at the time (these are 'Like To Get To Know You Well', 'No One Is To Blame' and 'Don't Always Look At The Rain'/'Things Can Only Get Better').
Howard says: "This set is a really valuable, historical document. You hear me before the first album was released, after I've had success, my evolution from a solo performer to a band-focused performer, and all of it happened across only four years from 1983-1987. There's so much variety in the sessions, even among songs that appear multiple times. It's a series of snapshots from a very important time in my career. It's fascinating for me to listen to and reflect on so many years later. I hope the same holds true for the fans as well."
The box includes a 16-page CD booklet with sleeve notes by Anil Prasad in conversation with Howard reflecting on his '80s BBC Session and live recordings.
Howard Jones at the BBC will be released on 26 November 2021.
Compare prices and pre-order
Howard Jones
Howard Jones live at the BBC - 5CD set
Tracklisting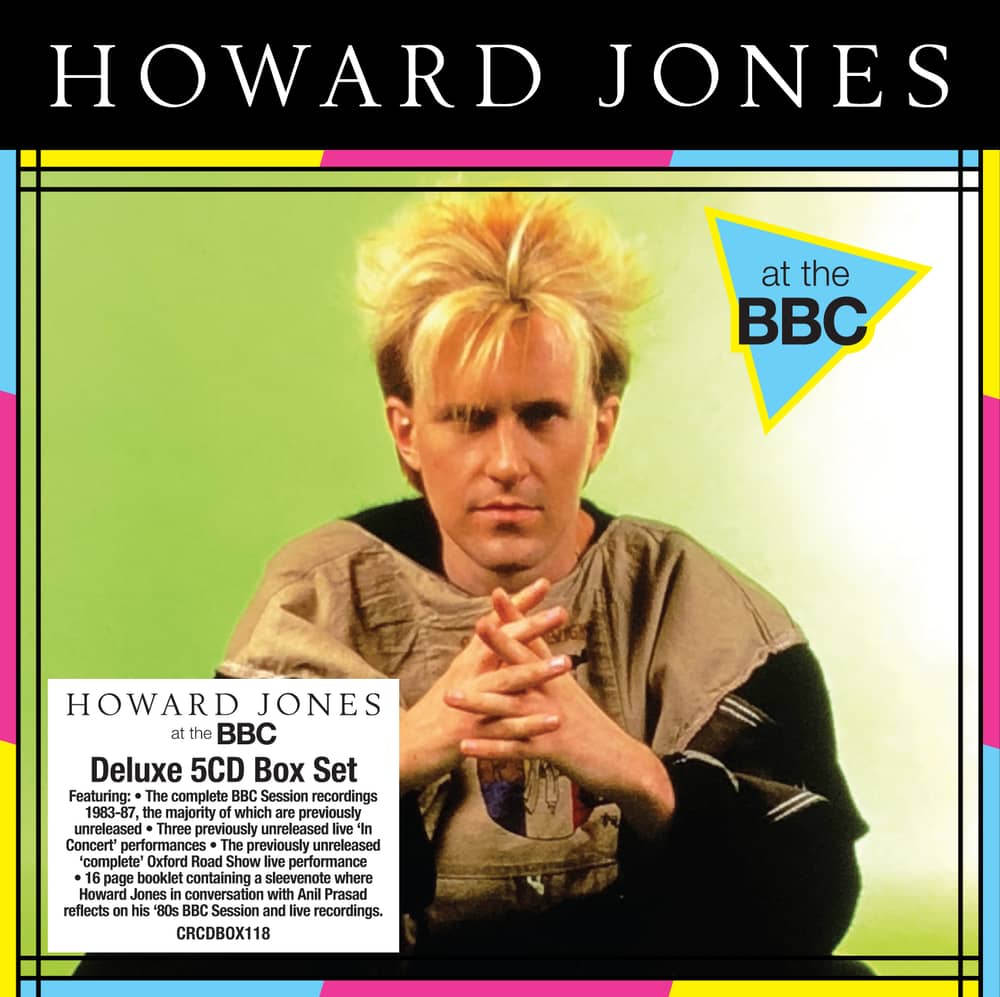 Howard Jones at the BBC Howard Jones
/
5CD set
CD 1

The Kid Jensen Show on BBC Radio 1. First broadcast on 13th March 1983

New Song
Don't Put These Curses On Me
Natural
Human's Lib

The Kid Jensen Show on BBC Radio 1. First broadcast on 27th May 1983

Human's Lib
Love ?
Risk
Always Asking Questions
What Can I Say?

The Janice Long Show on BBC Radio 1. First broadcast on 27th January 1985

Things Can Only Get Better*
Look Mama*
Dream Into Action*
No One Is To Blame

* Previously Unreleased

CD 2

The Janice Long Show on BBC Radio 1. First broadcast on 30th March 1987

The Balance Of Love*
Conditioning*
Little Bit Of Snow*
Don't Want To Fight Anymore*
Give Me Strength*
IGY (What A Beautiful World)*

In Concert on BBC Radio 1 Live at the Paris Theatre, London on 5.10.1983. First broadcast on 15th October 1983

New Song*
Conditioning*
Dreams Of A Better Place*
What Is Love?*
Equality*
Don't Always Look At Rain*

* Previously Unreleased

CD 3

In Concert on BBC Radio 1 Live at Friars, Aylesbury on 7.4.1984. First broadcast 12th May 1984

Hunt The Self*
Pearl In The Shell*
Always Asking Questions*
Don't Always Look At The Rain*
Change The Man*
Like To Get To Know You Well*
Equality*
Hide And Seek*
Dreams Of A Better Place*
New Song*
What Is Love?*

* Previously Unreleased

CD 4

In Concert on BBC Radio 1 Live at The Royal Albert Hall on 17.12.1984. First broadcast 6th April 1985

Like To Get To Get To Know You Well*
Look Mama*
Hunger For The Flesh*
Natural*
Hide And Seek*
Always Asking Questions*
No One is To Blame*
Equality*
What Is Love?*
New Song*
Hunt The Self*

* Previously Unreleased

CD 5

The Oxford Road Show on BBC Radio 1 and BBC 2. Broadcast Live from The Manchester Apollo Theatre on 15th March 1985

Things Can Only Get Better*
Automaton
Pearl In The Shell 4 Hide And Seek*
Like To Get To Know You Well*
Look Mama
Dream Into Action
Hunger For The Flesh
Hunt The Self
What Is Love?*
No One Is To Blame*
Always Asking Questions
New Song
Don't Always Look At The Rain/Things Can Only Get Better*

* Previously Unreleased