 News
Howard Jones / Cross That Line reissue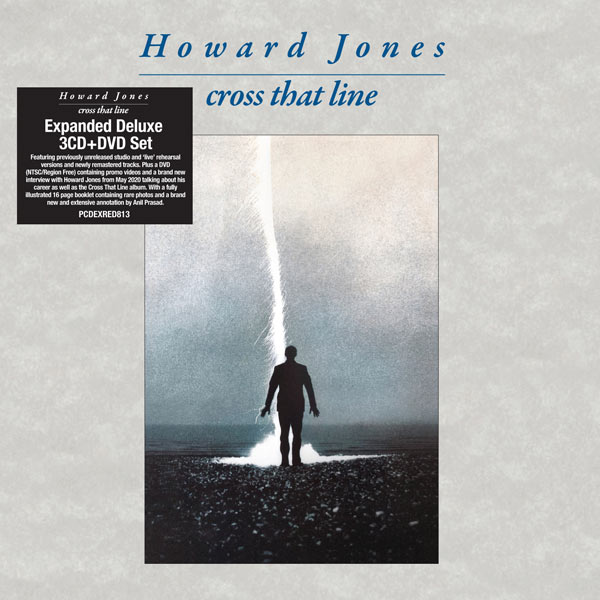 3CD+DVD deluxe • Coloured vinyl
Howard Jones' 1989 Cross That Line will be reissued as a four-disc deluxe edition in October.

Jones' co-produced his fourth studio album with Ian Stanley, Chris Hughes and Ross Cullum – the Tears For Fears' backroom boys – and it featured the singles The Prisoner and Everlasting Love. The latter was quite a big hit in America (#12) and the former still got to number thirty. It was sadly a different story in the UK, where all momentum had been lost due to the poor chart performance of the singles from 1986's One to One.
The 3CD+DVD reissue (there is no other CD-based format) looks great, with a wealth of bonus remixes, instrumentals, edits and more – 22 of them previously unreleased. The DVD – NTSC, region-free – features an interview with Howard and promo videos.
There will also be a limited edition 140g silver-coloured vinyl. This features album-only.
Cross That Line will be reissued on 9 October 2020.
Compare prices and pre-order
Howard Jones
Cross That Line - 3CD+DVD box set
Compare prices and pre-order
Howard Jones
Cross That Line - silver vinyl LP
Cross That Line 3CD+DVD
CD 1
1. THE PRISONER
2. EVERLASTING LOVE
3. POWERHOUSE
4. LAST SUPPER
5. CROSS THAT LINE
6. OUT OF THIN AIR
7. GUARDIANS OF THE BREATH
8. FRESH AIR WALTZ
9. WANDERS TO YOU
10. THOSE WHO MOVE CLOUDS
11. MODERN MAN
12. THE BRUTALITY OF FACT
13. POWER OF THE MEDIA
14. POWERHOUSE (DANNY D 12" EDIT)
CD 2
1. THE PRISONER (ALTERNATIVE 7″ MIX)*
2. EVERLASTING LOVE (JULIAN MENDELSOHN MIX)*
3. MODERN MAN (EARLY MIX)*
4. POWERHOUSE (7″ INSTRUMENTAL MIX)*
5. FRESH AIR WALTZ (EARLY MIX)*
6. THE PRISONER (THE PORTMEIRION MIX)
7. RUBBER MORALS
8. HAVE YOU HEARD THE NEWS?
9. POWERHOUSE (DANNY D 7″ EDIT)
10. THE PRISONER (US 7″ EDIT)**
11. EVERLASTING LOVE
(ORIGINAL MIX – AKA THE INSTITUTE MIX)**
12. CROSS THAT LINE (EARLY MIX)*
13. POWERHOUSE OF LOVE (EARLY MIX)*
14. THE PRISONER (AC EDIT)*
15. POWERHOUSE (DANNY D ACID MIX EDIT VERSION 1)*
* PREVIOUSLY UNRELEASED
** PREVIOUSLY UNRELEASED DIGITALLY
CD 3
1. EVERLASTING LOVE (INSTRUMENTAL MIX)*
2. THE PRISONER (BATTERY STUDIO MIX 1)*
3. POWERHOUSE (7″ ALTERNATIVE MIX)*
4. EVERLASTING LOVE (JULIAN MENDELSOHN TV MIX)*
5. THE PRISONER (ORIGINAL ALBUM MIX)*
6. CROSS THAT LINE
(MARQUEE REHEARSAL 18TH JUNE 1988)*
7. POWERHOUSE (MARQUEE REHEARSAL 18TH JUNE 1988)*
8. RUBBER MORALS (TV MIX)*
9. EVERLASTING LOVE (ALTERNATIVE INSTITUTE MIX)*
10. THE PRISONER (INSTRUMENTAL MIX)*
11. POWERHOUSE (TV INSTRUMENTAL MIX)**
12. EVERLASTING LOVE (808 MIX)
13. POWERHOUSE (DANNY D ACID MIX EDIT VERSION 2)*
14. EVERLASTING LOVE (PETER COLLINS MASTER MIX)*
15. POWERHOUSE
(ALTERNATIVE ALBUM MIX – AKA DANNY D DELAY MIX)*
* PREVIOUSLY UNRELEASED
** PREVIOUSLY UNRELEASED DIGITALLY
DVD (NTSC/REGION FREE)
1. INTERVIEW WITH HOWARD JONES MAY 2020:
– CREATING "CROSS THAT LINE"
– TRACK BY TRACK COMMENTARY
2. EVERLASTING LOVE (PROMO VIDEO)
3. THE PRISONER (PROMO VIDEO)
4. EVERLASTING LOVE (ALTERNATIVE VERSION)
(PROMO VIDEO)
Cross That Line silver vinyl LP
1. THE PRISONER
2. EVERLASTING LOVE
3. POWERHOUSE
4. LAST SUPPER
5. CROSS THAT LINE
SIDE TWO
1. OUT OF THIN AIR
2. GUARDIANS OF THE BREATH
3. FRESH AIR WALTZ
4. WANDERS TO YOU
5. THOSE WHO MOVE CLOUDS