 News
Howard Shore / The Lord Of The Rings: The Two Towers 5LP blue vinyl box
First time on vinyl • Blue vinyl • 3CD+blu-ray box with 5.1 mix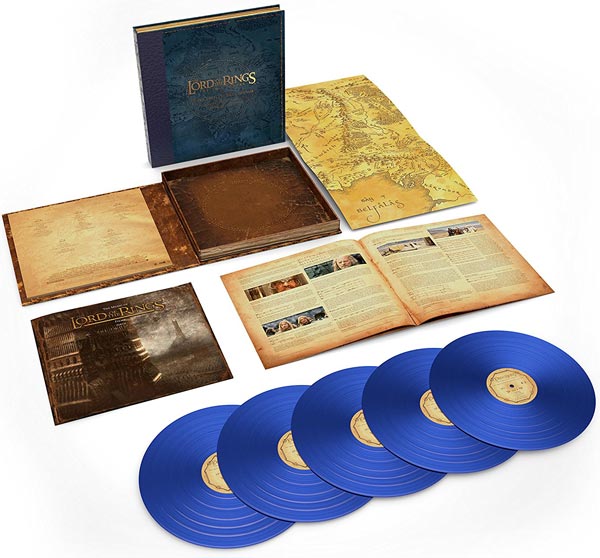 Howard Shore's 'Complete Recordings' of the The Lord Of The Rings: The Two Towers will be released on vinyl for the first time in July as a 5LP blue vinyl box set.

Like the previous Fellowship of The Ring package, this music to Peter Jackson's 2002 film is housed in a collector's box with a blue leather-style spine and it will be limited, to 8,000 individually numbered copies on blue vinyl.

There will also be a 3CD+blu-ray audio edition which contains the same complete recordings and the hi-res 5.1 surround sound mix on the blu-ray element.




As anyone who bought the first set will probably testify, this is one collection that it's well worth picking up from the US. With (standard) shipping and Amazon.com's 'import fees' deposit paid, the total in pounds comes to £114, or thereabout. The crucial thing here is that you are guaranteed to have no 'surprise' import VAT or associated fees – Amazon are effectively sorting that out for you. In the UK this new vinyl box is currently £144.

The Lord Of The Rings: The Two Towers – The Complete Recordings 5LP blue vinyl and 3CD+blu-ray sets will be released on 27 July 2018.


Side A
1. Glamdring
2. Elven Rope
3. Lost in Emyn Muil
4. My Precious
5. Uglúk's Warriors
6. The Three Hunters
Side B
1. The Banishment of Éomer
2. Night Camp
3. The Plains of Rohan
4. Fangorn
5. The Dead Marshes
Side C
1. "Wraiths On Wings"
2. Gandalf the White
3. The Dreams of Trees
4. The Heir of Númenor
Side D
1. Ent-draught
2. Edoras
3. The Court of Meduseld
4. Théoden King (Featuring "The Funeral of Théodred" Performed by Miranda Otto)
5. The King's Decision
Side E
1. Exodus From Edoras
2. The Forests of Ithilien
3. One of the Dúnedain (Featuring "Evenstar" Performed by Isabel Bayrakdarian)
Side F
1. The Wolves of Isengard
2. Refuge at Helm's Deep
3. The Voice of Saruman
4. Arwen's Fate (Featuring "The Grace of the Valar" Performed by Sheila Chandra)
5. The Story Foretold
Side G
1. Sons of the Steward
2. Rock and Pool
3. Faramir's Good Council
4. Aragorn's Return
5. War Is Upon Us
Side H
1. "Where Is the Horse and the Rider?"
2. The Host of the Eldar
3. The Battle of the Hornburg
4. The Breach of the Deeping Wall
5. The Entmoot Decides
Side I
1. Retreat (Featuring "Haldir's Lament" Performed by Elizabeth Fraser)
2. Master Peregrin's Plan
3. The Last March of the Ents (Featuring Ben Del Maestro)
4. The Nazgûl Attack
5. Théoden Rides Forth (Featuring Ben Del Maestro)
Side J
1. The Tales That Really Matter
2. "Long Ways to Go Yet" (Featuring "Gollum's Song" Performed by Emiliana Torrini)