 News
David Bowie & Marlene Dietrich / Just A Gigolo on limited blue vinyl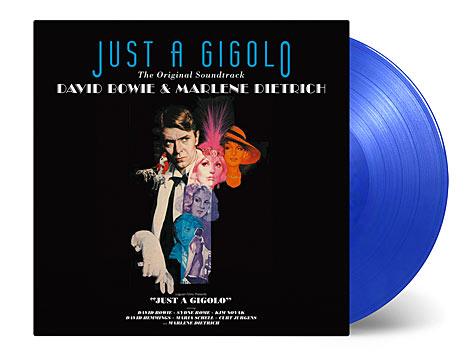 The soundtrack to David Hemmings' (him from Antonioni's sixties classic 'Blow-Up') 1978 film Just A Gigolo will be released on limited edition blue vinyl next month.

The film wasn't a critical or commercial success, but is remembered for starring David Bowie and Marlene Dietrich and the soundtrack contains music from both of them.
Bowie's contribution is 'Revolutionary Song' and apparently there were three different versions produced for the film, with two featuring Bowie on vocals (parts I & III). There are also three tracks from American vocal group The Manhattan Transfer, as well as music from The Pasadena Roof Orchestra, Sydne Rome, and The Gunther Fischer Quintet.
This edition is pressed on 180g transparent blue vinyl and is limited to 3,000 copies. It is released on 26 July 2019 and can be pre-ordered from the SDE shop using this link or the button below.
SIDE A
1. Marlene Dietrich – Just A Gigolo
2. The Pasadena Roof Orchestra – Salome
3. The Rebels – David Bowie's Revolutionary Song (Part I)
4. The Manhattan Transfer – Johnny
5. The Gunther Fischer Orchestra – The Streets Of Berlin
6. The Pasadena Roof Orchestra – Charmaine
7. Marlene Dietrich – Just A Gigolo (Piano)
8. Sydne Rome – Don't Let It Be Too Long
SIDE B
1. The Rebels – David Bowie's Revolutionary Song (Part II)
2. The Manhattan Transfer – Jealous Eyes
3. The Manhattan Transfer – I Kiss Your Hand, Madame
4. Marlene Dietrich – Just A Gigolo (Outtake)
5. The Gunther Fischer Quintet – Kissing Time
6. The Pasadena Roof Orchestra – Black Bottom
7. The Rebels – David Bowie's Revolutionary Song (Part III)
8. Marlene Dietrich – Farewell Gigolo