 News
Introducing… The Lickerish Quartet
Jellyfish are back. Sort of.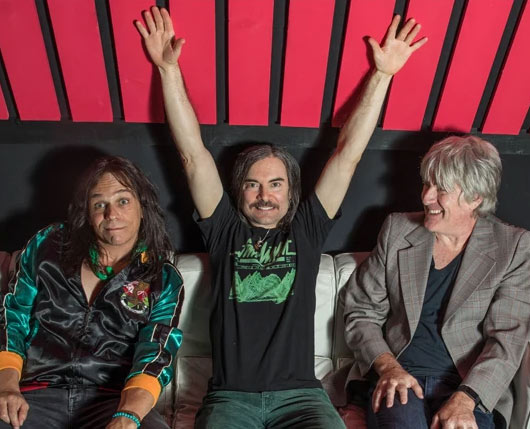 Jellyfish co-founder Roger Joseph Manning Jr. is returns with a new band The Lickerish Quartet which also features Tim Smith and Eric Dover, two other musicians who played a part in the Jellyfish story around the time of the second album.

Jellyfish flirted with UK chart success in the early nineties, but never quite crossed over into the mainstream, despite the creative core of the band – singer/drummer Andy Sturmer and keyboard player Roger Joseph Manning Jr. – delivering some timeless, melodic power-pop, with influences coming courtesy from the likes of The Beatles, Queen, and ELO. They were, in many ways, a band out of time, with the release of 1990's Bellybutton coinciding with the 'Madchester' scene in the UK and follow-up Spilt Milk (1993) being issued at the height of the Grunge movement emerging from Seattle.

Jellyfish perform The Ghost at Number One from Spilt Milk on Later with Jools Holland.

If Eric and Tim are unfamiliar, then let's establish their credentials; Tim Smith was brought in to play bass on Split Milk, while Eric Dover joined the band on the road for the tour of the same album. Jellyfish broke up after that tour, but since then, the three musicians have forged their own paths with occasional overlapping projects. Roger is probably best known as being the keyboard player in Beck's band for over 20 years, Tim has worked with Finn brothers Neil and Tim, Sheryl Crow and Noel Gallagher, while Dover was in Imperial Drag with Roger (they released just the one album before disbanding in 1997). Andy Sturmer has no involvement in The Lickerish Quartet and speaking to SDE, Roger Joseph Manning Jr. explained that their goal "wasn't to resurrect Jellyfish, it was simply to get together and write original music we love".

The first release is Threesome Vol. 1, a four-track EP which will be issued on vinyl and CD that is brimming with the kind of joy and invention that made those two Jellyfish albums so good. It includes 'Lighthouse Spaceship', six minutes of harmony-driven classic rock with all those aforementioned influences clearly in place, alongside the exquisite production values that made Jellyfish so highly regarded.

Lighthouse Spaceship is track four on the new EP.

Manning's 'Bluebird's Blues' as is a slice of folk-guitar power-pop with cheeky 10cc-referencing intro, while the Dover-driven 'Fadoodle' is a ludicrously catchy, and rather humourous number, which according to Roger, "has the distinction of being a pop song that has the world's oldest slang yet is released in the 21st century" (Fadoodle apparently means fornicate).



Finally, 'There Is a Magic Number' a gorgeous yearning Smith-penned rumination on lost love, blame and attribution. Mid-paced soft-rock perfection.

Manning told me with some regret, that it was clear to him back in 1993/4 that "both Eric and Tim were fantastic singer-songwriters in their own right" but that because Jellyfish broke up "we never got to conduct that experiment and continue on in that Jellyfish writing tradition." He also makes no apologies for his musical influences: "You've got to be honest with yourself and what excites me and motivates me for the most part, is the record collection I grew up with as a young boy and a young man."

The Threesome Vol. 1 EP will be released on CD on 17 July (was 26 June) and on vinyl on 31 July 2020. As a big Jellyfish fan, I'm delighted that SDE is able to support this new enterprise by stocking both the CD and vinyl versions of the EP. Use this link, or the buttons below to pre-order.


<![CDATA[
/**/
]]>
Fans in America may prefer to shop at the band's US-based
Bandwear store
.
Compare prices and pre-order
The Lickerish Quartet
threesome vol 1 - vinyl edition
Compare prices and pre-order
The Lickerish Quartet
threesome vol 1 - CD edition
1. Fadoodle
2. Bluebird's Blues
3. There Is a Magic Number
4. Lighthouse Spaceship