 News
Japan half-speed mastered 2LP vinyl reissues coming later in 2018
Gentlemen Take Polaroids (1980) and Tin Drum (1981) – Japan's last two albums (as Japan) – will be reissued later this year as Abbey Road Half-Speed mastered 2LP vinyl editions.

Steve Jansen revealed this information on on Twitter yesterday and posted a couple of images of the track listings which appear to confirm (two tracks per side!) that both will be 45RPM pressings, like the similar Brian Eno releases of last year.
JAPAN's Tin Drum & Gentlemen Take Polaroids, Abbey Road half-speed mastered vinyl albums to be released later this year. pic.twitter.com/bfYIInAbag

— Steve Jansen (@istevejansen) June 4, 2018
These haven't been officially announced, so no pre-orders as yet. A twitter follower of Jansen's replied to his message by saying "To include the original version of 'Some Kind Of Fool' on Gentlemen Take Polaroids would make it a hit album again." Steve responded by saying "These reissues are entirely faithful to the artists intentions for the original releases and only differ in that they are mastered by a process that gives complete priority to audio quality for vinyl, unlike the originals."
More news on this when we have it. Here's a link to Abbey Road mastering engineer Miles Showell talking about the half-speed mastering process. Below are details taken from the 'OBI' strip of the forthcoming vinyl reissues.
Update: these are now available to pre-order. See details below (the single 33RPM editions aren't half-speed).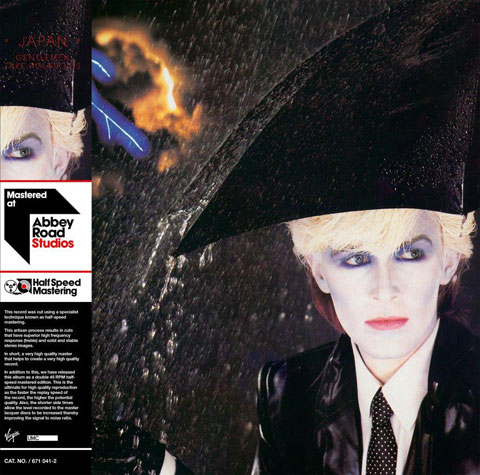 Gentlemen Take Polaroids 2 x 45 RPM half-speed mastered
Side A
1 Gentlemen Take Polaroids
2 Swing
Side B
1 Burning Bridges
2 My New Career
Side C
1 Methods of Dance
2 Ain't That Peculiar
Side D
1 Night Porter
2 Taking Islands In Africa
Tin Drum 2 x 45 RPM half-speed mastered
Side A
1 Art of Parties
2 Talking Drum
Side B
1 Ghosts
2 Canton
Side C
1 Still Life
2 Visions of China
Side D
1 Sons of Pioneers
2 Cantonese Boy