 News
Japan / Quiet Life box set
1979 album remastered and expanded for new deluxe box set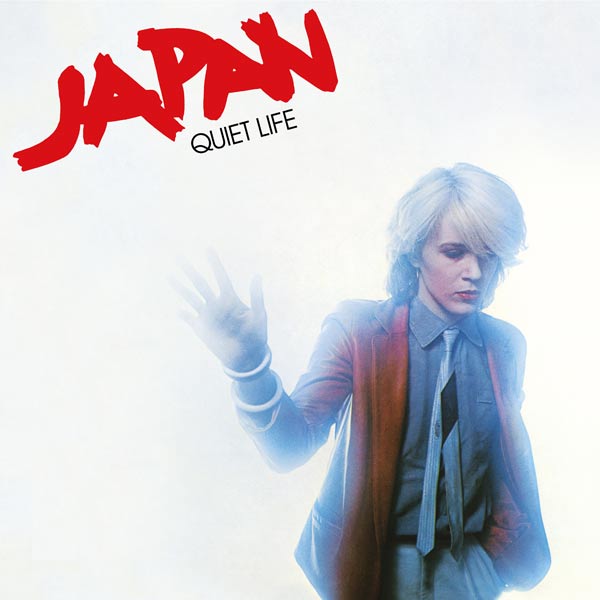 In March, BMG will reissue Japan's third album, Quiet Life, across a number of formats, including a deluxe box set.

The 1979 album (issued a few weeks late, in January 1980, in the UK) was the final album on Hansa Records and became a forerunner for the alternative/new wave sound of the new decade.
The single 'Quiet Life' reached number 19 in the UK, but almost two years after the album (having originally been a B-side for non-album single 'I Second That Emotion'). The Quiet Life album was a creative, rather than commercial success and Japan singles only started to chart once Gentlemen Take Polaroids and Tin Drum (both issued on Virgin in 1981 and 1982 respectively) raised the band's profile.

The Quiet Life box features three CDs and a 180g half-speed mastered vinyl LP (click image to enlarge)
Quiet Life is being reissued as 3CD+LP box set that features a new 2020 remaster of the album on CD and vinyl (the vinyl is half-speed mastered at Abbey Road) along with a disc of alternate mixes, remixes, singles and rarities. This same disc also includes the four-track EP Live in Japan (taken from the March 1980 Budokan show) which had a limited vinyl release in Europe in July of that same year. The third CD in the box set is that same Budokan gig, in full.
In addition to the box set, there are standalone 2020 remasters of the album available on black vinyl, red vinyl (both half-speed) and CD. There is no two-CD deluxe edition, in case you are wondering.
The reissues feature newly restored original album artwork, new sleeve notes with contributions from band members and original producer and rare and unseen photography and memorabilia. BMG have worked with Steve Jansen, Rob Dean, producer John Punter and with band biographer Anthony Reynolds and the Japanese Shinko archive in putting this set together.

The official store offers an exclusive 9-track 'Life in Tokyo' CD single with the box set
If you are interested, it's highly recommended that you pre-order this Quiet Life box set from the official Japan store since it comes with an additional nine-track CD single full of original remixes of 'Life in Tokyo', only two of which are included in the box itself! This CD single is exclusive to the official store.
Quiet Life will be reissued on 5 March 2021.
Official Japan Store pre-order exclusives
Compare prices and pre-order
Japan
Quiet Life - 3CD+LP deluxe box set
Compare prices and pre-order
Japan
Quiet Life - half-speed mastered black vinyl
Compare prices and pre-order
Japan
Quiet Life - remastered CD edition
Quiet Life – 3CD+LP deluxe box set
CD1 – QUIET LIFE
Quiet Life (2020 Remaster)
Fall In Love With Me (2020 Remaster)
Despair (2020 Remaster)
In Vogue (2020 Remaster)
Halloween (2020 Remaster)
All Tomorrows Parties (2020 Remaster)
Alien (2020 Remaster)
The Other Side of Life (2020 Remaster)
CD2 – A QUIETER LIFE: ALTERNATIVE MIXES & RARITIES
1. European Son (Steve Nye 7" Remix 1982)*
2. Life In Tokyo (Steve Nye 7" Special Remix 1982)
3. Quiet Life (Original German 7" Mix 1980)*
4. I Second That Emotion (Steve Nye 7" Remix 1982)*
5. All Tomorrow's Parties (Steve Nye 7" Remix Version 1983)
6. European Son (John Punter 12" Mix 1980)
7. Life In Tokyo (Steve Nye 12" Special Remix Version 1982)
8. I Second That Emotion (Steve Nye 12" Remix Version 1982)
9. All Tomorrow's Parties (Steve Nye 12" Remix Version 1983)
10. European Son (Steve Nye 12" Remix Version 1982)
11. Quiet Life (Japanese 7" Mix 1980)* [18/01/21]
12. A Foreign Place
13. All Tomorrow's Parties (John Punter 7" Mix 1979)
14. Life In Tokyo (Theme Giorgio Moroder Version 1979)*
Live In Japan
15. Deviation (Live In Japan)
16. Obscure Alternatives (Live In Japan)
17. In Vogue (Live In Japan)
18. Sometimes I Feel So Low (Live In Japan)
CD3 – LIVE AT THE BUDOKAN 27/03/1980
Intro*
Alien*
…Rhodesia*
Quiet Life*
Fall In Love With Me*
Deviation*
All Tomorrow's Parties*
Obscure Alternatives*
In Vogue*
Life In Tokyo*
Halloween*
Sometimes I Feel So Low*
Communist China*
Adolescent Sex*
I Second That Emotion*
Automatic Gun*
LP – QUIET LIFE
Side A
1. Quiet Life (2020 Remaster)
2. Fall In Love With Me (2020 Remaster)
3. Despair (2020 Remaster)
4. In Vogue (2020 Remaster)
Side B
1. Halloween (2020 Remaster)
2. All Tomorrows Parties (2020 Remaster)
3. Alien (2020 Remaster)
4. The Other Side of Life (2020 Remaster)
*rare or unreleased
1. Life In Tokyo (Original 7" Mix 1979)
2. Life In Tokyo (Original 7" Mix Part 2 1979)
3. Life In Tokyo (Original 12" Version 1979)
4. Life In Tokyo ('Assemblage' 7" Remix 1981)
5. Life In Tokyo ('Assemblage' 12" Remix 1981)
6. Life In Tokyo (Steve Nye 7″ Special Remix 1982)
7. Life In Tokyo (Steve Nye 12″ Special Remix Version 1982)
8. Life In Tokyo (Steve Nye Theme 1982)
9. Life In Tokyo (Steve Nye Theme 'Correct Pitch' 1982)