 News
Joan As Police Woman / Limited coloured vinyl reissues + signed print
Early albums back on vinyl. Exclusive signed print via SDE shop.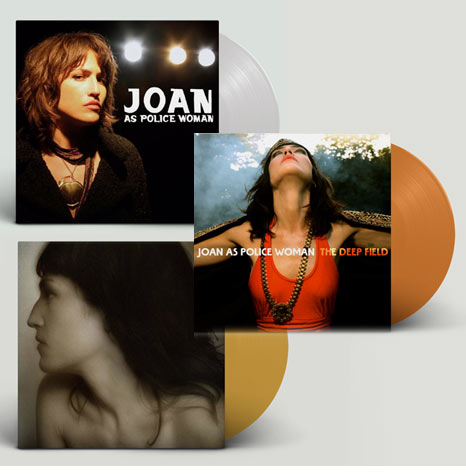 Joan As Police Woman's early albums have been out of print on vinyl for quite some time so next month, the first three are reissued as limited edition coloured vinyl pressings and SDE has some exclusive signed prints to give away.

2006's impressive debut Real Life is pressed on 'crystal clear' vinyl, while intimate follow-up To Survive (issued in 2008 and featuring David Sylvian and Rufus Wainwright) comes on transparent gold coloured vinyl. Finally, The Deep Field from 2010 (which features the single 'The Magic') is a double album and comes pressed on transparent orange vinyl).




All three are gatefold packages and come with download codes. I'm pleased to say that over at the SDE shop we have some exclusive signed prints which will be given away free (one print per customer). A specially-priced three-album bundle (4LPs) is also available.

This limited coloured vinyl pressings of Real Life, To Survive and The Deep Field will be released on 23 August 2019. Head to the SDE shop to secure your copies with the print SIGNED by Joan Wasser (or use the buttons below).
<![CDATA[
/**/
]]>
Real Life
 crystal clear vinyl LP
Side A
Real Life
Eternal Flame
Feed The Light
The Ride
I Defy
Side B
Flushed Chest
Christobel
Save Me
Anyone
We Don't Own It
To Survive
 transparent gold coloured vinyl
Side A

Honor Wishes
Holiday
To Be Loved
To Be Lonely
Magpies
Side B
Start Of My Heart
Hard White Wall
Furious
To Survive
To America
The Deep Field 2LP
 transparent orange vinyl
Side A

Nervous
The Magic
The Action Man
Side B
Flash
Kiss The Specifics
Chemmie
Side C
Run For Love
Human Condition
Forever And A Year
Side D
I Was Everyone
It's Possible
Human Condition (Solo)