 News
Kate Bush / Ne T'Enfuis Pas vinyl single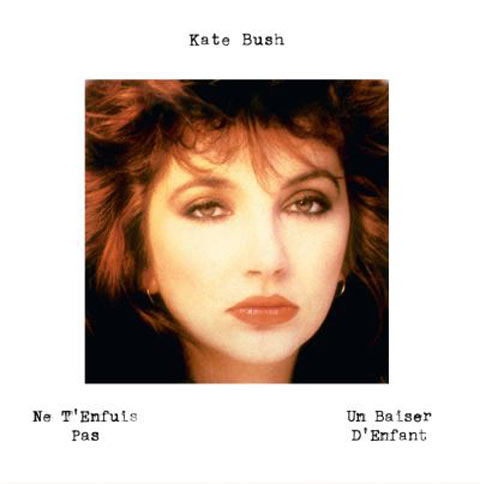 Kate Bush is showing an uncharacteristic desire to release physical product these days! In May, we had the 'Cloudbusting' 12-inch picture disc and now France's FNAC retailer seem to confirm that a physical vinyl reissue of Kate's 1983 French-only single 'Ne T'Enfuis Pas' in September.

'Ne T'en Fui Pas' [it means 'Don't Run Away'] is a The Dreaming era song that ended up on the B-side of 1982 single 'There Goes A Tenner' and, in some territories, 'Suspended In Gaffa'. But the track was remixed slightly and promoted to the A-side of a non-album single in France and Canada, in the summer of 1983. It was backed not with any of the tracks from The Dreaming, but with 'Un Baiser D'Enfant' which is a French language version of Never For Ever album track The Infant Kiss.

The Canadian 'Kate Bush' mini-LP
Both of these songs ended up on a six-track Canadian mini-LP called Kate Bush which was issued in 1983 and widely imported on both cassette and vinyl. The two tracks in question were only issued on CD in 1990, when the This Woman's Work box set was released, but reappeared on the format last year as part of the remastered The Other Sides rarities 4CD set which was initially only available with the second of the two CD boxes, but later released as a standalone product.
'Ne T'Enfuis Pas' is being issued in September, presumably, as part of an ongoing marketing campaign to support Kate's remastered albums. It is not clear at this stage whether this is a 12-inch vinyl or seven-inch single, although I'd guess the former. There is no mention of it being a picture disc, like 'Cloudbusting', but I suppose that can't be ruled out completely.
We also don't know whether this will remain a France-only exclusive (reasonably likely) or be available in other territories, however FNAC do ship internationally.
The Ne T'Enfuis Pas vinyl single will be released on 3 September 2019 and can be pre-order via FNAC. The two Kate Bush CD boxes are still massively cheap via Amazon UK.
You might also like…
Compare prices and pre-order
Kate Bush
CD box # 1 - 7CD The Kick Inside to The Red Shoes
Compare prices and pre-order
Kate Bush
CD box # 2 - 11CD Aerial to Before The Dawn + rarities discs
Side 1
Ne T'Enfuis Pas
Side 2
Un Baiser D'Enfant