 News
Motörhead / Ace of Spades box set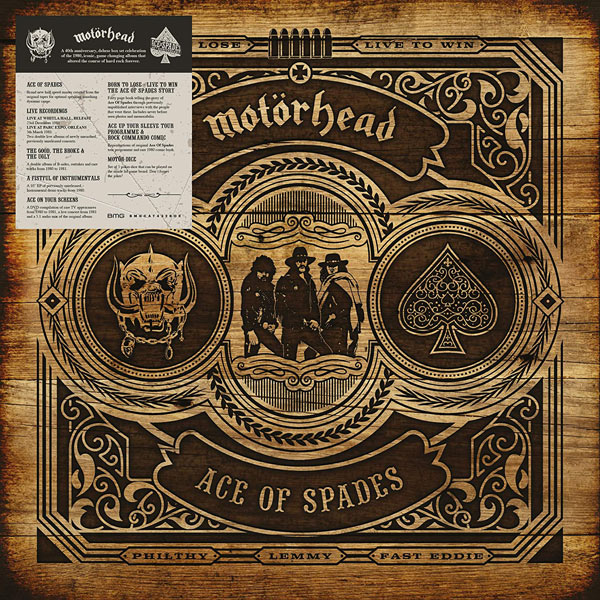 40th anniversary edition • Box Set • 3LP • 2CD

Motörhead's 1980 album, Ace of Spades, is being reissued in October as a vinyl-heavy 7LP+10″+DVD box set that offers a remastered album, live performances and rarities as well as a 5.1 mix of the album.

The box set features the following:
The Ace Of Spades album on vinyl, half-speed mastered and created from the original master tapes.
Two double-live albums of previously unheard concerts from the Ace Up Your Sleeve tour.
A Fistful Of Instrumentals : A 10" EP of previously unreleased, instrumental tracks from 1980.
The Good, The Broke & The Ugly. A double album of B-sides, outtakes and rare tracks.
Ace On Your Screens: A DVD compilation of rare TV appearances from 1980-81, a live concert from 1981 and a 5.1 audio mix of the original album.
In addition to all that is 'stuff', including:
The Ace Of Spades story. A 40 page book telling the story of Ace Of Spades through previously unpublished interviews with the people that were there. Includes never before seen photos and memorabilia.
Reproduction Ace Up Your Sleeve tour programme
Reproduction Motörhead Rock Commando comic.
A set of 5 poker dice that can be played on the game board inside the box set lid.

Ace of Spades super deluxe box set (click image to enlarge)
There are no detailed track listings at this time but the label say this set features 42 previously unreleased tracks. The two live albums are Live at Whitla Hall, Belfast 23/12/1981 (a 17 song, soundboard recording from the Ace Up Your Sleeve tour) and Live at Parc Expo, Orleans 05/03/81 (an 18 song, soundboard recording from the same tour.) The former is added to the remastered album for new 3LP and 2CD sets.

Ace of Spades 3LP set (click image to enlarge)
The 3LP and 2CD sets look well presented, coming in book-style packaging and the vinyl features the same half-speed master that's in the big box.
All three physical editions of Ace of Spades are released on 30 October 2020. The Germany box set pre-order price is looking very good at this moment in time.
Compare prices and pre-order
Motorhead
The Ace of Spades - super deluxe box set
Compare prices and pre-order
Motorhead
The Ace of Spades - 3LP vinyl
Compare prices and pre-order
Motorhead
The Ace of Spades - 2CD set
Ace of Spades 3LP vinyl / 2CD / Box Set
LP 1 / CD 1
Ace of Spades album half-speed mastered/remastered
Ace Of Spades
Love Me Like A Reptile
Shoot You In The Back
Live To Win
Fast And Loose
(We Are) The Road Crew
Fire Fire
Jailbait
Dance
Bite The Bullet
The Chase Is Better Than The Catch
The Hammer
LPs 2 & 3 / CD 2
Live From Belfast 23/12/81 (Previously unreleased)
Ace Of Spades
Stay Clean
Over The Top
The Hammer
Shoot You In The Back
Metropolis
Jailbait
Leaving Here
Capricorn
Too Late, Too Late
(We Are) The Road Crew
No Class
Bite The Bullet
The Chase Is Better Than The Catch
Overkill
Bomber
Motörhead
LPs 4 & 5 (from the box set)
Live in Orléans
Side A
Ace Of Spades
Stay Clean
Over The Top
Metropolis
Shoot You In The Back
Side B
The Hammer
Jailbait
Leaving Here
Fire Fire
Love Me Like A Reptile
Side C
Capricorn
Too Late, Too Late
(We Are) The Road Crew
No Class
Side D
Bite The Bullet
The Chase is Better Than The Catch
Overkill
Bomber
LPs 6 & 7 (from the box set)
The Good The Broke and The Ugly
Side A
Ace of Spades (alternative version)
Dirty Love
Love Me Like A Reptile (alternative long version)
Shoot You In The Back (alternate version)
Side B
Hump On Your Back
Fast and Loose (alternate version)
(We Are) The Road Crew (alternate version)
Fire Fire (alternate version)
Jailbait (alternate version)
Side C
Waltz of the Vampire
The Hammer (alternate version)
Dirty Love (alternate long version)
Bastard
Godzilla Akimbo
Side D
Love Me Like A Reptile (alternate version)
Dirty Love (alternate version)
Please Don't Touch [performed by Headgirl]
Bomber [performed by Girlschool]
Emergency
10″ vinyl (from the box set)
A Fistful of Instrumentals (unreleased instrumental demos)
Side A
Ace of Spades
Hump On Your Back
Shoot You In The Back
Fast and Loose
Side B
Dirty Love
Love Me Like A Reptile
Dance