 News
Mick Fleetwood & Friends celebrate Peter Green & Fleetwood Mac box set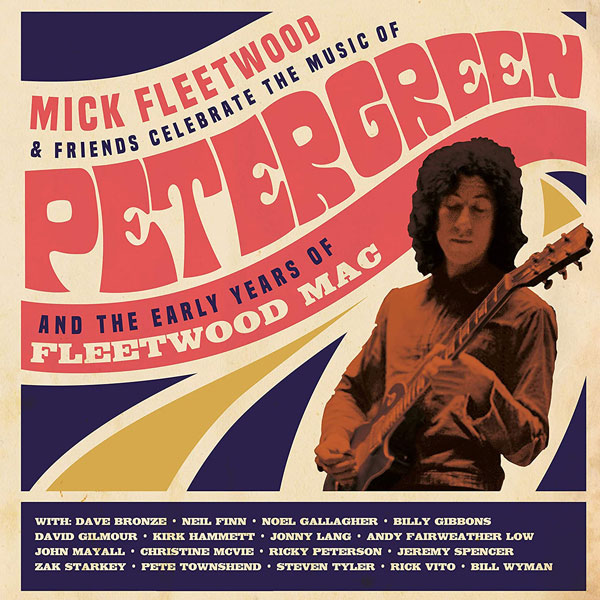 Tonight Mick Fleetwood will take to the stage in central London with an all-star cast to honour the early years of Fleetwood Mac and its founder, Peter Green. This one-of-a-kind concert will be recorded and film and issued as a special super deluxe edition box set later in the year.

Fleetwood will be joined this evening at the London Palladium by Billy Gibbons, David Gilmour, Jonny Lang, Andy Fairweather Low, John Mayall, Christine McVie, Zak Starkey, Steven Tyler, Bill Wyman, Noel Gallagher, Pete Townshend, Neil Finn, Kirk Hammett and many more.
Mick said: "The concert is a celebration of those early blues days where we all began, and it's important to recognise the profound impact Peter and the early Fleetwood Mac had on the world of music. Peter was my greatest mentor and it gives me such joy to pay tribute to his incredible talent. I am honoured to be sharing the stage with some of the many artists Peter has inspired over the years and who share my great respect for this remarkable musician."
Update April 2021. Much has happened in the 14 months since this original concert, including the death of Peter Green and the pandemic.
When this post was originally published we didn't know the track listing, but that is now confirmed below.
There are four formats, the best of which is the all singing and dancing super deluxe which features 4LP vinyl + 2CD + blu-ray. The blu-ray includes 5.1 surround sound and Dolby Atmos mixes. A 44-page book offers photographs of the evening and testimonies from each artist who performed. Note: as you might expect, the pre-order special edition available only from the official store with 'name in the credits' and poster etc. is no longer available.
There is also a 2CD+blu-ray, a 4LP vinyl package and a straightforward 2CD edition. There are plenty of purchase options below.
The Mick Fleetwood & Friends Celebrate The Music Of Peter Green And The Early Years Of Fleetwood Mac box set will be released on 30 April 2021 (was 20 March and prior to that was 19 October 2020).
Compare prices and pre-order
Mick Fleetwood and Friends
Mick Fleetwood and Friends - 4LP+2CD+blu-ray super deluxe
Compare prices and pre-order
Mick Fleetwood and Friends
Mick Fleetwood and Friends - 2CD+blu-ray
Compare prices and pre-order
Mick Fleetwood and Friends
Mick Fleetwood and Friends - 4LP vinyl
Compare prices and pre-order
Mick Fleetwood and Friends
Mick Fleetwood and Friends - 2CD edition
Tracklisting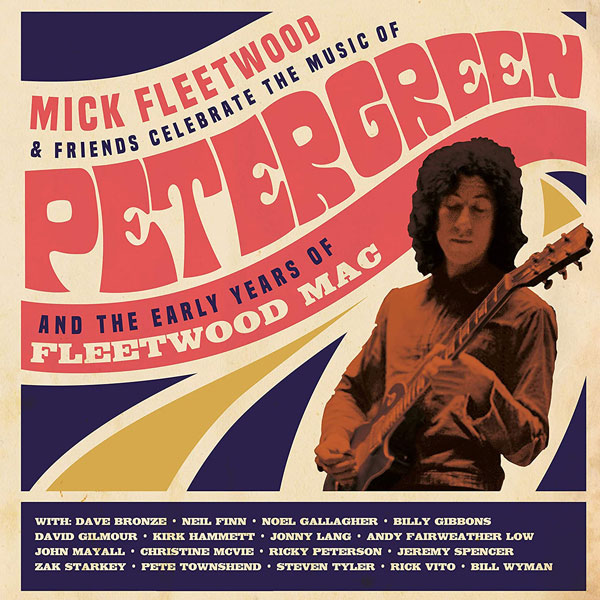 Mick Fleetwood & Friends celebrate the music of Peter Green… Various Artists
/
Rolling Man
Homework
Doctor Brown (feat. Billy Gibbons)
All Your Love (feat. John Mayall)
Rattlesnake Shake (feat. Billy Gibbons & Steven Tyler)
Stop Messin' Round (feat. Christine McVie)
Looking For Somebody (feat. Christine McVie)
Sandy Mary
Love That Burns
The World Keep Turning (feat. Noel Gallagher)
Like Crying (feat. Noel Gallagher)
No Place To Go
Station Man (feat. Pete Townshend)
Man Of The World (feat. Neil Finn)
Oh Well (Pt.1) (feat. Billy Gibbons & Steven Tyler)
Oh Well (Pt.2) (feat. David Gilmour)
Need Your Love So Bad
Black Magic Woman
The Sky Is Crying (feat. Jeremy Spencer)
I Can't Hold Out (feat. Jeremy Spencer)
The Green Manalishi (With The Two Prong Crown) (feat. Billy Gibbons & Kirk Hammett)
Albatross (feat. David Gilmour)
Shake Your Moneymaker