 News
Morrissey / New album 'California Son'
Covers album features some interesting collaborations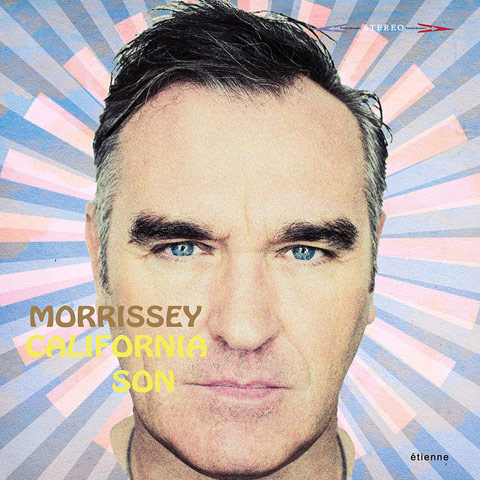 This May, Morrissey will release a new studio album, California Son, which sees him covering a diverse variety of tracks from the 1960s and 1970s, including some originally recorded by Bob Dylan and Roy Orbison.

The 12-track album also sees Morrissey tackle Joni Mitchell's 'Don't Interrupt The Sorrow' (originally on 1975's The Hissing of Summer Lawns) and Carly Simon's 'When You Close Your Eyes' (from 1972's No Secrets).



The album also features a number of collaborations. It Over features American singer LP and further additional vocals on the album come from Green Day frontman Billie Joe Armstrong (on Laura Nyro track 'Wedding Bell Blues'), and Ed Droost, Ariel Engle, Sameer Gadhia, Lydia Night.

Roy Orbison, Jr has already given the cover of his dad's song the seal of approval "We love Morrissey! Morrissey's hair, and melancholy and poetic lyrics always reminded me of my Dad. His version of "It's Over" is great."

The album is produced by Joe Chiccarelli and will be released on the BMG imprint Etienne on 24 May 2019.


Compare prices and pre-order
Morrissey
California Son - vinyl LP
Compare prices and pre-order
Morrissey
California Son - CD edition
1. Morning Starship (Jobriath) with Ed Droste of Grizzly Bear
2. Don't Interrupt The Sorrow (Joni Mitchell) with Ariel Engle of Broken Social Scene
3. Only a Pawn In Their Game (Bob Dylan) with Petra Haden
4. Suffer the Little Children (Buffy St Marie)
5. Days of Decision (Phil Ochs) with Sameer Gadhia of Young The Giant
6. It's Over (Roy Orbison) with LP
7. Wedding Bell Blues (The Fifth Dimension) with Billie Joe Armstrong of Green Day & Lydia Night of The Regrettes
8. Loneliness Remembers What Happiness Forgets (Dionne Warwick)
9. Lady Willpower (Gary Puckett)
10. When You Close Your Eyes (Carly Simon) with Petra Haden
11. Lenny's Tune (Tim Hardin)
12. Some Say I Got Devil (Melanie)