 News
Ride / This Is Not A Safe Place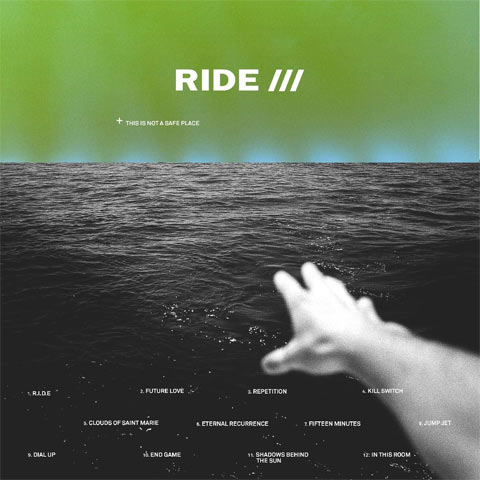 Ride ride again: August date for band's sixth album
Ride have announced details of their next album.
This Is Not A Safe Place is the second album the Oxford quartet have released since they announced their reformation in 2014, and comes hot on the heels of a short selection of dates where they celebrated 30 years together.

Recorded at the end of 2018, the new album is due this August and sees them reunite with DJ and producer Erol Alkan, who was also on production duties for 2017's Weather Diaries, as well as legendary mixer Alan Moulder.
It will be the band's sixth album overall, and in a nice touch the cover art even references their classic 1990 debut Nowhere. It comes in a variety of formats, with double vinyl in both black and coloured variations. The official store offers special bundles and signed prints.The first taster of the collection is the single 'Future Love', which you can preview above.
The band will be spending Summer touring around the festivals as well as supporting The Cure on a couple of vast dates as part of their Disintegration celebrations.
This Is Not A Safe Place is released 16 August 2019 via Wichita Recordings.
Compare prices and pre-order
Ride
This Is Not A Safe Place - ltd coloured 2LP vinyl
Compare prices and pre-order
Ride
This Is Not A Safe Place - black 2LP vinyl
Compare prices and pre-order
Ride
This Is Not A Safe Place - CD edition
This Is Not A Safe Place
CD edition
R.I.D.E.
Future Love
Repetition
Kill Switch
Clouds of Saint Marie
Eternal Recurrence
15 Minutes
Jump Jet
Dial Up
End Game
Shadows Behind the Sun
In This Room
2LP Vinyl:
SIDE A
1. R.I.D.E.
2. Future Love
3. Repetition
SIDE B
1. Kill Switch
2. Clouds of Saint Marie
3. Eternal Recurrence
SIDE C
1. 15 Minutes
2. Jump Jet
3. Dial Up
SIDE D
1. End Game
2. Shadows Behind the Sun
3. In This Room