 News
New compilation: 'Beautiful Ones: The Best of Suede 1992 – 2018'
Career-spanning 4CD and 6LP sets. Limited signed copies available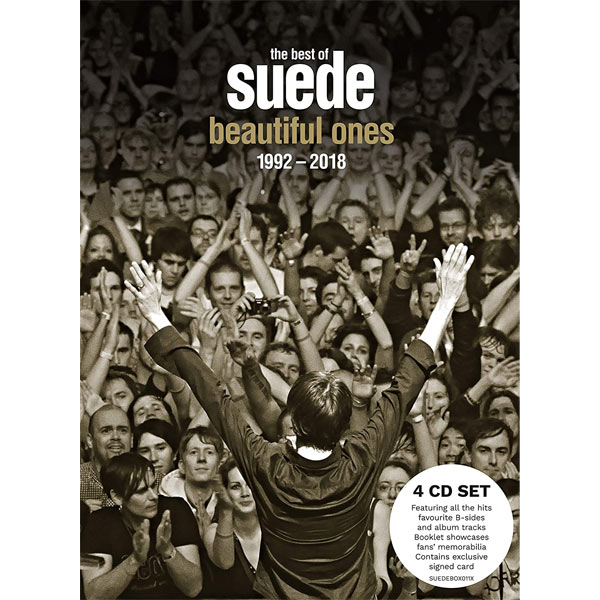 Demon Music are releasing a new Suede compilation called Beautiful Ones: The Best of Suede 1992-2018 which will be available as a 4CD, 6LP vinyl and 2LPs packages. Limited signed editions are available.

The original era (1993 to 2002) saw the band issue five albums including their Mercury music prize-winning self-titled debut (1993), the even better follow-up Dog Man Star (1994) and then after the departure of guitarist and songwriter Bernard Butler, three further albums including the hit-packed Coming Up (1996). The 2003 collection Singles summarised this period and included a couple of non album tracks, including the single 'Attitude'.
6LP white vinyl edition with signed print (limited to 750 units)

Since reforming in 2010, the band have issued three further albums with Night Thoughts (2016) and The Blue Hour (2018), in particular, scaling the artistic heights once more.

This new Beautiful Ones compilation has been compiled by the band, and features hits ('Animal Nitrate', 'Stay Together', 'Trash') , favourite B-sides ('To The Birds', 'My Insatiable One', 'Killing Of A Flashboy') and classic album tracks ('The Asphalt World', 'He's Gone'). It obviously brings things up to date by including tracks from the last three records, including 'Life is Golden', 'It Starts And Ends With You' and 'Outsiders'.
4CD edition with a band-signed print is also limited to 750 units.

This comes as a 4CD edition with 36-page book features photos, images of memorabilia and promotional items (lent by fans). It is also available as a 6LP white 180g vinyl set (which has the same track listing as the 4CD set). The inner sleeves in the vinyl package feature the photos and memorabilia etc.

There will also be a 2LP vinyl edition and an indies-only 2LP version as well. The latter is available via the SDE shop.

Beautiful Ones: The Best of Suede 1992-2018 will be released on 2 October 2020.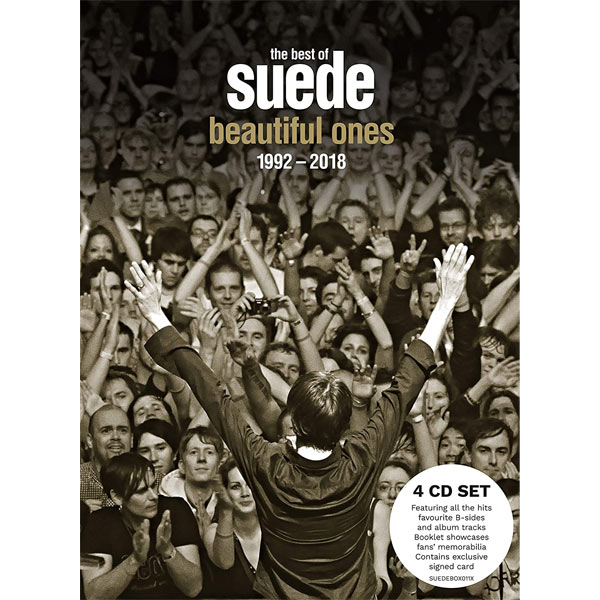 Beautiful Ones: Best of Suede 1992-2018 4CD set
CD 1
1. The Drowners
2. Metal Mickey
3. Animal Nitrate
4. So Young
5. Stay Together [long version]
6. We Are The Pigs
7. The Wild Ones
8. New Generation
9. Trash
10. Filmstar
11. Lazy
12. Beautiful Ones
13. Saturday Night
CD 2
1. Electricity
2. She's In Fashion
3. Everything Will Flow
4. Can't Get Enough
5. Obsessions
6. Barriers
7. It Starts And Ends With You
8. For The Strangers
9. Outsiders
10. Wastelands
11. Life Is Golden
12. The Invisibles

CD 3
1. To The Birds
2. My Insatiable One
3. He's Dead
4. The Big Time
5. Pantomime Horse
6. Sleeping Pills
7. The Next Life
8. High Rising
9. My Dark Star
10. The Living Dead
11. Killing Of A Flashboy
12. Heroine
13. This Hollywood Life
14. The 2 of Us
15. The Asphalt World
16. Still Life

CD 4
1. Europe Is Our Playground [Sci-Fi Lullabies version]
2. She
3. By The Sea
4. He's Gone
5. Indian Strings
6. Oceans
7. Snowblind
8. Sabotage
9. Sometimes I Feel I'll Float Away
10. Pale Snow
11. I Don't Know How To Reach You
12. Tightrope
13. As One
14. All The Wild Places
15. Flytipping
Beautiful Ones: Best of Suede 1992-2018 6LP white vinyl

SIDE ONE

1. The Drowners
2. Metal Mickey
3. Animal Nitrate
4. So Young
5. Stay Together [long version]

SIDE TWO

1. We Are The Pigs
2. The Wild Ones
3. New Generation
4. Trash
5. Filmstar

SIDE THREE

1. Lazy
2. Beautiful Ones
3. Saturday Night
4. Electricity
5. She's In Fashion

SIDE FOUR

1. Everything Will Flow
2. Can't Get Enough
3. Obsessions
4. Barriers
5. It Starts And Ends With You

SIDE FIVE

1. For The Strangers
2. Outsiders
3. Wastelands
4. Life Is Golden
5. The Invisibles

SIDE SIX

1. To The Birds
2. My Insatiable One
3. He's Dead
4. The Big Time

SIDE SEVEN

1. Pantomime Horse
2. Sleeping Pills
3. The Next Life
4. High Rising

SIDE EIGHT

1. My Dark Star
2. The Living Dead
3. Killing Of A Flashboy
4. Heroine
5. This Hollywood Life

SIDE NINE

1. The 2 of Us
2. The Asphalt World
3. Still Life

SIDE TEN

1. Europe Is Our Playground [Sci-Fi Lullabies version]
2. She
3. By The Sea
4. He's Gone
5. Indian Strings
6. Oceans

SIDE ELEVEN

1. Snowblind
2. Sabotage
3. Sometimes I Feel I'll Float Away
4. Pale Snow
5. I Don't Know How To Reach You

SIDE TWELVE
1. Tightrope
2. As One
3. All The Wild Places
4. Flytipping


Beautiful Ones: Best of Suede 1992-2018  2LP black/clear vinyl edition

SIDE ONE
1. The Drowners
2. Metal Mickey
3. Animal Nitrate
4. So Young
5. Stay Together
[short version]
6. We Are The Pigs

SIDE TWO
1. The Wild Ones
2. New Generation
3. Trash
4. Beautiful Ones
5. Saturday Night

SIDE THREE
1. Filmstar
2. She's In Fashion
3. Everything Will Flow
4. Can't Get Enough
5. Obsessions [radio edit]

SIDE FOUR
1. It Starts And Ends With You
2. For The Strangers
3. Outsiders
4. The Invisibles
5. Life Is Golden