 News
Suede / Head Music 20th anniversary deluxe 4CD+DVD edition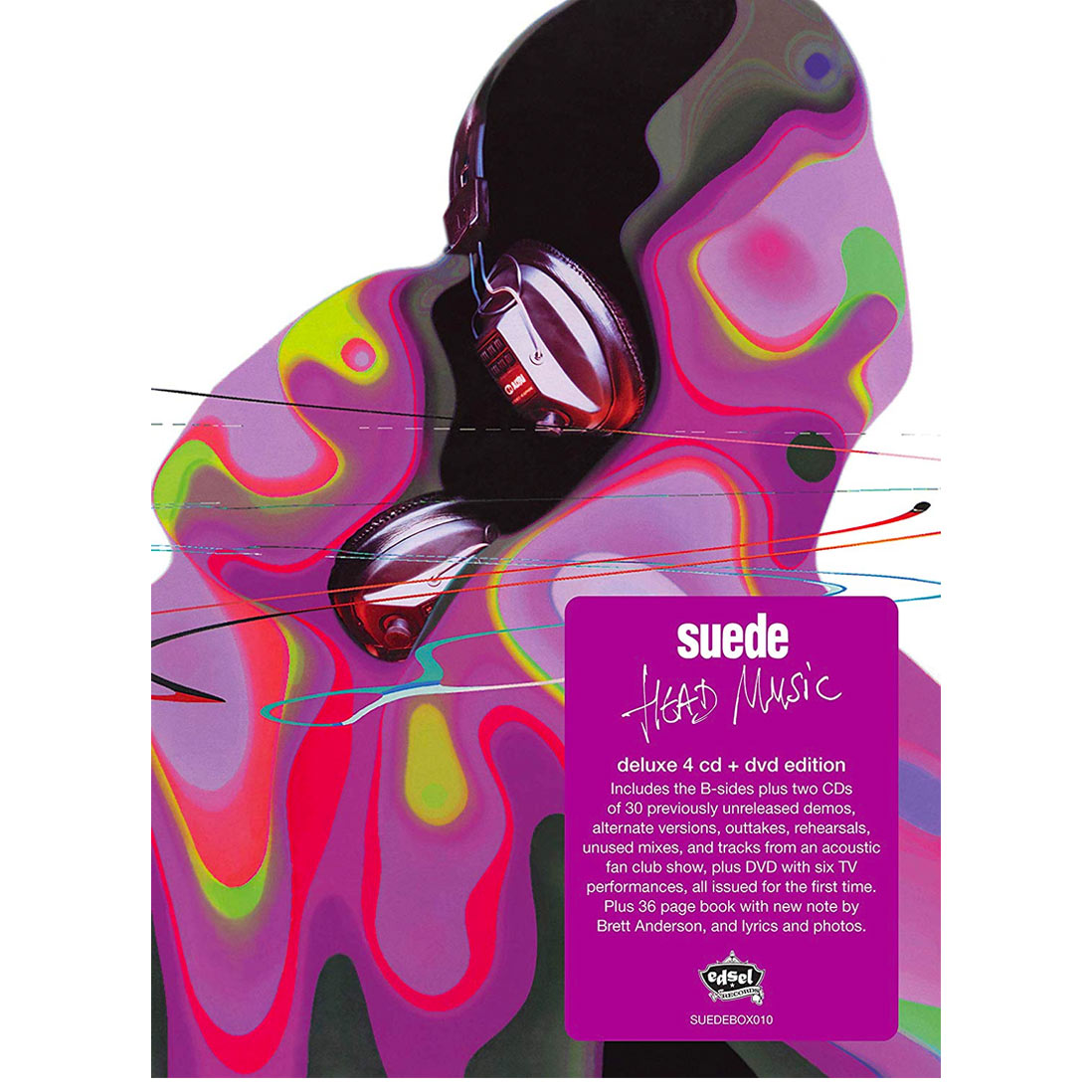 4CD+DVD set includes unheard demos • Signed set sold out
Suede's 1999 album Head Music will be reissued as a five-disc 4CD+DVD set in November.

The chart-topping album features the singles 'Electricity', 'She's in Fashion', 'Everything Will Flow' and 'Can't Get Enough'. Singles formats were mad at this time with 'Electricity' issued as a mini-disc single (as well as CD, cassette but no vinyl!) and 'Can't Get Enough' issued as a three-CD 'set'.
The album is on CD one of this new deluxe set of course, but CD two of this set features the 18 B-sides from the aforementioned formats while CDs three and four feature 30 previously unreleased home demos, rehearsal room recordings, studio demos, alternate versions and live recordings from the collections of Richard oakes, Neil codling, Brett Anderson and Simon Gilbert.
The DVD features three Top of the Pops appearances, along with a three song performance on BBC TV's Later… with Jools Holland.
The media book presentation contains a new note by Brett Anderson, along with all the lyrics and photos from the collections of the band. The limited version is exclusive to Amazon UK and comes with a print of hand-written lyrics to Indian Strings, signed by Brett Anderson.
This Head Music deluxe edition is released on 8 November 2019. A 3LP black vinyl edition will also be released. It's the same as the RSD edition (with 10 ten B-sides on the bonus LP) but pressed on black vinyl.
Compare prices and pre-order
Suede
Head Music - 4CD+DVD deluxe
Compare prices and pre-order
Suede
Head Music - 3LP black vinyl
DISC ONE
HEAD MUSIC
1. Electricity
2. Savoir Faire
3. Can't Get Enough
4. Everything Will Flow
5. Down
6. She's In Fashion
7. Asbestos
8. Head Music
9. Elephant Man
10. Hi-Fi
11. Indian Strings
12. He's Gone
13. Crack In The Union Jack
DISC TWO
THE B-SIDES
1. Leaving
2. Popstar
3. Killer
4. Implement Yeah!
5. Waterloo
6. See That Girl
7. Bored
8. Pieces Of My Mind
9. Jubilee
10. God's Gift
11. Weight Of The World
12. Seascape
13. Crackhead
14. Let Go
15. Since You Went Away
16. Situations
17. Read My Mind
18. Heroin
DISC THREE
DEMOS AND ALTERNATE VERSIONS…
1. Gloopy Strings [Neil's original instrumental home demo of She's In Fashion]
2. Repugnant [Richard's original home demo of Everything Will Flow, 1997]
3. God's Gift [Brett's home demo]
4. See That Girl [Brett's original home demo]
5. Jubilee [Neil's instrumental home demo]
6. Shed [rehearsal room recording of Leaving, early 1998]
7. Pieces Of My Mind [rehearsal room recording]
8. John Pong [early rehearsal of He's Gone, January 1997]
9. Can't Get Enough [Protocol demo]
10. Savoir Faire [Steve Osborne's trial session, June 1998]
11. Everything Will Flow [Steve Osborne's trial session, June 1998]
12. Everything Will Flow [Anti-Latin instrumental]
13. Can't Get Enough [Stomp mix]
14. Hi-Fi [Dub Ben2 mix]
DISC FOUR
OUTTAKES, UNUSED MIXES and ACOUSTIC FAN CLUB SHOW
1. Leaving (instrumental) [early take]
2. Hi-Fi (instrumental) [different version]
3. Savoir Faire [Mayfair mix]
4. Everything Will Flow [Mayfair mix]
5. Stompy[early mix of Electricity]
6. Can't Get Enough [working mix, 29 October 1998]
7. Down [monitor mix, 20 Nov 1998]
8. She's In Fashion [early mix]
9. Indian Strings [alternate version, 15 October 1998]
10. Jubilee [early version, 28 August 1998]
11. Killer [monitor mix, 29 October 1998]
12. Popstar [Matrix version, 9 July 1998]
13. Everything Will Flow (live) [acoustic fan club show, Amsterdam, 8 June 1999]
14. Down (live) [acoustic fan club show, Amsterdam, 8 June 1999]
15. Elephant Man (live) [acoustic fan club show, Amsterdam, 8 June 1999]
16. She's In Fashion (live) [acoustic fan club show, Amsterdam, 8 June 1999]
DVD 
BBC TV APPEARANCES
TOP OF THE POPS
1. Electricity [23.4.99]
2. She's In Fashion [2.7.99]
3. Everything Will Flow [17.9.99]
LATER… WITH JOOLS HOLLAND [14.5.99]
4. Can't Get Enough
5. Elephant Man
6. Everything Will Flow