 News
Nick Cave and The Bad Seeds / new album 'Ghosteen'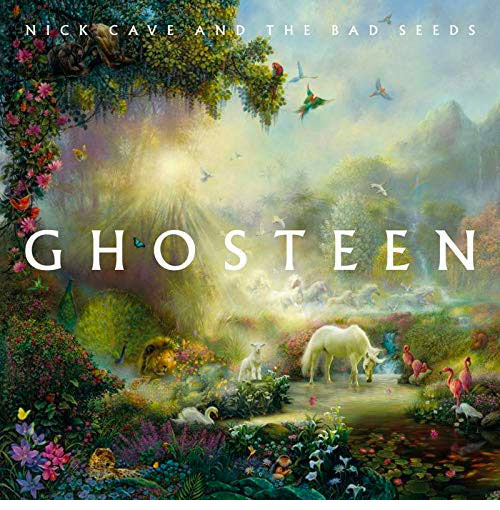 Nick Cave and The Bad Seeds will issue a new album Ghosteen next month.

The album is split into two parts and will debut "across all digital platforms" on 4 October, with a physical following a month later in November. Both the vinyl and the CD are two-disc sets to allow for the two-part concept. Here's what Nick Cave had to say about it:
'The songs on the first album are the children.
The songs on the second album are their parents.
Ghosteen is a migrating spirit.'
Nick Cave
Although there are only three songs on 'part two' of Ghosteen (see full track listing below) two of them (including the title track) are over 12 minutes long.
Ghosteen was recorded in 2018 and early 2019 and is the band's 17th studio album. The vinyl is a gatefold package and will come with a download code. The physical release date is 8 November 2019.
Compare prices and pre-order
Nick Cave & The Bad Seeds
Ghosteen - 2LP vinyl
Compare prices and pre-order
Nick Cave & The Bad Seeds
Ghosteen - 2CD
Nick Cave – vocals, piano, synthesizer, backing vocal
Warren Ellis – synthesizer, loops, flute, violin, piano, backing vocals
Thomas Wydler – drums
Martyn Casey – bass
Jim Sclavunos – vibraphone, percussion
George Vjestica – guitar
CD 1 / Vinyl LP 1
Part One
1. The Spinning Song 4:44
2. Bright Horses 4.53
3. Waiting For You 3:55
4. Night Raid 5:08 
5. Sun Forest 6:48 
6. Galleon Ship 4:15 
7. Ghosteen Speaks 4:03 
8. Leviathan 4:48
CD 2 / Vinyl LP 2
Part Two
1. Ghosteen 12:11
2. Fireflies 3:23
3. Hollywood 14:13