 News
Now Yearbook 1980-1984: Vinyl Extra
5LP coloured vinyl set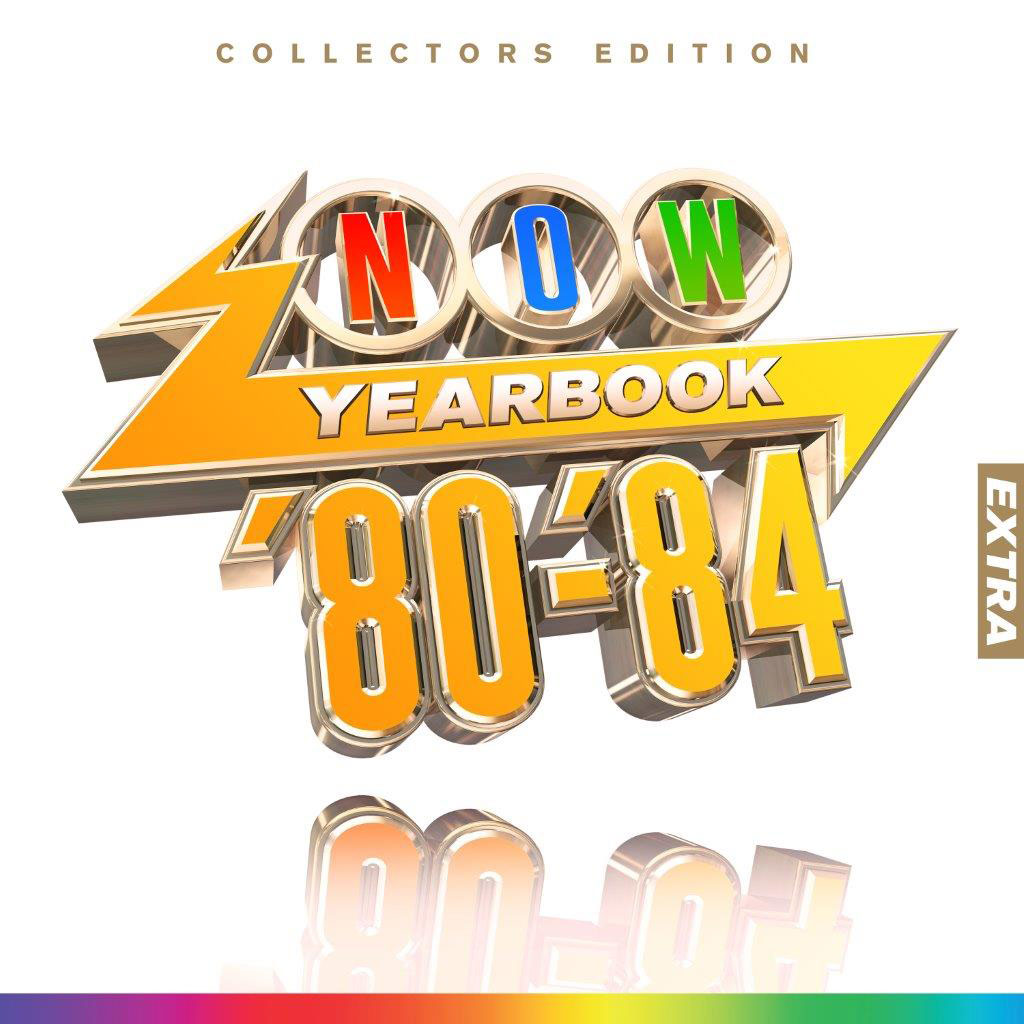 If you're a Now That's What I Call Music Yearbook vinyl collector and have felt shortchanged because none of the 'Extra' volumes ever came out on your format of choice, SDE has good news for you. In December, the NOW team will release Yearbook 1980-1984: Vinyl Extra, a special 5LP coloured vinyl box set that effectively brings together supplemental 'Extra' LPs for the years in question.
The coloured vinyl records are themed around the five years in question and feature further highlights not included on the Yearbook 3LP sets. There's between 14 and 16 singles on each LP in this new box (75 tracks in total) and the selections are a mixture of songs from the original 4CD Yearbooks that didn't fit on the 3LP sets as well as tracks from the CD Extra releases. So for example, on LP 1 in this box (1980), Donna Summer's 'On The Radio' and The Korgis' 'Everybody's Got To Learn Sometime' were both on the original 4CD Yearbook 1980 while Kate Bush's 'Army Dreamers' and Blondie's 'Call Me' were both on the 3CD Yearbook 1980 Extra. Check out the full track listing, below.
The vinyl colours and grey (1980), red (1981), yellow (1982), red (1983) and blue (1984). These all tie into the original Yearbook colours except for 1983 which was black. I guess black vinyl in a coloured vinyl set may have seemed a bit weird…
Yearbook 1980-1984: Vinyl Extra is an individually numbered, limited edition box set and is released on 16 December 2022. It should be a great companion to the vinyl Yearbook sets if you've been collecting them.
Compare prices and pre-order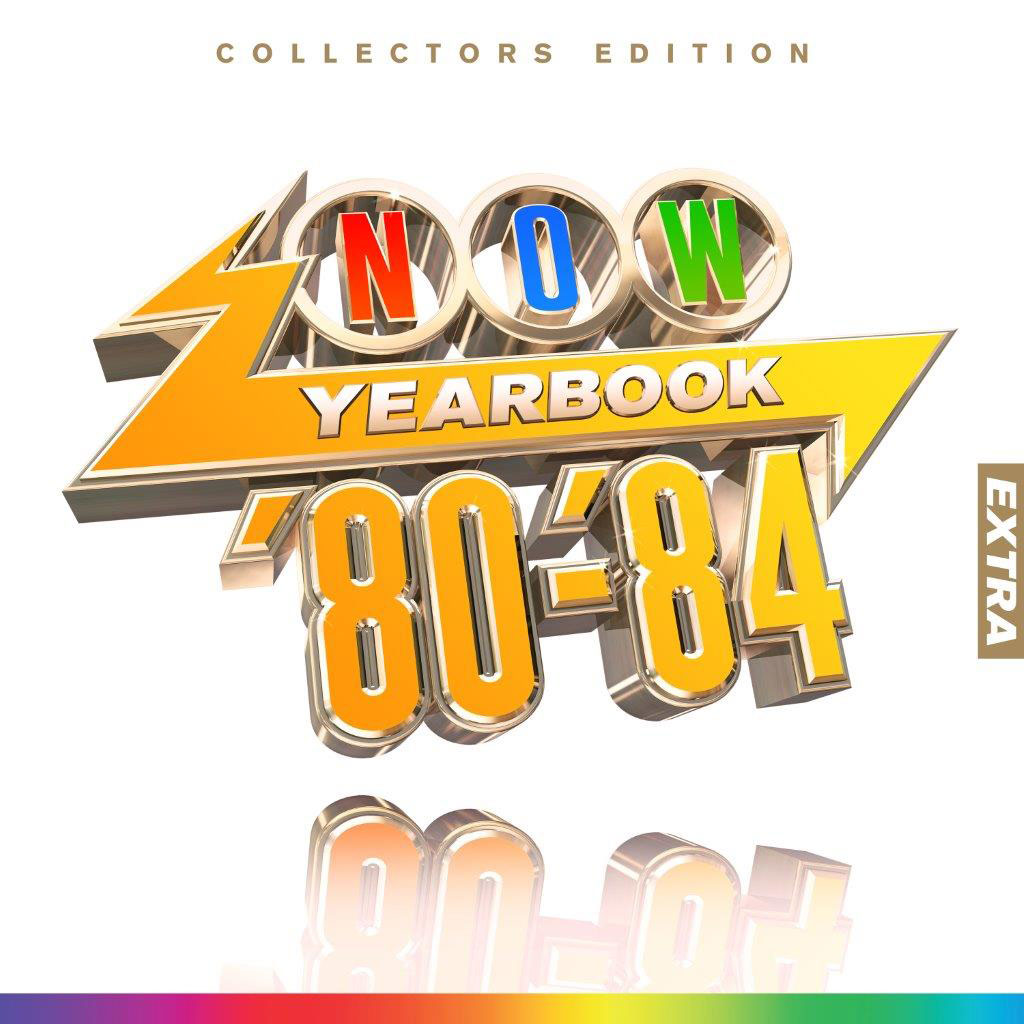 Various Artists
Yearbook 80-84 Vinyl Extra - 5LP coloured vinyl box
Tracklisting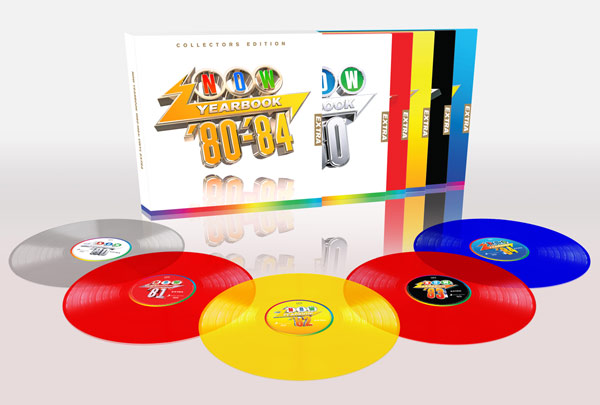 Now Yearbook 1980-1981: Vinyl Extra Various Artists
/
LP 1 – 1980 [Grey vinyl]

Side A

Blondie / Call Me
Madness / My Girl
Kate Bush / Army Dreamers
Roxy Music / Oh Yeah
Grace Jones / Private Life
Siouxsie and the Banshees / Christine
Judas Priest / Breaking The Law
Motörhead / Ace of Spades

Side B

Donna Summer / On The Radio
Diana Ross / I'm Coming Out
Change / Searching
Stephanie Mills / Never Knew Love Like This Before
Oydessy / If You're Looking For A Way Out
The Korgis / Everybody's Got To Learn Sometime
Andrew Lloyd-Webber and Marti Webb / Take That Look Off Your Face
Jona Lewie / Stop The Cavalry

LP 2 – 1981 [red vinyl]

Side A

Adam & The Ants / Antmusic
Toyah / I Want To Be Free
Kim Wilde / Chequered Love
The Human League / Open Your Heart
Visage / Mind of a Toy
Altered Images / I Could Be Happy
Funboy Three / The Lunatics Have Taken Over The Asylum
Shakin' Stevens / Green Door

Side B

The Police / Invisible Sun
Pretenders / Message of Love
The Teardrop Explodes / Reward
Orchestral Manoeuvres in the Dark / Joan of Arc
Gary Numan / She's Got Claws
Freeez / Southern Freeez
Kiki Dee / Star
Cliff Richard / Wired For Sound

LP 3 – 1982 [yellow vinyl]

Side A

Duran Duran / Hungry Like The Wolf
Haircut 100 / Fantastic Day
Adam Ant / Friend of Foe
Soft Cell / Torch
A Flock of Seagulls / Wishing (If I Had a Photograph of You)
Japan / Nightporter
ABC / All of My Heart

Side B

The Clash / Should I Stay Or Should I Go
The Jam / Beat Surrender
Bucks Fizz / The Land of Make Believe
Tight Fit / Fantasy Island
Dollar / Vidoetheque
Imagination / Just An Illusion
Shalamar / There It Is
Daryl Hall & John Oates / I Can't Go For That (No Can Do)

LP 4 – 1983 [red vinyl]

Side A

Wham! / Wham! Rap (Enjoy What You Do)
Spandau Ballet / Gold
Bananarama / Cruel Summer
Billy Joel / Tell Her About It
Paul Young / Wherever I Lay My Hat (That's My Home)
Carmel / Bad Day
Culture Club / Victims

Side B

Paul McCartney & Michael Jackson / Say Say Say
KC & The Sunshine Band / Give It Up
The Cure / The Walk
Tears For Fears / Change
Heaven 17 / Come Live With Me
Elton John / I Guess That's Why They Call It The Blues
Robert Plant / Big Log

LP 5 – 1984 [blue vinyl]

Side A

Queen / Radio Ga Ga
Thompson Twins / Doctor! Doctor!
Nik Kershaw / I Won't Let The Sun Go Down On Me
Howard Jones / Like To Get To Know You Well
Sandie Shaw / Hand in Glove
Alison Moyet / All Cried Out
Tina Turner / Private Dancer

Side B

Lionel Richie / Stuck On You
Rufus and Chaka Khan / Ain't Nobody
Billy Ocean / Caribbean Queen (No More Love On The Run)
Hazell Dean / Whatever I Do (Wherever I Go)
Shakatak / Down On The Street
Frankie Goes To Hollywood / The Power of Love
Band Aid / Do They Know It's Christmas