 News
Now Yearbook '81
4CD and 3LP coloured vinyl sets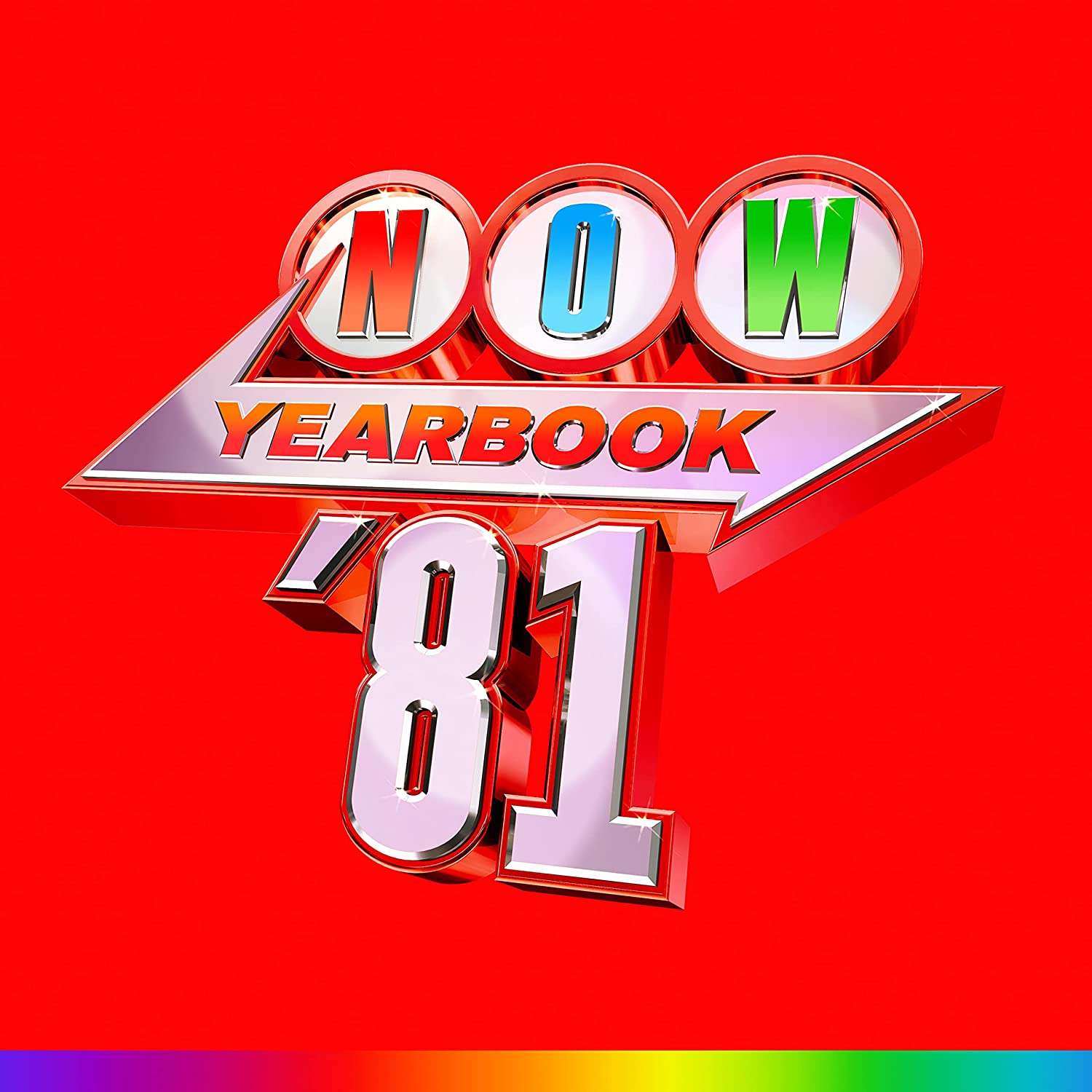 The Now That's What I Call Music team step back again to the year of 1981 for a fourth full volume of their popular Yearbook releases. NOW Yearbook '81 comes as a 4CD deluxe hardcover book edition and a 3LP set pressed on red vinyl.
The 4CD set (also available in cheaper 'standard' packaging) offer 85 tracks across the four discs and looks like an excellent summation of this particular year with selections from Queen & David Bowie, The Police, Duran Duran, Soft Cell, Visage, Adam and the Ants, Blondie, ABBA, Madness and Michael Jackson – and that's only on disc 1!
As well as John Lennon and Roxy Music, the second CD includes Kim Carnes' brilliant 'Betty Davis Eyes', The Who's 'You Better You Bet', and a mini rock-sequence featuring Rainbow, Status Quo and Motörhead.
More Lennon on CD 3 (we know why) is followed by Sheena Easton, Randy Crawford, Dollar's 'Hand Held in Black and White', and pop nuggets from the likes of Stray Cats, Bad Manners, The Nolans and Elaine Page!
The final disc in Now Yearbook '81 is a mix of New Romanticism (more Duran Duran, Spandau etc.) with a healthy dose of synth-pop and some alternative post-punky stuff thrown in for good measure (ABC, OMD, The Jam, Siouxsie and The Banshees, The Teardrop Explodes etc.).
The limited edition 3LP red vinyl version offers a cut-down 46-track selection from the above. Full track listings for both editions can be found below.
Now Yearbook '81 is released on 20 May 2022.
Compare prices and pre-order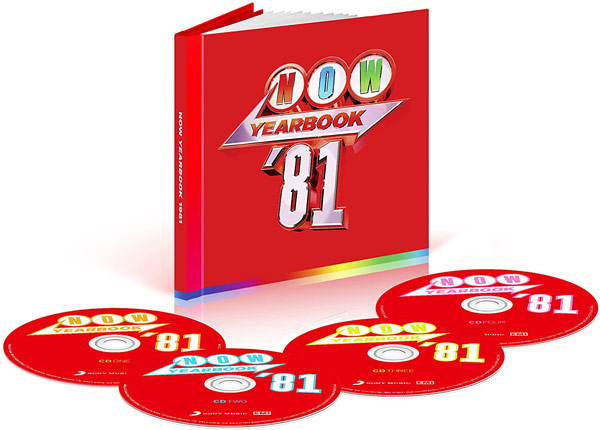 Various Artists
Now Yearbook 81 - deluxe 4CD set in hardcover book
Compare prices and pre-order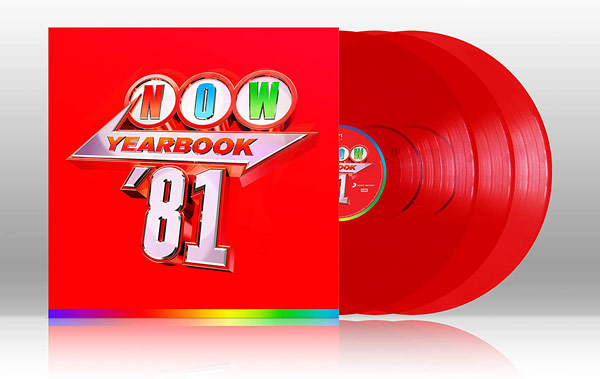 Various Artists
Now Yearbook 81 - limited edition 3LP red vinyl
Compare prices and pre-order
Various Artists
Now Yearbook 81 - standard 4CD set
Tracklisting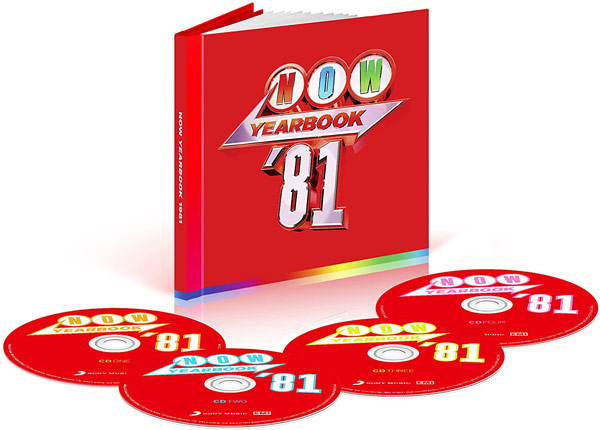 Now Yearbook '81 Various Artists
/
4CD set
CD 1

Queen & David Bowie – Under Pressure
The Police – Every Little Thing She Does Is Magic
The Specials – Ghost Town
Ultravox – Vienna
Visage – Fade To Grey
The Human League – Don't You Want Me
Duran Duran – Planet Earth
Soft Cell – Tainted Love
Japan – Quiet Life
Kim Wilde – Kids In America
Toyah – It's A Mystery
Adam & The Ants – Prince Charming
Blondie – Rapture
ABBA – Lay All Your Love On Me
Olivia Newton-John – Physical
Stars On 45 – Stars On 45
Shakin' Stevens – Green Door
Madness – It Must Be Love
Smokey Robinson – Being With You
Michael Jackson – One Day In Your Life

CD 2

John Lennon – Imagine
Roxy Music – Jealous Guy
Pretenders – I Go To Sleep
Kim Carnes – Bette Davis Eyes
REO Speedwagon – Keep On Loving You
Electric Light Orchestra – Hold On Tight
The Who – You Better You Bet
Rainbow – I Surrender
Status Quo – Something 'Bout You Baby I Like
Motorhead, Girlschool – Please Don't Touch
Hazel O'Connor – Will You?
Tom Tom Club – Wordy Rappinghood
Yarbrough & Peoples – Don't Stop The Music
Imagination – Body Talk
Hi-Gloss – You'll Never Know
Freeez – Southern Freeez
Odyssey – Going Back To My Roots
Earth, Wind & Fire – Let's Groove
The Whispers – It's A Love Thing
Four Tops – When She Was My Girl
Champaign – How 'Bout Us

CD 3

John Lennon – Woman
ABBA – One Of Us
Lionel Richie & Diana Ross – Endless Love (From "The Endless Love" Soundtrack)
Randy Crawford – Rainy Night In Georgia
Sheena Easton – For Your Eyes Only
Adam & The Ants – Stand And Deliver
Godley & Creme – Under Your Thumb
Kiki Dee – Star
Cliff Richard – Wired For Sound
Dollar – Hand Held In Black And White
Aneka – Japanese Boy
Bucks Fizz – Making Your Mind Up
Shakin' Stevens – This Ole House
Coast To Coast – (Do) The Hucklebuck
Stray Cats – Rock This Town
Bad Manners – Can Can
Modern Romance – Everybody Salsa
The Look – I Am The Beat
The Nolans – Attention To Me
Julio Iglesias – Begin The Beguine (Volver A Empezar)
Kate Robbins & Beyond – More Than In Love
Elaine Paige – Memory (From 'Cats')

CD 4

Adam & The Ants – Antmusic
Altered Images – Happy Birthday
Duran Duran – Girls On Film
The Human League – Love Action (I Believe In Love)
Spandau Ballet – Chant No. 1 (I Don't Need This Pressure On)
Haircut 100 – Favourite Shirts (Boy Meets Girl)
ABC – Tears Are Not Enough
Landscape – Einstein A Go-Go
Phil Lynott – Yellow Pearl
Gary Numan – She's Got Claws
Orchestral Manoeuvres In The Dark – Souvenir
The Passions – I'm In Love With A German Film Star
The Jam – That's Entertainment
U2 – Fire
Siouxsie And The Banshees – Spellbound
The Teardrop Explodes – Reward
Tenpole Tudor – Swords Of A Thousand Men
Department S – Is Vic There?
UB40 – One In Ten
Fun Boy Three – The Lunatics (Have Taken Over The Asylum)
Squeeze – Labelled With Love
Elvis Costello & The Attractions – Good Year For The Roses
Tracklisting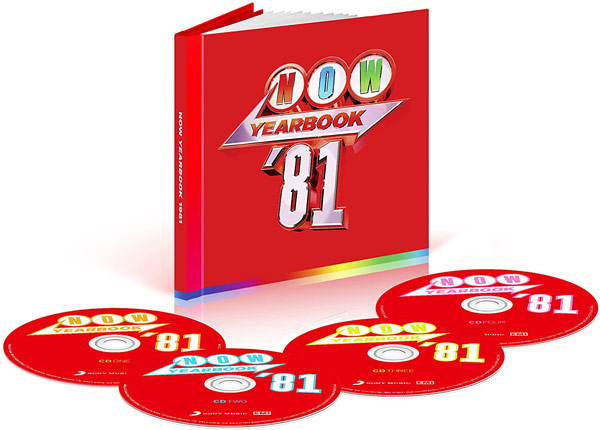 Now Yearbook '81 Various Artists
/
Limited edition 3LP red vinyl
LP 1

SIDE A

Queen & David Bowie – Under Pressure
The Police – Every Little Thing She Does Is Magic
Blondie – Rapture
 Olivia Newton-John – Physical (Remastered)
Lionel Richie & Diana Ross – Endless Love (From "The Endless Love" Soundtrack)
Pretenders – I Go To Sleep
 ABBA – One Of Us

SIDE B

Ultravox – Vienna
 Visage – Fade To Grey
Soft Cell – Tainted Love
 Japan – Quiet Life
Duran Duran – Planet Earth
The Human League – Don't You Want Me
Kim Wilde – Kids In America
Adam & The Ants – Stand And Deliver

LP 2

SIDE A

John Lennon – Woman
Roxy Music – Jealous Guy
Hazel O'Connor – Will You?
 Kim Carnes – Bette Davis Eyes
REO Speedwagon – Keep On Loving You
The Who – You Better You Bet
 Electric Light Orchestra – Hold On Tight

SIDE B

The Specials – Ghost Town
The Jam – That's Entertainment
UB40 – One In Ten
 Madness – It Must Be Love
Sheena Easton – For Your Eyes Only
 Odyssey – Going Back To My Roots
Earth, Wind & Fire – Let's Groove
Imagination – Body Talk

LP 3

SIDE A

Duran Duran – Girls On Film
Spandau Ballet – Chant No. 1 (I Don't Need This Pressure On)
Haircut 100 – Favourite Shirts (Boy Meets Girl)
ABC – Tears Are Not Enough
Phil Lynott – Yellow Pearl
Landscape – Einstein A Go-Go
 Orchestral Manoeuvres In The Dark – Souvenir
 The Passions – I'm In Love With A German Film Star

SIDE B

Adam & The Ants – Prince Charming
Altered Images – Happy Birthday
Toyah – It's A Mystery
Tom Tom Club – Wordy Rappinghood
Bucks Fizz – Making Your Mind Up
Shakin' Stevens – This Ole House
Smokey Robinson – Being With You
Michael Jackson – One Day In Your Life