 News
The best year in pop celebrated with NOW Yearbook 84
4CD deluxe and 3LP coloured vinyl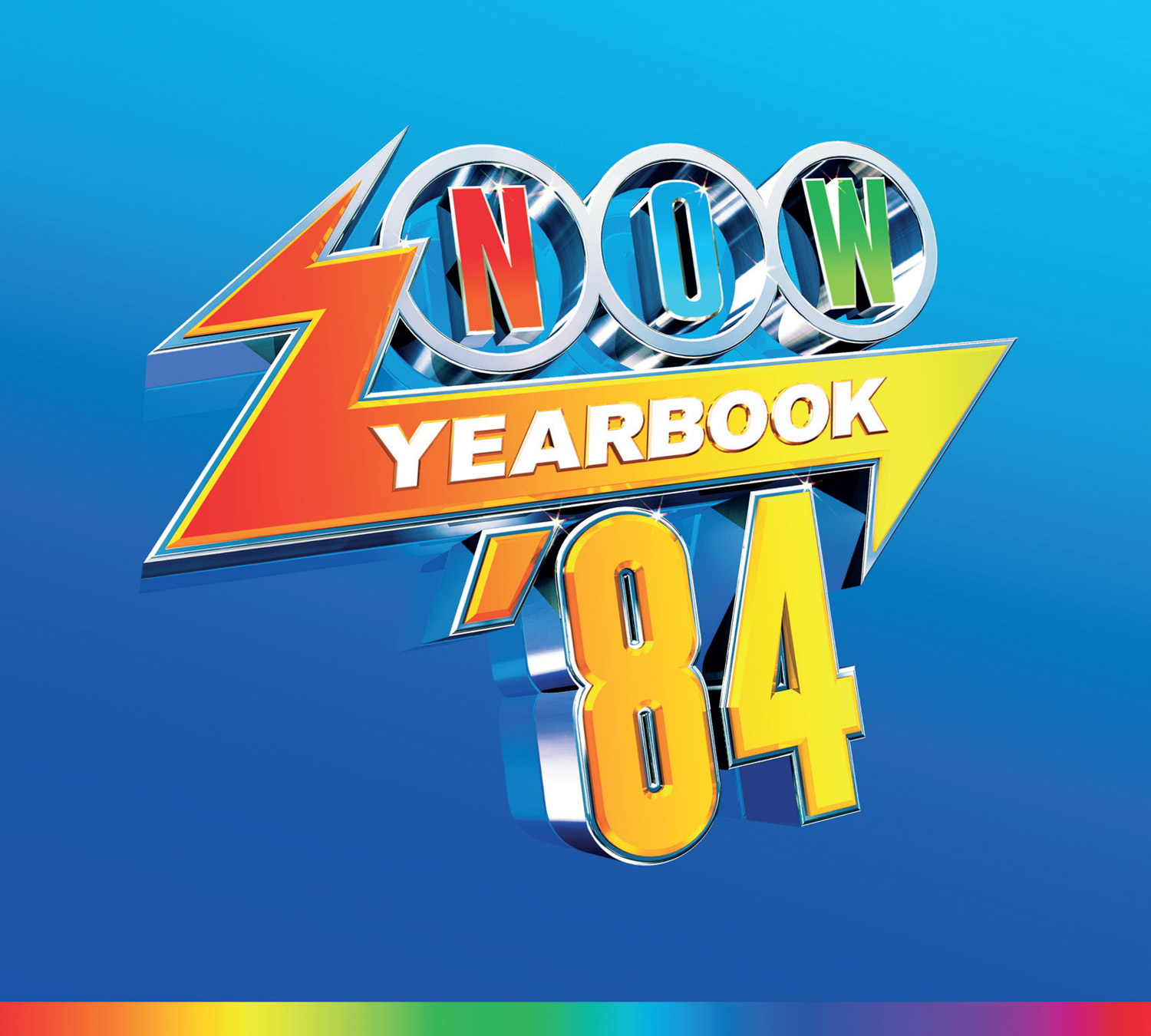 The Now What's That I Call Music Team continue their 'Yearbook' series with NOW Yearbook '84 an 80-track four-CD set and 3LP coloured vinyl package that features 42 defining hits that ruled the charts in 1984, including number ones from Lionel Richie, Chaka Khan, Duran Duran, Frankie Goes To Hollywood and George Michael (solo and with Wham!), together with huge hits from U2, Spandau Ballet, and Deniece Williams.
As with NOW Yearbook '83 the four-CD set is available in deluxe hardcover book set with a 28-page book with track annotations and music quiz laid out in classic 'eighties' style. This is limited to 5,000 units. A slightly cheaper non-deluxe is also available (but you really don't want to be buying that one).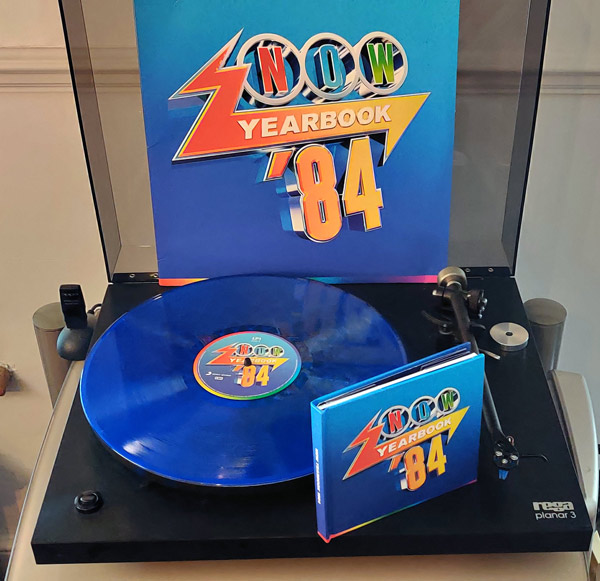 Vinyl fans gets three LPs pressed on gorgeous translucent blue vinyl, secured in poly-lined black inner sleeves which reside in a wide-spined sleeve. Like the deluxe CD set this is limited (3,000 units).
NOW Yearbook '84 is out on 29 October 2021. Be aware that both the 3LP coloured vinyl and the 4CD deluxe of NOW Yearbook '83 are already out-of-print, despite only being released in June, so don't miss out.
Compare prices and pre-order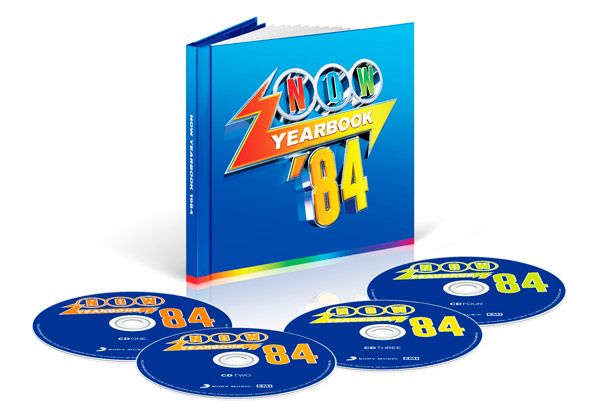 Various Artists
Now Yearbook 84 - limited edition deluxe 4CD set
Compare prices and pre-order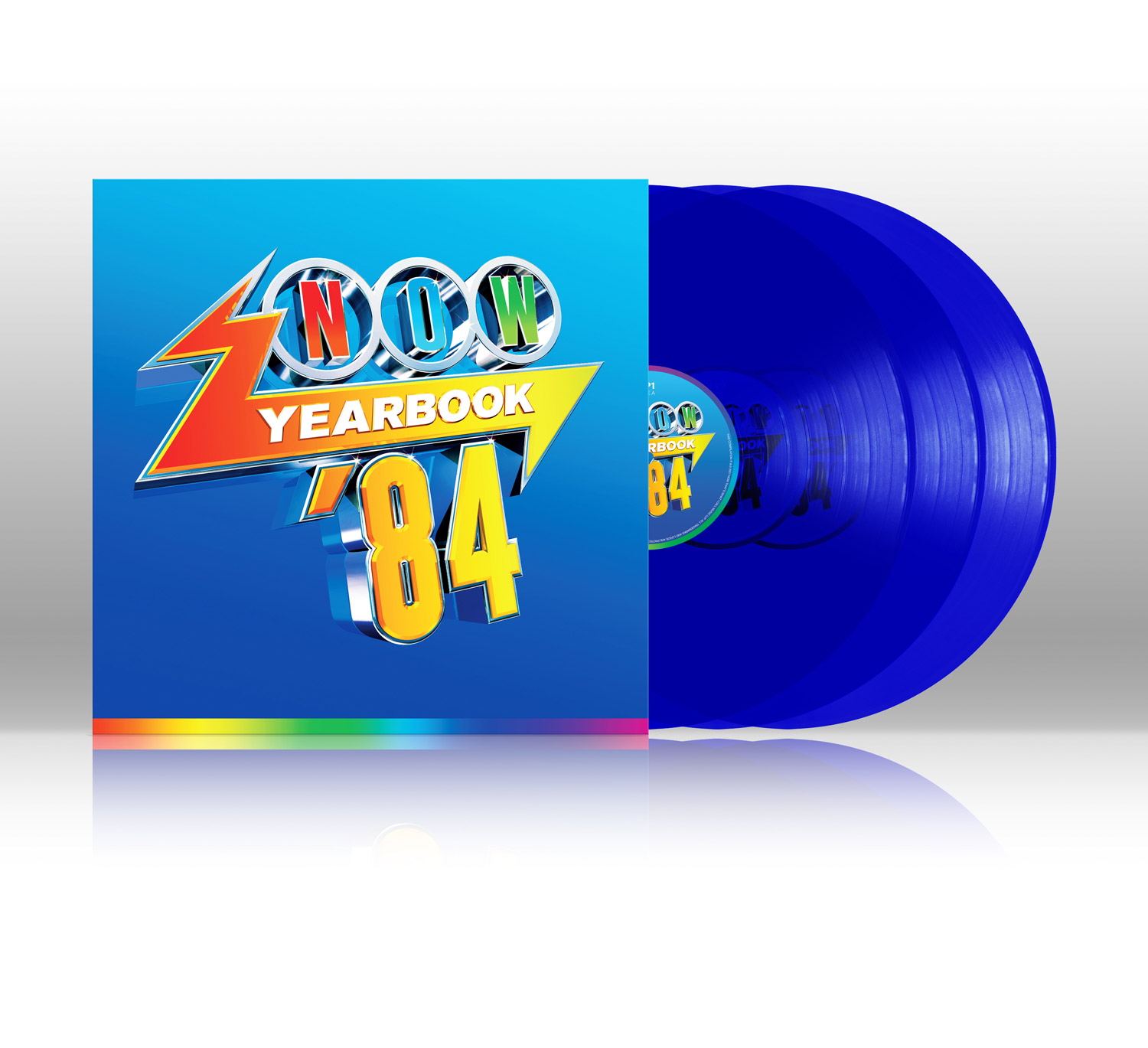 Various Artists
Now Yearbook 84 - limited edition 3LP blue vinyl
Compare prices and pre-order
Various Artists
Now Yearbook 84 - standard 4CD set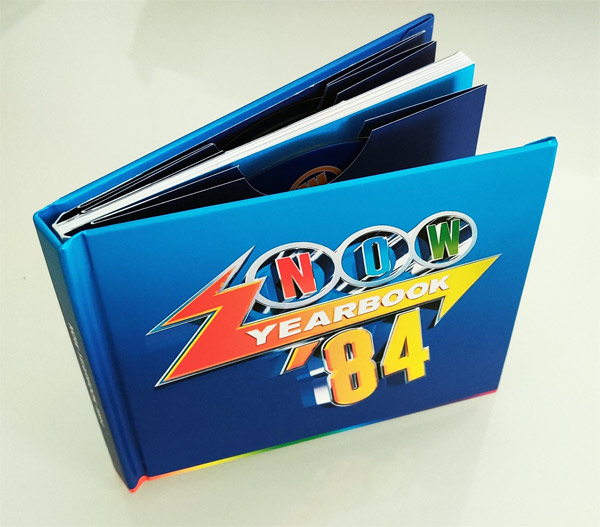 Tracklisting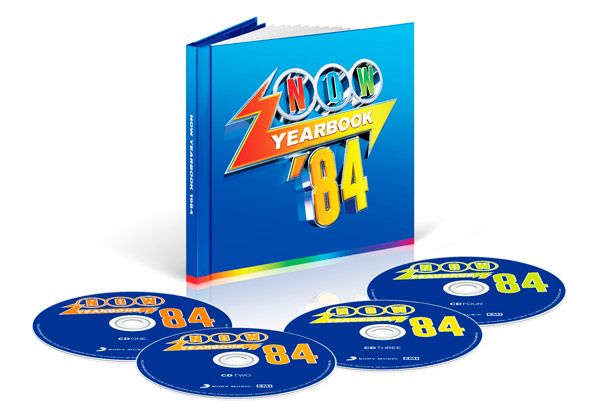 NOW Yearbook '84 Various Artists
/
4CD deluxe
CD 1

George Michael – Careless Whisper
Duran Duran – The Reflex
Frankie Goes To Hollywood – Two Tribes
Nena – 99 Red Balloons
Eurythmics, Annie Lennox & Dave Stewart – Here Comes The Rain Again
Laura Branigan – Self Control
Tina Turner – What's Love Got To Do with It
Lionel Richie – Hello
Sade – Your Love Is King
The Style Council – You're The Best Thing
Alison Moyet – Love Resurrection
Murray Head – One Night In Bangkok
Spandau Ballet – Only When You Leave
Philip Oakey & Giorgio Moroder – Together In Electric Dreams
Limahl – Never Ending Story
Matthew Wilder – Break My Stride
Ray Parker Jr. – Ghostbusters
Billy Ocean – Caribbean Queen (No More Love On The Run)
Rufus And Chaka Khan – Ain't Nobody

CD 2

Wham! – Wake Me Up Before You Go-Go
Kenny Loggins – Footloose (From "Footloose" Soundtrack)
Adam Ant – Apollo 9
Culture Club – The War Song
Bananarama – Robert De Niro's Waiting
Nik Kershaw – The Riddle
Howard Jones – What Is Love?
Thompson Twins – Doctor! Doctor!
Alphaville – Big In Japan (Single Version)
Orchestral Manoeuvres In The Dark – Locomotion
Ultravox – Dancing With Tears In My Eyes
The Human League – The Lebanon
Peter Schilling – Major Tom (Coming Home)
Propaganda – Dr Mabuse
Scritti Politti – Wood Beez (Pray Like Aretha Franklin)
New Order – Thieves Like Us
The Cure – The Caterpillar
Swansway – Soul Train
David Sylvian – Red Guitar
Echo And The Bunnymen – The Killing Moon

CD 3

Chaka Khan – I Feel For You
Grandmaster Flash & Grandmaster Melle-Mel – White Lines (Don't Do It)
Deniece Williams – Let's Hear It For The Boy
Shannon – Let The Music Play
The Pointer Sisters – Jump (For My Love)
The S.O.S Band – Just Be Good To Me
Jocelyn Brown – Somebody Else's Guy
Womack & Womack – Love Wars
Michael Jackson – Farewell My Summer Love
Julia And Company – Breakin' Down (Sugar Samba)
Ollie & Jerry – Breakin'…There's No Stopping Us (From "Breakin'" Soundtrack)
Rockwell – Somebody's Watching Me
Bronski Beat – Smalltown Boy
Dead Or Alive – That's The Way (I Like It)
Evelyn Thomas – High Energy
Hazell Dean – Whatever I Do (Wherever I Go)
Divine – You Think You're A Man
The Weather Girls – It's Raining Men
Miami Sound Machine – Dr. Beat
Shakatak - Down On The Street

CD 4

Frankie Goes To Hollywood – Relax
Duran Duran – The Wild Boys
U2 – Pride (In The Name Of Love)
The Police – King Of Pain
Simple Minds – Up On The Catwalk
ZZ Top – Gimme All Your Lovin'
Billy Idol – Eyes Without A Face
Malcolm McLaren – Madam Butterfly (Un Bel Di Vedremo)
China Crisis – Wishful Thinking
Carmel – More More More
Matt Bianco – Get Out Of Your Lazy Bed
Kim Wilde – The Second Time
Nick Heyward – Warning Sign
Jim Diamond – I Should Have Known Better
Elton John – Sad Songs (Say So Much)
Billy Joel – An Innocent Man
The Cars – Drive
Paul McCartney – Pipes Of Peace
Band Aid – Do They Know It's Christmas? (1984 Version)
Tracklisting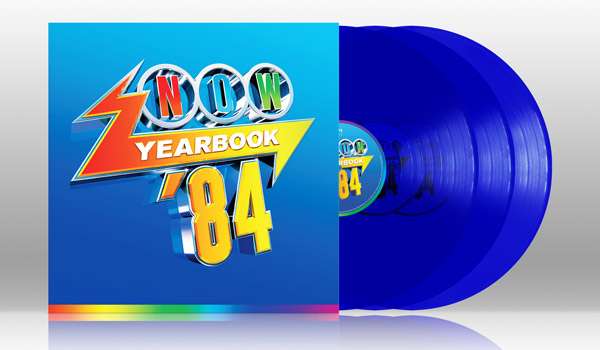 NOW Yearbook '84 Various Artists
/
Limited 3LP coloured vinyl
LP 1

Side A

George Michael – Careless Whisper
Duran Duran – The Reflex
Frankie Goes To Hollywood – Two Tribes
Nena – 99 Red Balloons
Eurythmics, Annie Lennox & Dave Stewart – Here Comes The Rain Again
Tina Turner – What's Love Got To Do With It
Lionel Richie – Hello

Side B

Wham! – Wake Me Up Before You Go-Go
Kenny Loggins – Footloose (From "Footloose" Soundtrack)
Ray Parker Jr. – Ghostbusters
Philip Oakey & Giorgio Moroder – Together In Electric Dreams
Limahl – Never Ending Story
Laura Branigan – Self Control
Elton John – Sad Songs (Say So Much)

LP 2

Side A

Chaka Khan – I Feel For You
Grandmaster Flash & Grandmaster Melle-Mel – White Lines (Don't Do It)
Deniece Williams – Let's Hear It For The Boy
The Pointer Sisters – Jump (For My Love)
Miami Sound Machine – Dr. Beat
Womack & Womack – Love Wars
The S.O.S Band – Just Be Good To Me

Side B

Frankie Goes To Hollywood – Relax
Scritti Politti – Wood Beez (Pray Like Aretha Franklin)
New Order – Thieves Like Us
The Cure – The Caterpillar
David Sylvian – Red Guitar
Echo And The Bunnymen – The Killing Moon
Propaganda – Dr Mabuse

LP 3

Side A

Duran Duran – The Wild Boys
Spandau Ballet – Only When You Leave
Alison Moyet – Love Resurrection
Matthew Wilder – Break My Stride
Nik Kershaw – The Riddle
Howard Jones – What Is Love?
Malcolm McLaren – Madam Butterfly (Un Bel Di Vedremo)

Side B

U2 – Pride (In The Name Of Love)
The Police – King Of Pain
Simple Minds – Up On The Catwalk
ZZ Top – Gimme All Your Lovin'
Billy Joel – An Innocent Man
The Cars – Drive
Paul McCartney – Pipes Of Peace