 News
Now Yearbook '82
4CD and 3LP coloured vinyl sets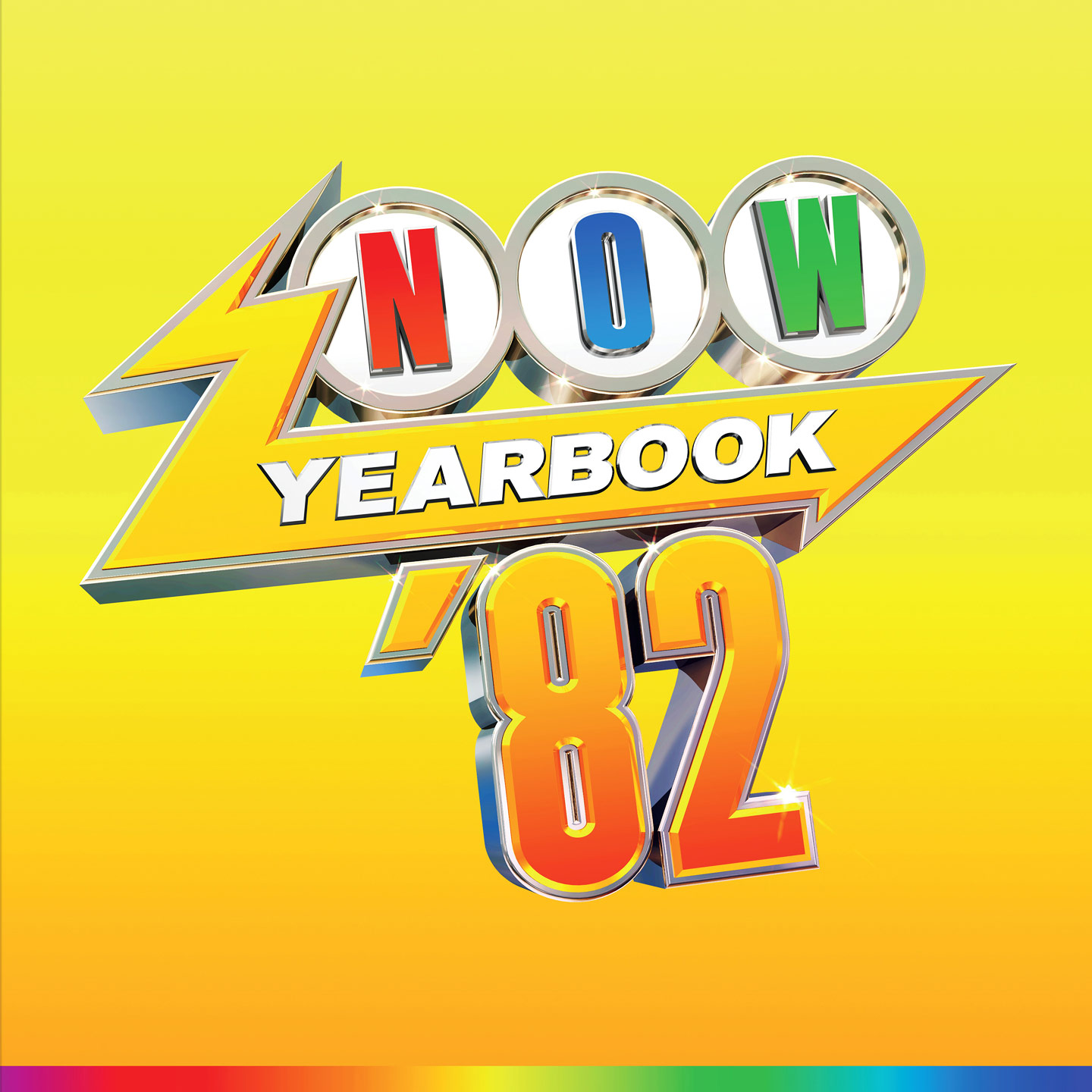 The Now That's What I Call Music team step back to the year of 1982 for a third full volume of their popular Yearbook releases. NOW Yearbook '82 comes as a 4CD deluxe hardcover book edition and a 3LP set pressed on yellow vinyl.
1982 was the year before the first official Now That's What I Call Music release (i.e. NOW 1) which makes this set rather interesting and while, of course, the material is full of big pop hits, it inevitably feels a bit 'fresher' than the perhaps over-compiled 84/85 era.
The 4CD package offers 84 tracks (four more than Yearbook '83 and six more than the '84 set) and includes 16 UK number ones from 1982, including Survivor's 'Eye of the Tiger', Paul McCartney's 'Ebony and Ivory', Madness' 'House of Fun', The Jam's 'Town Called Malice', Dexys' 'Come On Eileen' and Musical Youth's 'Pass The Dutchie'.
But it's more than just chart-toppers; there's some great selections here such as both of ABBA's last two singles ('Under Attack' and 'The Day Before You Came') neither of which appeared on their last studio album,The Visitors as well as early work from bands like Duran Duran ('Hungry Like The Wolf'), Spandau Ballet ('Instinction'), Tears For Fears ('Mad World') and Culture Club ('Do You Really Want To Hurt Me'). It's also cool to see choice cuts like Malcolm McLaren's 'Buffalo Gals', The Associates' Party Fears Two, Dollar's 'Videotheque', Bow Wow Wow's 'Go Wild in the Country' and New Order's 'Temptation'.
The full track listings are below, but in true 80s pop fashion there's an eclectic mix of styles and genres with dance, disco, soul, pop, post-punk and even – deep breath – two entries from the year's Eurovision Song Contest (including Nicole's number one 'A Little Peace'). As a brief sidebar, I can tell you that the contest was held in Harrogate in the UK, in 1982, and 12-year-old me lived there and so I went down to the International Conference Centre and saw the acts arrive!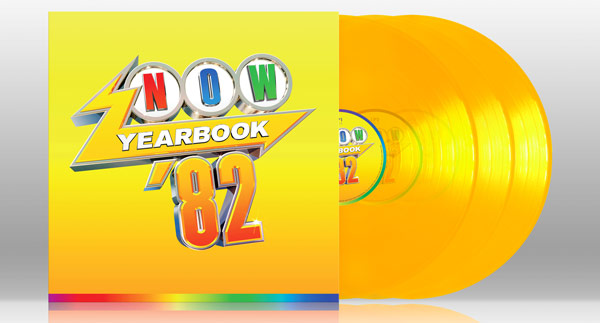 As with previous editions, there's also a standard 4CD in a card sleeve, but the hardcover book deluxe comes with a 28-page booklet with a summary of the year, a track-by-track guide, a quiz and original singles artwork. The translucent yellow 3LP set features just over half the selection on the CD package – 44 songs.
Now Yearbook '82 will be released on 4 February 2022.
Compare prices and pre-order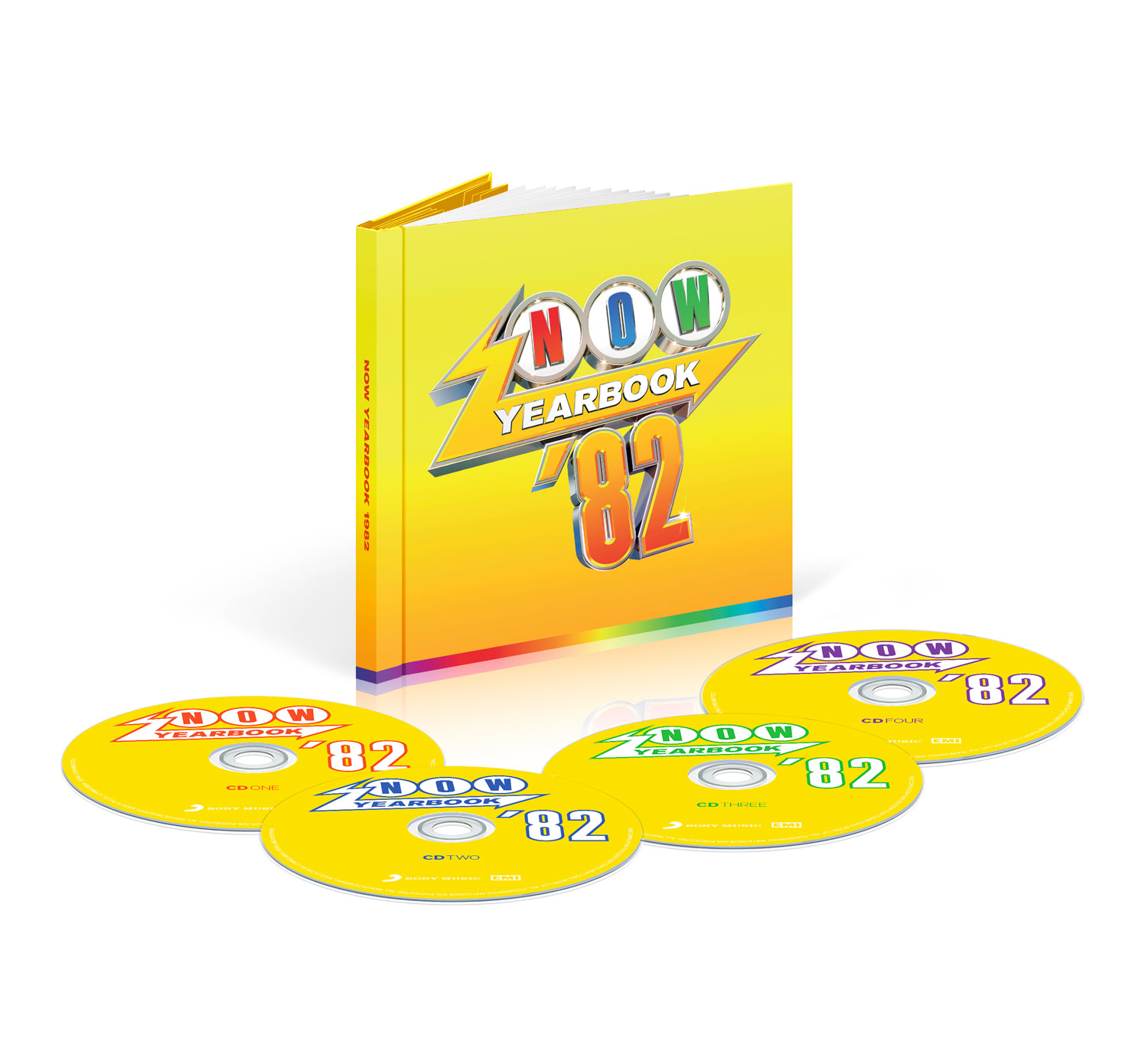 Various Artists
Now Yearbook 82 - 4CD deluxe book
Compare prices and pre-order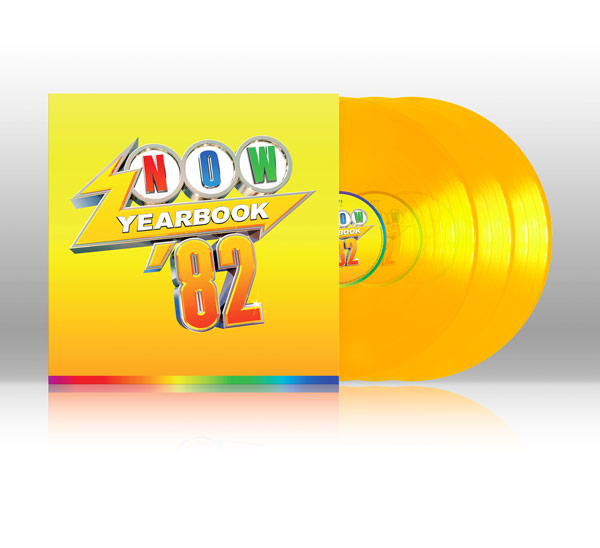 Various Artists
Now Yearbook 82 - limited 3LP yellow vinyl
Compare prices and pre-order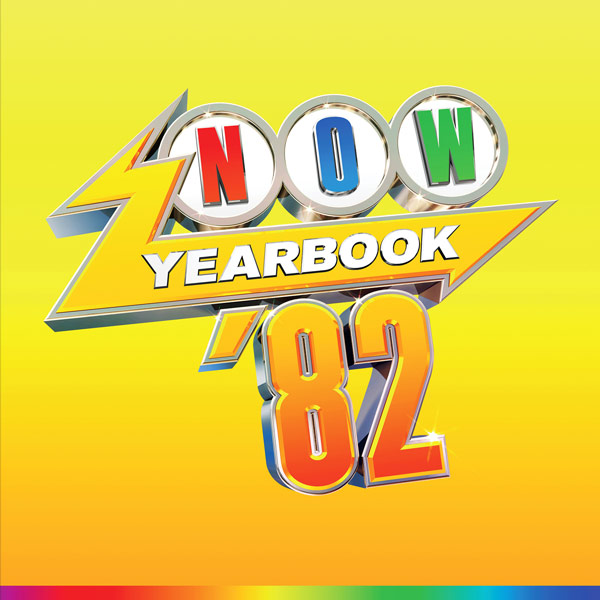 Various Artists
Now Yearbook 82 - 4CD standard edition
Tracklisting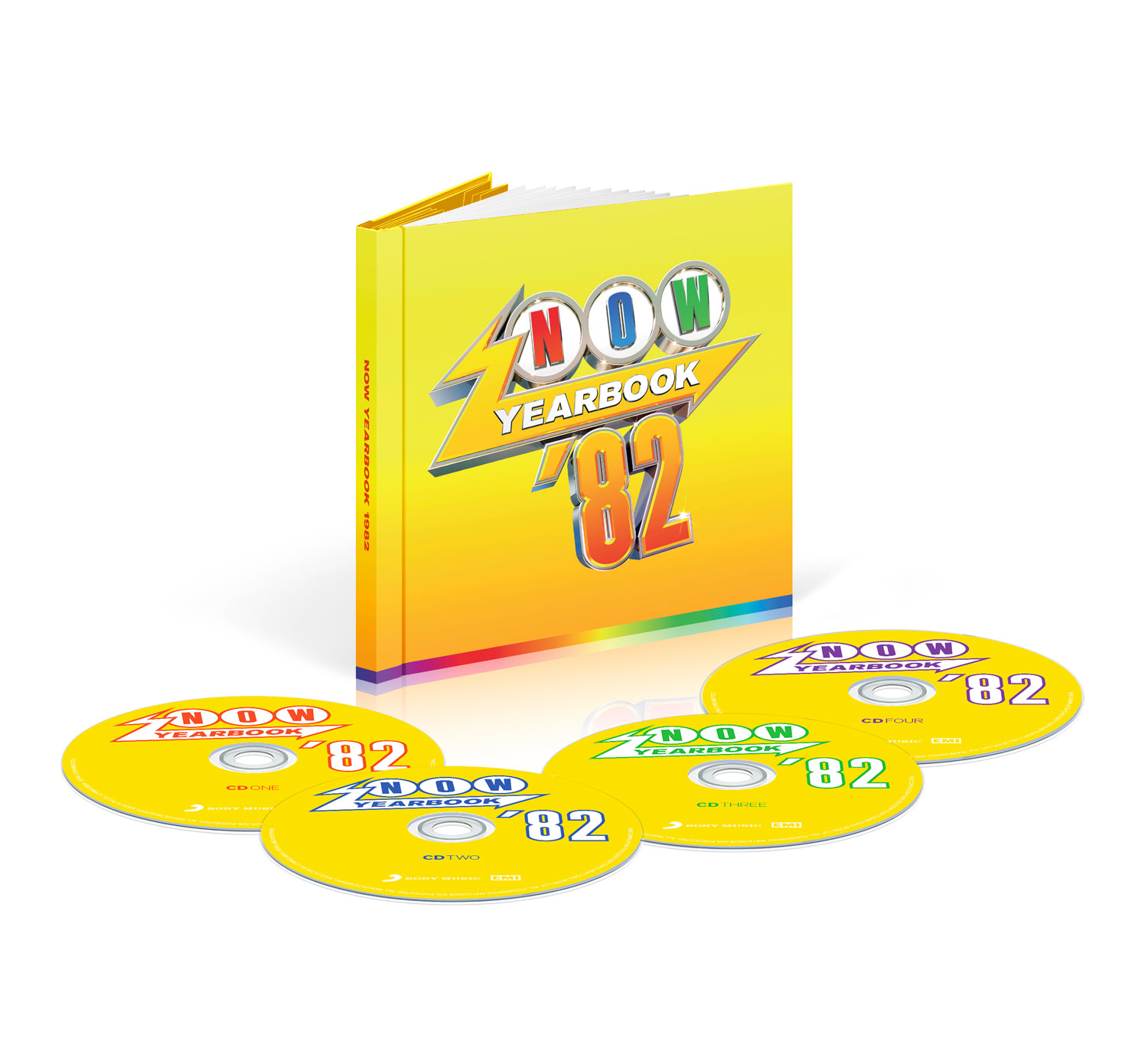 Now Yearbook '82 Various Artists
/
4CD edition
CD 1

Wham! – Young Guns (Go For It!)
Adam Ant – Goody Two Shoes
ABC – The Look Of Love – Pt. 1
Duran Duran – Hungry Like The Wolf
Spandau Ballet – Instinction
Haircut 100 – Love Plus One
Culture Club – Do You Really Want To Hurt Me
ABBA – Under Attack
Bucks Fizz – The Land Of Make Believe
Tight Fit – Fantasy Island
Dollar – Videotheque
Madness – House Of Fun
Dexys Midnight Runners – Come On Eileen
The Jam – Town Called Malice
Bow Wow Wow – Go Wild In The Country
Fun Boy Three feat. Bananarama – It Ain't What You Do It's The Way That You Do It
Musical Youth – Pass The Dutchie
Fat Larry's Band – Zoom
Dionne Warwick – Heartbreaker
Lionel Richie – Truly
Marvin Gaye – Sexual Healing
Donna Summer – State Of Independence

CD 2

Paul McCartney – Ebony And Ivory
Irene Cara – Fame
Shalamar – A Night To Remember
Odyssey – Inside Out
Evelyn "Champagne" King – Love Come Down
Kool & The Gang – Get Down On It
Carly Simon – Why
Malcolm McLaren, The World's Famous Supreme Team – Buffalo Gals
Rockers Revenge feat. Donnie Calvin – Walking On Sunshine
Boys Town Gang – Can't Take My Eyes Off You
Patrick Cowley feat. Sylvester – Do You Wanna Funk
Imagination – Just An Illusion
Soft Cell – Torch
Tears For Fears – Mad World
The Human League – Mirror Man
A Flock Of Seagulls – Wishing (If I Had A Photograph Of You)
Visage – The Damned Don't Cry
Simple Minds – Promise You A Miracle
Ultravox – Reap The Wild Wind
Orchestral Manoeuvres In The Dark – Maid Of Orleans (The Waltz Joan Of Arc)
Japan – Ghosts

CD 3

Survivor – Eye Of The Tiger
Meat Loaf with Cher – Dead Ringer For Love
The J. Geils Band – Centerfold
Steve Miller Band – Abracadabra
Pretenders – Back On The Chain Gang
Daryl Hall & John Oates – I Can't Go For That (No Can Do)
Christopher Cross – Arthur's Theme (Best That You Can Do)
Chicago – Hard To Say I'm Sorry
Foreigner – Waiting For A Girl Like You
Roxy Music – Avalon
The Stranglers – Golden Brown
Siouxsie And The Banshees – Fireworks
The Clash – Rock The Casbah
The Jam – Beat Surrender
Madness – Our House
Toyah – Brave New World
Altered Images – See Those Eyes
Haysi Fantayzee – John Wayne Is Big Leggy
The Associates – Party Fears Two
New Order – Temptation

CD 4

ABBA – The Day Before You Came
Elton John – Blue Eyes
Duran Duran – Save A Prayer
ABC – All Of My Heart
The Kids From "Fame" – Starmaker
Bucks Fizz- My Camera Never Lies
Dollar – Mirror Mirror
Bardo – One Step Further
Kim Wilde – View From A Bridge
Haircut 100 – Fantastic Day
Modern Romance – Best Years Of Our Lives
Blondie – Island Of Lost Souls
Tight Fit – The Lion Sleeps Tonight
Shakin' Stevens – Oh Julie
Mari Wilson – Just What I Always Wanted
Nicole – A Little Peace
Charlene – I've Never Been To Me
Clannad – Theme From Harry's Game
PhD. – I Won't Let You Down
Japan – I Second That Emotion
Soft Cell – Say Hello, Wave Goodbye
Tracklisting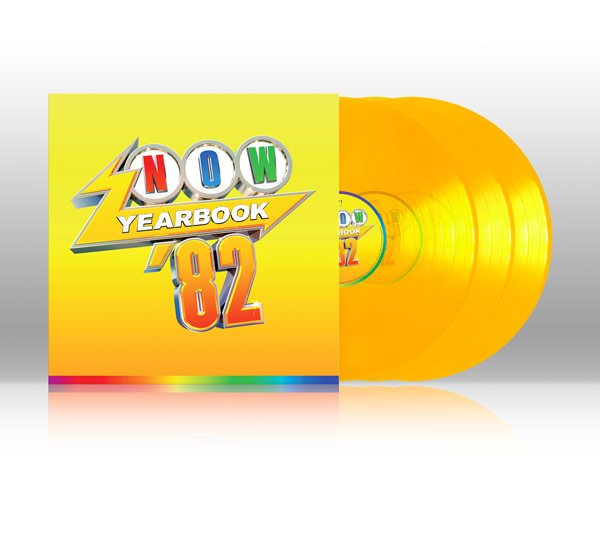 Now Yearbook '82 Various Artists
/
3LP translucent yellow vinyl
LP 1

Side A

Wham! – Young Guns (Go For It!)
Adam Ant – Goody Two Shoes
ABC – The Look Of Love – Pt. 1
Spandau Ballet – Instinction
Haircut 100 – Love Plus One
Culture Club – Do You Really Want To Hurt Me
Duran Duran – Save A Prayer

Side B

Paul McCartney – Ebony And Ivory
Elton John – Blue Eyes
Lionel Richie – Truly
Marvin Gaye – Sexual Healing
Bucks Fizz – My Camera Never Lies
Blondie – Island Of Lost Souls
Madness – Our House
Dexys Midnight Runners – Come On Eileen

LP 2

Side A

Tears For Fears – Mad World
The Human League – Mirror Man
Visage – The Damned Don't Cry
Simple Minds – Promised You A Miracle
Ultravox – Reap The Wild Wind
Orchestral Manoeuvres In The Dark – Maid Of Orleans (The Waltz Joan Of Arc)
Soft Cell – Say Hello, Wave Goodbye

Side B

Survivor – Eye Of The Tiger
Meat Loaf with Cher – Dead Ringer For Love
Pretenders – Back On The Chain Gang
Steve Miller Band – Abracadabra
Christopher Cross – Arthur's Theme (Best That You Can Do)
Foreigner – Waiting For A Girl Like You
Roxy Music – Avalon

LP 3

Side A

ABBA – The Day Before You Came
Donna Summer – State Of Independence
Shalamar – A Night To Remember
Irene Cara – Fame
Boys Town Gang – Can't Take My Eyes Off You
Rockers Revenge feat. Donnie Calvin – Walking On Sunshine
Malcolm McLaren, The World's Famous Supreme Team – Buffalo Gals

Side B

The Jam – Town Called Malice
The Clash – Rock The Casbah
Bow Wow Wow – Go Wild In The Country
New Order – Temptation
The Associates – Party Fears Two
The Stranglers – Golden Brown
Japan – Ghosts
Clannad – Theme From Harry's Game