 News
Paul Young / No Parlez limited edition signed coloured vinyl pressing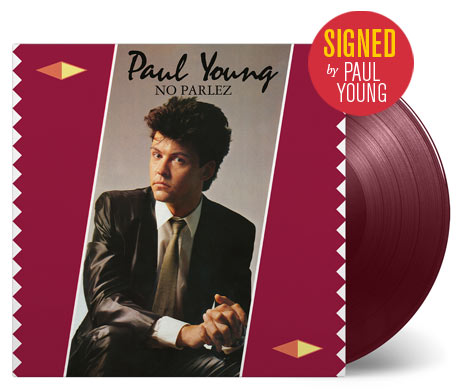 Paul Young's classic debut No Parlez is to be reissued as a limited edition coloured vinyl pressing in October, with SIGNED copies exclusively available via the SDE shop.

The chart-topping album includes the UK number one 'Wherever I Lay My Hat (That's My Home)' and two other massive singles in the shape of 'Come Back And Stay' and 'Love Of The Common People'.
The record was a massive success with its addictive and hypnotic album cuts like the title track and 'Ku Ku Kurama' and there's some fine and very distinctive backing vocals from Maz Roberts and Kim Leslie aka 'The Fabulous Wealthy Tarts'! The backing band were called The Royal Family in the early period and included bass player Pino Palladino.
As far as I can tell there's never been a coloured vinyl pressing of No Parlez, so this purple marbled vinyl is a first and only a few hundred will be signed by Paul especially for SDE, so you'll have a real rarity on your hands. These are also individually numbered.
No Parlez is reissued on coloured vinyl on 25 October 2019. Signed copies only available via SDE using this link or the button below.
SIDE A
1. Come Back And Stay
2. Love Will Tear Us Apart
3. Wherever I Lay My Hat (That's My Home)
4. Ku Ku Kurama
5. No Parlez
SIDE B
1. Love Of The Common People
2. Oh Women
3. Iron Out The Rough Spots
4. Broken Man
5. Tender Trap
6. Sex