 News
Keane / Cause and Effect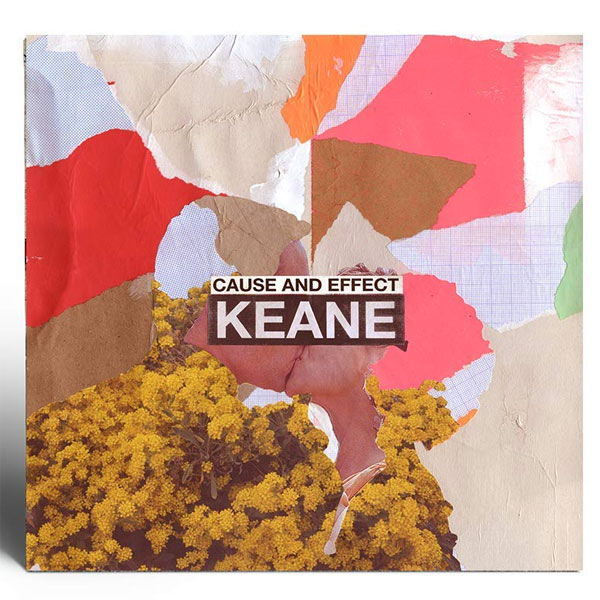 Signed CD now sold out
Keane release a new album, Cause and Effect, in September.

This record is their fifth, after a five-year hiatus and includes the new single The Way I Feel which features a Kevin Godley-directed video (see below).
In a statement, it is claimed that the birth of the new album "came as something of a surprise even to the band" with singer Tom Chaplin saying he missed his old sparring partner Tim Rice-Oxley (Chaplin has released two solo albums). "I found myself wondering how I had come to let this very enigmatic and important relationship in my life drift," Tom says.
The signed deluxe CD (featuring five bonus tracks) is now sold out, but there's also a super deluxe edition which adds a bonus 'Retroactive' CD, the album on black vinyl and then a bonus blue 10-inch single containing the five extra tracks from the deluxe CD. This super deluxe comes in a book format. The album is of course available as a standard black vinyl.
Cause and Effect will be released on 20 September 2019 via Universal.
Compare prices and pre-order
Keane
Cause and Effect super deluxe edition
Compare prices and pre-order
Keane
Cause and Effect black vinyl
Cause and Effect Deluxe CD
1. You're Not Home
2. Love Too Much
3. The Way I Feel
4. Put the Radio On
5. Strange Room
6. Stupid Things
7. Phases
8. Im Not Leaving
9. Thread
10. Chase the Night Away
11. I Need Your Love
12. New Golden Age (Bonus Track)
13. Difficult Year (Bonus Track)
14. The Way I Feel (Sea Fog Acoustic Session)
15. Stupid Things (Sea Fog Acoustic Session)
16. Im Not Leaving (Sea Fog Acoustic Session)
Super Deluxe Book edition
Includes deluxe CD listed above, plus:
Retroactive CD
Retroactive EP1
Somewhere Only We Know [Sprint Music Series, 2003]
Bedshaped [Live At Roundhouse Studios, 2013]
Spiralling [Demo, 2008]
Silenced By The Night [Sea Fog Acoustic Session, 2012]
Retroactive EP2Again And Again [Demo, 2007]
In Your Own Time [Demo, 2010]
Glass Bottles [Unreleased Demo, 2011]
Better Than This [Demo, 2007]
Retroactive EP3
Strangeland [Dallas Sketch, 2011]
The Lovers Are Losing [Demo, 2008]
This Is The Last Time [Real Network Session, Seattle 2014]
Sunshine [Demo, 2002]
Cause and Effect vinyl LP
A Side
You're Not Home
Love Too Much
The Way I Feel
Put the Radio On
Strange Room
Stupid Things
B Side
Phases
I'm Not Leaving
Thread
Chase the Night Away
I Need Your Love
Bonus Blue 10″
A Side
New Golden Age (Bonus Track)
Difficult Year (Bonus Track)
B Side
The Way I Feel (Sea Fog Acoustic Session)
Stupid Things (Sea Fog Acoustic Session)
I'm Not Leaving (Sea Fog Acoustic Session)