 News
Prince and Paul McCartney deluxe editions earn GRAMMY nominations
The US Recording Academy announce the contenders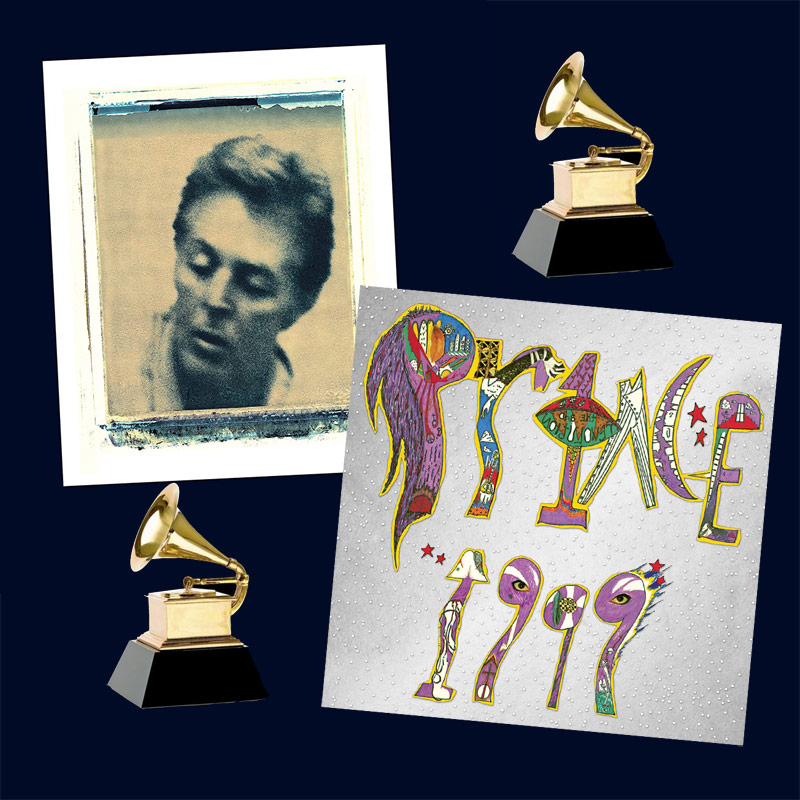 Paul McCartney's mammoth 'collector's edition' of his 1997 album Flaming Pie received a 2021 GRAMMY nomination yesterday for "Best Boxed Or Special Limited Edition Package".

The collector's edition was the £500+ 'top of the range' option when the album was reissued in at the of July this year and featured five CDs, two DVDs, four vinyl records and six silkscreened Linda McCartney art prints. You can watch the SDE unboxing video of this edition below.
Paul has been nominated in this category twice, since he kicked off his Archive Collection campaign in 2010. In 2013 the RAM deluxe edition was nominated but lost out to Woody at 100: The Woody Guthrie Centennial Collection. The following year in 2014 McCartney won for his Wings Over America deluxe set, which at that point was the most lavish deluxe edition he had issued (the original triple album was Grammy-nominated for 'Best Recording Package' back in 1978).
In the same category was Depeche Mode's MODE box set, which was issued back in January. This 18CD set quickly went out of print, making it very desirable these days. Again, SDE filmed an unboxing video, which you can view, below.
In the 'Best Historical Album' category, Warner Music's deluxe reissue of Prince's 1999 gets a nod. This set was compiled by Michael Howe, who regular readers will be familiar with, since he talked SDE through some of the tracks in September last year, more than two months before the box set was released. Of course, we unboxed that release as well, once it was available! Incidentally, if you are wondering why the Sign O' The Times reissue wasn't nominated, by the time it was issued the window of eligibility for the 2021 awards was closed.
Orchestral Manoeuvres In The Dark's Souvenir 5CD+DVD box set, issued in October last year is competing agains 1999 in the same 'Best Historical Album' category. Unlike 1999, Souvenir isn't actually 'an album', but it seems that compilations still count, so it makes the cut. Sadly, for whatever reason, SDE didn't unbox that particular set!
Interestingly, in 2012, Paul McCartney's Band on the Run deluxe won for 'Best Historical Album' and not 'Best Boxed Or Special Limited Edition Package' so it seems semi-random where things end up.
The other category that is pertinent to box sets are reissues is 'Best Album Notes'. It's an eclectic mix, but the one that jumps out at me is Bob Mehr's notes for The Replacements' Dead Man's Pop reissue.
The 'Production, Immersive Audio' category has actually been postponed because according to the 'Best Immersive Audio Album Craft Committee' was "unable to meet", due to COVID-19, so these will be announced at some point next year (separate to next year's nominations.
The full nomination lists for all four categories can be found below.
---
Best Boxed Or Special Limited Edition Package
FLAMING PIE (COLLECTOR'S EDITION)
Linn Wie Andersen, Simon Earith, Paul McCartney & James Musgrave, art directors (Paul McCartney)
GIANTS STADIUM 1987, 1989, 1991
Lisa Glines & Doran Tyson, art directors (Grateful Dead)
MODE
Jeff Schulz, art director (Depeche Mode)
THE STORY OF GHOSTLY INTERNATIONAL
Michael Cina & Molly Smith, art directors (Various Artists)
Best Historical Album
CELEBRATED, 1895-1896
Meagan Hennessey & Richard Martin, compilation producers; Richard Martin, mastering engineer (Unique Quartette)
HITTIN' THE RAMP: THE EARLY YEARS (1936 – 1943)
Zev Feldman, Will Friedwald & George Klabin, compilation producers; Matthew Lutthans, mastering engineer (Nat King Cole)
IT'S SUCH A GOOD FEELING: THE BEST OF MISTER ROGERS
Lee Lodyga & Cheryl Pawelski, compilation producers; Michael Graves, mastering engineer (Mister Rogers)
1999 SUPER DELUXE EDITION
Michael Howe, compilation producer; Bernie Grundman, mastering engineer (Prince)
SOUVENIR
Carolyn Agger, compilation producer; Miles Showell, mastering engineer (Orchestral Manoeuvres In The Dark)
THROW DOWN YOUR HEART: THE COMPLETE AFRICA SESSIONS
Béla Fleck, compilation producer; Richard Dodd, mastering engineer (Béla Fleck)
Best Album Notes
AT THE MINSTREL SHOW: MINSTREL ROUTINES FROM THE STUDIO, 1894-1926
Tim Brooks, album notes writer (Various Artists)
THE BAKERSFIELD SOUND: COUNTRY MUSIC CAPITAL OF THE WEST, 1940-1974
Scott B. Bomar, album notes writer (Various Artists)
DEAD MAN'S POP
Bob Mehr, album notes writer (The Replacements)
THE MISSING LINK: HOW GUS HAENSCHEN GOT US FROM JOPLIN TO JAZZ AND SHAPED THE MUSIC BUSINESS
Colin Hancock, album notes writer (Various Artists)
OUT OF A CLEAR BLUE SKY
David Sager, album notes writer (Nat Brusiloff)
Production, Immersive Audio
"Due the COVID-19 pandemic, the Best Immersive Audio Album Craft Committee was unable to meet. The judging of the entries in this category has been postponed until such time that we are able to meet in a way that is appropriate to judge the many formats and configurations of the entries and is safe for the committee members. The nominations for the 63rd GRAMMYs will be announced next year in addition to (and separately from) the 64th GRAMMY nominations in the category"