 News
Prince / Diamonds and Pearls reissue confirmed – full details!
Full details and tracklistings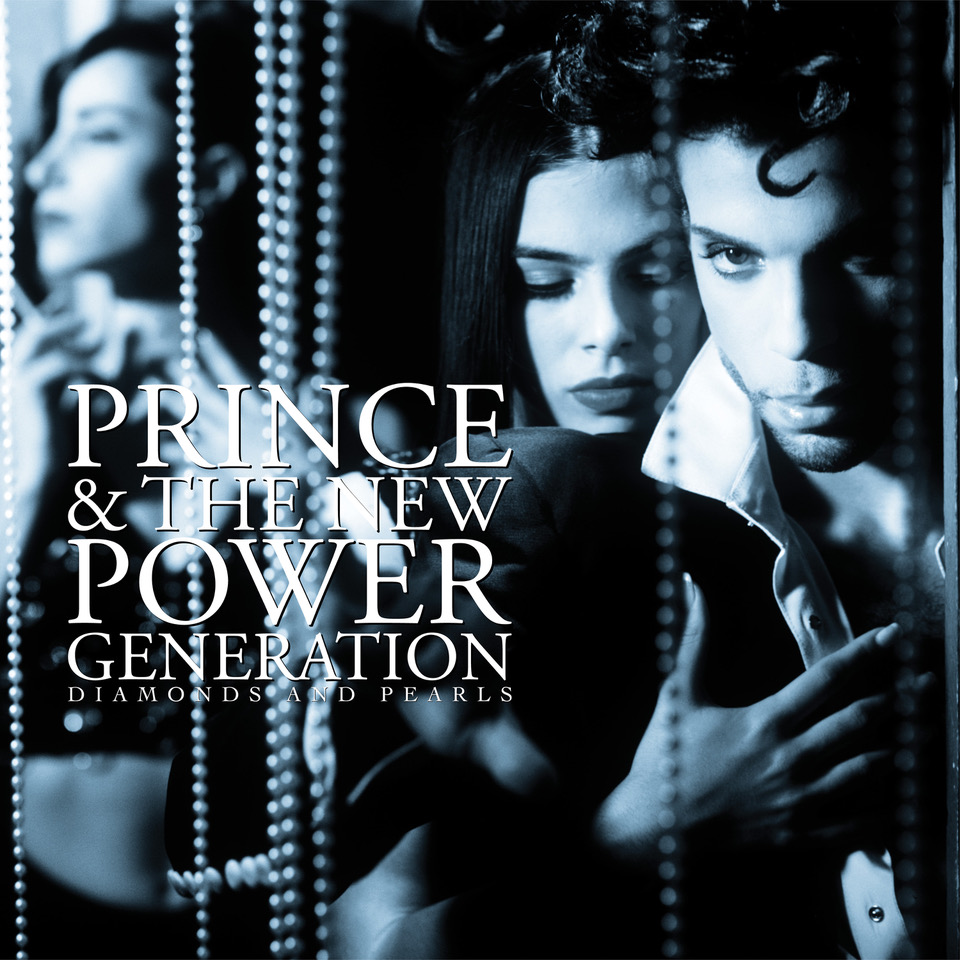 7CD+blu-ray box • 12LP+blu-ray box • 4LP • 2CD • 2LP • CD • Blu-ray Audio with Atmos Mix > quick link
Prince's 1991 album Diamonds and Pearls will be reissued in October across a number of formats, including a 7CD+Blu-ray super deluxe, a 12LP+blu-ray super deluxe and a standalone blu-ray with Dolby Atmos Mix of the studio album (not in either box).
The album was recorded largely with the New Power Generation, who were: Sonny Thompson (vocals & bass), Damon Dickson (vocals & percussion), Rosie Gaines (vocals & keyboards), Michael Bland (drums), Kirk Johnson (vocals & percussion), Tony M (vocals), Levi Seacer, Jr. (bass, guitar & vocals), and Tommy Barbarella (keyboards). Diamonds and Pearls spawned a collection of big hit singles 'Gett Off', 'Cream', and the iconic title track, and the laid back 'Money Don't Matter 2 Night'. Diamonds and Pearls remains Prince's best-selling album, in the UK.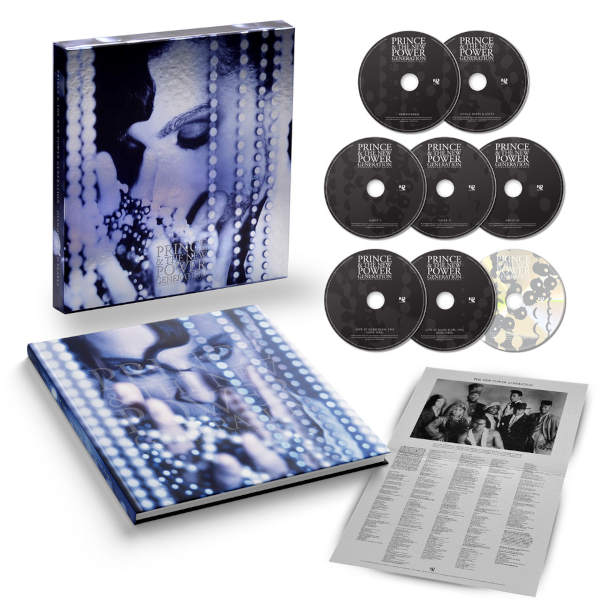 The box set editions offer the album remastered (on CD or 2LP vinyl), a CD (or 2LPs) of single remixes and edits (including the legendary promo-only 'Damn Near 10 Min' remix of 'Gett Off'), three CDs (5LPs) of 'Vault' songs , all 33 of which are previously unreleased, and a live concert from January 1992 at Prince's Minneapolis club, Glam Slam, which served as a preview of the Diamonds and Pearls tour (2CDs or 3LPs). This has been newly mixed from the 24-track master tape.
The blu-ray included with both 7CD and 12LP vinyl super deluxe editions includes the Glam Slam concert shot in high definition with sound mixed to Dolby Atmos, 5.1 or stereo. It also features Prince & The New Power Generation's performance at The Special Olympics at the Metrodome in Minneapolis in July 1991 along with the soundcheck for that same performance (again, sound is Dolby Atmos, 5.1 or stereo). Finally the Blu-ray is completed by the inclusion of the Diamonds And Pearls Video Collection, originally released on VHS and LaserDisc in 1993. This is stereo-only.
The box set editions offer 75 audio tracks with 47 of them previously unreleased. Both formats come with a 120-page hardcover book which features unseen photos and essays.
The only way to own the new Dolby Atmos Mix of the Diamonds and Pearls album is to buy the limited edition blu-ray audio, which is available to pre-order now from the SDE shop. Alongside the Atmos Mix is the remastered stereo version of the album.
The reissue is also available as 2CD and 4LP sets (album & remixes/edits) and as single CD and 2LP editions with the latter being available pressed as a standard black vinyl edition or pressed on clear 'diamond' vinyl.
Diamonds and Pearls will be reissued on 27 October 2023 via Warner Records. Pre-order the blu-ray audio via the SDE shop using this link or the button below. A reminder that there is no longer any extra charges for shipping to the EU.
---
TECHNICAL NOTES: This blu-ray audio requires a blu-ray player. Decoding the Dolby Atmos mix requires a Dolby Atmos-certified soundbar or a Dolby Atmos-compatible AV Receiver/Amp. The Dolby Atmos mix will 'fold down' to 5.1 or stereo if a Dolby Atmos decoder is not detected.
Compare prices and pre-order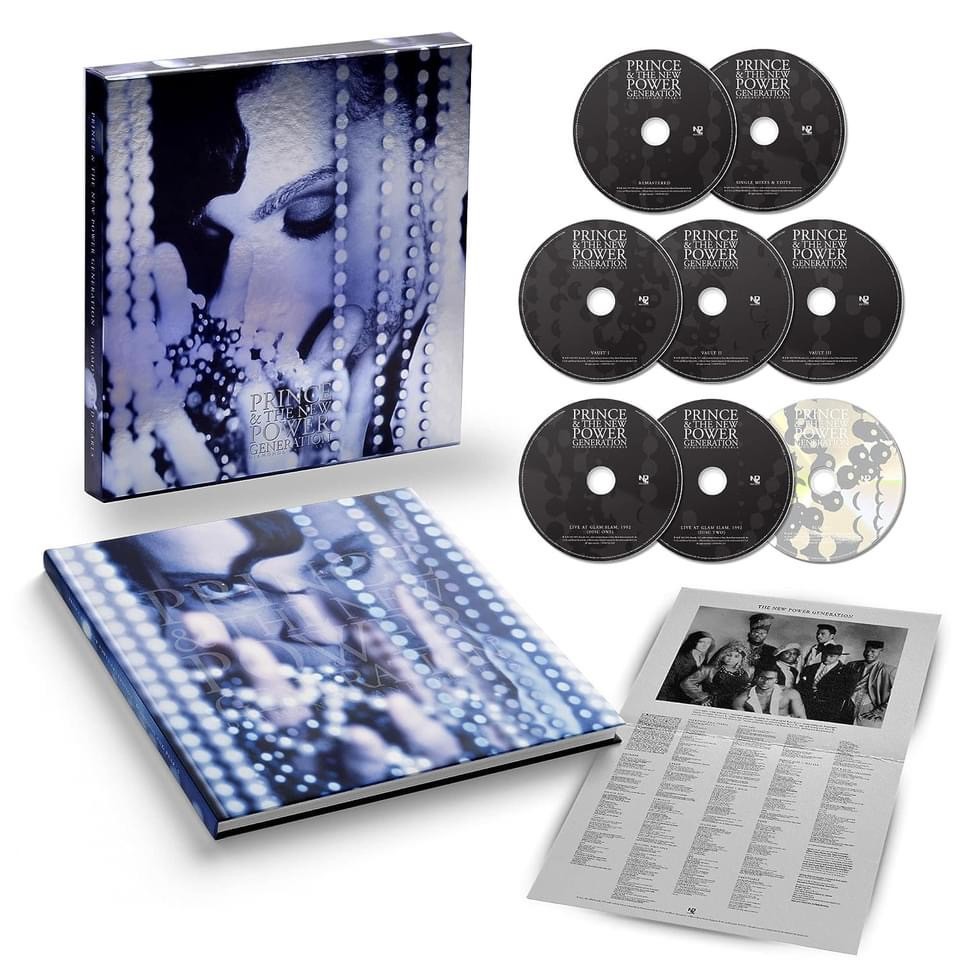 Prince&the New Power Generation
Diamonds and Pearls - 7CD+blu-ray super deluxe
Compare prices and pre-order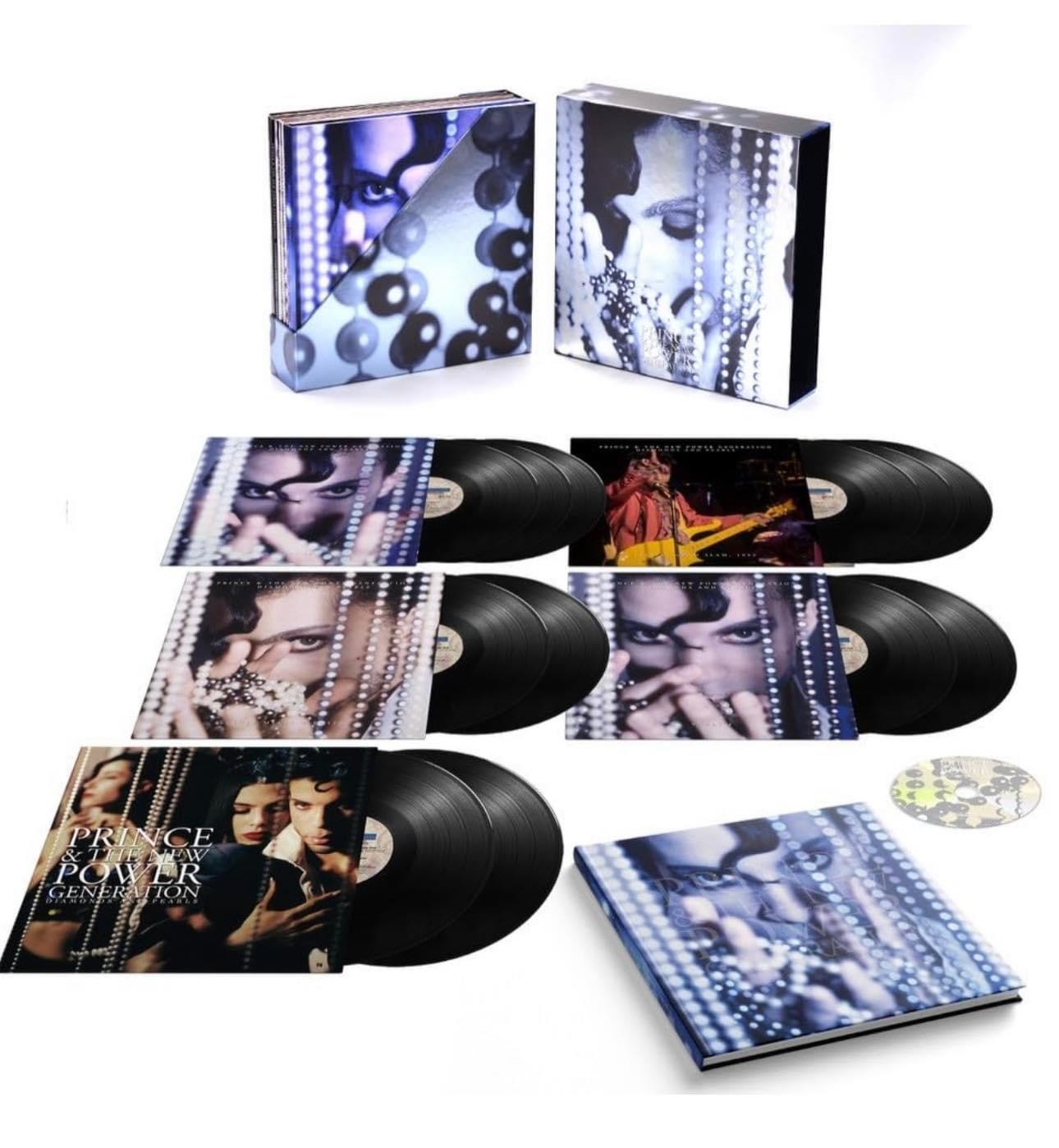 Prince&the New Power Generation
Diamonds and Pearls - 12LP + blu-ray super deluxe
Compare prices and pre-order
Prince&the New Power Generation
Diamonds and Pearls - 2CD edition album and remixes and edits
Compare prices and pre-order
Prince&the New Power Generation
Diamonds and Pearls - 4LP vinyl - album and remixes and edits
Compare prices and pre-order
Prince&the New Power Generation
Diamonds and Pearls - 2LP clear vinyl album only
Compare prices and pre-order
Prince&the New Power Generation
Diamonds and Pearls - 2LP black vinyl - album only
Compare prices and pre-order
Prince&the New Power Generation
Diamonds and Pearls - single CD remaster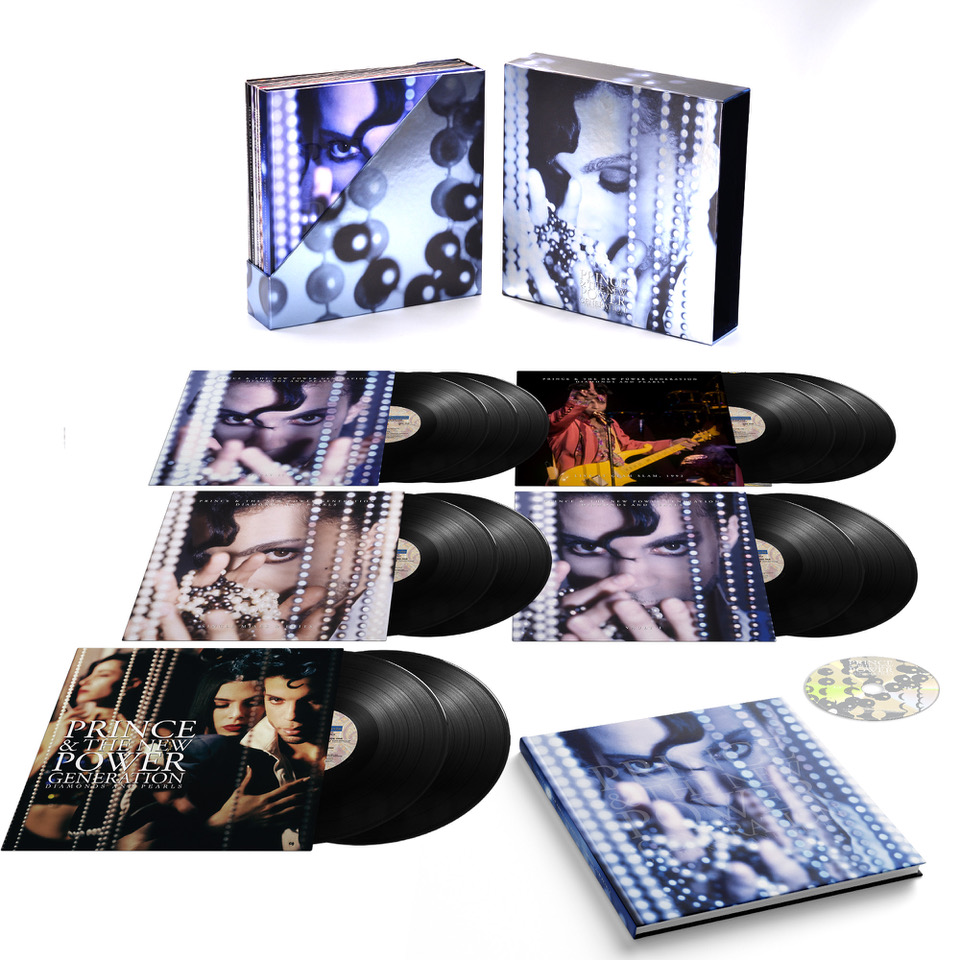 Tracklisting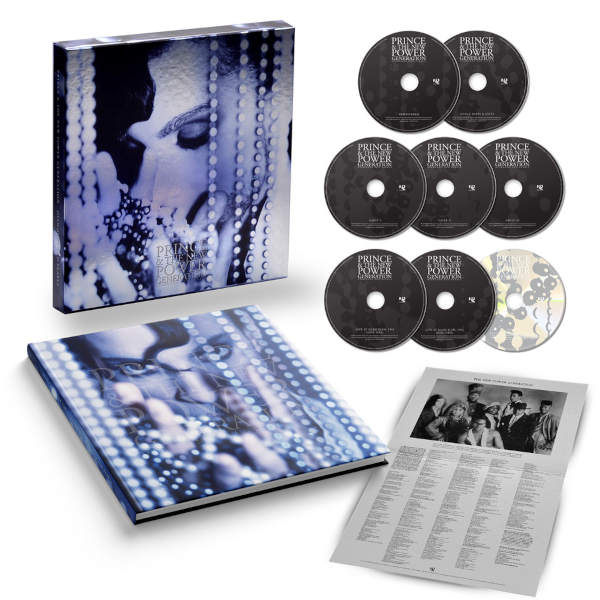 Diamonds and Pearls Prince
/
7CD+blu-ray super deluxe edition
CD 1: DIAMONDS AND PEARLS (REMASTERED)

Thunder
Daddy Pop
Diamonds And Pearls
Cream
Strollin'
Willing And Able
Gett Off
Walk Don't Walk
Jughead
Money Don't Matter 2 Night
Push
Insatiable
Live 4 Love

CD 2: SINGLE MIXES & EDITS (REMASTERED)

Gett Off (Damn Near 10 Min.)
Gett Off (Houstyle)
Violet The Organ Grinder
Gangster Glam
Horny Pony
Cream (N.P.G. Mix)
Things Have Gotta Change (Tony M Rap)
Do Your Dance (KC's Remix)
Insatiable (Edit)
Diamonds And Pearls (Edit)
Money Don't Matter 2 Night (Edit)
Call The Law
Willing And Able (Edit)
Willing And Able (Video Version)
Thunder (DJ Fade)

CD 3: VAULT I

Schoolyard
My Tender Heart
Pain
Streetwalker
Lauriann
Darkside
Insatiable (Early Mix – Full Version)
Glam Slam '91
Live 4 Love (Early Version)
Cream (Take 2)
Skip To My You My Darling
Diamonds And Pearls (Long Version)

All previously unreleased

CD 4: VAULT II

Daddy Pop (12″ Version)
Martika's Kitchen
Spirit
Open Book
Work That Fat
Horny Pony (Version 2)
Something Funky (This House Comes) (Band Version)
Hold Me
Blood On The Sheets
The Last Dance (Bang Pow Zoom And The Whole Nine)
Don't Say U Love Me

All previously unreleased

CD 5: VAULT III

Get Blue
Tip O' My Tongue
The Voice
Trouble
Alice Through The Looking Glass
Standing At The Altar
Hey U
Letter 4 Miles
I Pledge Allegiance To Your Love
Thunder Ballet

All previously unreleased

CD 6 & 7: LIVE AT GLAM SLAM, 1992

Thunder
Daddy Pop
Diamonds And Pearls
Willing And Able
Jughead
The Sacrifice Of Victor
Nothing Compares 2 U
Thieves In The Temple
Sexy M.F.
Insatiable
Cream/Well Done/I Want U/In The Socket (Medley)
1999/Baby I'm A Star/Push (Medley)
Gett Off
Gett Off (Houstyle)

All tracks previously unreleased

Blu-ray

Live at Glam Slam 1992: Minneapolis, Minnesota, January 11, 1992 (Stereo, 5.1 Dolby True HD, Dolby Atmos)

Thunder
Daddy Pop
Diamonds And Pearls
Willing And Able
Jughead
The Sacrifice Of Victor
Nothing Compares 2 U
Thieves In The Temple
Sexy M.F.
Insatiable
Cream/Well Done/I Want U/In The Socket (Medley)
1999/Baby I'm A Star/Push (Medley)
Gett Off
Gett Off (Houstyle)

Special Olympics, Metrodome, Minneapolis, Minneapolis July 1991 – Soundcheck 19 July 1991 (Stereo, 5.1 Dolby True HD, Dolby Atmos)

Let's Go Crazy/Baby I'm A Star/Push (Medley)

All tracks previously unreleased

SHOW – JULY 20, 1991

(Stereo, 5.1 Dolby True HD, Dolby Atmos)

Diamonds And Pearls
Let's Go Crazy/Baby I'm A Star/Push (Medley)

All tracks previously unreleased

Diamonds and Pearls Video Collection (stereo-only)

Introduction
Thunder (Live)
Gett Off
Cream
Diamonds And Pearls
Dr. Feelgood (Live)
Call The Law
Willing And Able
Jughead (Live)
Insatiable
Strollin'
Money Don't Matter 2 Night
Live 4 Love (Live)
Tracklisting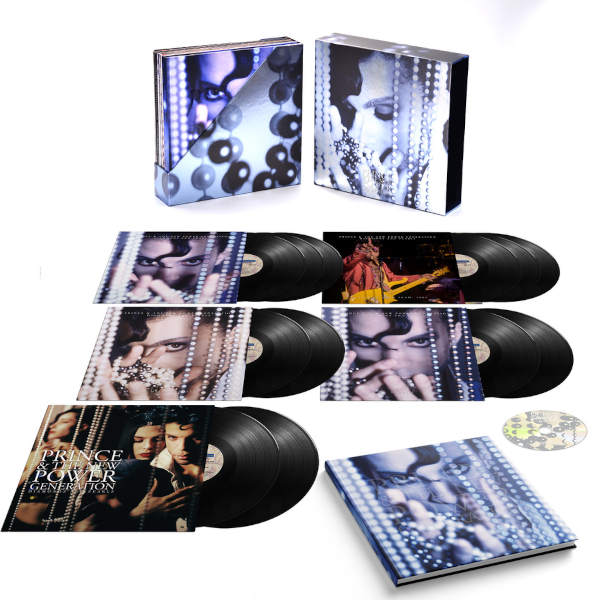 Diamonds and Pearls Prince
/
12LP+blu-ray super deluxe edition
LP 1: DIAMONDS AND PEARLS (REMASTERED)

Side A

Thunder
Daddy Pop
Diamonds And Pearls

Side B

Cream
Strollin'
Willing And Able
Gett Off

LP 2: DIAMONDS AND PEARLS (REMASTERED)

Side A

Walk Don't Walk
Jughead
Money Don't Matter 2 Night
Push

Side B

Insatiable
Live 4 Love

LPs 3: SINGLE MIXES & EDITS (REMASTERED)

Side A

Gett Off (Damn Near 10 Min.)
Gett Off (Houstyle)

Side B

Violet The Organ Grinder
Gangster Glam
Horny Pony
Cream (N.P.G. Mix)

LP 4: SINGLE MIXES & EDITS (REMASTERED)

Side A

Things Have Gotta Change (Tony M Rap)
Do Your Dance (KC's Remix)
Insatiable (Edit)
Diamonds And Pearls (Edit)

Side B

Money Don't Matter 2 Night (Edit)
Call The Law
Willing And Able (Edit)
Willing And Able (Video Version)
Thunder (DJ Fade)

LP 5: Vault I

Side A

Schoolyard
My Tender Heart
Pain

Side B

Streetwalker
Lauriann
Darkside

All previously unreleased

LP 6: Vault I (continued)

Side A

Insatiable (Early Mix – Full Version)
Glam Slam '91
Live 4 Love (Early Version)

Side B

Cream (Take 2)
Skip To My You My Darling
Diamonds And Pearls (Long Version)

All previously unreleased

LP 7: Vault II

Side A

Daddy Pop (12″ Version)
Martika's Kitchen
Spirit
Open Book

Side B

Work That Fat
Horny Pony (Version 2)
Something Funky (This House Comes) (Band Version)
Hold Me

All previously unreleased

LP 8: Vault II (continued) & Vault III

Side A:  Vault II (continued)

Blood On The Sheets
The Last Dance (Bang Pow Zoom And The Whole Nine)
Don't Say U Love Me

Side B: Vault III

Get Blue
Tip O' My Tongue
The Voice
Trouble

All previously unreleased

LP 9: Vault III (continued)

Side A

Alice Through The Looking Glass
Standing At The Altar
Hey U
Letter 4 Miles

Side B

I Pledge Allegiance To Your Love
Thunder Ballet

All previously unreleased

LP 10: LIVE AT GLAM SLAM, 1992

Side A

Thunder
Daddy Pop
Diamonds And Pearls

Side B

Willing And Able
Jughead
The Sacrifice Of Victor

All tracks previously unreleased

LP 11: LIVE AT GLAM SLAM, 1992

Side A

Nothing Compares 2 U
Thieves In The Temple
Sexy M.F.

Side B

Insatiable
Cream/Well Done/I Want U/In The Socket (Medley)

LP 12: LIVE AT GLAM SLAM, 1992

Side A

1999/Baby I'm A Star/Push (Medley)
Gett Off
Gett Off (Houstyle)

Side B

Etching

Blu-ray

Live at Glam Slam 1992: Minneapolis, Minnesota, January 11, 1992 (Stereo, 5.1 Dolby True HD, Dolby Atmos)

Thunder
Daddy Pop
Diamonds And Pearls
Willing And Able
Jughead
The Sacrifice Of Victor
Nothing Compares 2 U
Thieves In The Temple
Sexy M.F.
Insatiable
Cream/Well Done/I Want U/In The Socket (Medley)
1999/Baby I'm A Star/Push (Medley)
Gett Off
Gett Off (Houstyle)

Special Olympics, Metrodome, Minneapolis, Minneapolis July 1991 – Soundcheck 19 July 1991 (Stereo, 5.1 Dolby True HD, Dolby Atmos)

Let's Go Crazy/Baby I'm A Star/Push (Medley)

All tracks previously unreleased

SHOW – JULY 20, 1991

(Stereo, 5.1 Dolby True HD, Dolby Atmos)

Diamonds And Pearls
Let's Go Crazy/Baby I'm A Star/Push (Medley)

All tracks previously unreleased

Diamonds and Pearls Video Collection (stereo-only)

Introduction
Thunder (Live)
Gett Off
Cream
Diamonds And Pearls
Dr. Feelgood (Live)
Call The Law
Willing And Able
Jughead (Live)
Insatiable
Strollin'
Money Don't Matter 2 Night
Live 4 Love (Live)
Tracklisting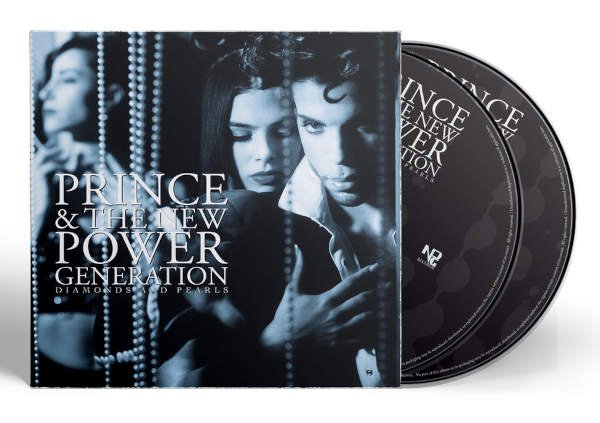 Diamonds and Pearls Prince
/
2CD or 4LP sets
CD 1 / LPs 1 & 2: DIAMONDS AND PEARLS (REMASTERED)

Thunder
Daddy Pop
Diamonds And Pearls
Cream
Strollin'
Willing And Able
Gett Off
Walk Don't Walk
Jughead
Money Don't Matter 2 Night
Push
Insatiable
Live 4 Love

CD 2 / LPs 3 & 4: SINGLE MIXES & EDITS (REMASTERED)

Gett Off (Damn Near 10 Min.)
Gett Off (Houstyle)
Violet The Organ Grinder
Gangster Glam
Horny Pony
Cream (N.P.G. Mix)
Things Have Gotta Change (Tony M Rap)
Do Your Dance (KC's Remix)
Insatiable (Edit)
Diamonds And Pearls (Edit)
Money Don't Matter 2 Night (Edit)
Call The Law
Willing And Able (Edit)
Willing And Able (Video Version)
Thunder (DJ Fade)